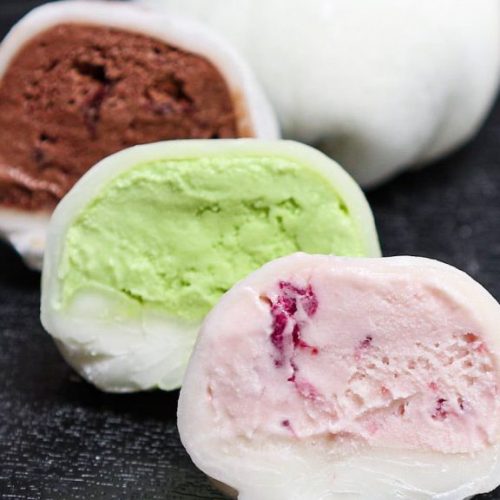 Print
Mochi Ice Cream Recipe
Alright, be honest - have you ever heard of ice cream balls? Again, the right flour (sweet rice flour) here will be key. These have been called "heavenly delicious" so be sure to read on!
Servings
12
ice cream mochi balls
3/4

cup

Mochiko

or Shiratamako Sweet rice flour

1/4

cup

sugar

3/4

cup

water

1/3

cup

cornstarch

for dusting

1

cup

ice cream of your choice

the 3 flavors I used in this recipe are strawberry, matcha green tea, and chocolate
Prepare the Ice Cream
Let the ice cream sit at room temperature for about 5-10 minutes until it's not too hard for you to scoop.

Scoop out ice cream into cupcake liners in a muffin tin. Cover with plastic wrap and freeze until they are completely frozen. It usually takes more than 2 hours. (If you don't have cupcake liners, use plastic wrap.)
Make Mochi Dough
When your ice cream is frozen solid, it's time to make mochi dough. Whisk together mochiko and sugar in a microwave-safe bowl.

Add water and mix well until there are no lumps.

Cover the bowl with plastic wrap loosely. Microwave on high for 2 minutes. Take it out and mix with a wet spatula. Cover and microwave for 30 more seconds until the dough has changed from white to slightly translucent.
Make Mochi Wrappers
Transfer the mochi dough onto the parchment paper dusted with cornstarch. Sprinkle more cornstarch onto the dough.

Roll out your dough into a thin piece (about 1/8-inch thickness).

Cut the dough into circles. (Don't waste the leftover dough. Squeeze the leftover pieces together and knead them into a ball, repeat the process and make a few extra wrappers.)

Brush off the excess cornstarch. On the counter or a plate, place a plastic wrap and then mochi wrapper on top, add another layer of plastic wrap, and repeat for all mochi wrappers. Finish up with a plastic wrap to cover all mochi wrappers. Let them chill in the fridge for about 10 minutes.
Assemble Mochi Ice Cream
Place one mochi wrapper (together with the plastic wrap underneath) on the counter, and add one ice cream ball to the center of the mochi wrapper.

Pinch the four corners of the mochi wrapper, and then pinch the remaining corners together.

Tap the bottom of mochi with cornstarch. Wrap it with the plastic wrap and place each assembled mochi balls into the muffin tin. (It's best to take one ice cream ball out at a time so that it won't melt).

Store them in the freezer until you are ready to serve. Before eating, you need to let the mochi ice cream sit at room temperature for approximately 5 minutes.
Place the individually wrapped mochi ice cream into an air-tight container and store in the freezer. They can last up to 2 weeks.
As the dough is very sticky, you'll need to use a generous amount of cornstarch to prevent it from sticking. Make sure to coat it evenly in a thin layer of cornstarch so it's not overwhelmed by the white cornstarch powder.
Work fast when you are dealing with ice cream so that it won't melt.