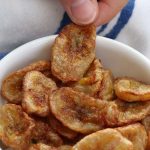 Print
Dehydrating Banana Chips Recipe
When prepared in the air fryer, homemade banana chips are a guilt-free, healthy, low-calorie snack made with simple ingredients. In this post, you'll learn how to dehydrate bananas in an air fryer.
2

large bananas

1-2

teaspoons

salt

cold water

vegetable oil
In a large bowl, add cold water and salt. Whisk until the salt is completely dissolved.

Peel the bananas, and cut them into about 1/8-inch slices.

Place the sliced bananas into the salt water. Soak for about 5 minutes.

Remove the banana slices with a slotted spoon and place them on paper towels. Dry them completely.

Brush the banana slices with oil.

Place the banana slices into the air fryer basket in one single layer. Brush them with olive oil one more time. Cook in batches if needed.

Cook at 300°F for 20-25 minutes until golden brown. Flip chips after 15 minutes.

Remove from the air fryer and allow them to cool down completely before storing.
Use ripe but firm bananas, avoiding mushy or bruised ones.
If you prefer crispier and crunchier banana chips, cut your banana slightly thinner.
Soaking the sliced bananas with salt water prevents the chips from turning brown. You can skip this step if you don't mind the brown look of your chips.
They'll become crispier as they cool down.
Store banana chips in an air-tight container, and they'll last up to 2 weeks at room temperature.