The pinky-green appearance of rhubarb makes it look like colorful celery. Although it might be most popular in a variety of desserts, its tart, sweet, sour and tangy flavor is not limited to only sweet dishes. It's actually a bit saddening that this vegetable is nicknamed "pie plant" as it has so much more to offer.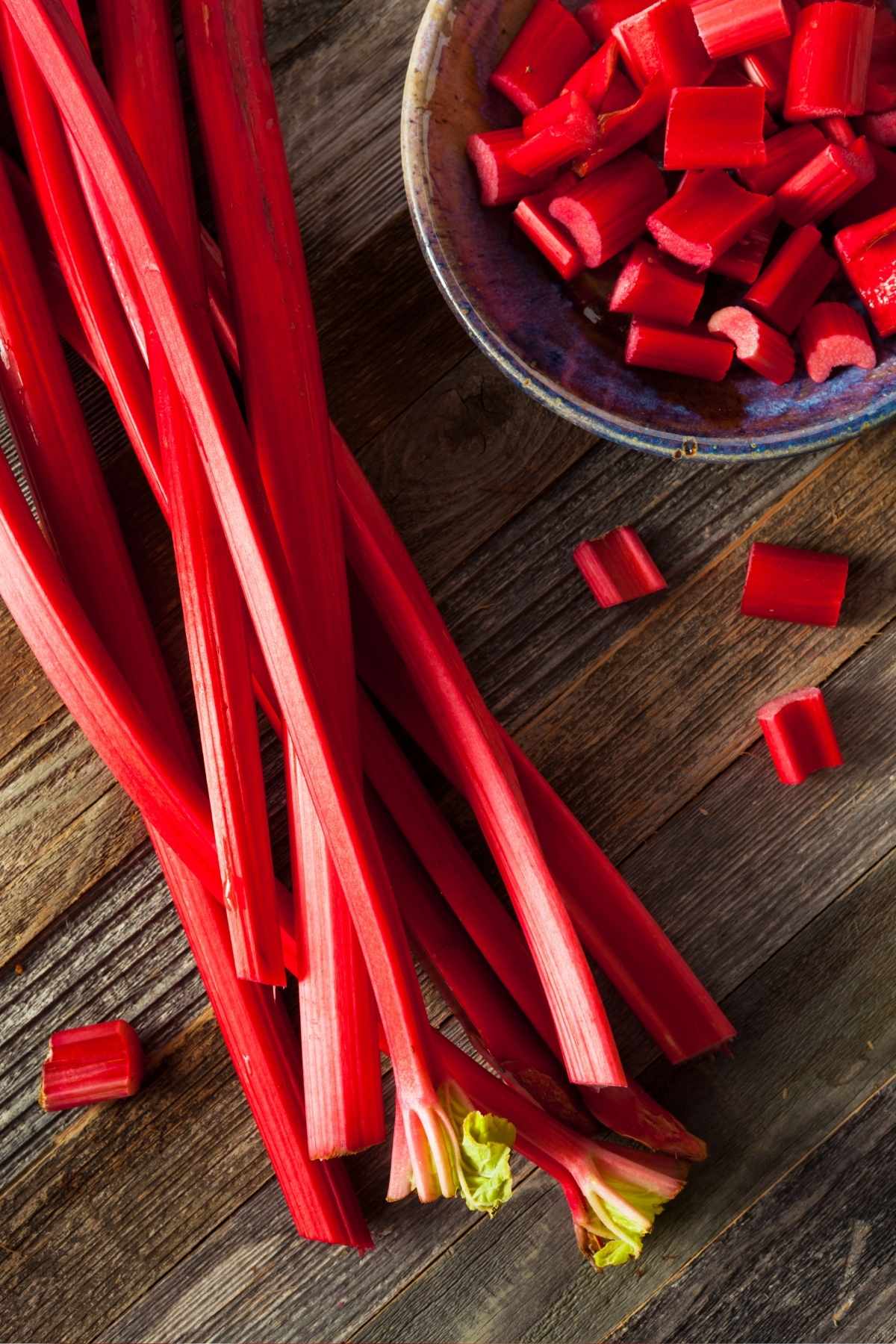 What is Rhubarb?
Rhubarb is indeed a perennial vegetable. It is found in northern states ranging from Maine to Illinois and Washington. Around the world, rhubarb is grown in China and Europe as it requires cold winter weather to be successful.
With its vibrantly colorful stalks, rhubarb is great to add to your food palette. Just don't eat the big, green leaves on the plant as they are poisonous. However, the colorful stalks are totally safe to consume if you enjoy the taste.
How To Tell if Rhubarb Is Ripe?
It is very easy to tell if rhubarb is ripe, starting from the moment you walk towards it. The ripeness does not depend solely on the color of the stalks meaning ripe rhubarbs don't necessarily have to be red. Instead, judge the ripeness based on their height and age.
They should be left alone until about the 2nd or 3rd year of growth. The stalks will usually reach a length of 10 inches but they can also be harvested at about 9.8 inches. It is important that your rhubarbs are tall enough to survive the harvest for the next year.
What does Rhubarb Taste Like?
When raw, rhubarb is crunchy and tastes rather sour or tart. Its sourness and tang can be compared to the sourness of citrusy fruits like limes and lemons.
Its puckery taste is more similar to fruits like green, unripe apples, prunes, and grapes. Rhubarb also has a certain sweet and fruity flavor and can sometimes come off as bitter.
When cooked alone, the sourness and tang of rhubarb puckers up the mouth. This is why it should be cooked with sugar and fruits that are distinctly sweet such as strawberries.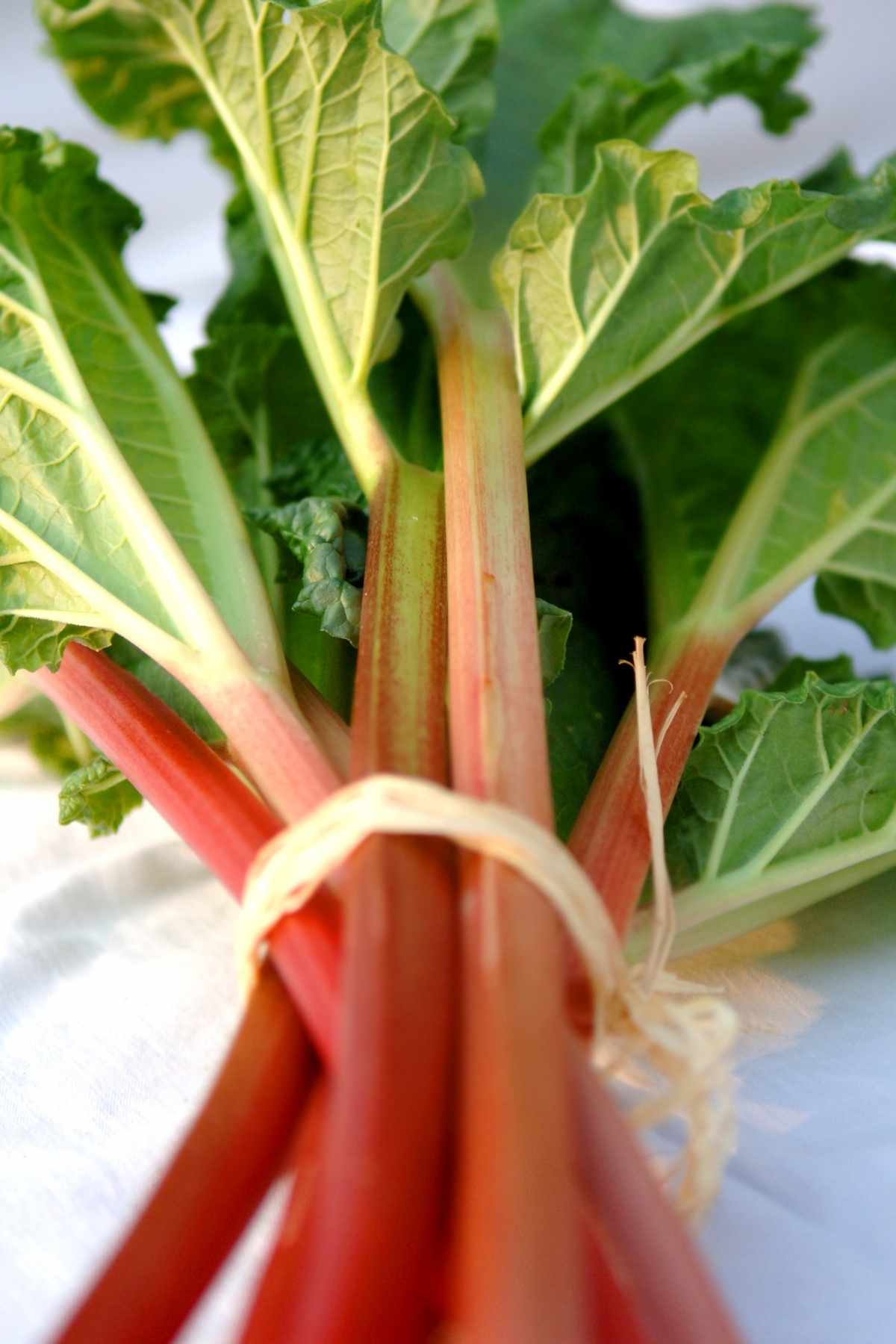 Ways to Use Rhubarb
Rhubarb is most often cooked with complementary ingredients to reduce the sour flavor but it still brings a unique aroma and taste. It is often used in recipes including:
Jams
Tarts
Purees
Jellies
Sauces
Salsas
Relishes
Stews
It works well with certain dips and can make a great addition to your salads. It can also be eaten on its own or dipped in honey, sugar, or maple syrup. You can even make candied rhubarb by covering julienned slices in sugar and baking them. 
Can You Eat Rhubarb Raw?
Yes, rhubarb stalks can be consumed raw. So, before using it to bake or cook, you should try it raw to ensure you like the taste. Remember to remove and dispose of the poisonous leaves.
Rhubarb vs Celery
The stalks of rhubarb are very celery-like and they are edible. However, they are not related as rhubarb belongs to the buckwheat family and celery to the parship family.
How To Store Rhubarb?
Store trimmed stalks in loose plastic in your refrigerator where they will last up to seven days. You should probably wash it before using it.  
If you do wash it before storing it, ensure that it is thoroughly dried.  The stalks can also be frozen by cutting them into one-inch chunks and putting them in a freezable food container. Frozen rhubarb stalks will last about  1 year.
You May Also Like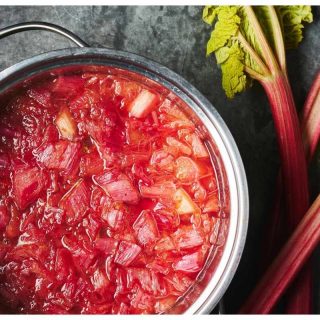 How to Cook Stewed Rhubarb
Stewed Rhubarb is one of our favorite ways to cook fresh rhubarb. It's made with only 3 ingredients and great for topping cakes, yogurt, or bread.
Print
Pin
Rate
Ingredients
1

lb

fresh rhubarb

1/2

cup

Water

1/3

cup

sugar

juice and zest from 1 lime
Instructions
Clean the rhubarb and remove leaves and the bottom of the stalks.

Cut it into small pieces.

Add rhubarb pieces into a medium-size saucepan.

Add the water, sugar, lime juice, and lime zest. Stir to combine.

Place the pot on the stove on medium heat. Let it simmer for about 15 minutes, or until the rhubarb pieces are breaking apart, stir occasionally.

Once cooked, remove from the heat and leave to cool down completely, then transfer into a sealed jar. Keep in the fridge for up to 2 weeks.
Tried this recipe?
Follow or tag us on Pinterest @izzycooking