Scallops are gourmet seafood that's buttery with a mild texture. The unique, slightly sweet flavor has earned them the nickname "the candy of the sea." Their tender, succulent meat is sure to delight fans of lobster and crab. This expensive seafood is especially delicious in a buttery lemon garlic sauce (recipe below!)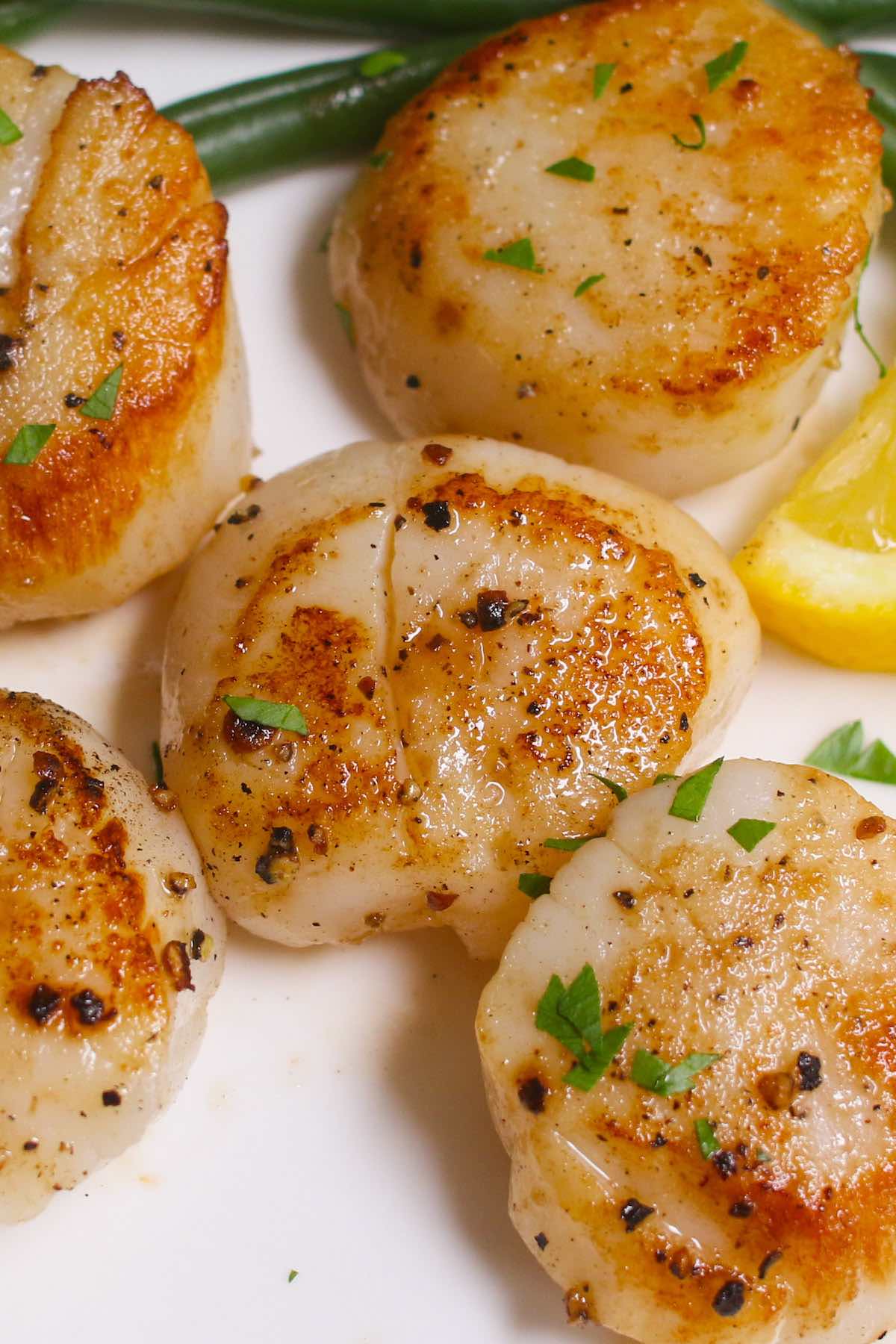 What Are Scallops?
Similar to clams, oysters and mussels, scallops belong to the bivalve mollusk family of shellfish. This means that they are made up of meaty muscle sandwiched between two hinged shells. The muscle opens and closes the shells, allowing the scallop to "swim" across the ocean floor. With scallops, the muscle is spherical in shape. Once extracted from the shell, this round muscle is the part that we eat.
What Do Scallops Taste Like?
Scallops are often referred to as the candy of the sea. This is because of their mild, sweet flavor, for which they are highly prized. Scallops have a tender, buttery texture similar to that of crab and lobster. Some scallops have a slightly nutty flavor, reminiscent of almonds or hazelnuts. This unique, delightful flavor makes scallops a tasty ingredient in seafood scampi.
Do Scallops Taste Like Shrimp or Lobster?
Scallops may easily be compared to shrimp and lobster in terms of flavor. Like lobster, Scallops do not have a "fishy" taste, but are mild and slightly sweet. The tender, succulent texture of lobster is quite similar to the experience of biting into a scallop.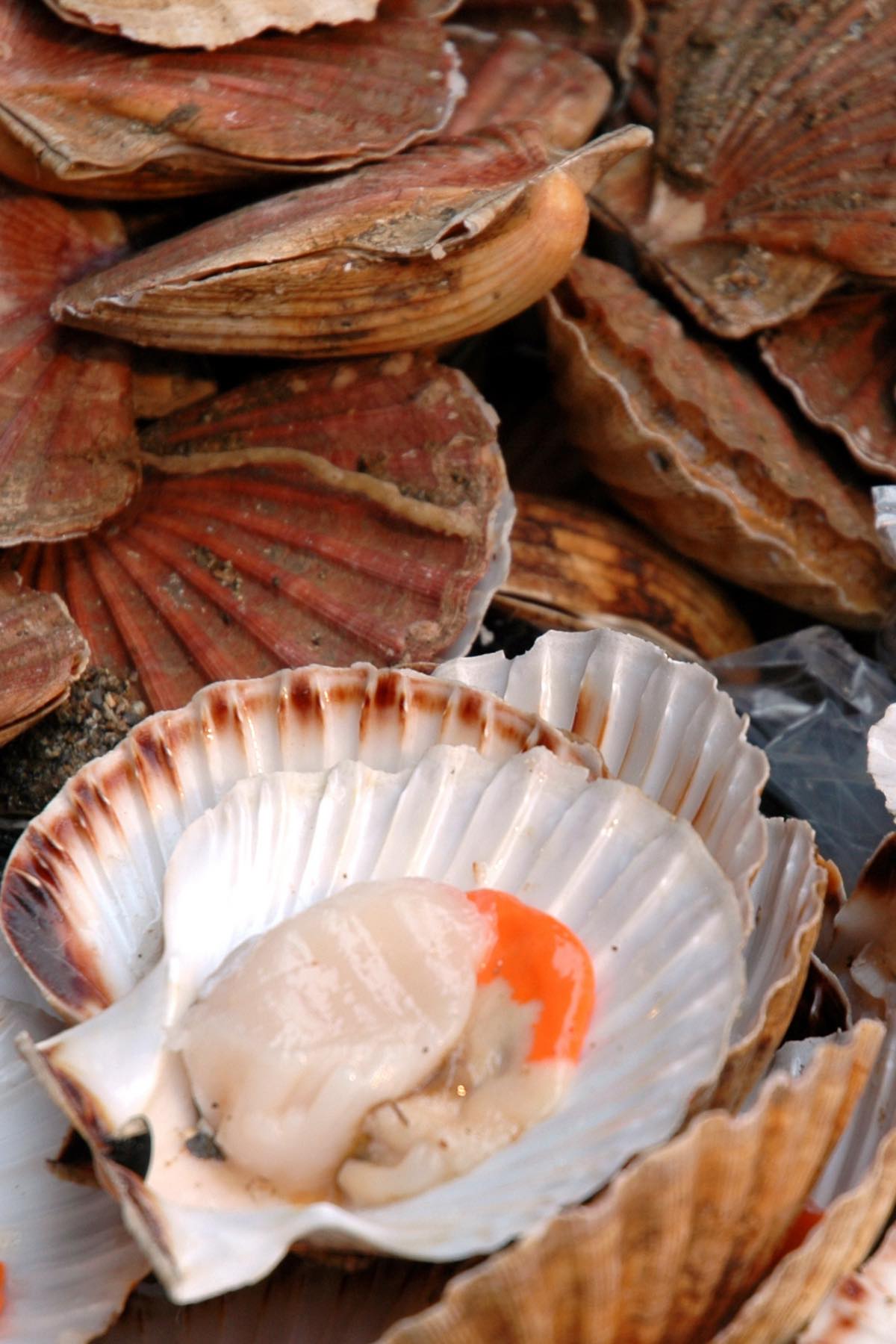 Types of Scallops
There are 3 types of scallops and they differ in both flavor and appearance. Bay scallops are famous for being the sweetest variety of scallops. Due to their migration patterns, these scallops are only available between October and March.
Sea scallops are far more common and can be found all year long. They are not as sweet as the bay scallops, though they can be bigger, growing up to two inches in diameter. Calico scallops can be found in the South Atlantic from December to May. These scallops have beautiful, intricate shells which are sealed, making it more difficult to access the meat inside.
What Does a Scallop Look Like?
Scallops are the classic shape that comes to mind when you think of the word "shell." It's the fan-shaped shell that is a staple in nautical or marine decor. The fuel retailer, Shell even used the shape for their logo. Scallops are made up of two of these shells, which are hinged together to protect the muscle inside. The shells open and close, allowing the scallops to move around.
Why Are My Scallops Chewy?
Scallops, when properly prepared, are a tender, succulent delight. If your scallops are chewy or rubbery, it means you've overcooked them. You have to be careful when preparing scallops because they cook very quickly. They only need a couple minutes on each side, so don't even think about stepping away from the stove.
What Do Bad Scallops Taste Like
Before tasting, you can easily tell when scallops have gone bad if there is an ammonia smell. Bad scallops will also taste like ammonia or may have a metallic taste. Immediately discard any bad scallops to avoid getting sick.
How to Cook Fresh Scallops
There are many delicious ways to prepare scallops. The fastest way is to pan-searing them. If you'd like to have a fool-proof way to cook this delicate seafood, try out our Sous Vide Scallops recipe. If you've purchased scallops that are still in shells, you'll need to open the shell and take the meat out. Be sure to remove the orange-colored roe before cooking.
Most supermarkets sell frozen scallops that have already been extracted for you. Thaw 1 pound of scallops in a bowl of cold water. Be sure to pat them dry with a paper towel before putting them in your skillet.
Use an oil such as olive, vegetable or canola to coat the bottom of your skillet in a thin layer. Turn up the heat and wait until the oil is sizzling before lowering your scallops in. Try not to overcrowd your pan. The scallops should sizzle when they hit the oil, to ensure they'll be deliciously crispy on the outside. Flip the scallops over after 2-3 minutes. Once the other sides have cooked for 2 minutes, remove the scallops from the skillet.
Now it's time for your sauce. Add unsalted butter to the skillet. Once melted, add garlic and lemon juice and cook for 2 minutes. Remove from the heat and add back cooked scallops. Toss to coat evenly.
You May Also Like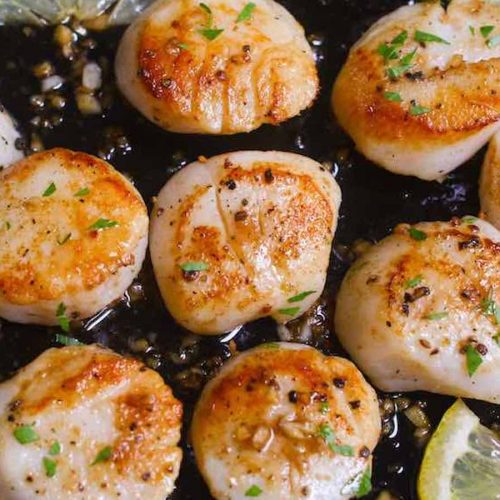 Lemon Garlic Butter Scallops Recipe
Enjoy the best taste of scallops with this quick and easy recipe.
Print
Pin
Rate
Ingredients
1

pound

scallops

1

tablespoon

olive oil

salt and pepper

to taste

2

tablespoons

unsalted butter

1

tablespoon

garlic

minced

2

tablespoons

lemon juice

chopped parsley for serving
Instructions
Season scallops with salt and pepper.

Add oil to a large skillet over medium heat.

Once hot, add the seasoned scallops into the skillet. (Make sure not to overcrowd your pan)

Cook for 2-3 minutes or until the bottom is crispy and browned.

Flip the scallops and cook for 2 more minutes. Remove them from the skillet, and set them aside.

In the same skillet, add butter. Once melted, add garlic and stir for a minute until fragrant.

Add lemon juice and simmer the sauce for about 2 minutes.

Remove the skillet from the heat and toss your scallops in the sauce before serving. Garnish with chopped parsley.
Nutrition
Calories:
164
kcal
|
Carbohydrates:
5
g
|
Protein:
14
g
|
Fat:
10
g
|
Saturated Fat:
4
g
|
Trans Fat:
1
g
|
Cholesterol:
42
mg
|
Sodium:
446
mg
|
Potassium:
250
mg
|
Fiber:
1
g
|
Sugar:
1
g
|
Vitamin A:
179
IU
|
Vitamin C:
4
mg
|
Calcium:
13
mg
|
Iron:
1
mg
Tried this recipe?
Follow or tag us on Pinterest @izzycooking