If you're a sushi fan, give some of these 18 vegetarian sushi recipes a try! All of them are delicious and completely vegetarian-friendly.
You'll find all of your favorites here, including avocado sushi, a yummy sushi bowl, and a crispy tofu sushi burrito.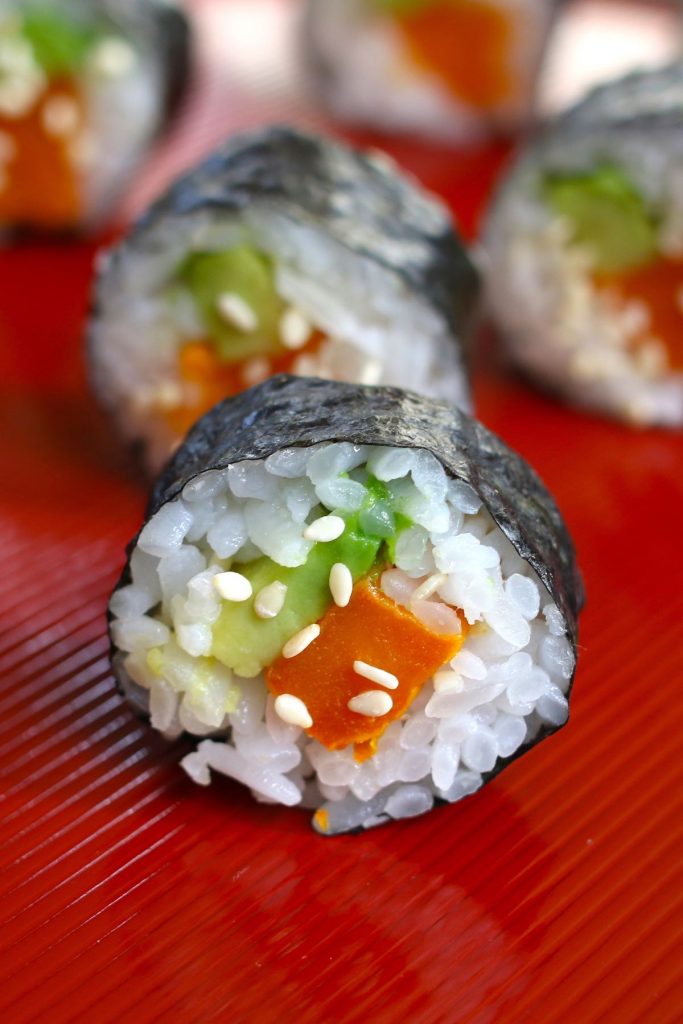 This maki roll is stuffed with sushi rice, sweet potato, and avocado. Sprinkle it with white sesame seeds for crunch!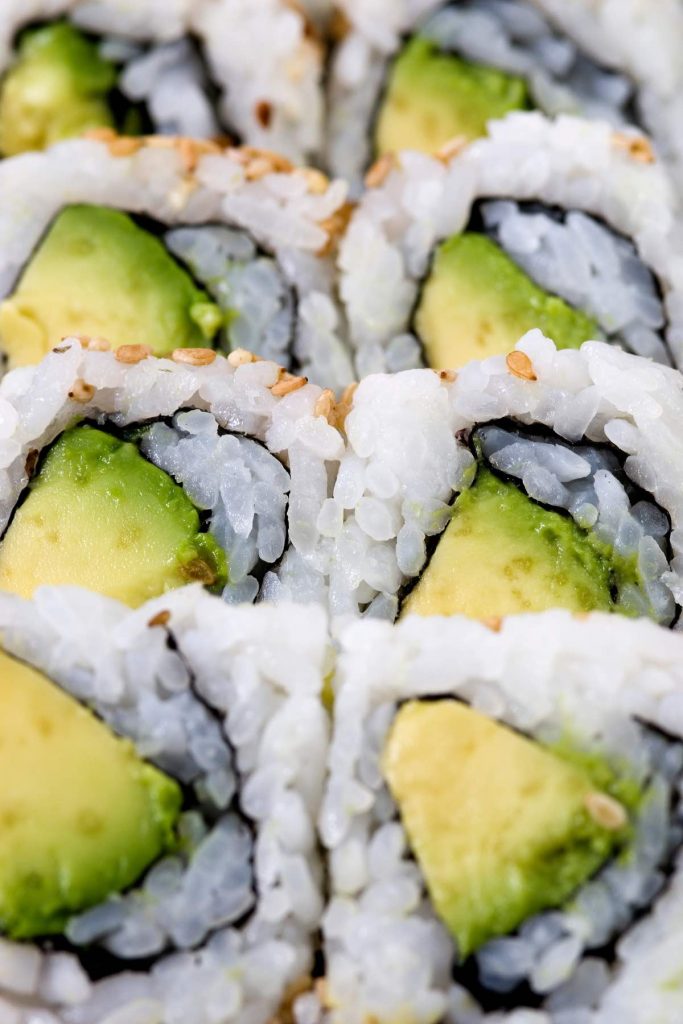 Creamy avocado is the star of this sushi roll. It's an easy recipe to make that's bursting with flavor and texture.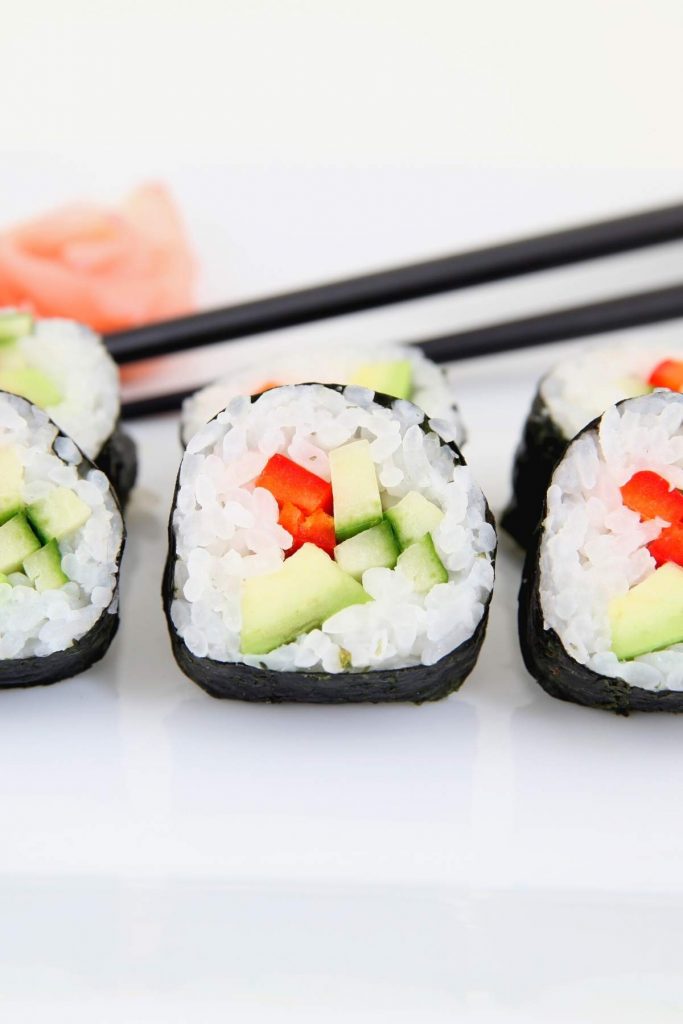 This recipe walks you through the steps to make all the elements of a delicious cucumber roll including the pickled carrots, spicy mayo, sushi rice, and the delicious filling.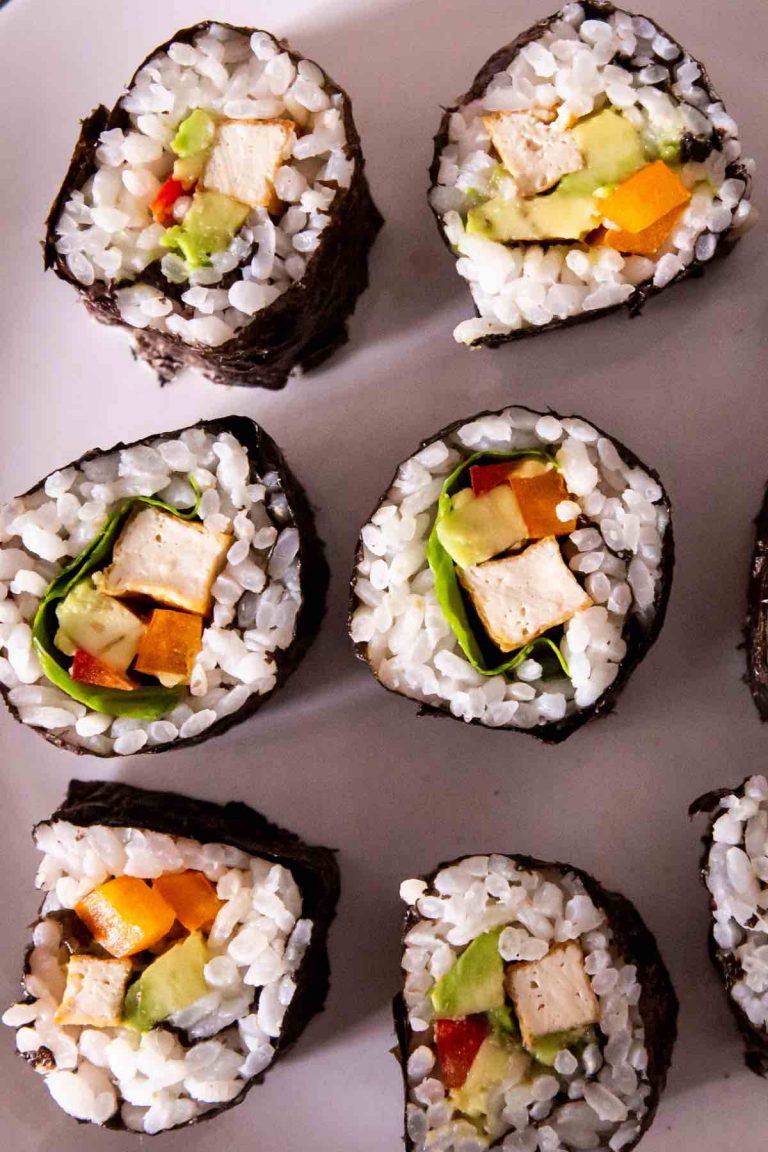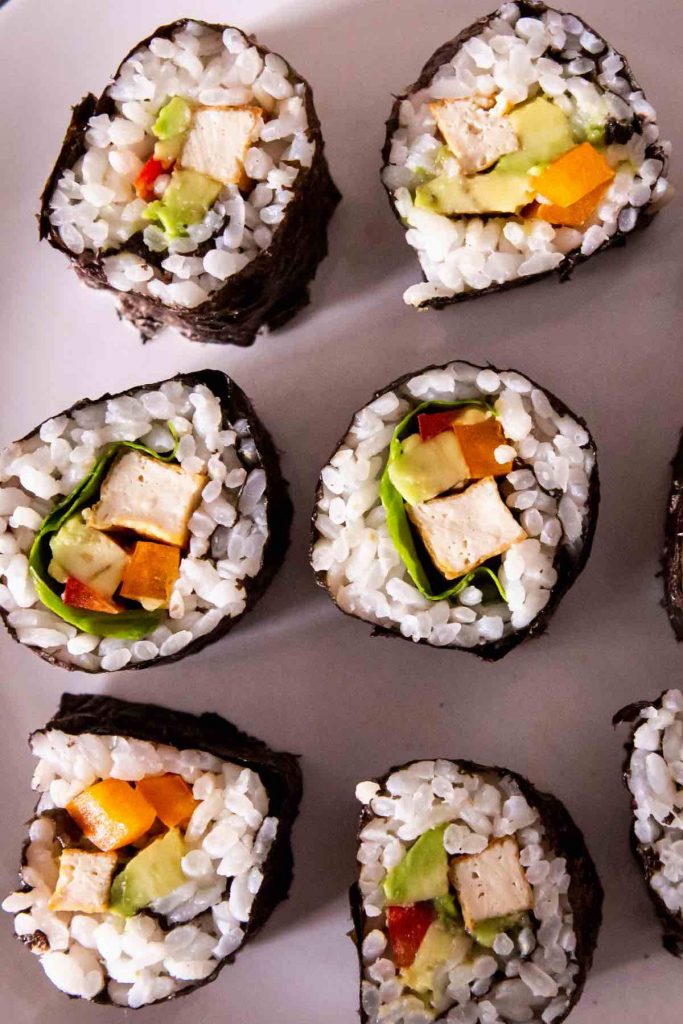 This colorful vegan-friendly sushi features firm tofu, carrots, cucumber, and avocado. It's a hit with kids and adults alike.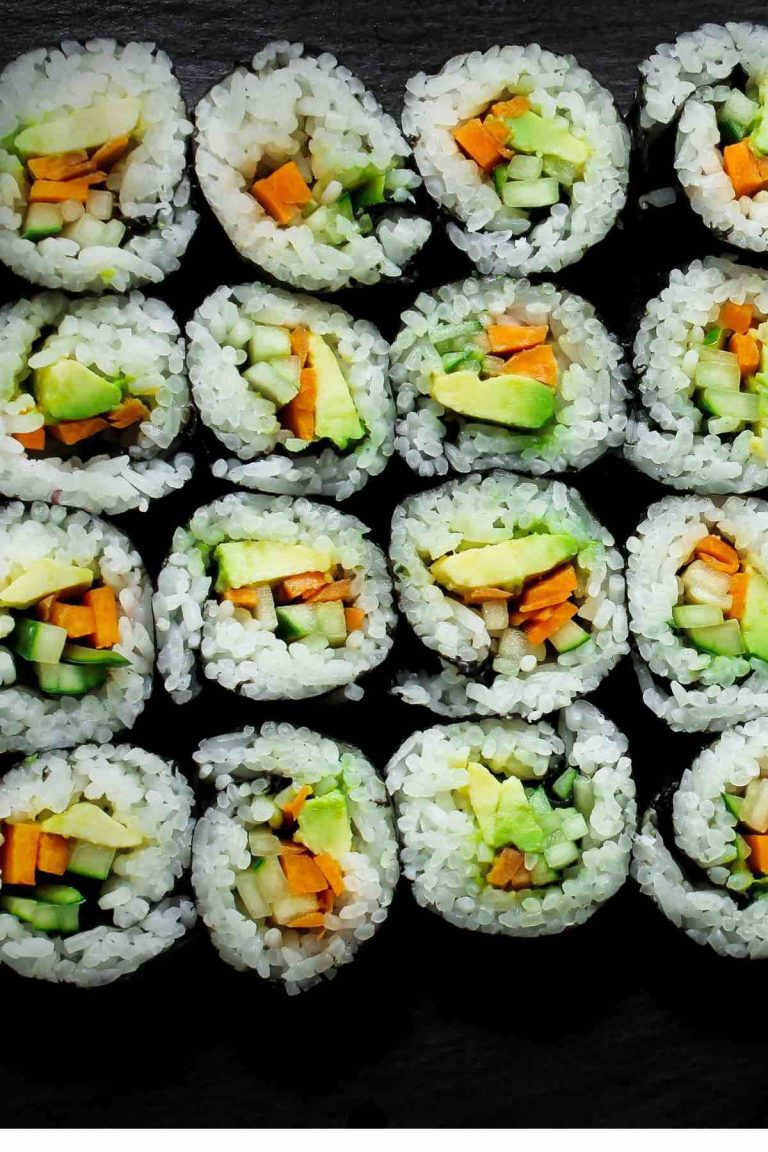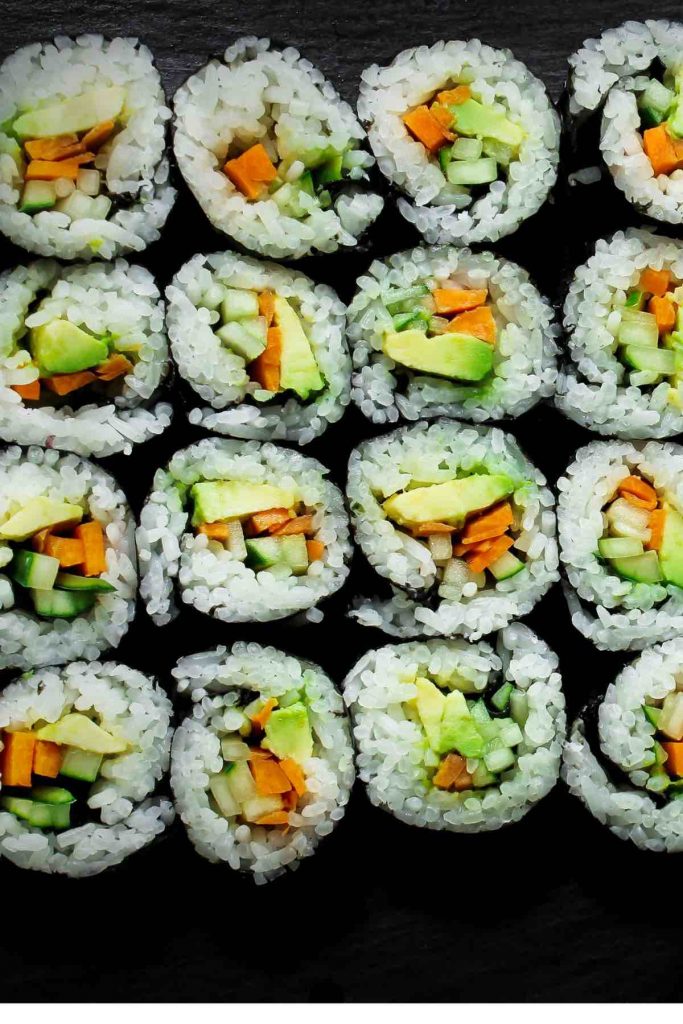 Your guests will think you ordered this vegetable sushi from a restaurant! It's a delicious combination of carrots, asparagus, cucumber, yellow squash, and avocado.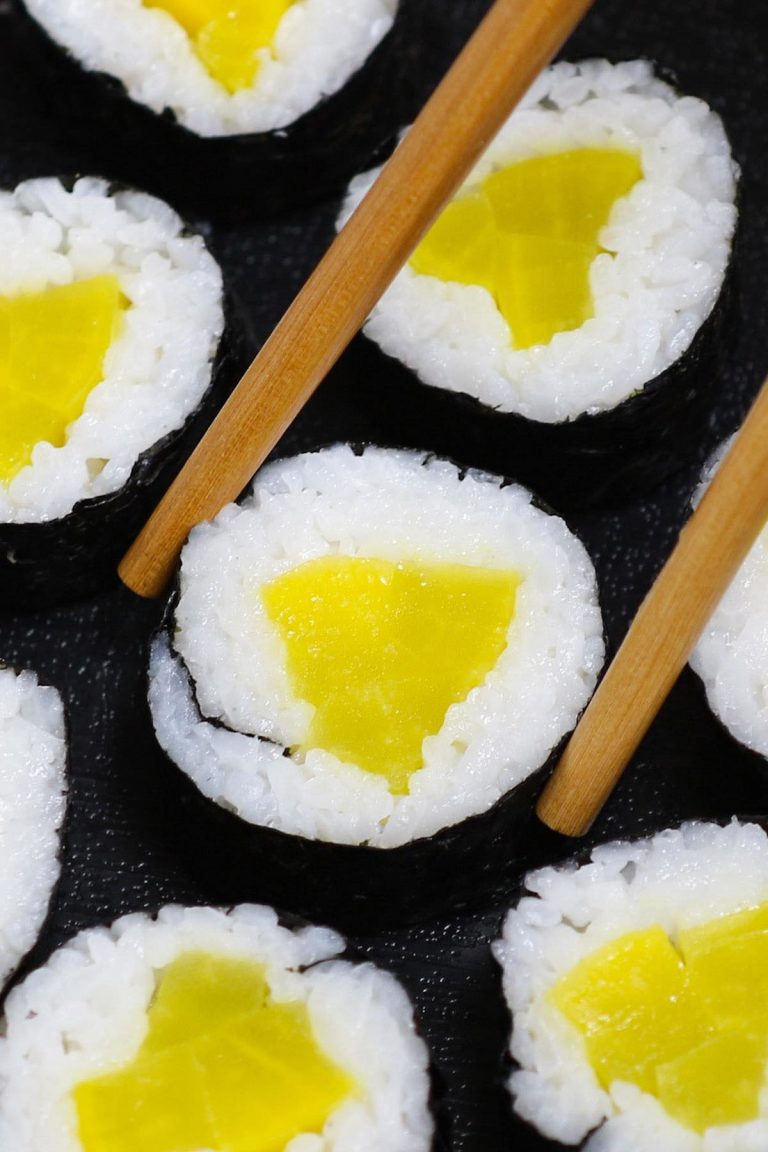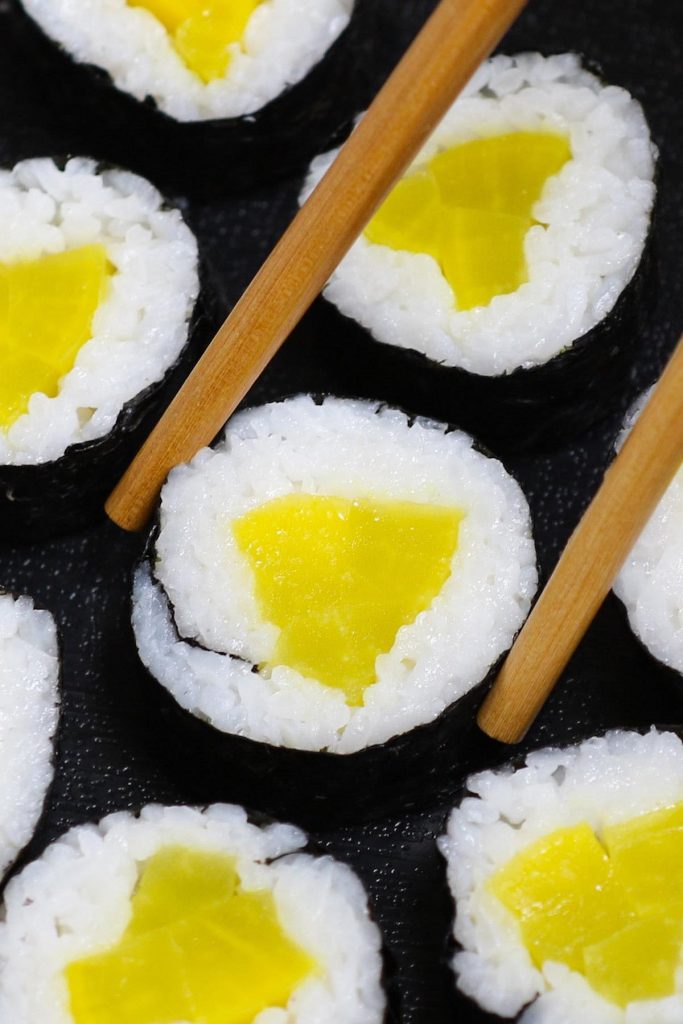 The flavor of tangy pickled radish pairs perfectly with the sushi rice in this roll. It's a simple type of sushi that's loaded with flavor.
Serve this hearty sushi bowl for next week's Meatless Monday dinner! It's loaded with rice, edamame, sweet potato, carrot, cucumber, and avocado. Top each serving with a drizzle of spicy cashew mayo.
You'll love the texture of the crispy tofu in this sushi burrito. This delicious dish is also hearty and satisfying.
Eggplant adds a slightly woodsy flavor to this sushi. Maple syrup is added to the filling for a hint of sweetness and fresh spinach, carrot, and cucumber bring wonderful texture.
Roasted red pepper adds a pop of bright color and flavor to this sushi. Swap the white rice out for brown for extra flavor and texture.
The shiitake mushrooms in this sushi dish are sauteed in garlic, sesame oil, and chili paste for extra flavor. Serve it sprinkled with sesame seeds for crunch.
This sushi is made with quinoa instead of rice, along with cucumber, carrots, avocado, and cream cheese. It's loaded with delicious flavors and textures.
If you're looking for a lower-carb sushi option, try this recipe for cauliflower sushi! The cauliflower rice is combined with cream cheese, spring onion, vinegar, salt, and pepper, and is then rolled, along with your choice of fillings, in nori sheets.
Serve this sweet coconut sticky rice for dessert! The rice is sweetened with coconut milk and it's topped with a sweet coconut milk and coconut sugar sauce.
If you're looking for something heartier than sushi, try this sushi sandwich! The recipe includes 2 versions; one with tofu katsu, and one with sweet potato. Top the sandwiches with tangy pickled red cabbage for extra flavor and texture!
If you're a fan of firm tofu, give this dish a try. The tofu is marinated in a mixture of brown sugar, soy sauce, rice vinegar, ginger, garlic, and scallions. Each piece of tofu is then topped with sushi rice and wrapped in nori.
Your guests will love the color of this pink sushi! It gets its color by adding beet powder to the sushi rice. Top each serving with a sprinkling of black sesame seeds for crunch.
Sriracha adds a delicious spicy flavor to this carrot, lox, and avocado sushi. The combination of flavors and textures is amazing!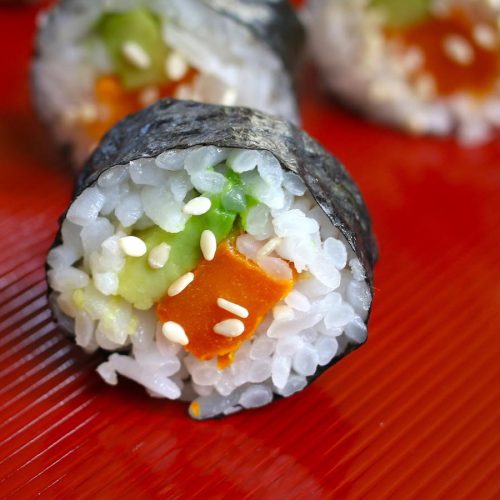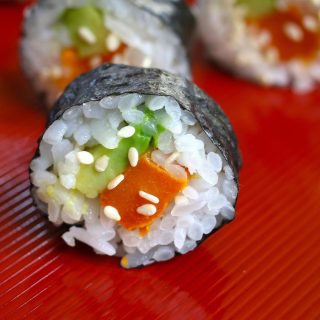 Easy Vegetarian Sweet Potato Sushi Recipe
This maki roll is stuffed with sushi rice, sweet potato, and avocado. Sprinkle it with white sesame seeds for crunch!
Print
Pin
Rate
Servings:
24
pieces (3 rolls)
Ingredients
Sweet potato sushi rolls:
1

large sweet potato

1

tablespoon

vegetable oil

3

sheets nori

seaweed

1

avocado

ripe but still firm

white sesame seeds

you can toast them in a skillet on low for a few minutes until they're lightly browned.
Instructions
Make the sushi rice
Wash the rice with cold water until the water runs clear. Add it to the rice maker together with water. Cook according to the instructions.

Once cooked, transfer the hot rice to a large bowl and let it cool down slightly. When it's still very warm, stir in the sushi vinegar (the mixture of rice vinegar, sugar, and salt).
Bake sweet potatoes
Peel the sweet potato and cut lengthwise into 1/2-inch thick strips.

Mix them with olive oil and bake for 25 minutes until soft and tender, turning half way through.

Let them cool down before adding to sushi rolls.
Make sweet potato sushi rolls
Lay out the bamboo mat with an optional piece of plastic wrap on top (this will make clean-up easier). In the meantime, set aside a small bowl of Tezu vinegar water (regular water mixed with some vinegar) to dip your hands to prevent sticking.

Cut off 1/3 of the nori seaweed sheet using kitchen scissors. Then place the remaining nori sheet towards the bottom of the mat, shining side facing down.

Take 3/4 cup of cooked rice and evenly spread over nori while leaving 1/2 inch at the top of the sheet. Wet your fingers in the vinegar water to spread the rice in a thin layer. Don't use too much pressure, otherwise you'll make the rice mushy.

Sprinkle sesame seeds on top of the rice, and then place sweet potato strips and avocado slices on top (towards the bottom, see the photo below). Make sure not to add too much filling or your roll won't seal properly.

Place the thumbs underneath the bamboo mat and lift the edge up and over the filling.

Roll the bamboo mat away from you and press the rice and filling together. Use the bamboo mat to continue rolling until reaching the blank nori on the edge.

Peeling the mat back away as you continue to roll, so that the nori can be rolled into a cylinder. Press the mat gently so that the roll won't fall apart when you cut it.

Place the roll on a cutting board and use a long sharp knife to cut off the edges on each side. Then cut each roll into 6-8 pieces. Serve with optional soy sauce and wasabi.
Tried this recipe?
Follow or tag us on Pinterest @izzycooking