Tik Tok has taken over the internet, and now it's taking over the kitchen! We've rounded up 21 of the most popular and trending TikTok Recipes that are easy to make at home.
Once you try this delectable blend of pasta, roasted tomatoes, feta, and fresh herbs, you'll know why this Tik Tok baked feta pasta recipe is such a big hit on the internet. Truly yummy!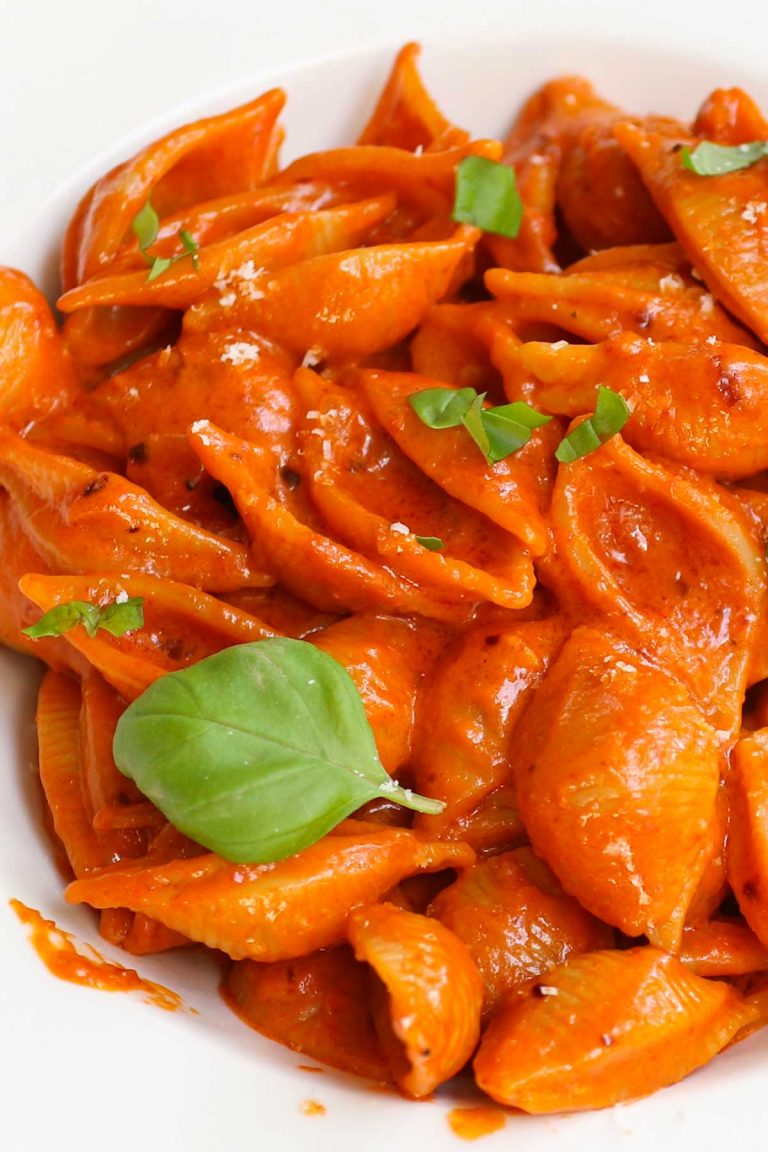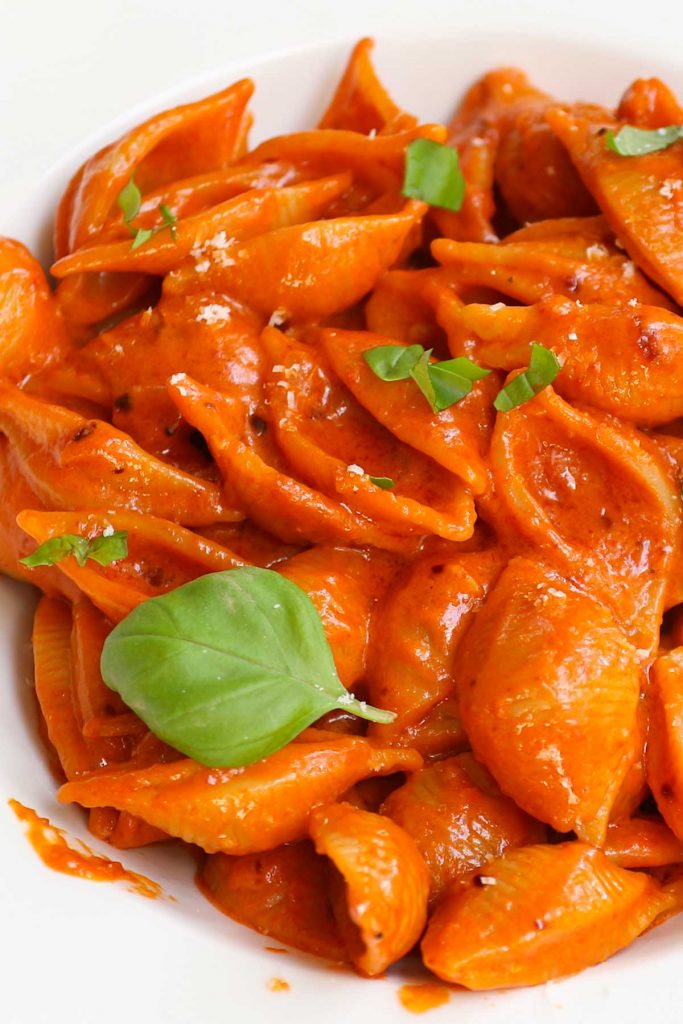 You may not think model Gigi Hadid eats much pasta. But this cheesy and spicy pasta comes straight from her kitchen. It's a simple concoction that's delicious. When you taste it, you'll know why Gigi Hadid Pasta went viral when she posted it on Tiktok and Instagram.
This frothy TikTok whipped coffee made with instant coffee, whole cream, and milk might be your new morning wake-up call.
Are you searching for a quick meal to go? Tiktok ramen creates a sweet and saucy meal by combining instant noodles, butter, garlic, egg, and soy sauce.
Pasta Chips may be Tik Tok's most ingenious appetizer. Simply cook pasta and toss with olive oil, cheese, and your favorite spices!
Baked by Melissa is the source of this Tik Tok green goddess salad recipe that's both tasty and nutritious. Try it and see for yourself!
You're not walking on air, you're eating cloud bread! Egg whites, sugar, and cornstarch are all it takes to make the biggest and fluffiest clouds of bread ever. Baking these ingredients creates a sort of billowy meringue that is delicious and eye-catching!
Looking for a healthy lunch recipe? You can completely customize this Tik Tok wrap by adding your favorite lean protein, vegetables, cheese, and sauce.
Tik Tok brings you Custard Yogurt Toast! It makes a delicious meal on its own or with a soup or salad on the side.
Amaze your friends with these accordion potatoes! They're baked to perfection with a crispy outer layer and delicious with the addition of garlic butter and herbs. Best of all, this easy-to-follow recipe is a cinch!
You can thank the For You Page for giving us the TikTok egg sandwich. Bread and eggs are all it takes to create this delicious one-pan omelet.
Corn ribs could be your new go-to side! This version of charred and seasoned fresh corn makes a sweet treat and is the perfect addition to any entrée.
TikTok- nori sushi wraps are made with 3 simple ingredients: canned tuna, avocado, and cucumbers. They're gluten-free and low carb. But you can swap chicken for tuna, nut butter for avocado, and carrots for cucumber for a whole new lunch!
One taste of this grated egg toast recipe will tell you why it's gone viral! Super healthy and delicious with the winning combination of grated hard-boiled eggs, sourdough bread, and avocado.
This Tik Tok cornbread recipe by Chopslap went viral, and it's easy to see why! It's so sweet and moist, you'll think you're eating cake. Plus, the recipe is so easy, it's no trouble to make more!
All you need is eggs, sausage, biscuits, cheese, and 45 minutes to make the Tiktok Breakfast Casserole. It's so good you might want to eat it again for dinner!
This dish is perfect for the vegetarian in your life. Even dedicated meat-eaters won't be able to get enough of this baked pasta with Boursin cheese, parmesan cheese, tomatoes, garlic, and spices.
Are you tired of boring fried eggs for breakfast? Check out this TikTok pesto eggs recipe that fries the eggs in pesto sauce. It takes the lowly egg to a new level of deliciousness. Add goat cheese on toast for added awesomeness!
Everyone's favorite cookie gets a new twist! Golden brown and crispy on the outside, gooey and chewy on the inside. Who can resist!
These TikTok blended baked oats are another viral hit! Delicious, packed with healthy fiber, and easy to make with simple ingredients, you will love them for breakfast tomorrow.
This Tik Tok caramel apple tortilla wrap recipe is part lunch, part dessert, and completely decadent!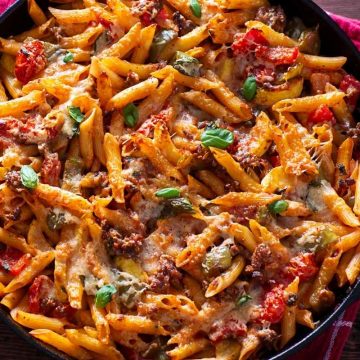 TikTok Baked Feta Pasta Recipe
Once you try this delectable blend of pasta, roasted tomatoes, feta, and fresh herbs, you'll know why this Tik Tok baked feta pasta recipe is such a big hit on the internet. Truly yummy!
Print
Pin
Rate
Ingredients
10

oz

dry penne pasta

you can also use other pasta such as rigatoni or cavatappi

8

oz

feta cheese

drained

1

lb

grape tomatoes

6

garlic cloves

peeled and halved

1/2

cup

extra-virgin olive oil

salt and pepper

to taste

2

tbsp

fresh parsley

minced

Optional fresh basil
Instructions
Preheat the oven to 400°F.

Add the tomatoes and garlic into a baking dish. Then add olive oil, salt and pepper. Mix together. Place the feta block in the middle, turning it several times to coat with the mixture.

Bake for 30 minutes. Increase the temperature to 450°F. Bake for about 10 minutes or until the tomatoes and cheese start to brown slightly.

Meanwhile, boil the pasta in a pot of salted water according to the pasta pack instructions until al dente. Save 1/2 cup of the pasta water and set it aside.

Using the back of a wooden spoon, gently crush the tomatoes, garlic, oil, and feta mixture. Add the pasta, tossing along with the basil..

With a few tablespoons at a time of your reserved pasta water, thin the mixture until you reach your desired consistency. Lastly, season to taste with salt and pepper and serve.
Tried this recipe?
Follow or tag us on Pinterest @izzycooking