Sous Vide Sweet Potatoes are the most delicious and nutritious veggie ever! They're fluffy, sweet and come out perfectly EVERY TIME! This simple side dish recipe takes a few minutes to prepare, then the sous vide machine will do the rest of the work and cook the sweet potatoes to perfection.
These sous vide sweet potatoes are no-fuss, easy to make and packed with vitamins and nutrients. They are so flavorful, and you can serve them with pretty much any meal like steak, chicken, or seafood. Whether you are serving this with your Thanksgiving dinner, or simply a weeknight meal, you'll love this perfect side dish recipe.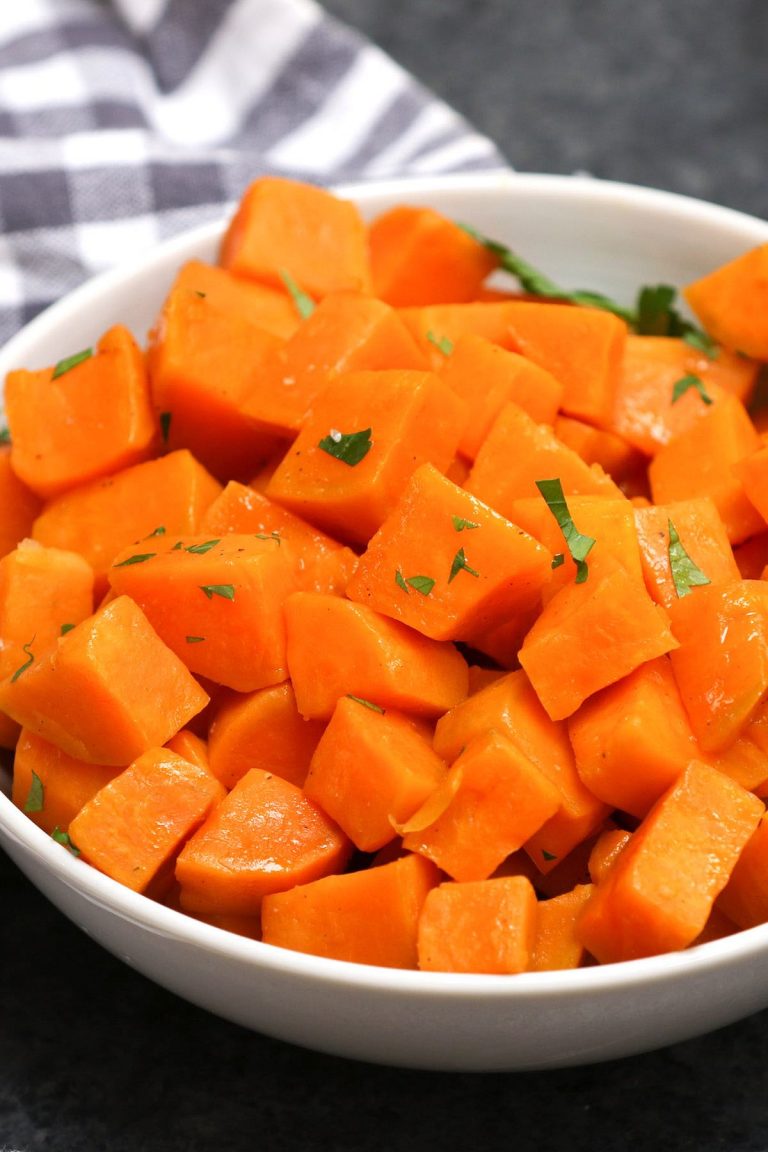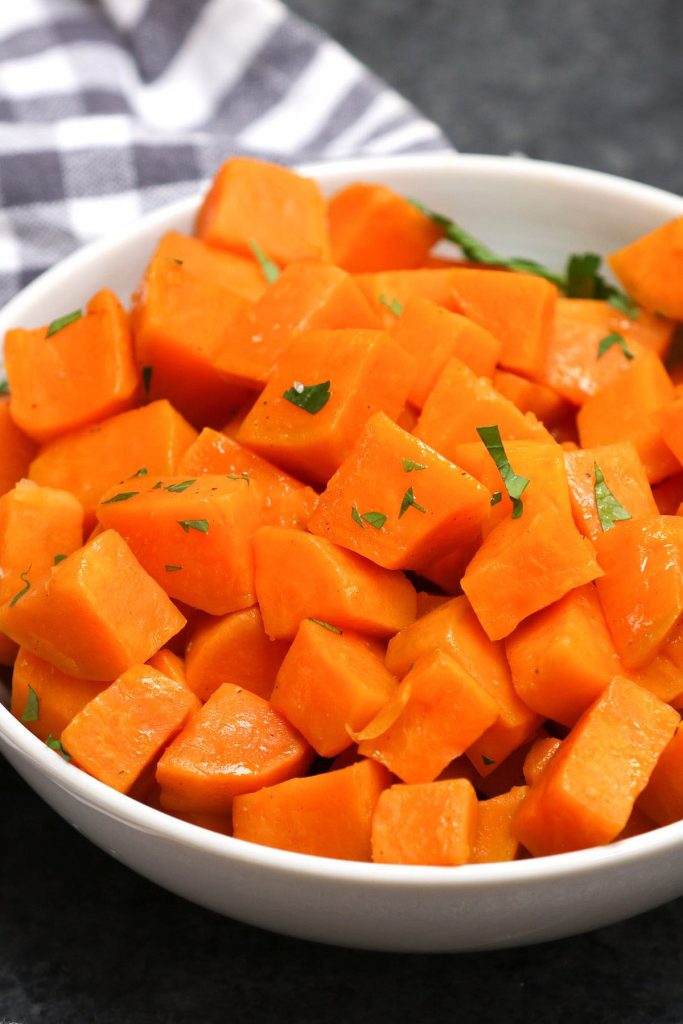 Why sous vide cooking sweet potatoes works
Sous vide sweet potatoes = Perfect texture + Best flavor + More Nutrients
What is sous vide cooking?
Sous vide is a French cooking technique where the food is first vacuum-sealed in a bag, then cooked for a long time to a very precise temperature in a warm water bath. This technique is known for being a precise and consistent way to evenly cook the food. If you are new to sous vide cooking, here is a complete guide on everything you need to know about sous vide.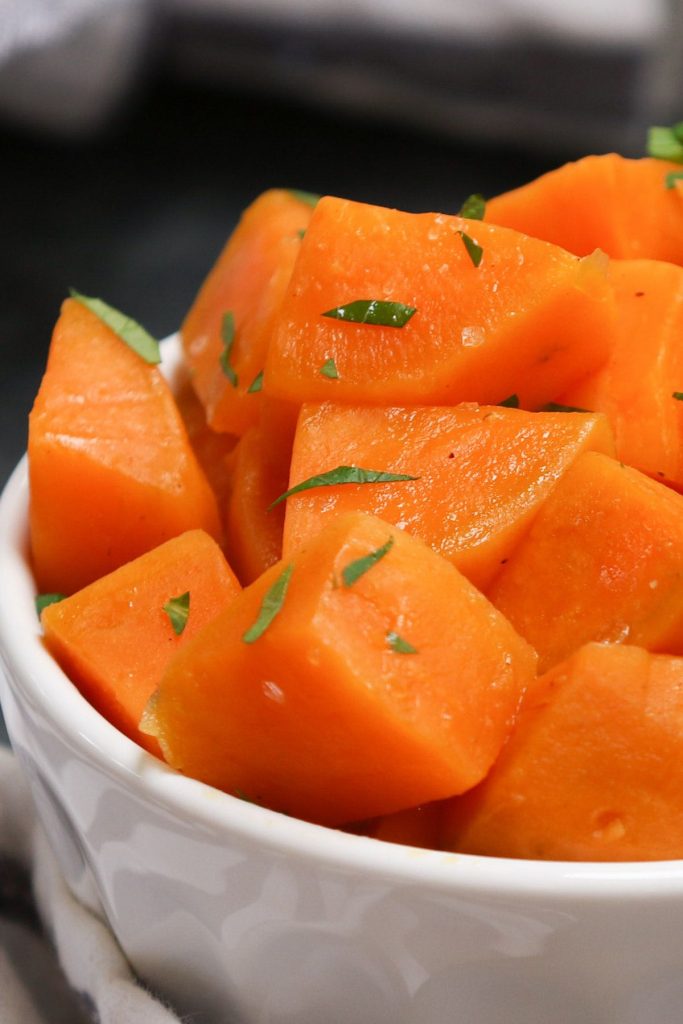 Sweet potato vs. yam
Similar to a regular potato, sweet potatoes are a starchy and sweet root vegetable that's different from yams. Although both are root vegetables, the skin of a yam looks like tree bark while a sweet potato is more reddish-brown. Yams are less sweet, with much more starch and drier than sweet potatoes. However, the two terms are used interchangeably in many supermarkets, leading to more confusion.
Sweet potatoes are heathy and really good for you. They're packed with fiber, vitamins, and minerals like calcium and potassium. They are also a great source of beta-carotene, a powerful antioxidant that improves our immunity and overall good health.
There are different types of sweet potatoes, and I recommend using orange or red skinned sweet potatoes. Look for firm sweet potatoes without discolorations on their skins. Soft ones are usually too old.
How to make sous vide sweet potatoes (step-by-step instructions with photos)
Making sweet potatoes in a sous vide machine is one of the easiest things to do:
Wash and cut sweet potatoes: For the best flavor and texture, I recommend peeling the sweet potatoes first. Then cut them into 1/2-inch cubes.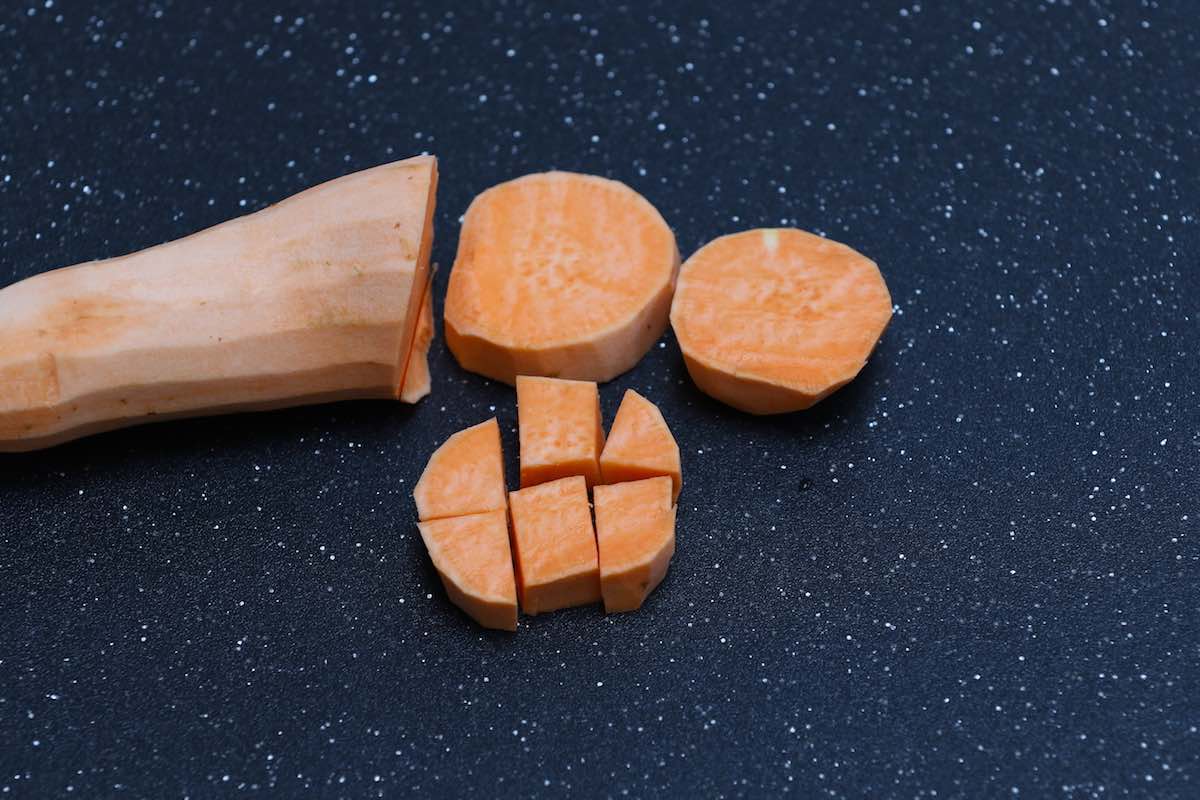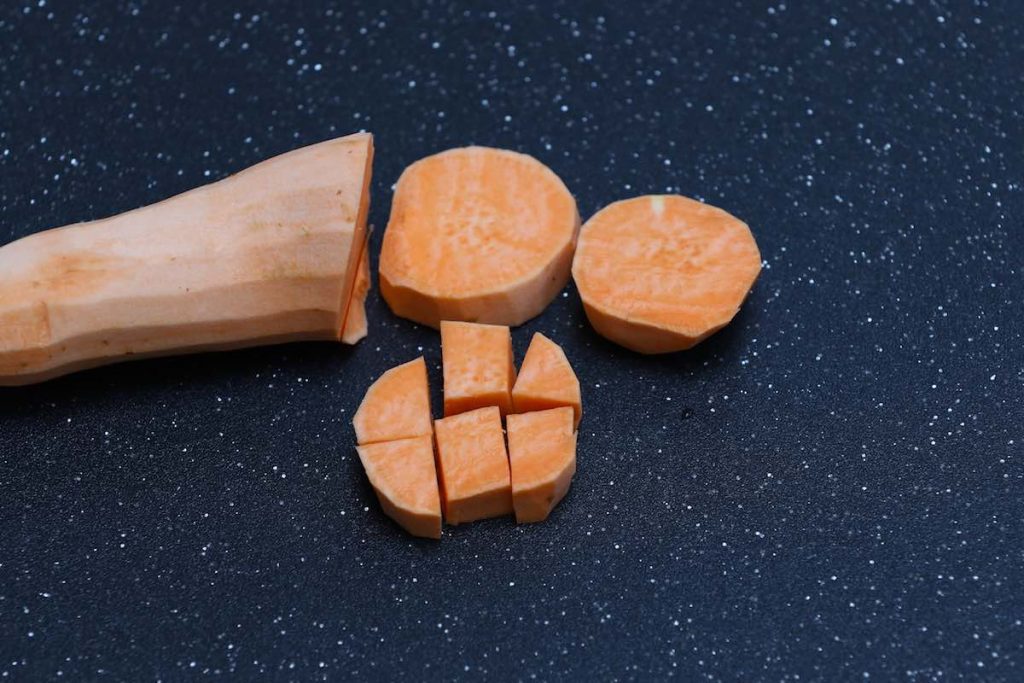 Rub with oil and seasonings: Rub them with olive oil, seasonings and herbs. And then place them in zip-lock bags (I used two bags for 2 large sweet potatoes).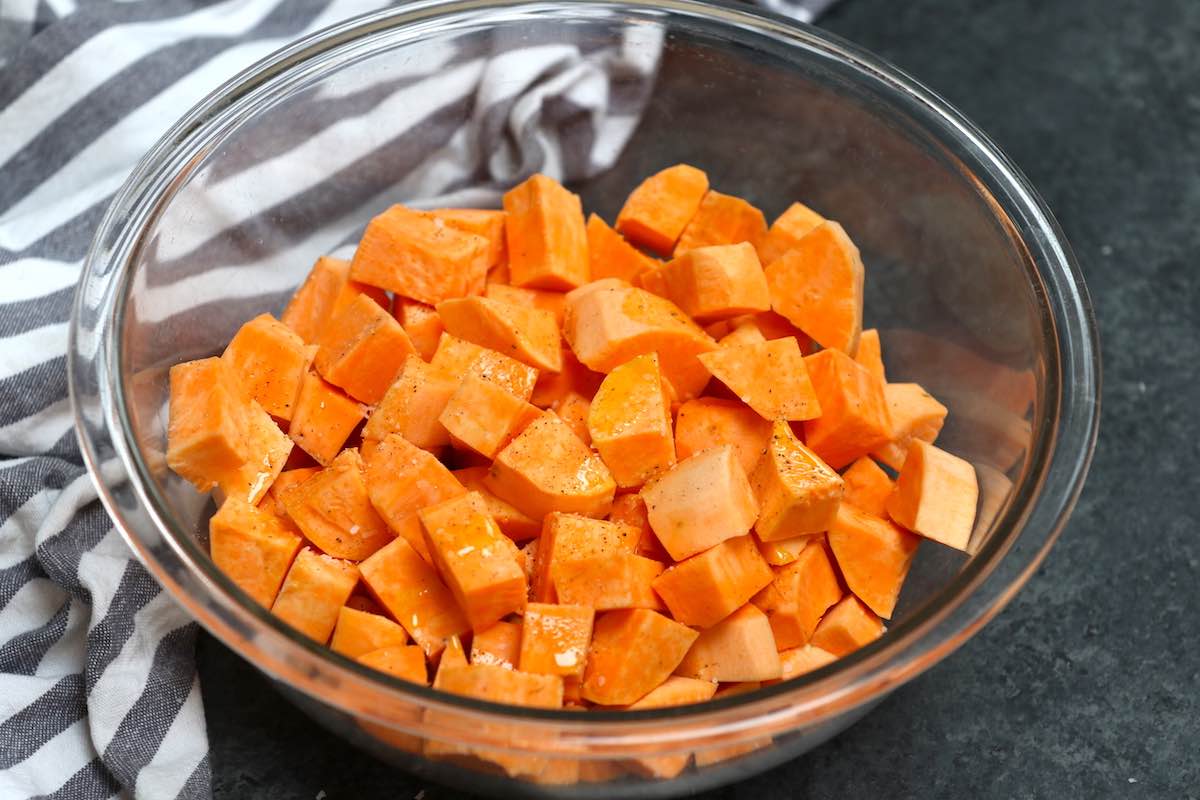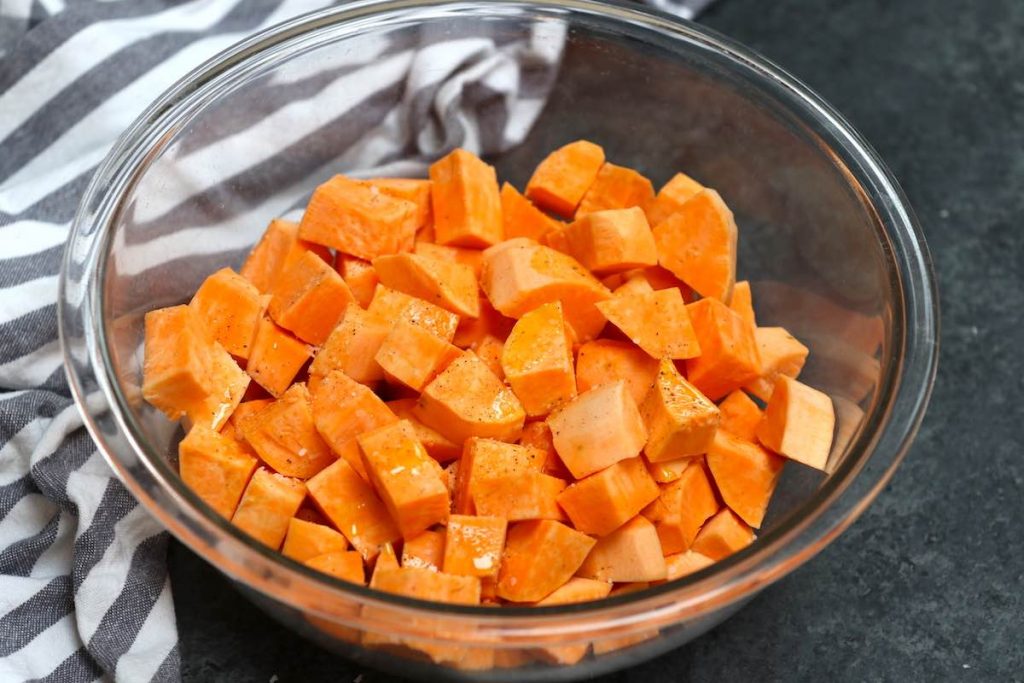 Vacuum-seal the bag: Use a vacuum-sealer if you have one. Otherwise, vacuum seal the bag using "water displacement" technique (see recipe card for details).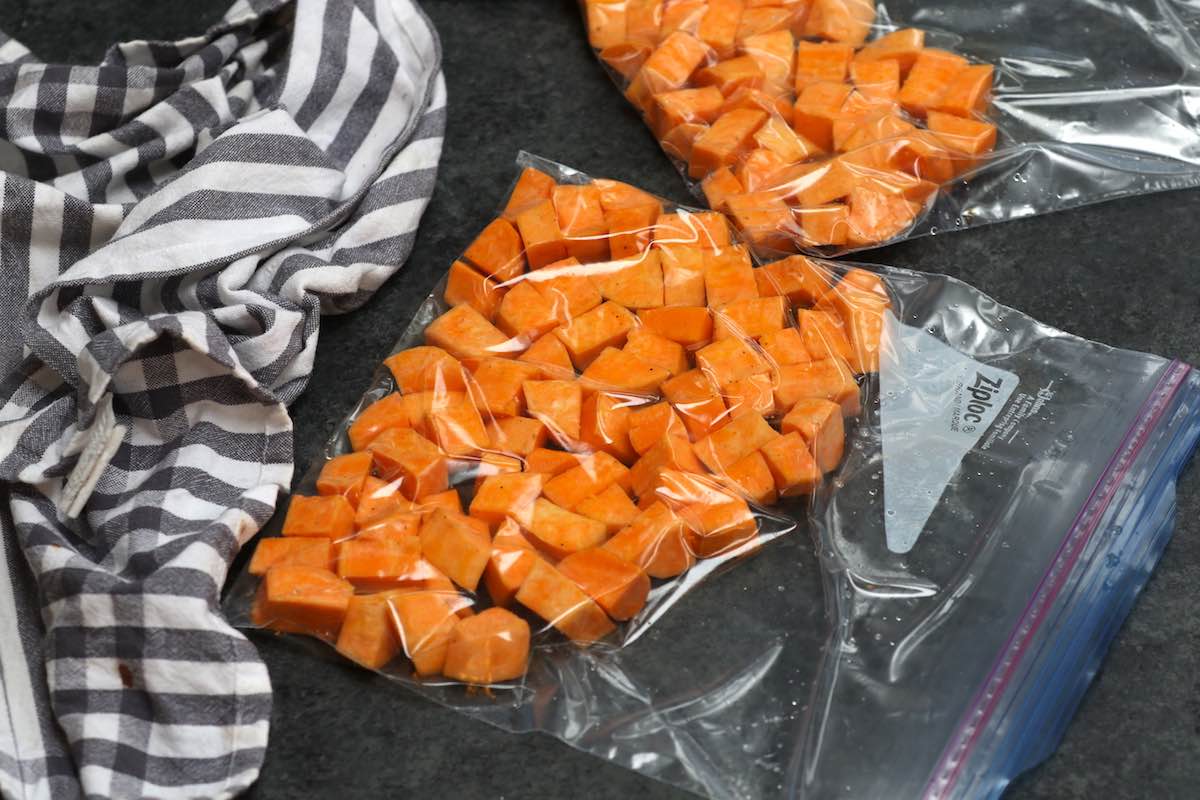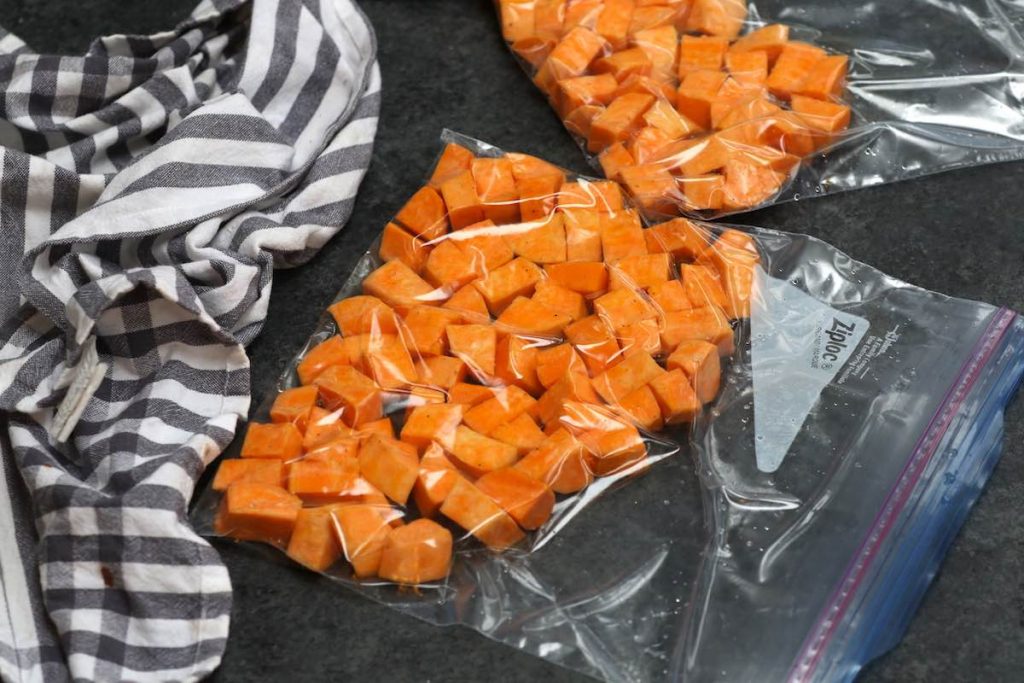 Sous Vide cook: Cook in the sous vide water bath at 194°F (90°C) for 30 minutes.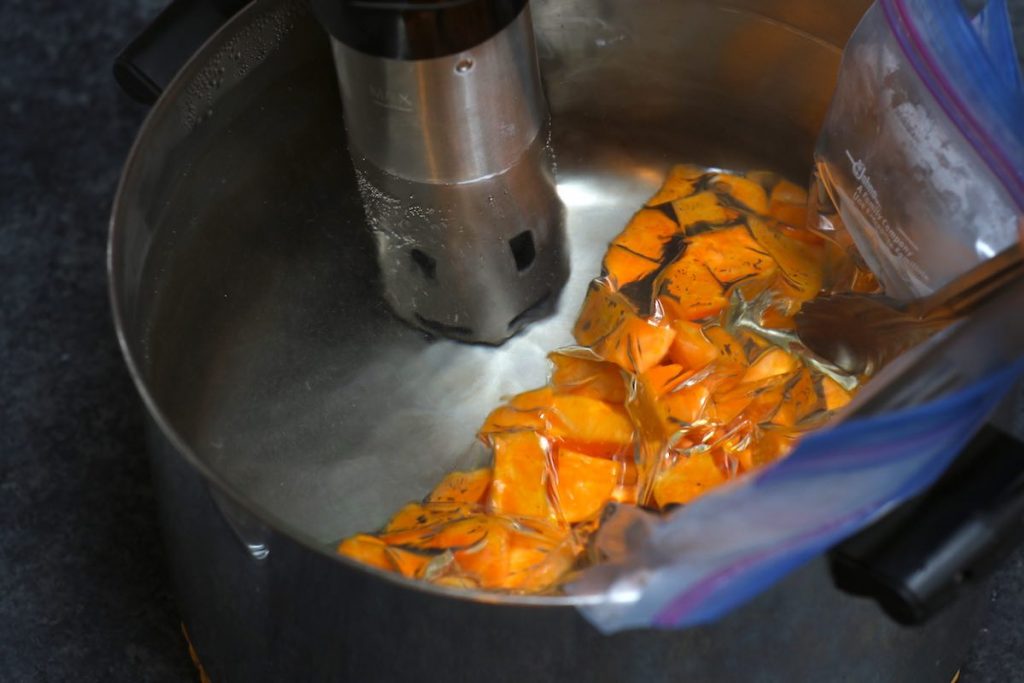 That's it! Incredibly easy!
Temperature and time to sous vide sweet potatoes
I recommend cooking them at 194°F (90°C) for the best texture. It's sweet, fluffy, flavorful, and never mushy, absolutely perfect.
Cooking time varies depends on the size of your sweet potatoes. The fastest way is to cut them to 1/2-inch cubes so that they can get cooked thoroughly after 30 minutes.
Bigger chunks need longer cooking time. Check the doneness and if they are not ready, just place them back to the bag, and vacuum-seal it again and continue to cook until tender and soft.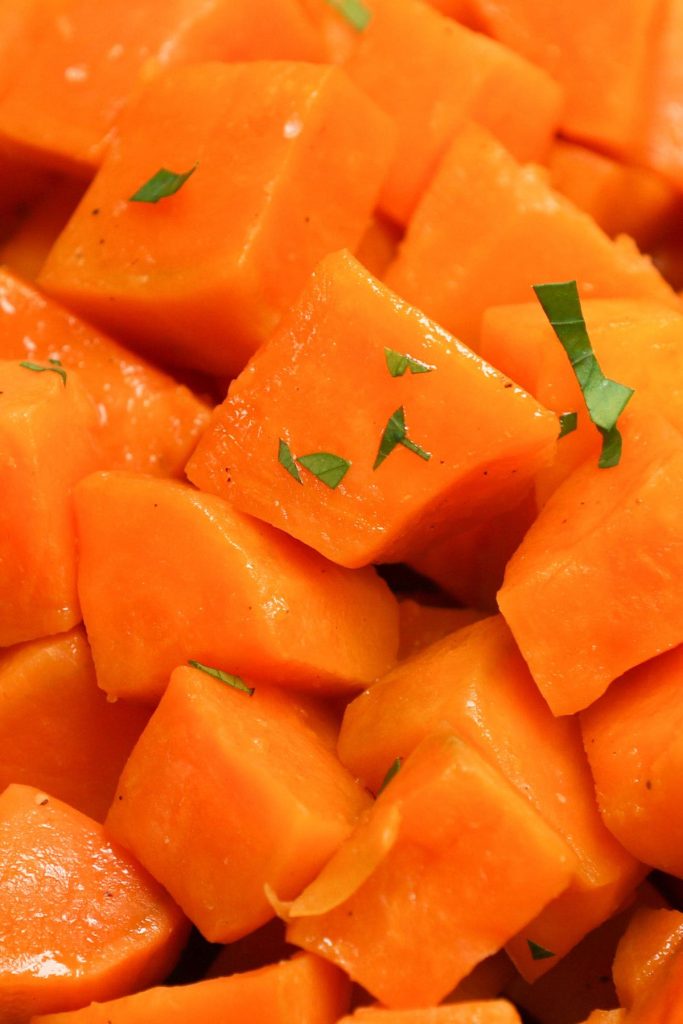 Tips and Tricks
Make ahead instructions
Sous vide sweet potatoes are delectably caramelized on the outside with a nice, fluffy middle. Best of all, they can be prepared ahead of time and reheated when you're ready to eat.
After the sweet potato is fully cooked, transfer it to an ice bath and allow it to cool completely. Transfer to an airtight container and store in the fridge for up to five days. If you prefer, you can also store the sweet potato in the same bag you cooked it in.
How to store sweet potatoes?
Raw sweet potatoes are best stored in a cool, dark, and dry place. Don't store them in a refrigerator as this can change their cell structure, make them take longer to cook, and affect their flavor.
For the cooked sweet potatoes, you can store them in an airtight container in the refrigerator for 3-4 days. You can also freeze them and they'll last for up to 3 months.
How to serve sous vide sweet potatoes
Sous vide sweet potatoes make a delicious and healthy side dish for lunch or dinner. Serve it alongside your favorite proteins like lemon garlic butter salmon or BBQ chicken thighs. At the breakfast or brunch table, use sous vide sweet potatoes for a vibrant and hearty hash with fried eggs, kale, bacon and bell peppers.
More Sous Vide Vegetable Recipes You'll Love
Recipe Tools:
FAQ
How to vacuum seal the bag with the water displacement method?
Even if you don't have a vacuum sealer, you can still get great results using the sous vide method. The water displacement technique uses water pressure to remove all the air from the Ziploc bag. After you've added your ingredients to the bag, seal the bag nearly all the way closed, leaving a small opening in one corner. Submerge the bag in the water bath, ensuring the water doesn't go above the seal. When the air has been pushed out of the bag, you can close the seal. 
Should I peel sweet potatoes before sous vide cooking?
You'll definitely want to remove the skin from sweet potatoes before cooking them. They'll be much harder to peel when they're fully cooked. Use a sharp knife or vegetable peeler to remove the skin from the sweet potatoes, before cutting them into 1-2" cubes.
Can you overcook sous vide sweet potatoes?
It's possible to overcook sweet potatoes with the sous vide method. If you use too high a temperature or you allow them to cook for too long, you can end up with very mushy results. Be sure to accurately follow the cooking instructions and transfer the bag to an ice bath once the cooking time has elapsed.
Do I need to sear sweet potatoes before serving?
It's a good idea to pan-sear the sweet potatoes before you serve them. This gives the outside of the sweet potatoes a delightfully crisp, slightly caramelized texture. Add a teaspoon of olive oil to a skillet over medium heat and add the cooked sweet potato cubes. Cook for 2 minutes on each side, taking care not to allow the pieces to burn.
Can you sous vide sweet potatoes at 135 F?
Uncooked sweet potato is tough and starchy and requires higher temperatures for best results. With the sous vide method, it's recommended that you cook sweet potatoes at 194°F or 90°C. At this temperature, the sweet potatoes should be ready in about 30 minutes. If you use a lower temperature like 135°F, the sweet potato will be undercooked, tough and hard to chew.
Please let me know how your sous vide sweet potatoes turn out in the comments below! I'm also looking forward to hearing how you serve them.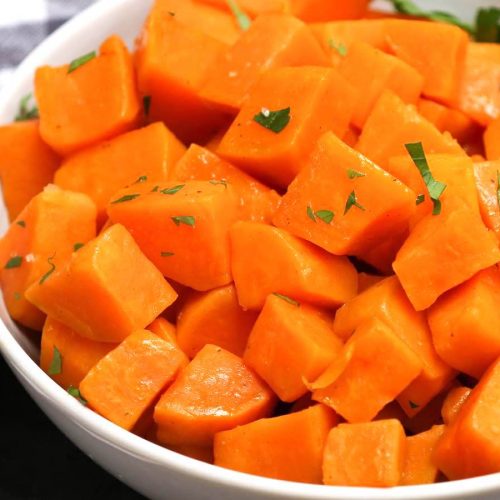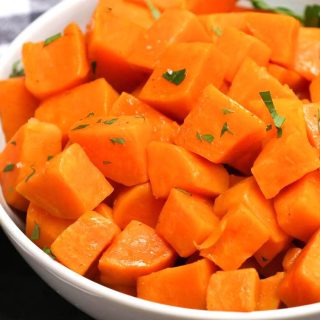 Sous Vide Sweet Potatoes: How to Cook Sweet Potatoes Perfectly
Sous Vide Sweet Potatoes are the most delicious and nutritious veggie ever! They're fluffy, sweet and come out perfectly EVERY TIME! This simple side dish recipe takes a few minutes to prepare, then the sous vide machine will do the rest of the work and cook the sweet potatoes to perfection. 
Print
Pin
Rate
Servings:
4
servings as a side
Ingredients
1 ½

pounds

sweet potatoes

1/2

teaspoon

kosher salt

(use less if using table salt), plus more for serving

1/4

teaspoon

ground black pepper

1/2

tablespoon

olive oil

chopped fresh parsley

optional for garnishing
Instructions
Preheat the Sous Vide Machine: Fill a large container or pot with water. Attach the sous vide precision cooker and set the temperature to 194ºF/90ºC.

Season the Sweet Potatoes: Wash the sweet potatoes, peel the skin, and cut them into 1/2-inch cubes.

In a large bowl, mix the sweet potato cubes with olive oil, salt, and pepper. Toss until they are evenly coated.

Vacuum-seal the Bag: Add the seasoned sweet potato pieces into a vacuum-seal bag or zip-lock bags and arrange them in a single layer.

Vacuum seal the bag if you have a vacuum sealer, otherwise, use a zip-lock bag using the "water displacement" technique: Just seal all but one corner of the bag. Slowly place it in the water bath, and make sure everything below the zip-line is covered by water. Then seal the rest of the bag. (Make sure to arrange in one layer. If your bag is not large enough, use multiple bags).

Make sure the sweet potatoes are fully submerged. You can add sous vide weight or use heavy kitchen items to weigh the bag down if necessary.

Sous Vide Cook: Cook for 30 minutes.

When the timer goes off, take the bag out and remove the sweet potatoes from the bag and transfer to a plate.

Season with more salt, pepper and optional chopped fresh parsley.
Nutrition
Calories:
162
kcal
|
Carbohydrates:
34
g
|
Protein:
3
g
|
Fat:
2
g
|
Saturated Fat:
1
g
|
Sodium:
384
mg
|
Potassium:
573
mg
|
Fiber:
5
g
|
Sugar:
7
g
|
Vitamin A:
24132
IU
|
Vitamin C:
4
mg
|
Calcium:
51
mg
|
Iron:
1
mg
Tried this recipe?
Follow or tag us on Pinterest @izzycooking