Versatile, healthy, and super delicious, red snapper is a fish that can be made in tons of different ways. Whether you're making a weeknight supper or serving guests, these recipes are sure to impress.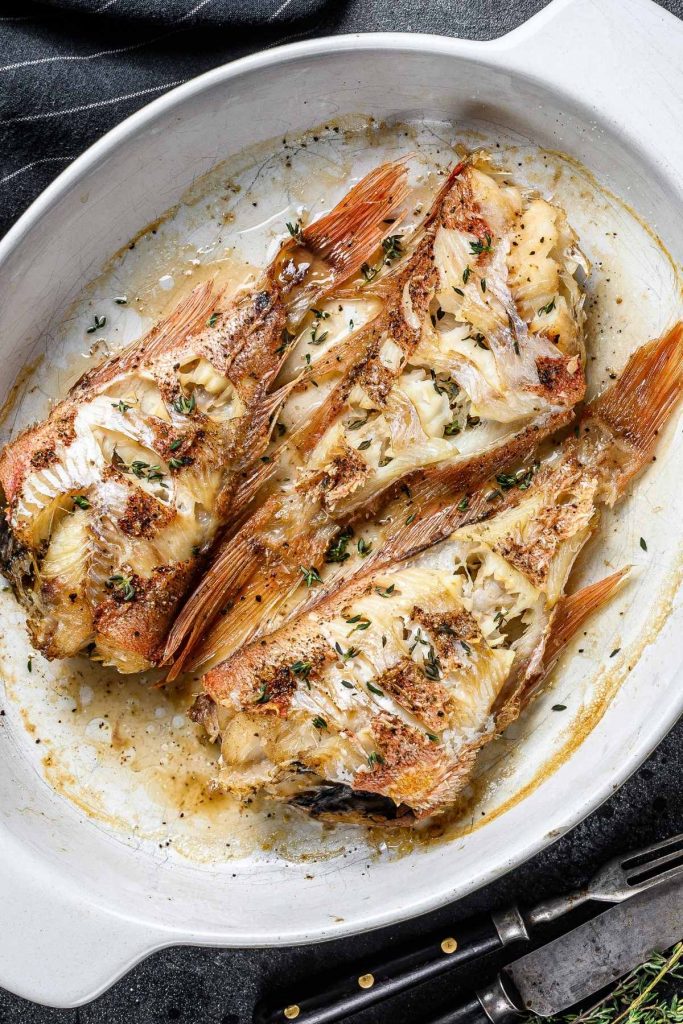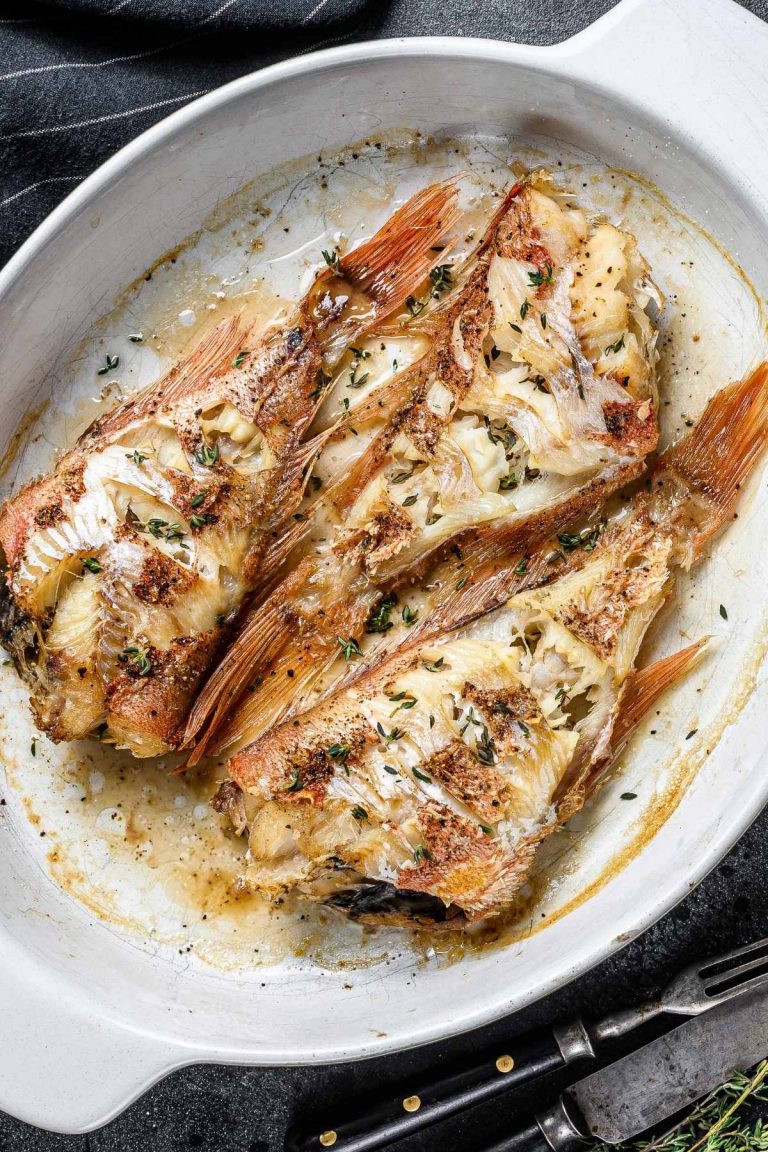 Grill it, pan fry it, steam it, bake it, or deep fry it. No matter which way you choose to prep this recipe, it's sure to tempt your tastebuds. Loaded with lemony garlic butter taste, this fancy dish is actually really easy to make on busy evenings.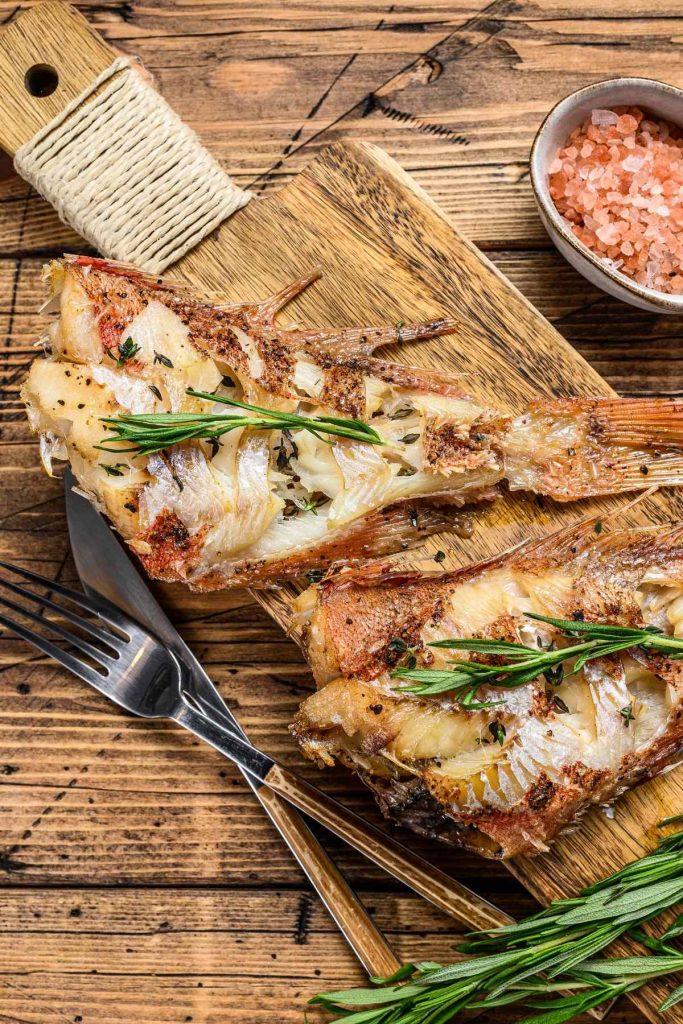 If you love garlicky goodness then this recipe is the one for you. You'll love the intense garlic flavor mixed with lime and habanero pepper. With just enough spice to wake up your palate, this rich, flavorful dish does not disappoint.
Served with refreshing homemade peach salsa, this pan-seared red snapper is an easy weeknight meal that looks like a five-star chef made it. The best part? It's ready in just 10 minutes.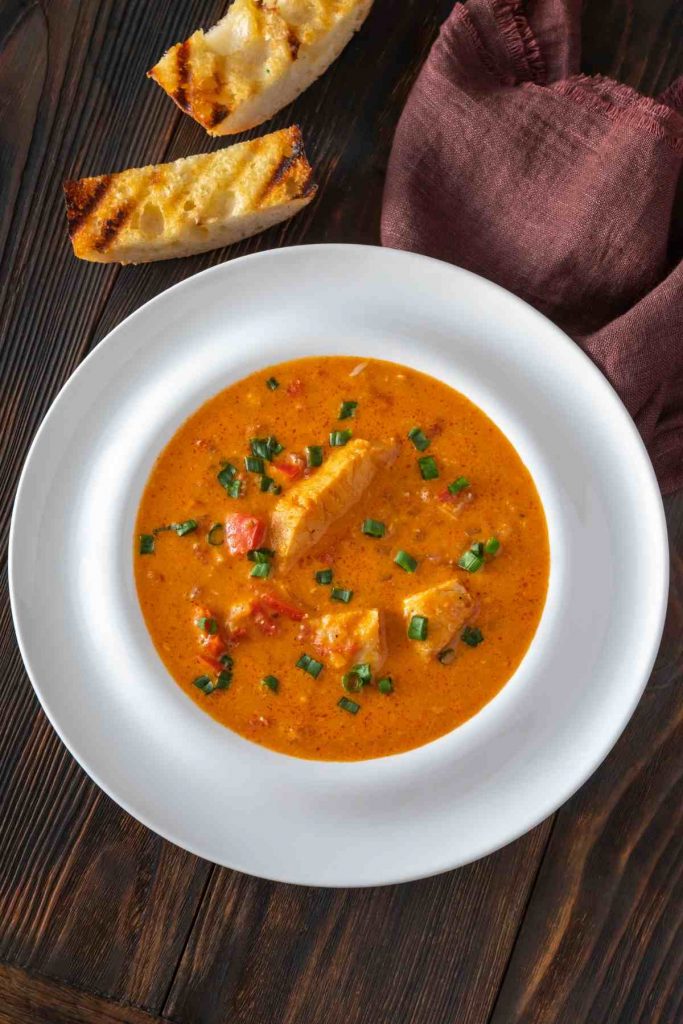 If you're looking for a meal to change things up during the week, this flavorful stew is it. Brazilian Fish Stew is bursting with fresh flavors like tomato coconut sauce, lime, and chilies. Together, these ingredients make for a tasty, tangy dish.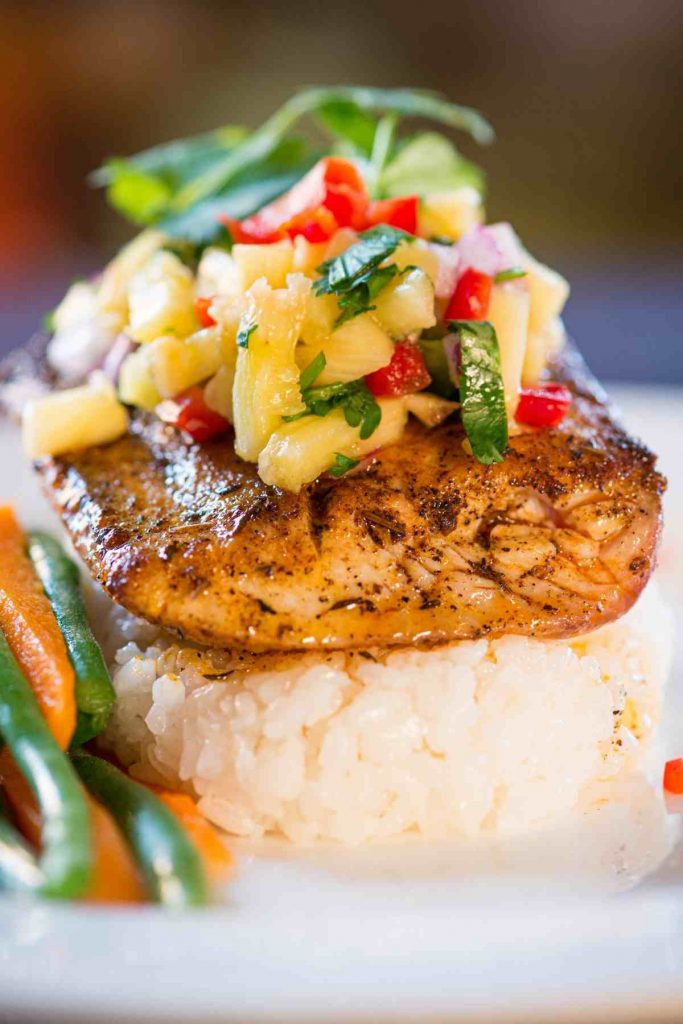 If you season something with Cajun spices, it's almost always a guaranteed success. Complemented by the lime margarita sauce, this fancy dish is perfect for a date night in.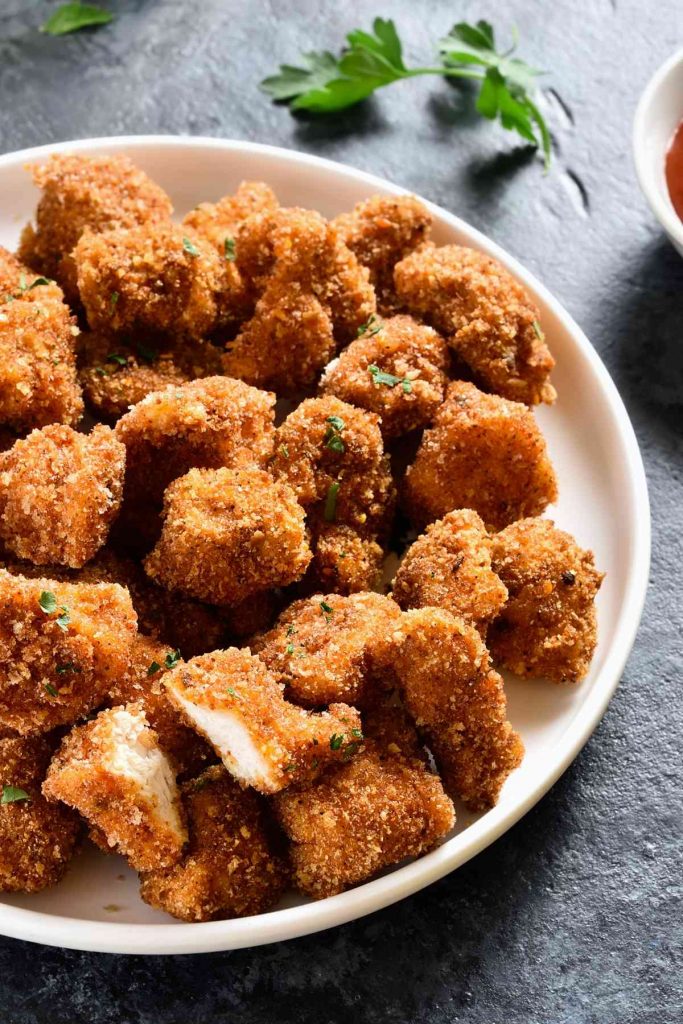 This recipe calls for red snapper, but you can use any white fish to make these crispy, fried fish bites. Made with New Orleans remoulade, these bite-sized appetizers are tasty and irresistible.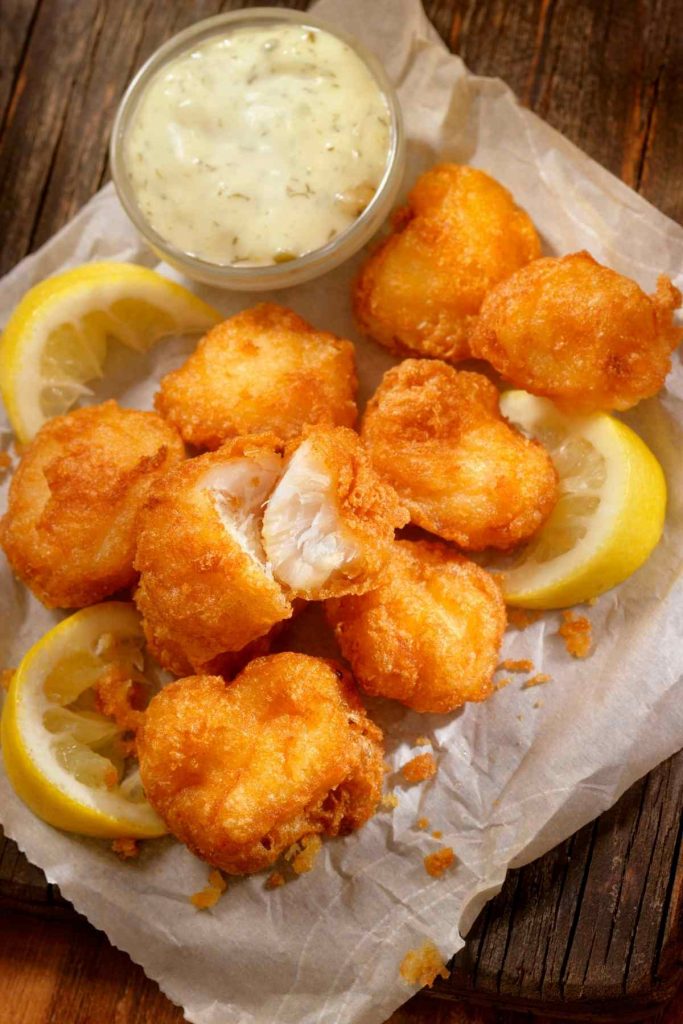 Beer fish batter makes for a fish coating that's fluffy on the inside and crisped to perfection on the outside. Bonus: the deep-fried crispy skin doesn't soften if you leave it out. You can count on crispy leftovers even the next day.
The crispy exterior combined with fresh lemon-herb caper salsa gives this quick and simple fish recipe a five-star taste. Use the salsa on other fish and meats or even as a salad dressing.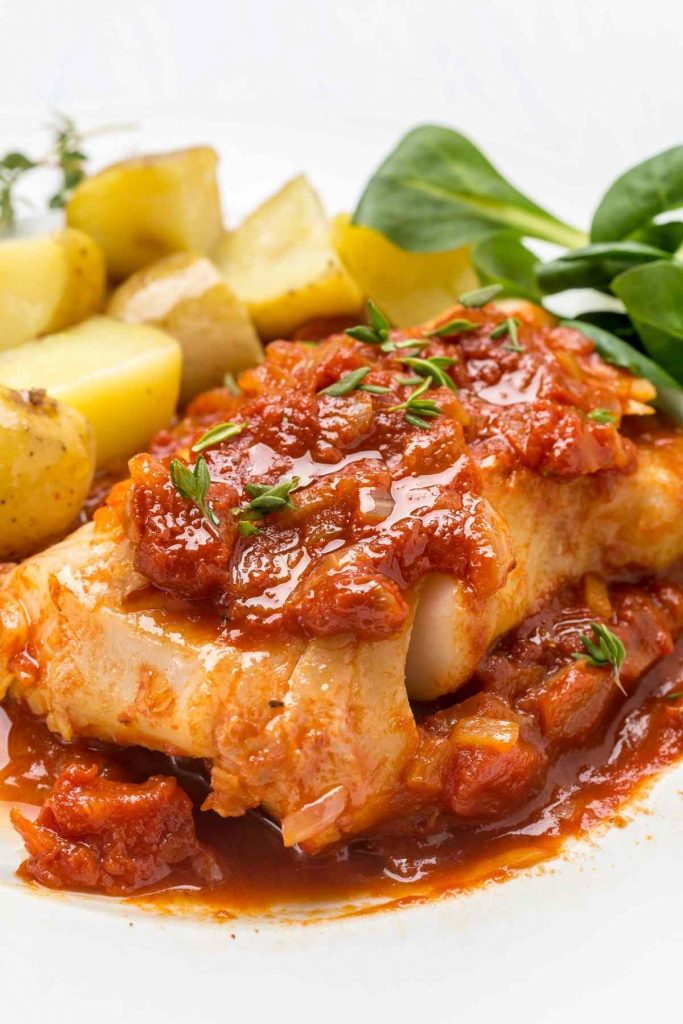 Psari Plaki is a traditional Greek fish dish that is full of authentic Mediterranean flavors. This healthy, flaky white fish is cooked to perfection with this simple recipe.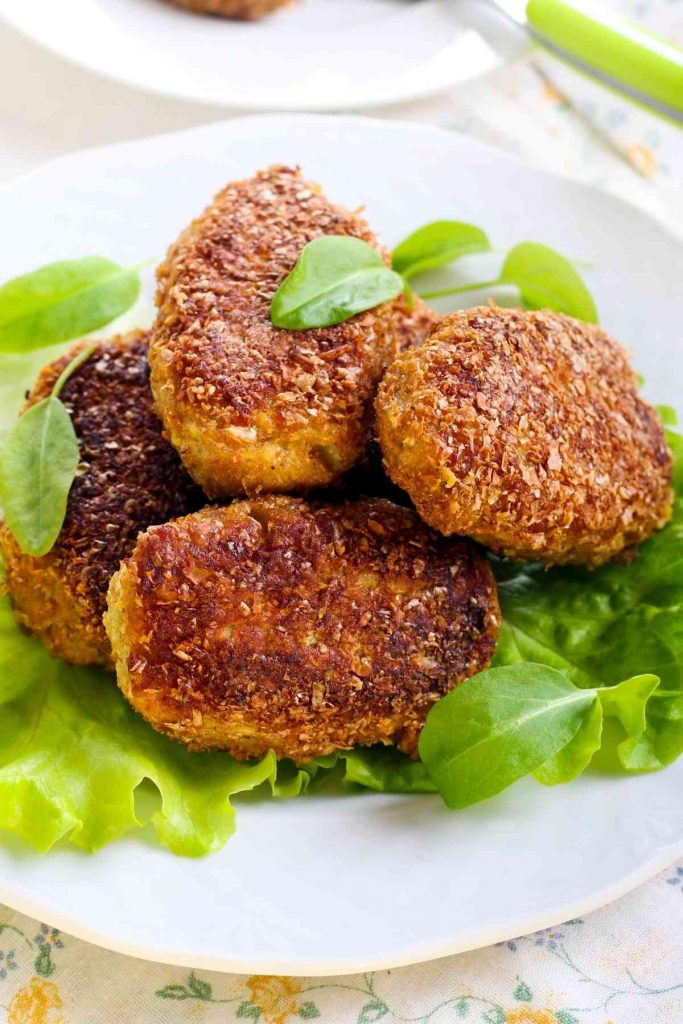 You can make these fish cakes with cod or red snapper, garlic, and green onions. Either way, you're sure to love this perfectly seasoned recipe for hearty and flavorful fish cakes.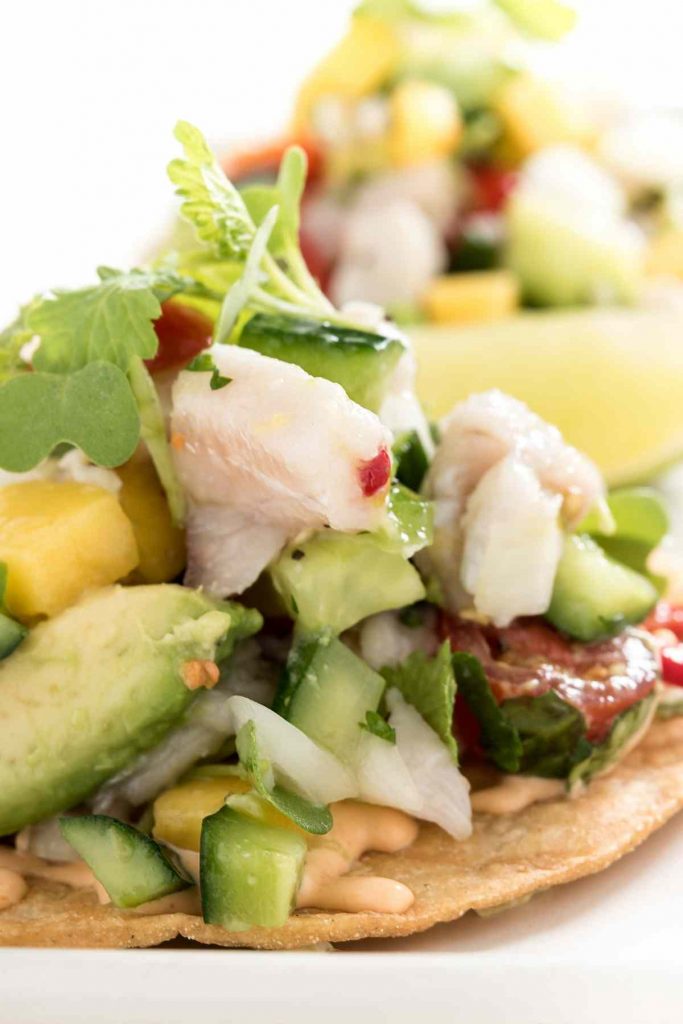 Looking for a meal to serve your guests that looks like you slaved away all day…without actually having to slave away all day? This impressive snapper ceviche recipe is here to help.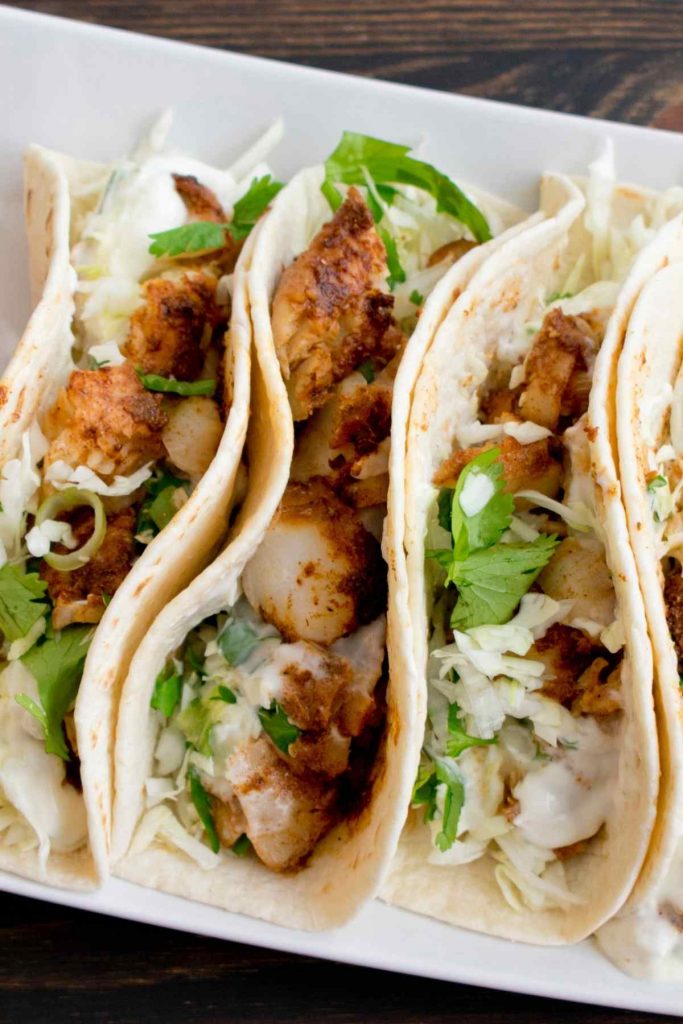 These fish tacos are made with Mexican coleslaw, warm tortilla bread, and loads of flavor. It's a paleo-friendly meal the whole family will love.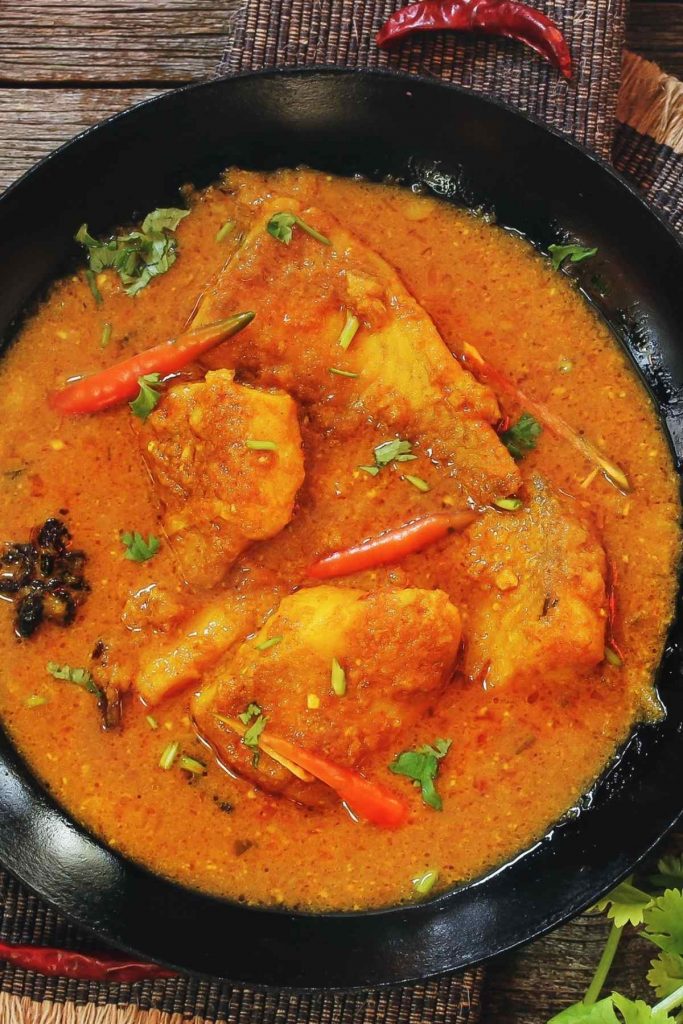 Ready in just 30 minutes, you only need one single pot to whip up this creamy fish curry. Made with coconut milk, tomatoes, curry, and tender fish, this gluten-free and dairy-free meal is always a hit.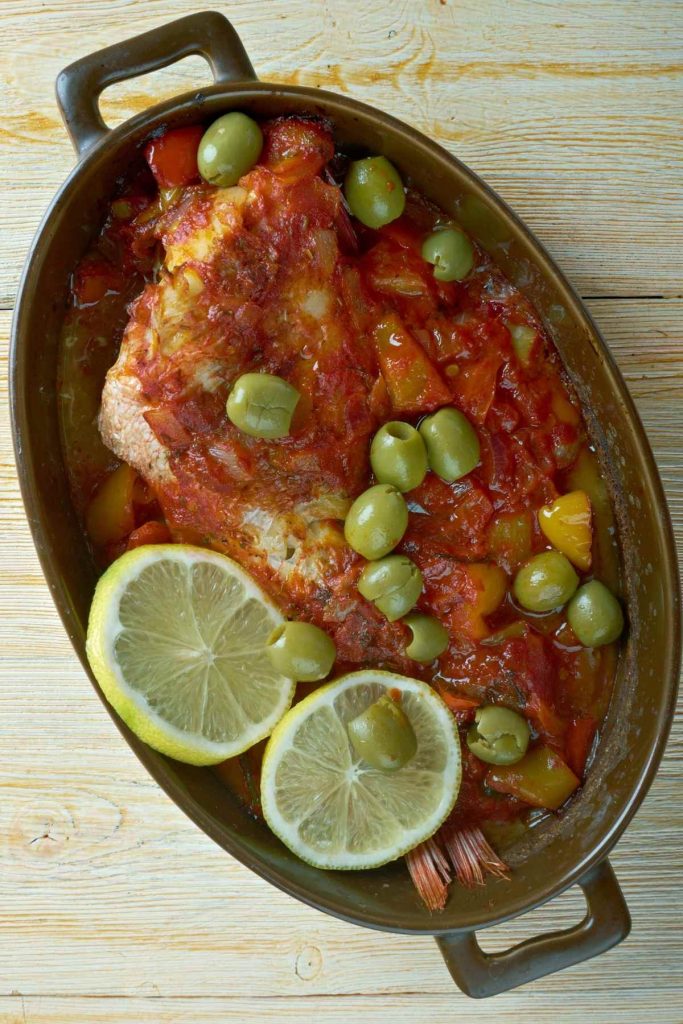 A Mexican specialty hailing from Veracruz, this red snapper dish is simple and easy to make and works with different types of fish, as well. You'll love the melody of flavors and tender fish.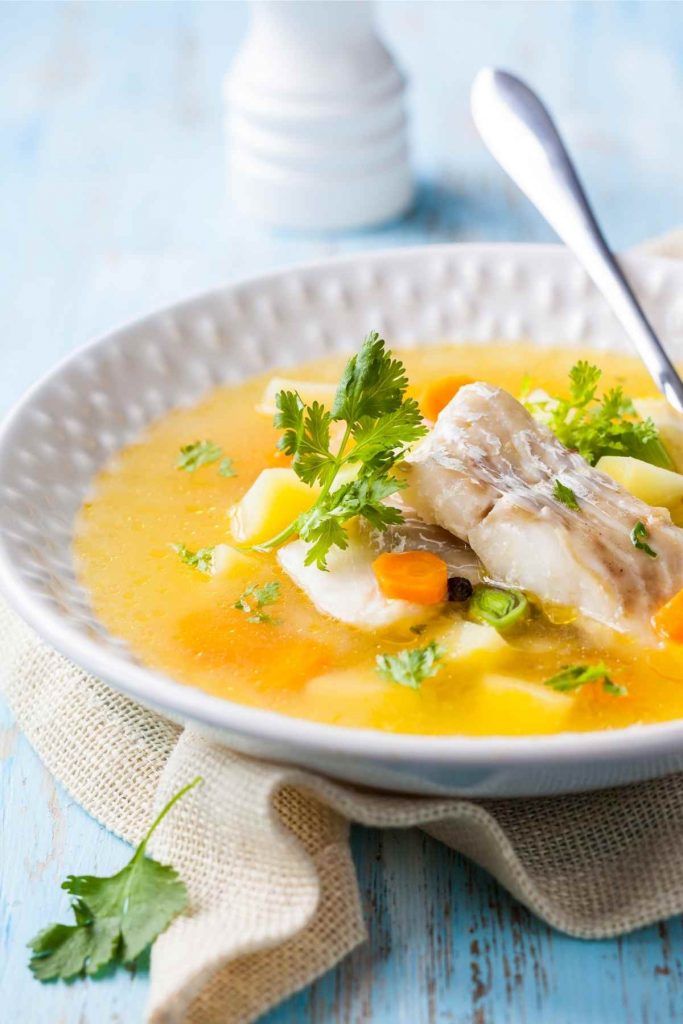 Also known as fish tea, this Caribbean soup is made from a fish broth, seasoned with veggies, potatoes, seafood, and spices. It's easy to make and packed with flavor.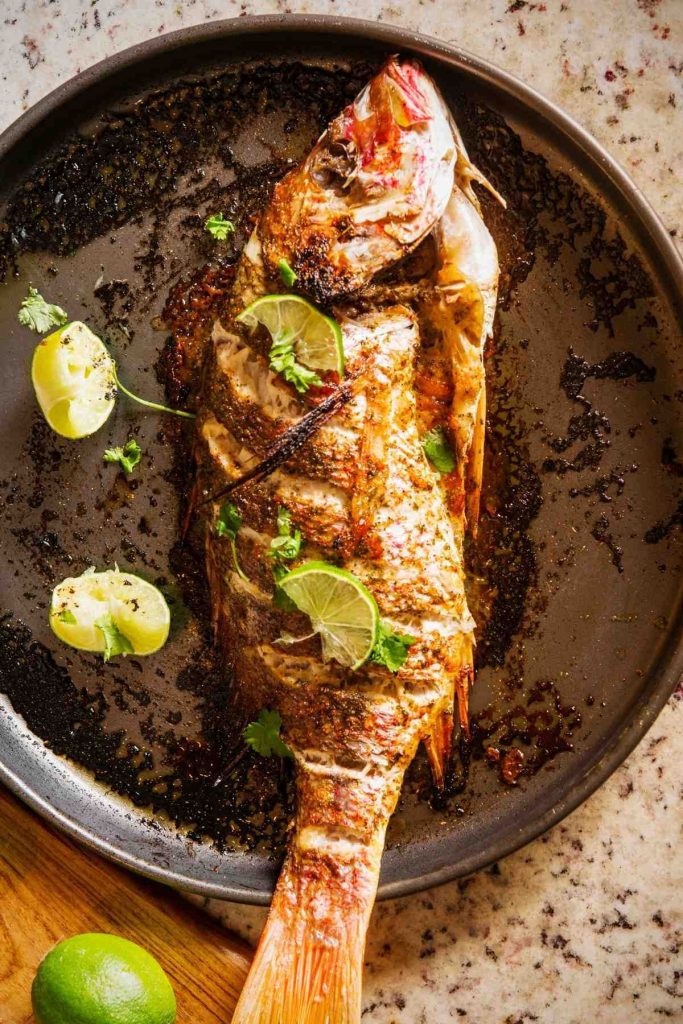 The ultimate Mediterranean red snapper recipe only takes 30 minutes to bake! The key is the fresh herbs and sweet bell peppers. This meal is easy to prepare, healthy, and delicious.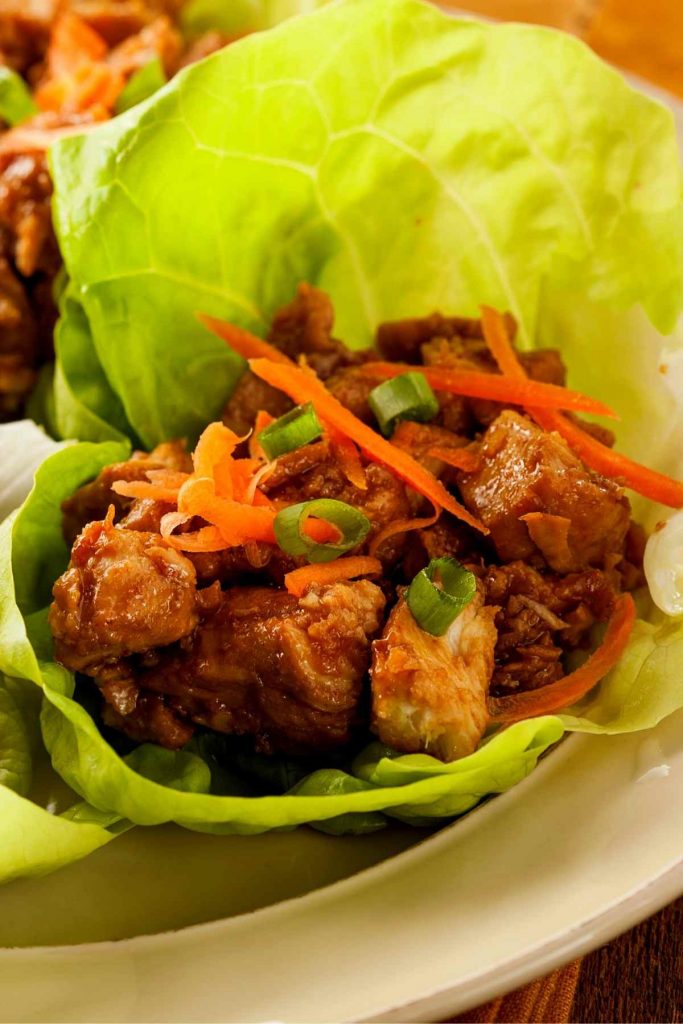 Keep your carb count low with these fish lettuce wraps. Who says a taco needs a tortilla? Give your fish tacos a healthier twist with these wraps. Use Mahi Mahi or red snapper for the most flavorful results.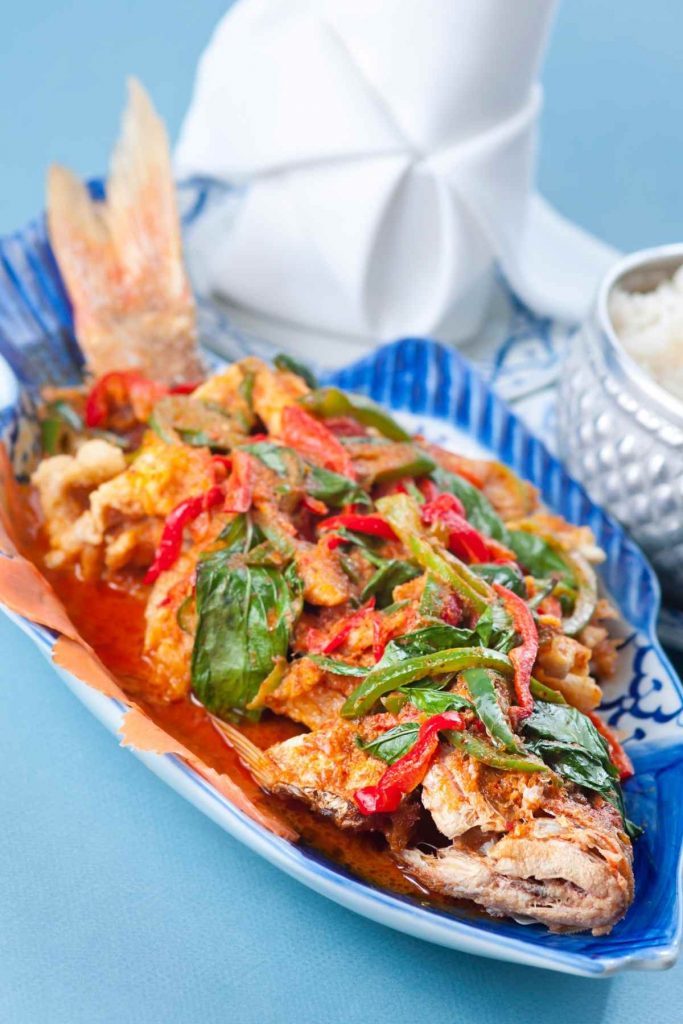 Give your fish a Jamaican twist with this authentic local recipe. Made with spicy broth, veggies, and tasty seasonings, this one-pot meal is a weeknight lifesaver.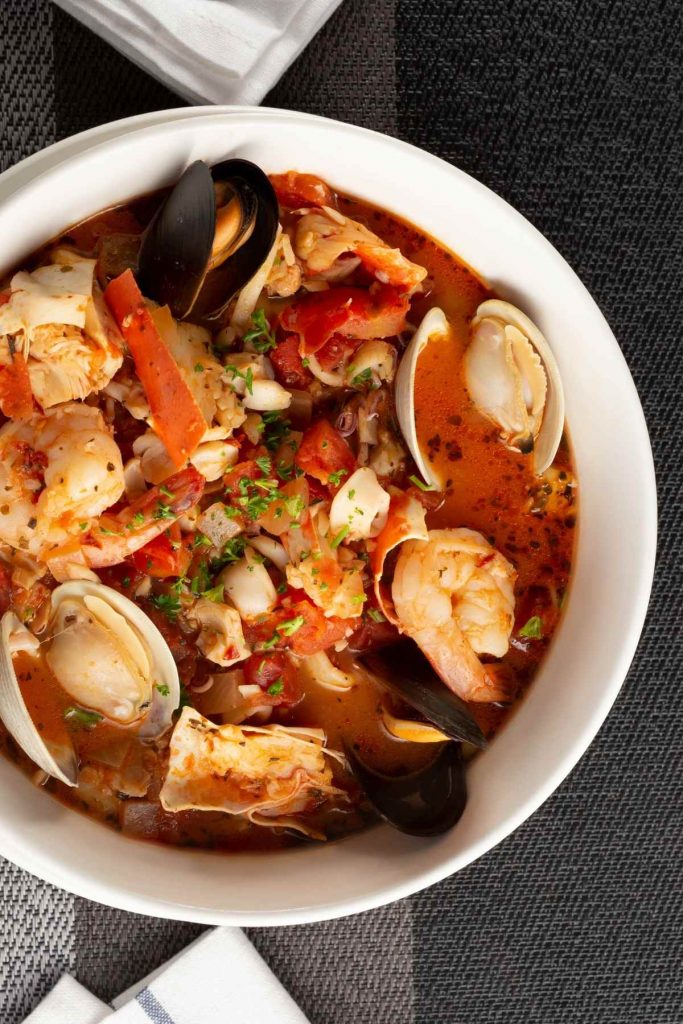 This Italian seafood stew is the perfect blend of delicious flavors. Use whichever fish or shellfish you like best. Either way, this recipe is always a crowd-pleaser.
Seasoned with lime juice, parsley, thyme, shallots, garlic, and spices, this red snapper dish is a tropical delicacy you'll absolutely love.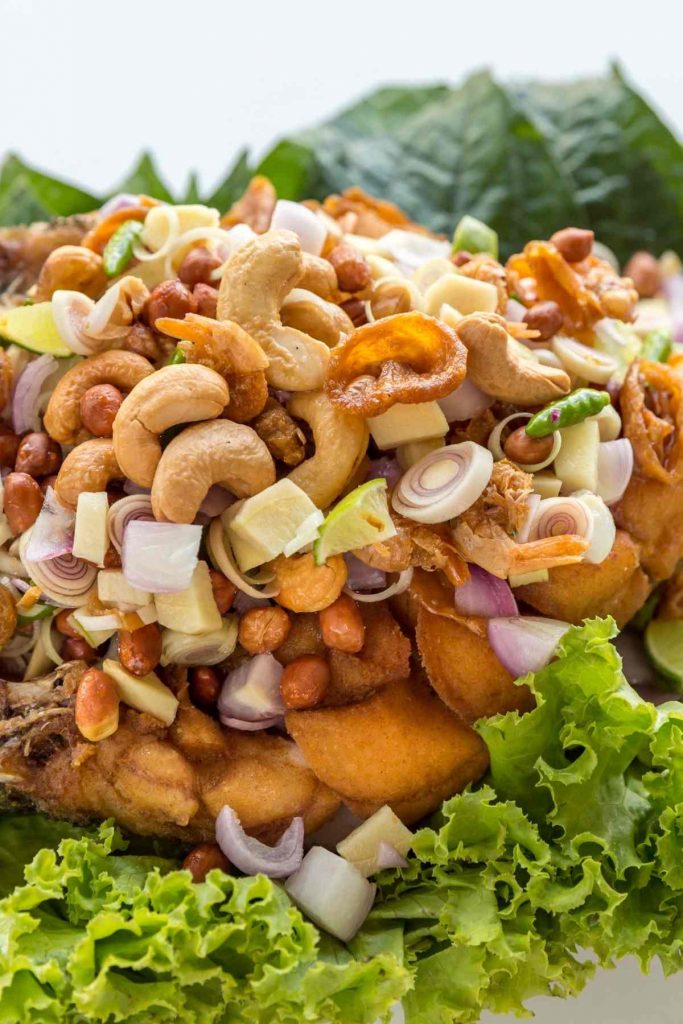 A Thai dish commonly known as plaa lui suan, this deep-friend fish is loaded with flavor. This recipe is a quick and easy way to make it at home, even if you're a newbie in the kitchen.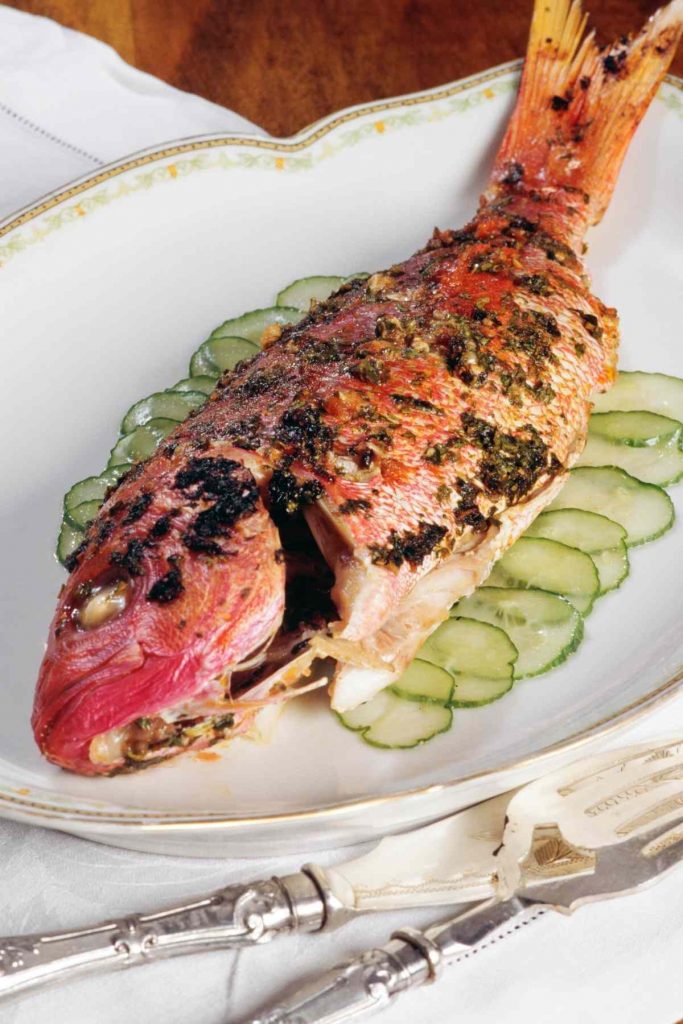 Whole roasted snapper topped with chimichurri is one of the best combos ever. You'll love the flavor of this pesto-like sauce and how it complements the fish, chopped greens, garlic, and onion.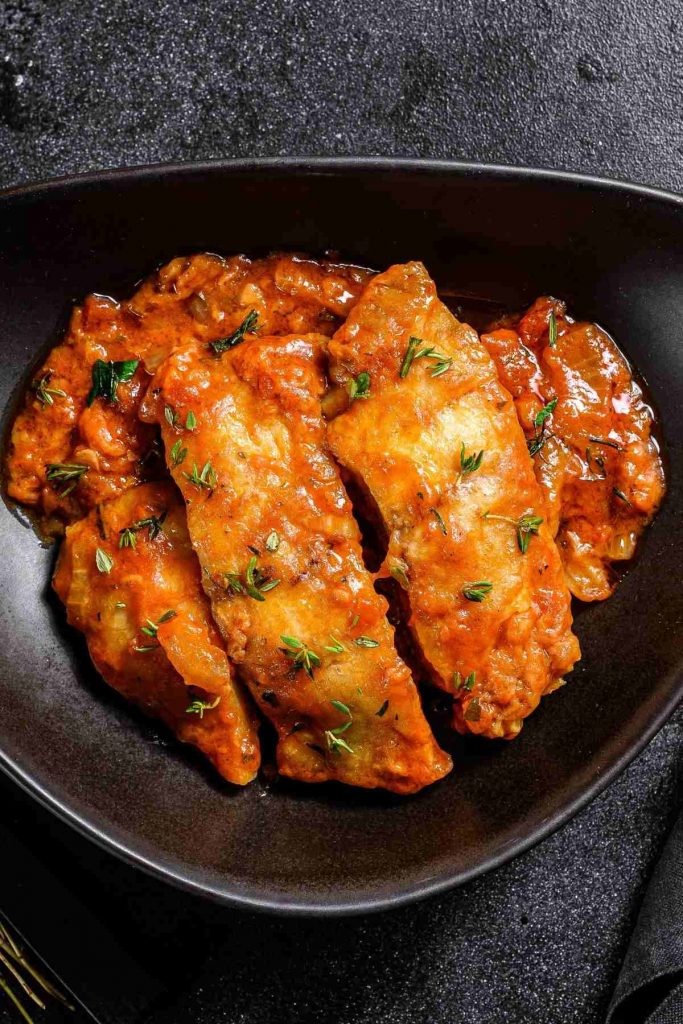 Livornese is an Italian dish that includes a light, fresh tomato sauce seasoned with capers, kalamata olives, and garlic. This sauce is loaded with taste and can add so much flavor to your red snapper.
Parisienne red snapper packs a punch. You'll love the mouthwatering taste of this bistro-style dish.
Let the fish steep in this sauce a little longer to fully absorb the rich, intense flavor of the roasted curry seasoning. For even more flavor, store leftovers overnight. The taste will just intensify and be even more delicious the next day.
Topped with a fresh tomato salad, this Greek delicacy is healthy and tasty. It's the perfect summer dish!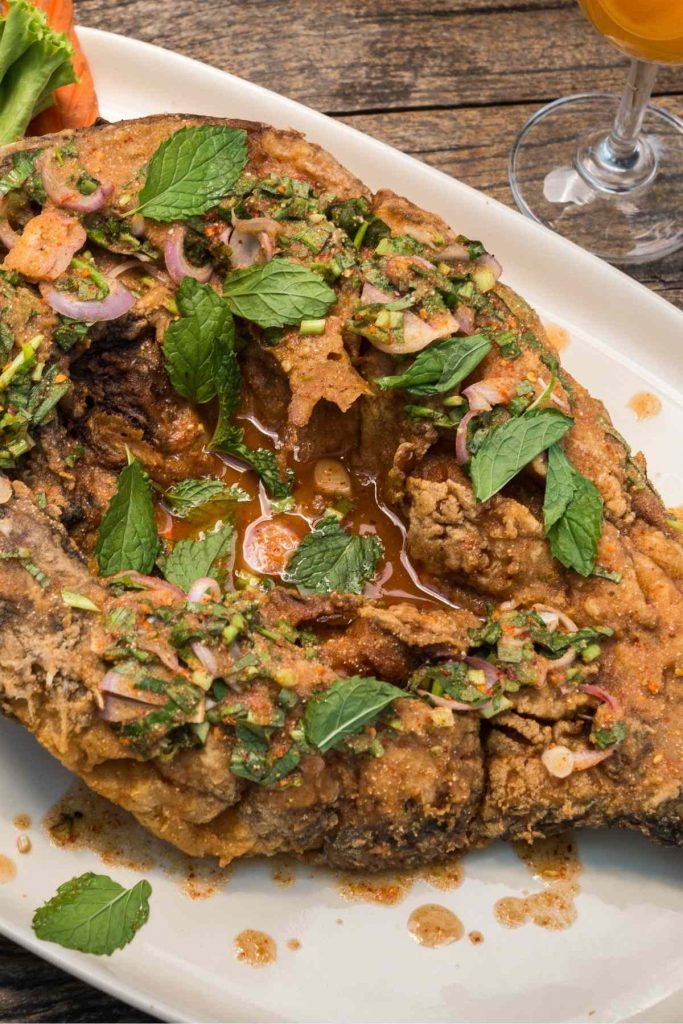 A mix of Asian and Indian spices and flavors, this fried snapper is fresh and delicious. Made with turmeric and lemongrass marinade, shallots, garlic, and chilies, this meal is always a hit.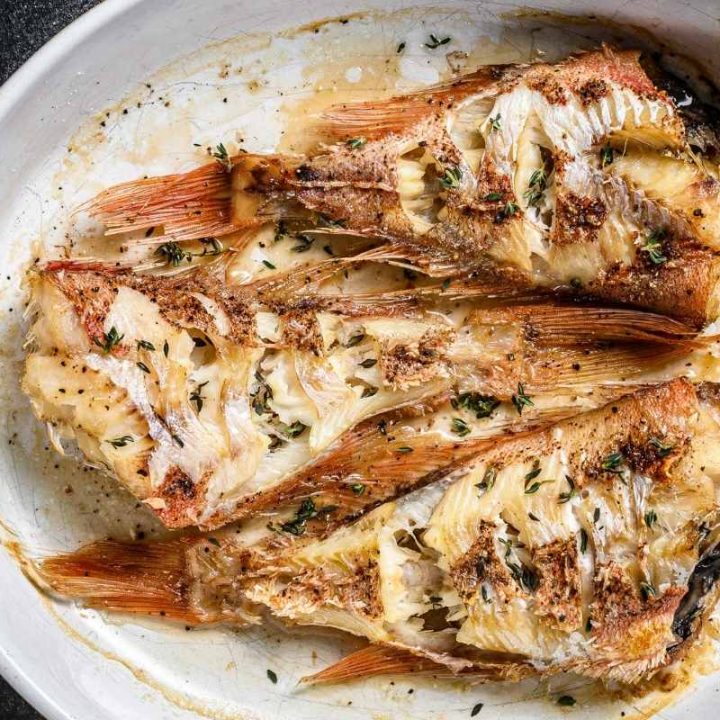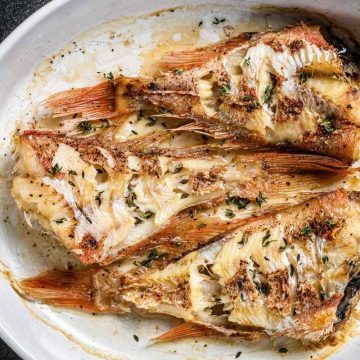 Easy Snapper Recipe
Grill it, pan fry it, steam it, bake it, or deep fry it. No matter which way you choose to prep this recipe, it's sure to tempt your tastebuds. Loaded with lemony garlic butter taste, this fancy dish is actually really easy to make on busy evenings.
Print
Pin
Rate
Ingredients
1 ½

lbs

Red Snapper

4

tablespoons

butter

3

cloves

garlic

minced

1

lemon

salt and pepper

to taste

optional minced parsley and capers

for garnish
Instructions
Preheat your oven to 425°F.

Melt the butter in a small frying pan over medium heat. Add the garlic and let it cook for 1 minute. Zest the lemon and add it to the butter.

Thinly slice the zested lemon and place the slices in the bottom of a baking dish. Save any extra slices for the top of the fish.

Pat the red snapper dry with paper towels and season both sides with salt and pepper.

Place the fillets on top of the lemon slices. Spoon or brush the garlic butter over the fish.

Bake for 10-12 minutes or until the fish flakes easily with a fork. Serve garnished with parsley and enjoy!
Tried this recipe?
Follow or tag us on Pinterest @izzycooking