These Savory Crepe Recipes are perfect for breakfast, brunch or even dinner! There are endless possibilities when it comes to savory crepe fillings, so go ahead and pick your favorite.
While many of us think about dessert when it comes to crepes, did you know how they are traditionally served as a main course too? They might be stuffed with mouthwatering fillings such as meat, seafood, vegetables and special sauces. Go ahead and try it to discover this European tradition in the comfort of your own home!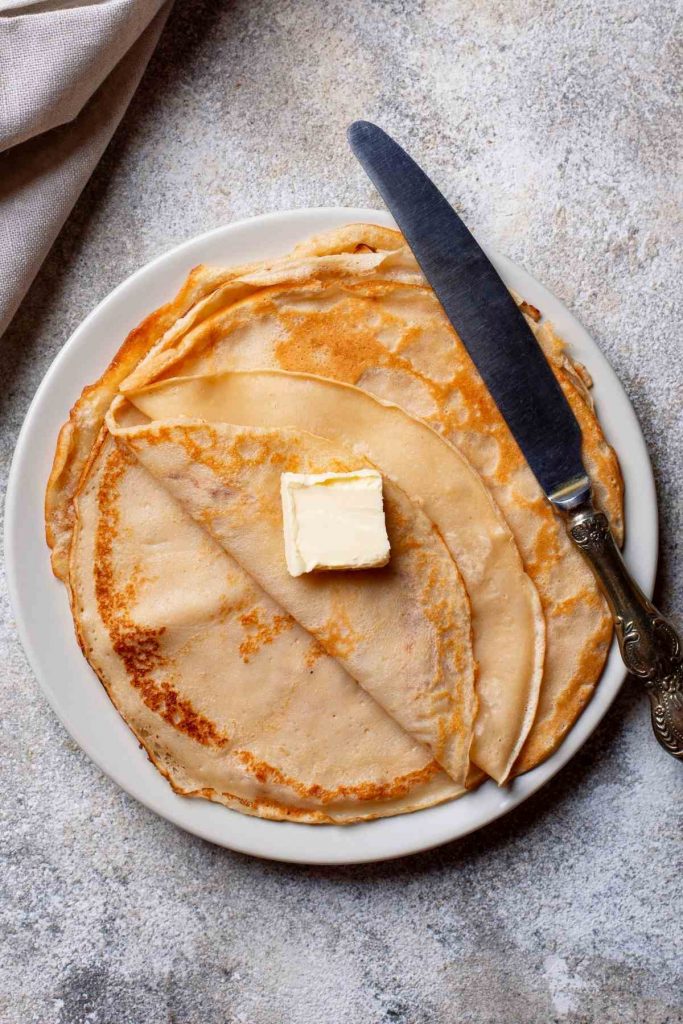 What are Savory Crepes Made of?
A savory crepe batter is traditionally made with buckwheat flour, eggs, water or milk and oil or butter. However, there are many modern variations using other flours and ingredients.
Once you have made the crepes, it's time to stuff them with your favorite fillings. Traditional combinations include ham, Gruyere cheese, mushrooms, spinach, eggs and more.
Difference Between Sweet and Savory Crepes
The main difference between sweet and savory crepes is the flour used to make the batter. While sweet crepes most commonly use plain all-purpose flour, savory crepes use buckwheat flour.
In addition, sweet crepes are usually filled and served as is. However, savory crepes can become more elaborate, such as seafood crepes that are stuffed and baked in the oven with a Bechamel sauce.
Popular Savory Crepe Recipes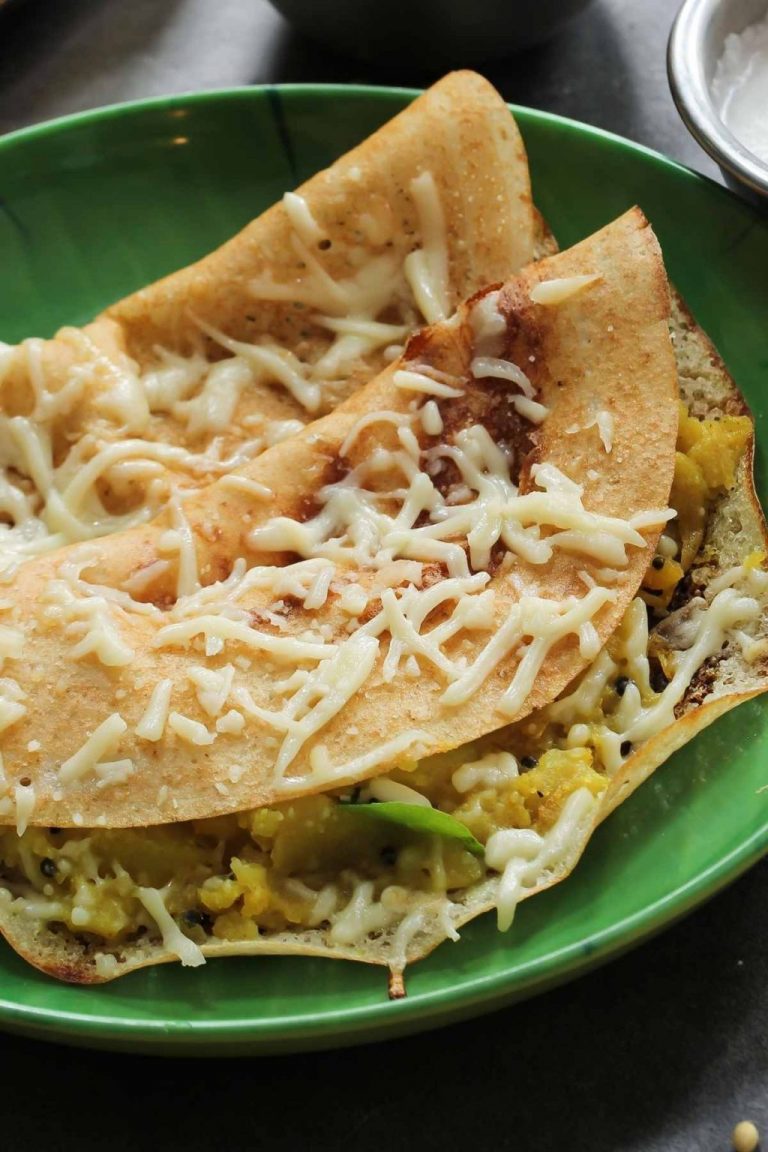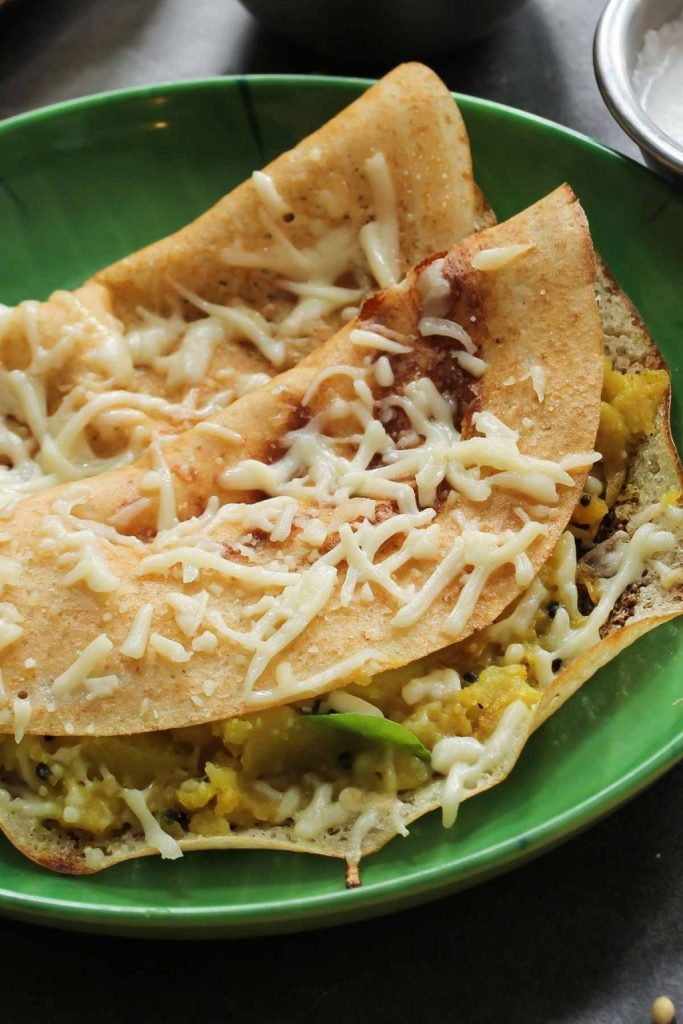 For a weekend brunch idea to feed a crowd, look no further than these delicious Chicken and Spinach Crepes. They're easier to make than you might think and healthier too!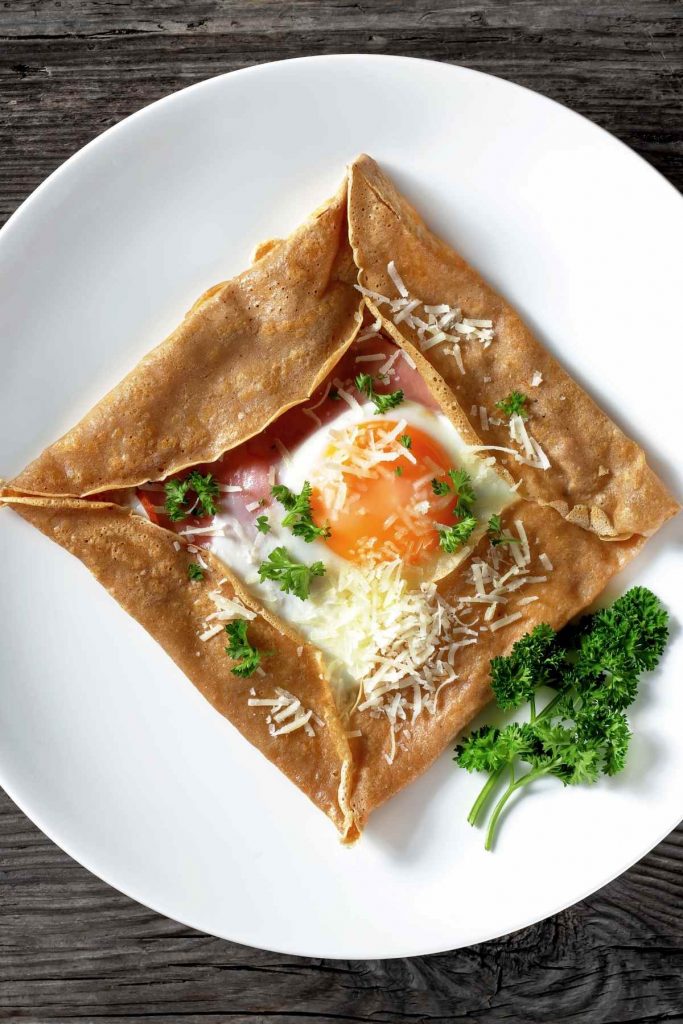 This is one of the simplest and most satisfying savory crepe recipes. Simply make the crepes and line with fresh ham and grated Gruyere. Continue cooking until melted, adding a fresh egg on top if desired. A French classic!
These spinach, onion and feta crepes are a delicious vegetarian option bursting with Mediterranean flavors! They are light and nutritious, plus you only need a few ingredients to make them.
One of the classic seafood crepe recipes uses smoked salmon. You simply line the crepes with fresh smoked salmon and herbs. You then roll the crepes and top with homemade Bechamel sauce or cream cheese. One of my all-time favorites!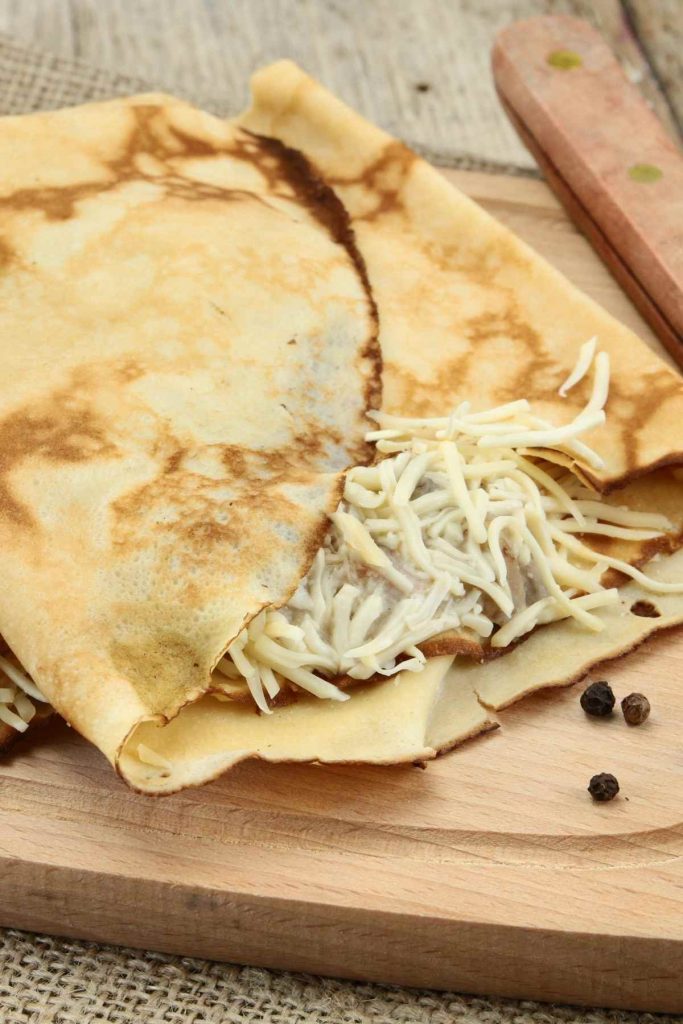 Here is an Eastern European variation on French crepes using chicken and Gruyere cheese. They get baked in the oven until crispy and golden. A heartwarming main course everybody will love!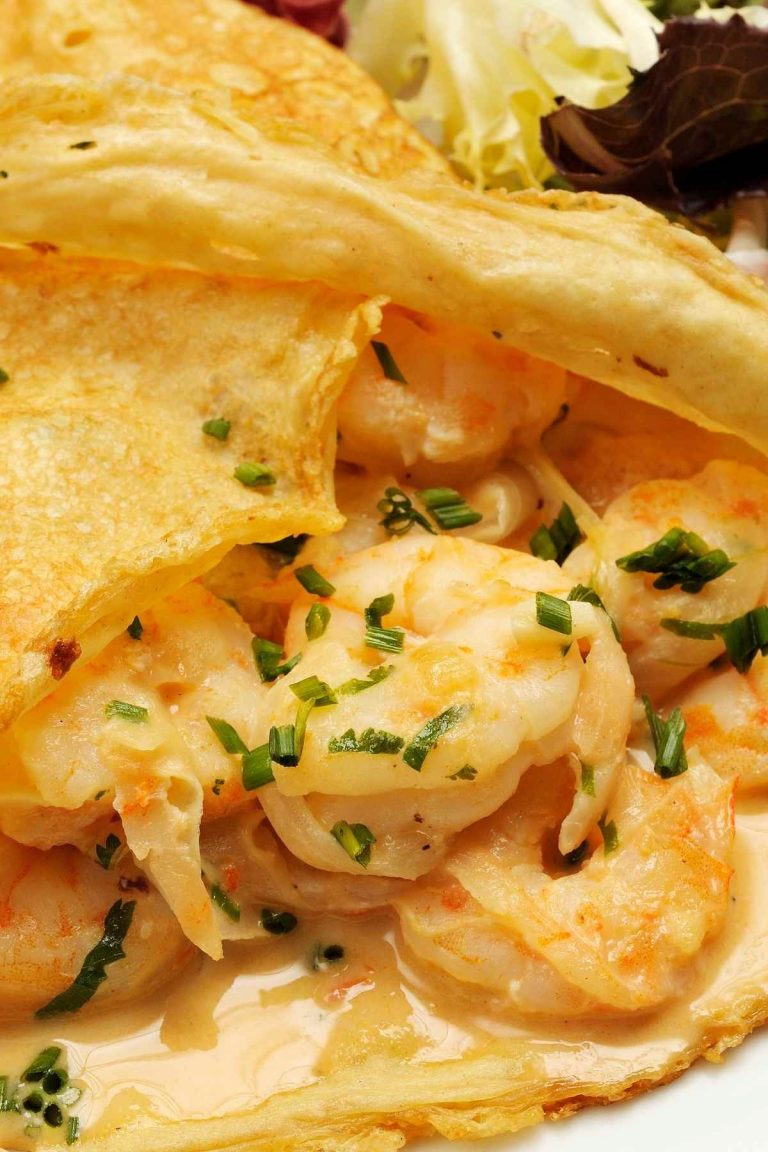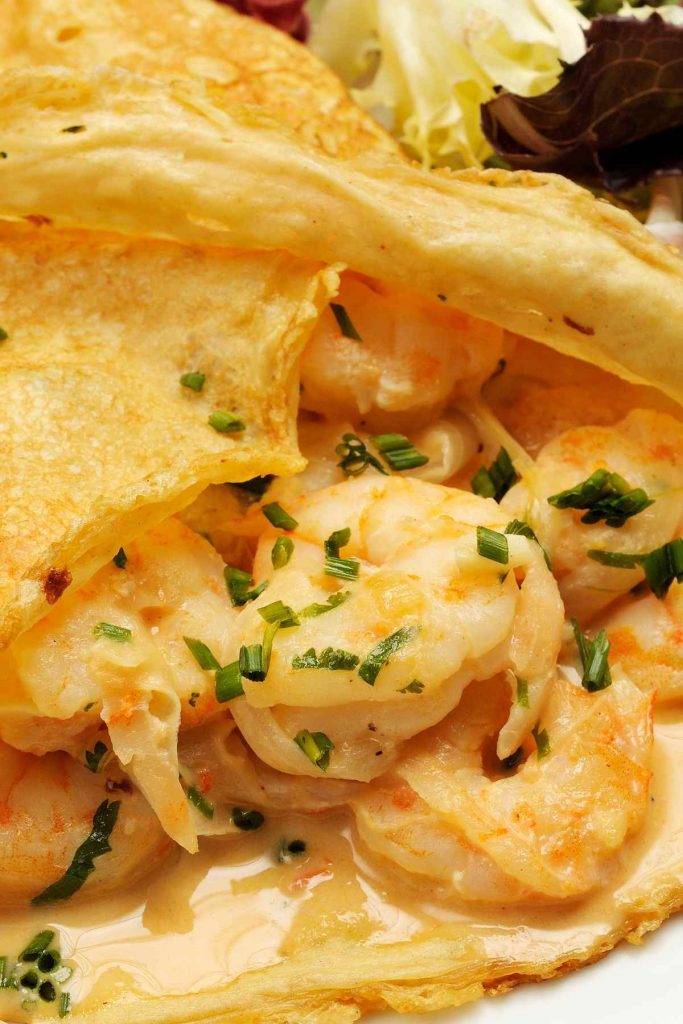 Here is a delicious seafood crepe recipe combining shrimp, fresh tomatoes and chives. You can easily substitute lobster, scallops or use a combination. Perfect for a fancy brunch when you're entertaining!
Calling all zucchini lovers! If you enjoy summer squash, then these sauteed vegetable crepes are for you. They are flavorful, nutritious and easy to make. Perfect for breakfast, brunch or dinner!
Here is a vegan crepe recipe made with a traditional buckwheat flour and water batter. The filling features garlic, mushrooms, white wine and hummus. These savory crepes are both light and flavorful.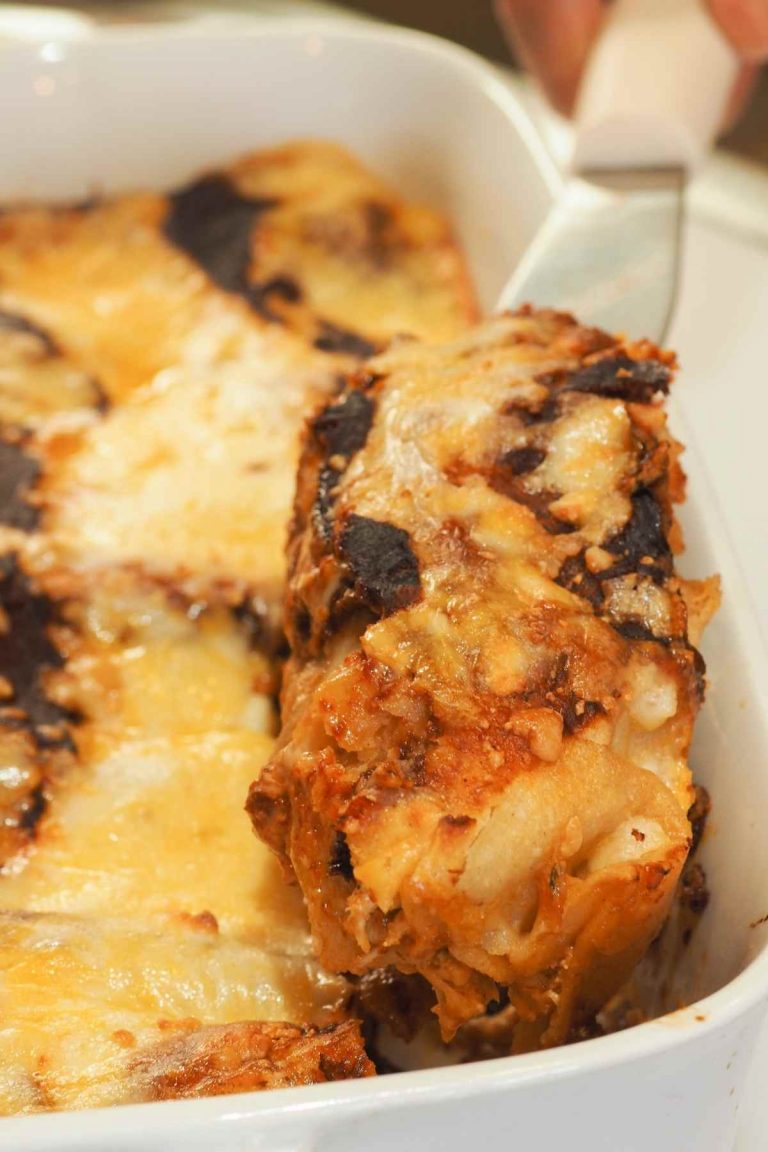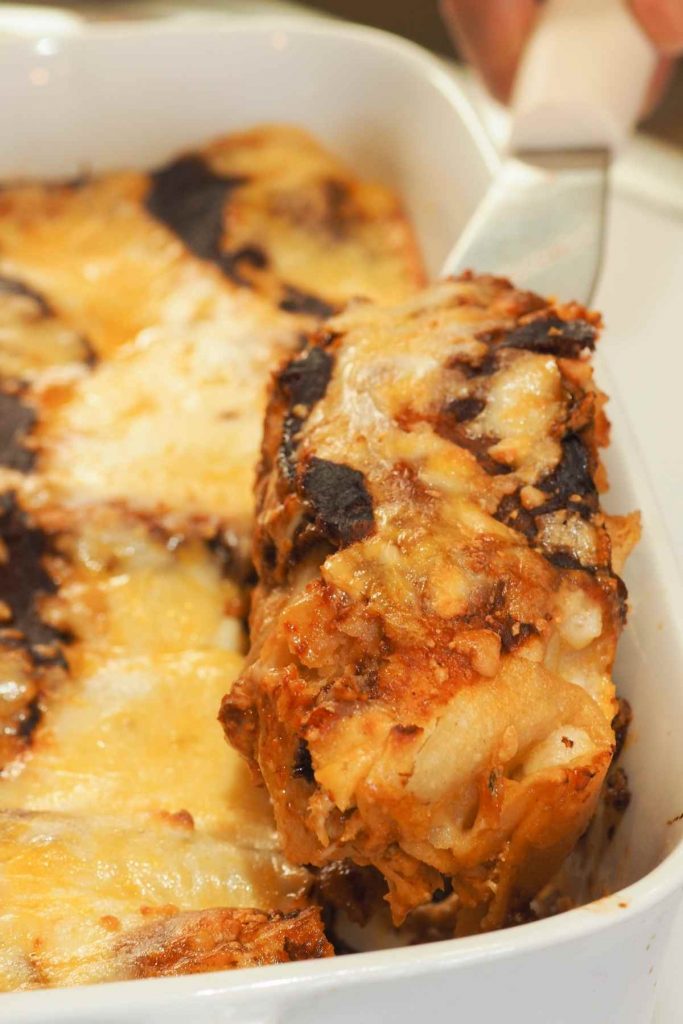 If you crave Mexican flavors, why not make these mouthwatering, enchilada-style crepes? This savory filling includes ground meat and seasonings. A hearty dinner idea for the entire family will love!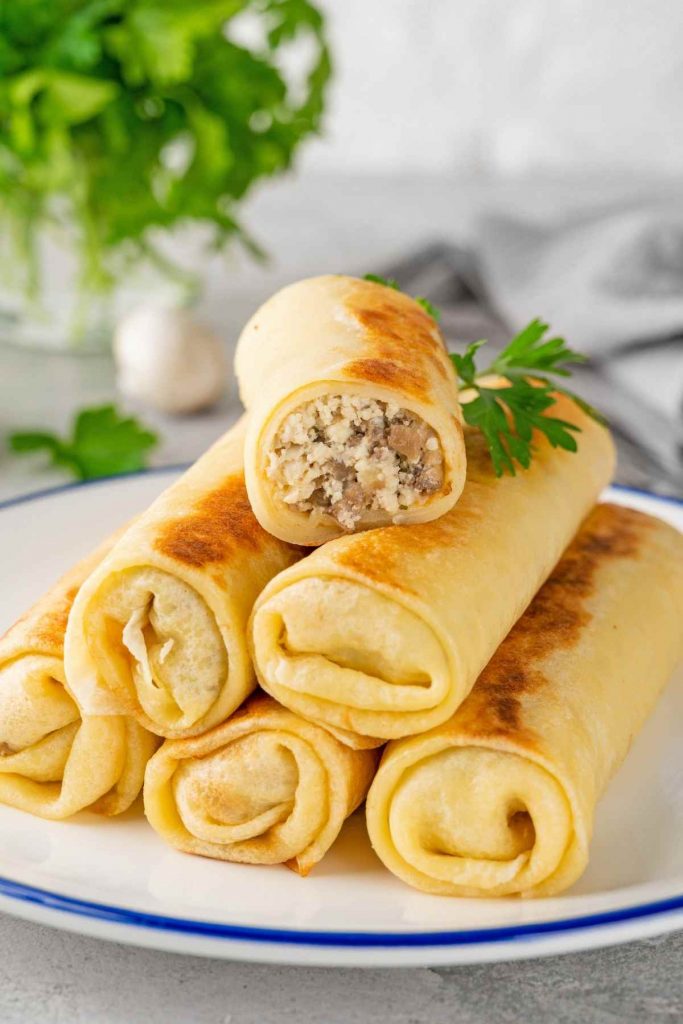 Looking for a great way to use up leftover turkey? These savory crepes make an ideal lunch, paired with a crisp salad. They're healthy and satisfying!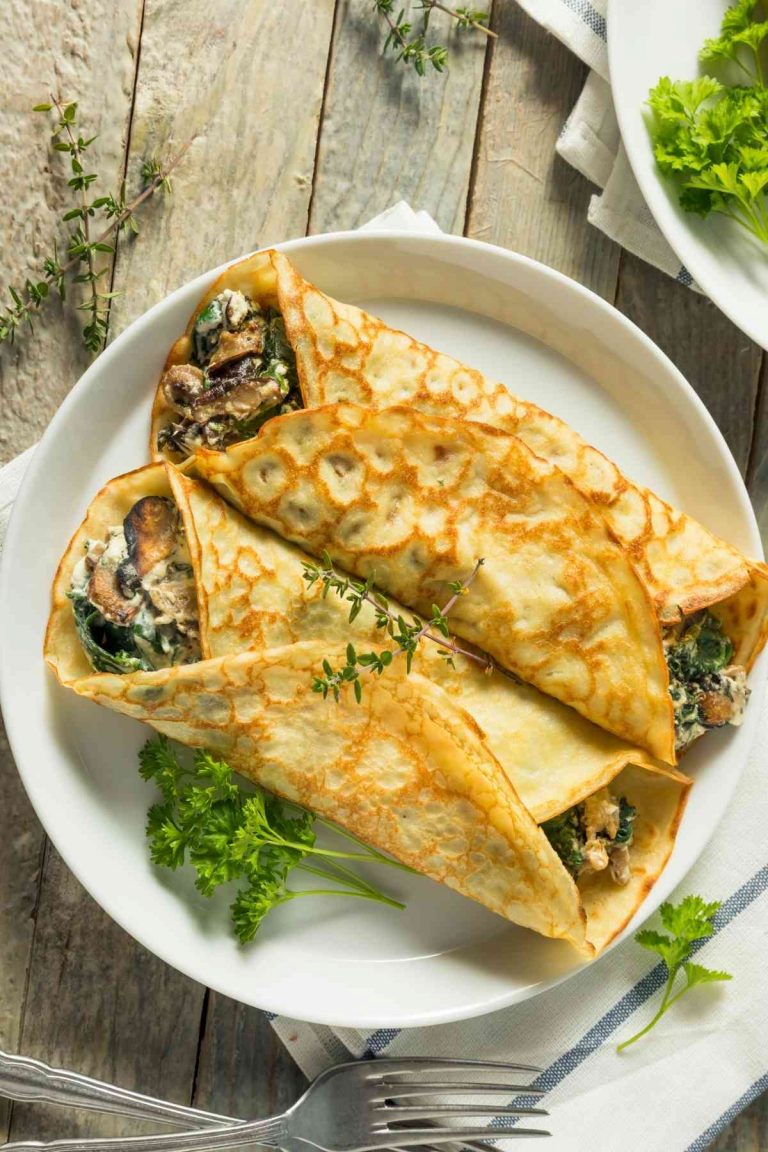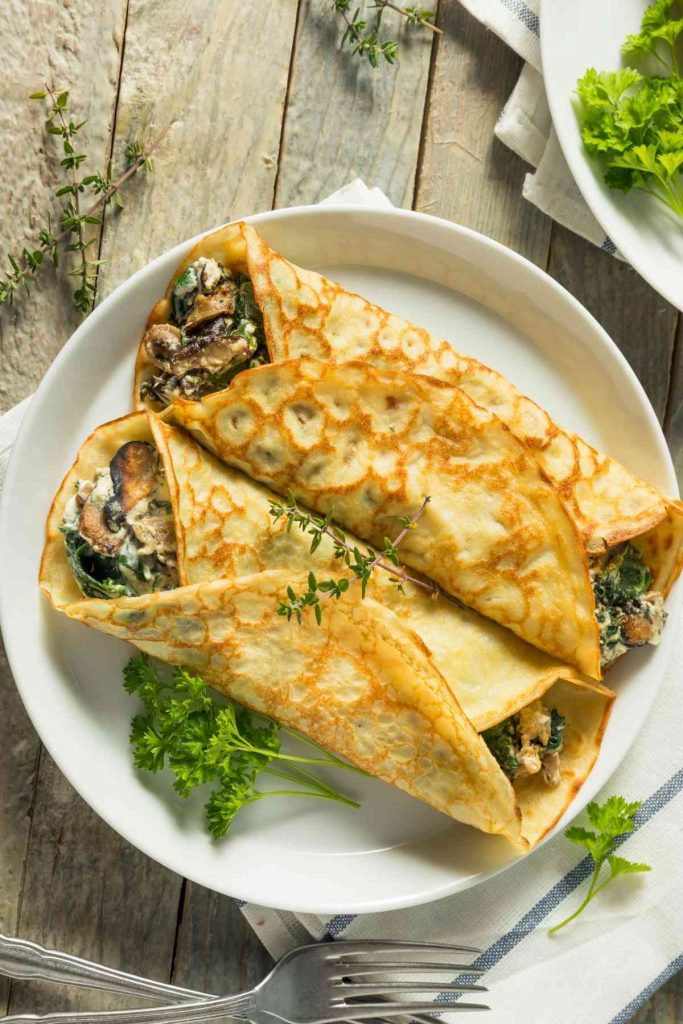 This lovely recipe combines fresh portobello mushrooms with tender chickpeas! They're gluten-free and easy to make for a delicious main dish that's healthy and flavorful.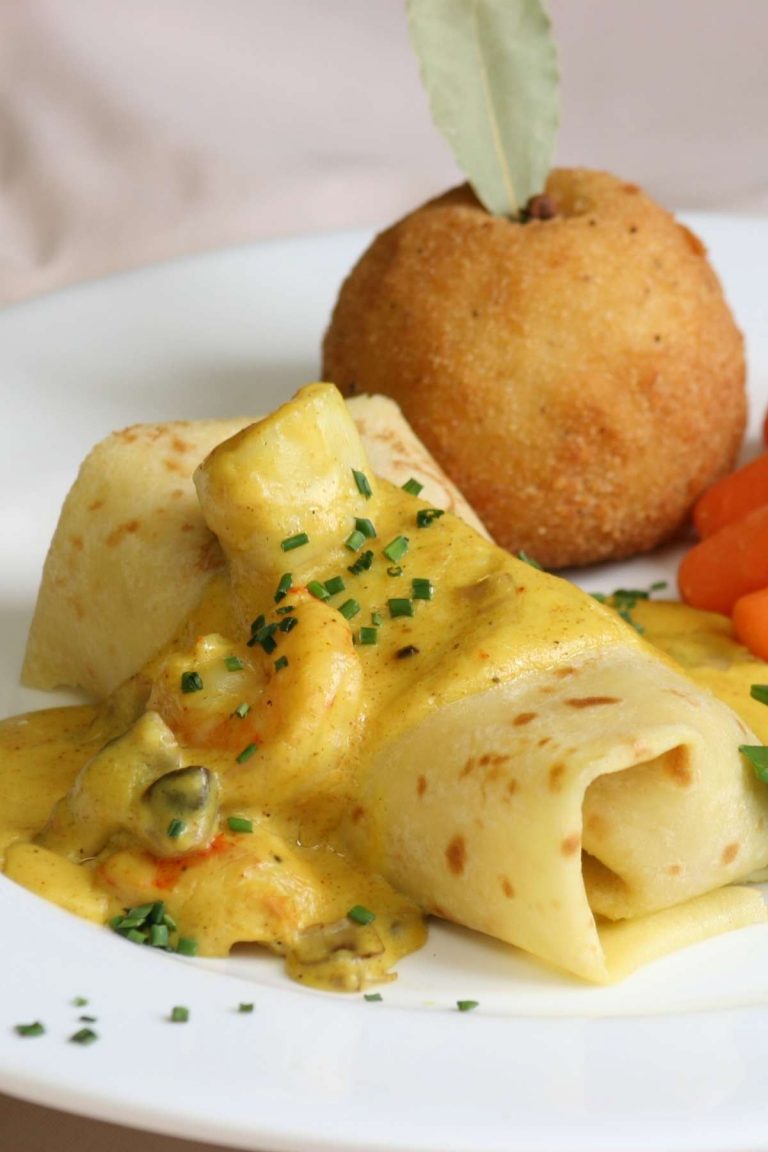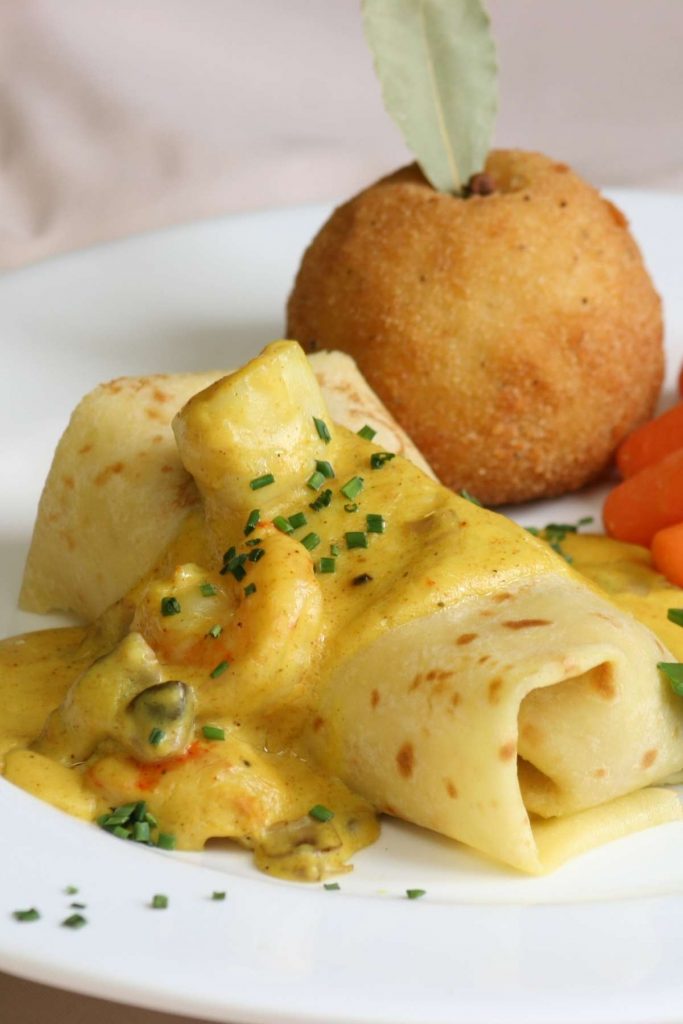 Go to any seaside town in France (or the Magic Pan restaurant here) and you will find Crepes St Jacques! These hearty crepes are filled with tender bay scallops covered in a creamy white wine sauce. Once tasted, never forgotten!
When you want to serve crepes at a party, look no further than this amazing crepe cake! Put it out on a buffet or cheeseboard and let guests serve themselves. It's festive and full of delicious flavors!
Easy Savory Crepe Recipe
For a weekend brunch idea to feed a crowd, look no further than these delicious Chicken and Spinach Crepes. . They're easier to make than you might think and healthier too!
Print
Pin
Rate
Ingredients
For The Crepes
1 ¾

cup

flour

½

teaspoon

salt

2 ½

cups

milk

2

eggs beaten

4

tablespoon

butter

melted

1

tablespoon

fresh dill
For The Filling
1/2

pound

cooked chicken

shredded

1

tablespoon

butter

3

cups

spinach

salt and pepper

to taste

1

teaspoon

Worcestershire sauce
Instructions
Make the Chicken and Spinach Filling
In a large skillet, melt the butter. Add the spinach and cook until soft. Add the shredded chicken, Worcestershire sauce, salt and pepper to taste. Transfer the mixture to a bowl and set it aside to cool.
Make the Crepes
Combine the flour and salt in a large bowl. Whisk together until combined and then slowly add the milk until incorporated. Add the beaten eggs, whisking until smooth.

Whisk in the melted butter and the dill.

Heat a 12-inch non-stick skillet over medium-high heat. Add some oil to a piece of paper towel to grease the skillet. When the skillet is hot, pour a ladle of batter into the skillet and swirl the batter around until it fully covers the bottom of the pan. Cook until the edges of the crepe are set and beginning to turn golden brown.

Use a thin spatula to slide under the crepe and quickly flip it with your hands. Cook the other side of the crepe for about 30 seconds.

Slide the crepe off of the pan onto a cutting board. Repeat with the remaining batter until done.
Assemble The Crepe
Place a crepe onto a plate, fill with 2 tablespoons of the chicken and spinach filling. Roll up the crepe and sprinkle with shredded gruyere cheese.

Optional: Instead of cooking the crepes in a skillet, preheat an oven to 350°F and bake the crepes for 10-12 minutes. Once done, place them under the broiler for 1-2 minutes.
Tried this recipe?
Follow or tag us on Pinterest @izzycooking