When you think of fillings for desserts, rhubarb may not be the first thing to come to mind. But once you've tried these Rhubarb Dessert Recipes, you'll be stocking up on rhubarb every spring!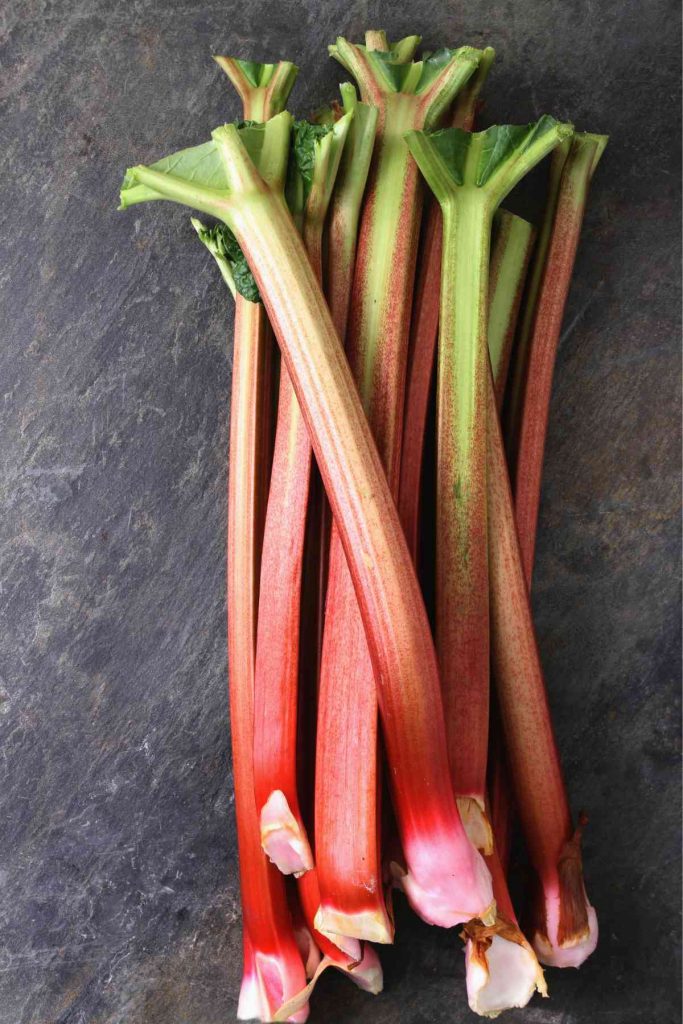 Did you know that rhubarb is technically a vegetable? Because of its use in pies, cakes and jams, many consider it to be a fruit. It was even legally declared to be a fruit in a court of law (more on that below).
Regardless of its label, there's no doubt that rhubarb is a tasty addition to any dessert. Whether used on its own or combined with strawberries, this springtime veggie is always a treat.
From muffins and cakes, to crisps and cobblers, you're sure to find something you love in this rhubarb roundup! For lovers of tangy desserts, this ingredient will be the star of the show.
What Is Rhubarb?
When winter turns to spring, rhubarb is one of the first crops to start growing. Known for its bright pink stalks, this perennial veggie is a distant relative of sorrel, but isn't a member of the celery family, despite how similar they look. Originally from Asia, the plant first arrived in the U.S. in the 1600's. Rhubarb needs cold temperatures to grow, so it's typically grown in states like Michigan and Oregon.
What Does Rhubarb Taste Like?
Raw rhubarb is about as sour as a lime. This is why it's typically cooked with sugar or combined with sweet fruits such as strawberries. Once cooked, rhubarb takes on a delightfully tart taste, a bit like sour candy. If you're a fan of desserts that are both sweet and tart, you're sure to enjoy these recipes.
Best Rhubarb Dessert Recipes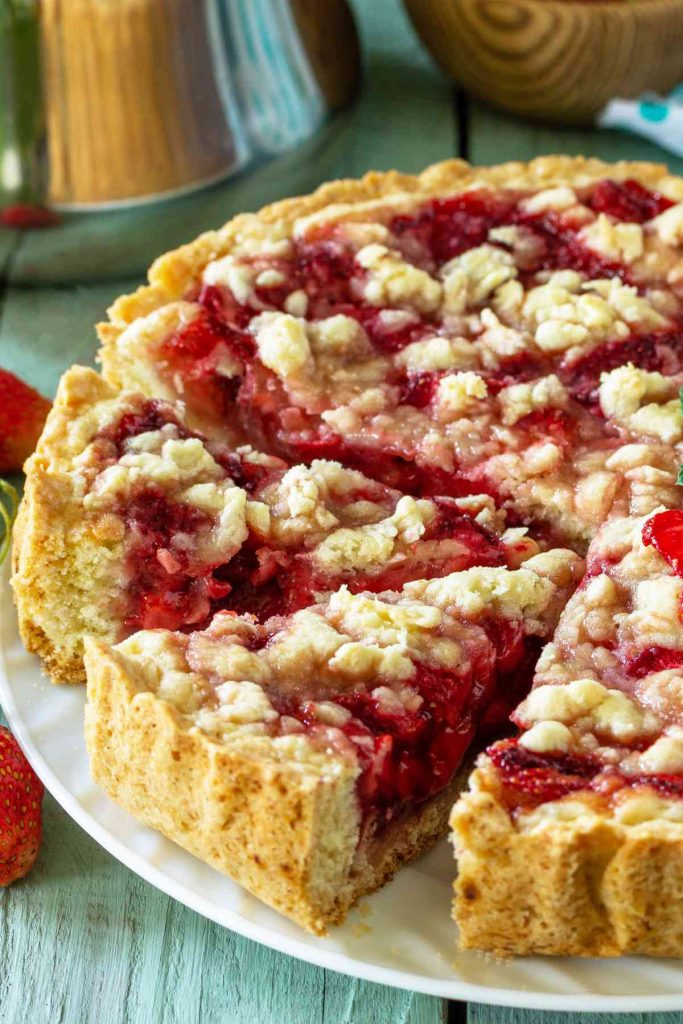 They don't call rhubarb "pie plant" for nothing! This classic dessert has a fruity filling, a crumbly crust and a buttery streusel topping. When the tartness of rhubarb is combined with sweet, juicy strawberries, something truly magical happens.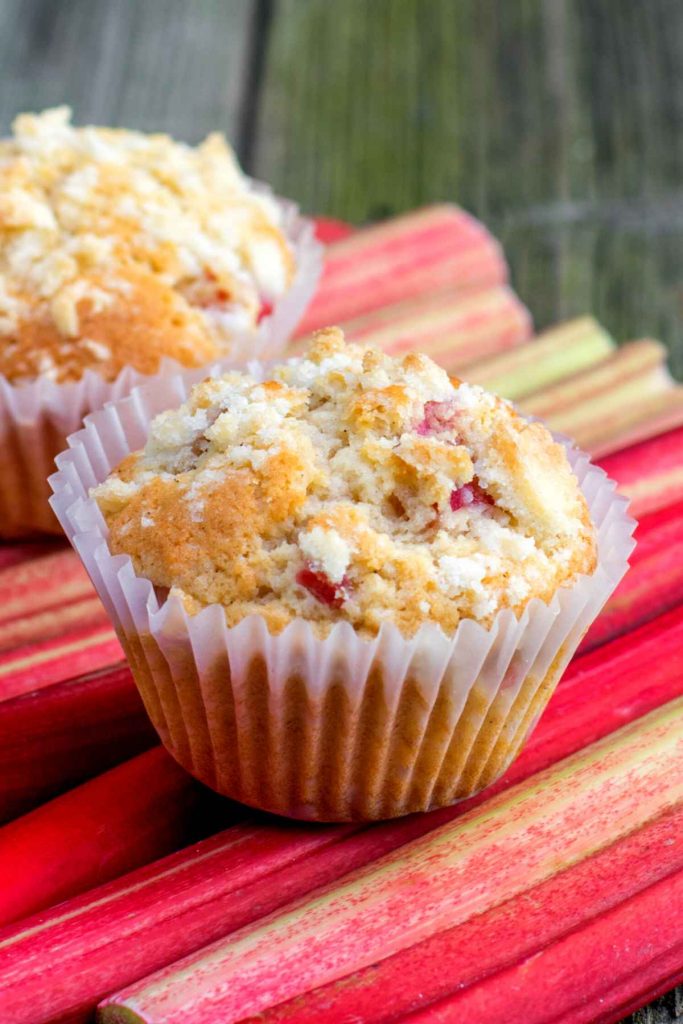 Add something unexpected to your breakfast or brunch menu with these Rhubarb Muffins. Bits of rhubarb are folded into a sweet vanilla batter, before being topped with cinnamon sugar streusel. For a bit of crunch, add chopped pecans or almonds to your topping.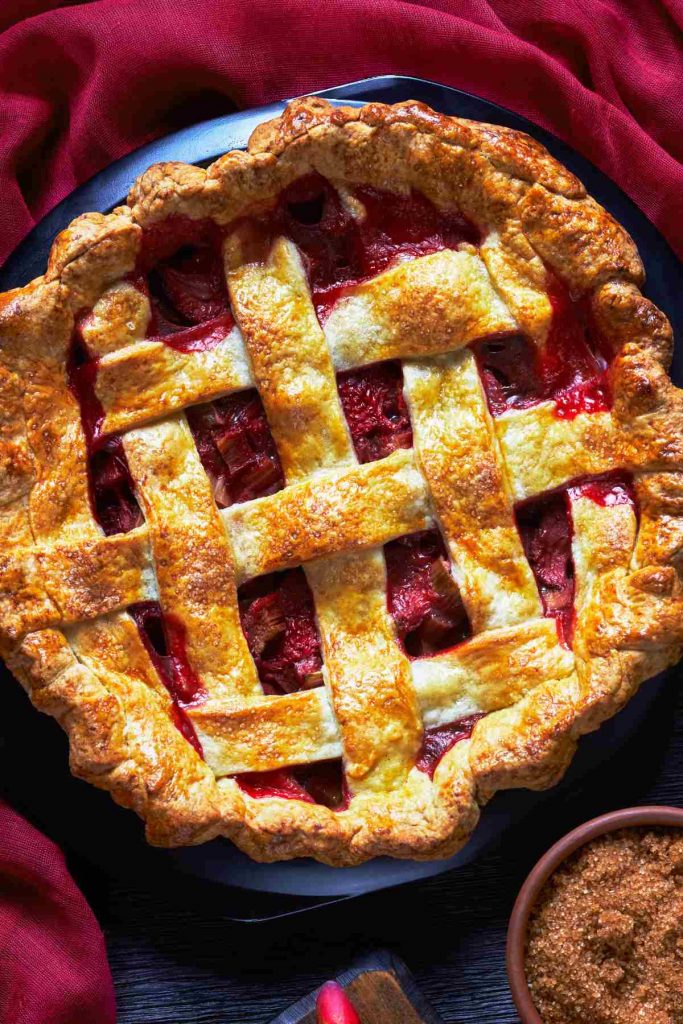 This Fresh Rhubarb pie is a wholesome dessert the whole family will enjoy. Without the addition of other fillings, you get to enjoy rhubarb in all its glory. Despite the name, you can definitely use frozen rhubarb if that's what you have.
Rhubarb Crisp is a crumbly and saucy dessert that's delicious on its own or topped with a scoop of vanilla ice cream. Best of all, it only needs ten minutes of prep work before popping it in the oven.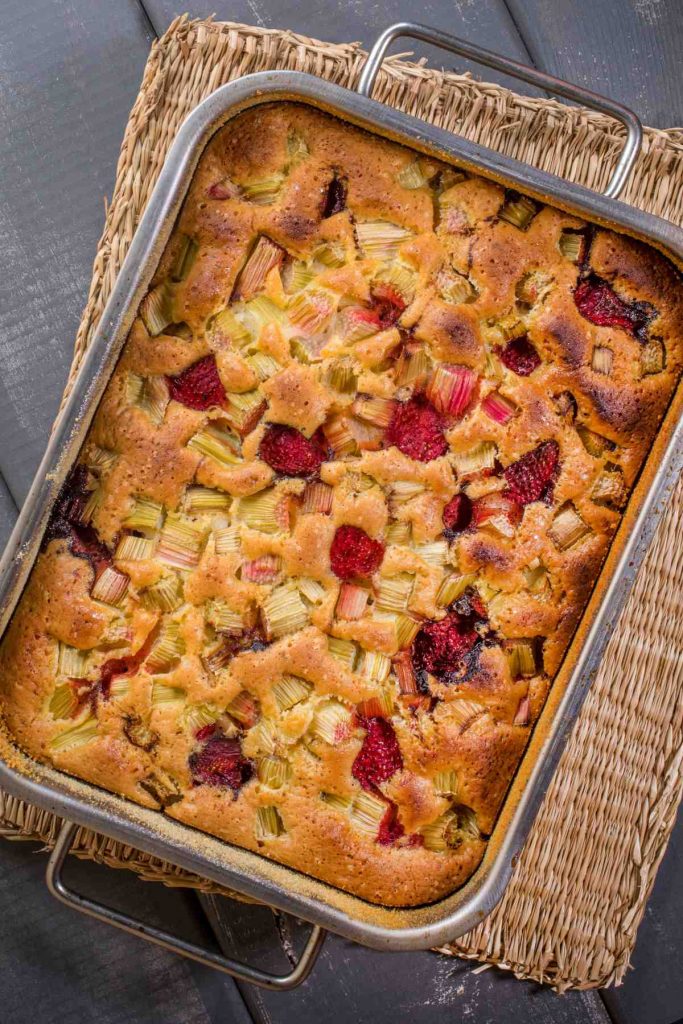 Made with tart bits of rhubarb, brown sugar and buttermilk, this simple recipe produces an irresistibly moist cake that goes well with coffee or tea. Top with a light sprinkling of granulated sugar for sweetness and texture.
You're hardly likely to have leftovers when you bake this Rhubarb Custard Pie. With a flaky crust, sweet egg custard filling and diced rhubarb, this dessert is too good to pass up!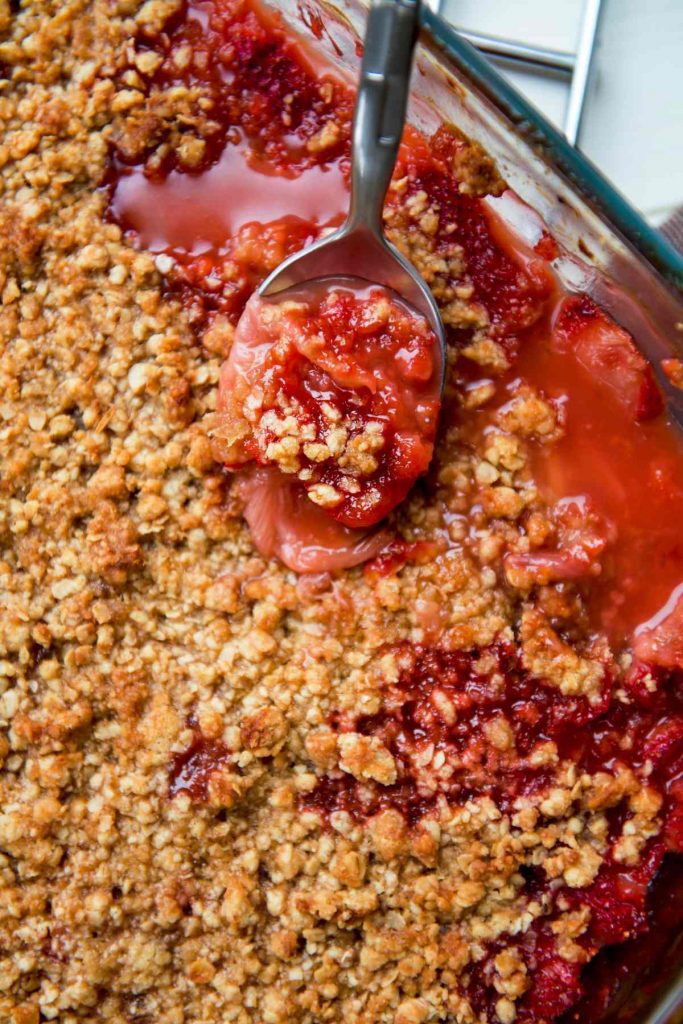 This crumble features the classic combo of rhubarb and strawberries. Serve with whipped cream or a scoop of ice cream for a tasty summertime dessert.
Think you can't make your own jam? Think again! This homemade strawberry rhubarb jam is surprisingly easy to make and requires just four simple ingredients. You'll love spreading it on toast for a simple and satisfying snack.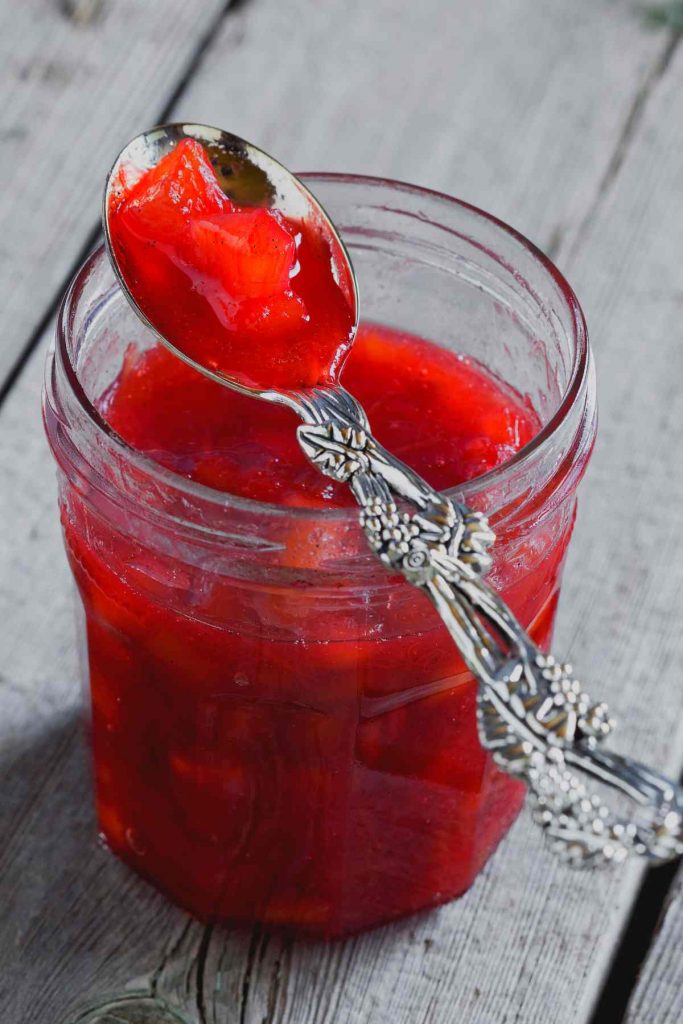 All you need is rhubarb, water, and sugar for this tasty sweet-and-sour sauce. Use it as a topping on an ice cream sundae or stir into plain Greek yogurt for a breakfast that might as well be dessert.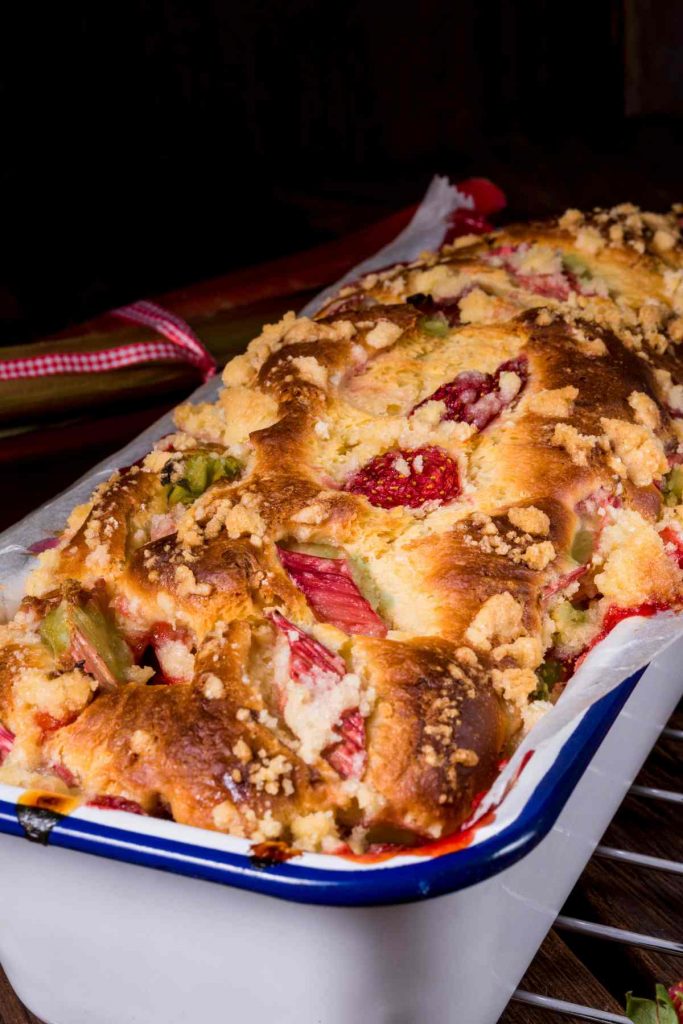 If you've never baked with rhubarb before, this cinnamon swirl bread is the perfect place to start. It's easier than making a pie, but arguably just as delicious.
Looking for a low-effort dessert? This Rhubarb Dump Cake requires just five minutes of your time and the oven will take care of the rest. Leftovers can be frozen for up to four months, but we doubt you'll have any.
This upside-down cake is "topped" with bits of rhubarb glazed in a rich brown sugar sauce. With hints of cardamom, cinnamon, and vanilla, this cake is incredibly flavorful and surprisingly easy to make.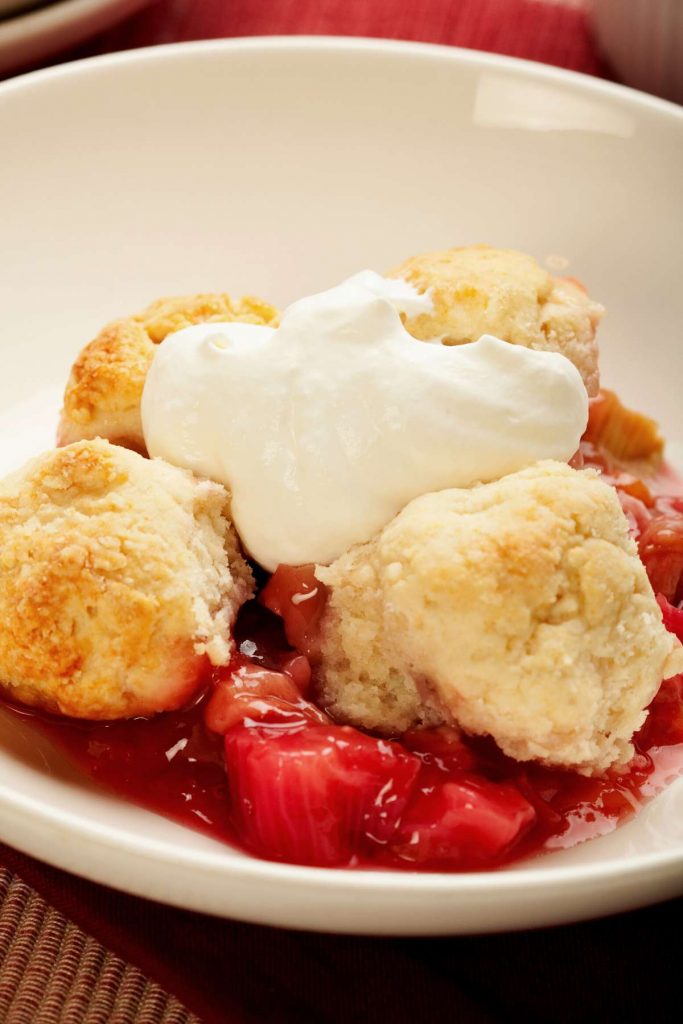 For fans of rhubarb, this cobbler is a must-try! You're sure to love the crumbly oat topping that makes this dessert both tasty and wholesome.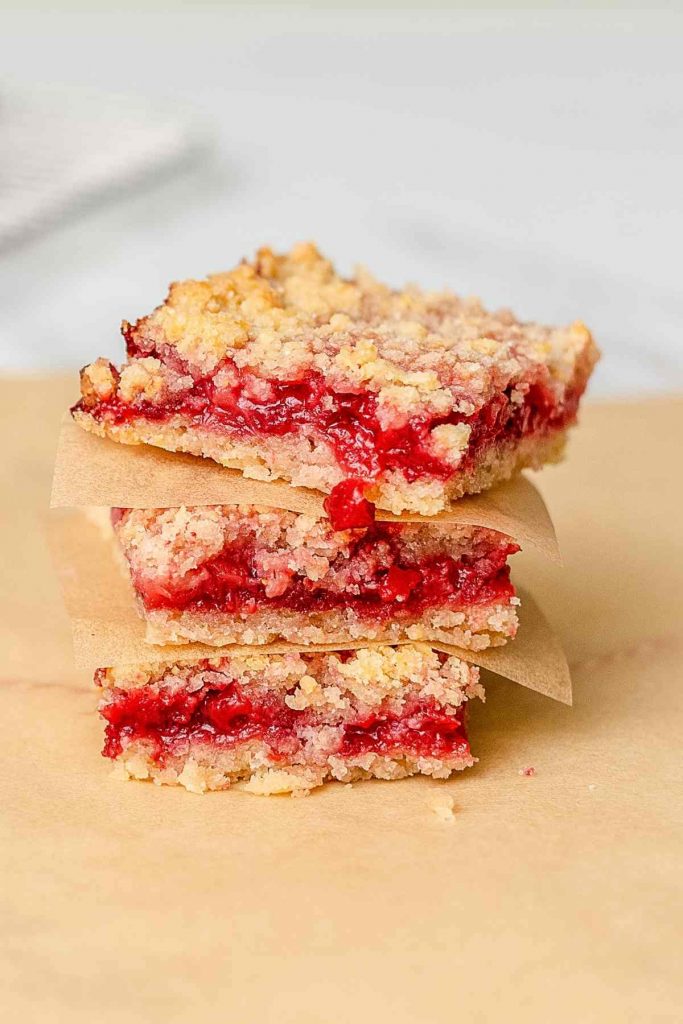 These tasty dessert bars are crunchy on the top, followed by a gooey layer of rhubarb and strawberries. Share them with your neighbors and you'll be the talk of the town!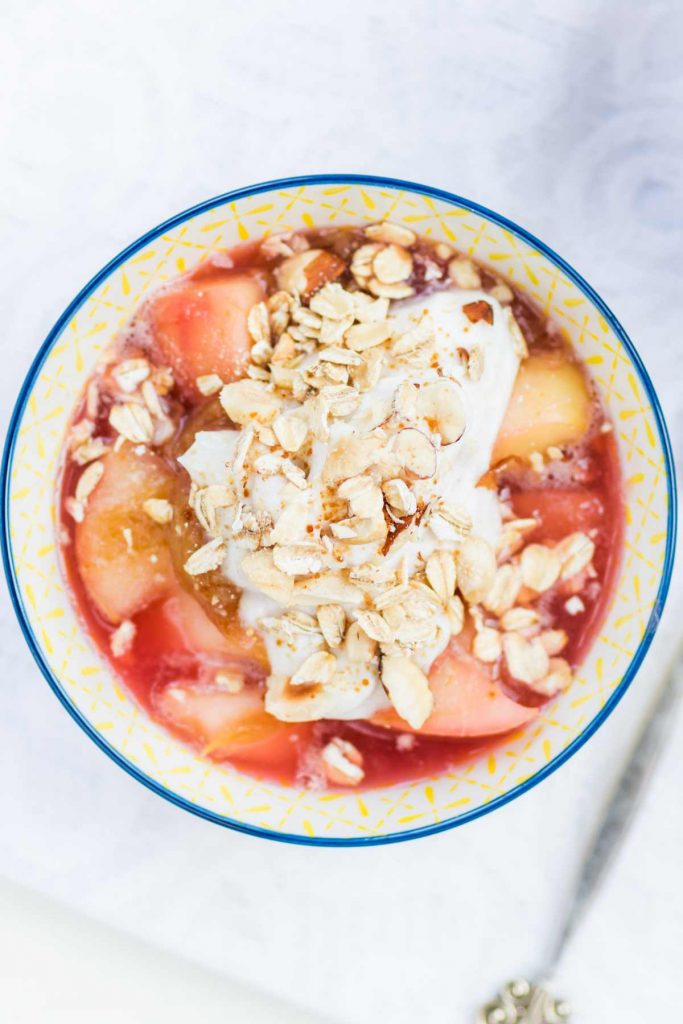 Whether you use fresh or frozen rhubarb, this dessert comes out great every single time. Apple Rhubarb Crisp is easy to make and goes perfectly with your favorite flavor of ice cream.
Tart rhubarb and sweet, juicy strawberries come together to create this uncomplicated dessert. You'll love Strawberry Rhubarb Compote on its own or as a topping for ice cream or waffles.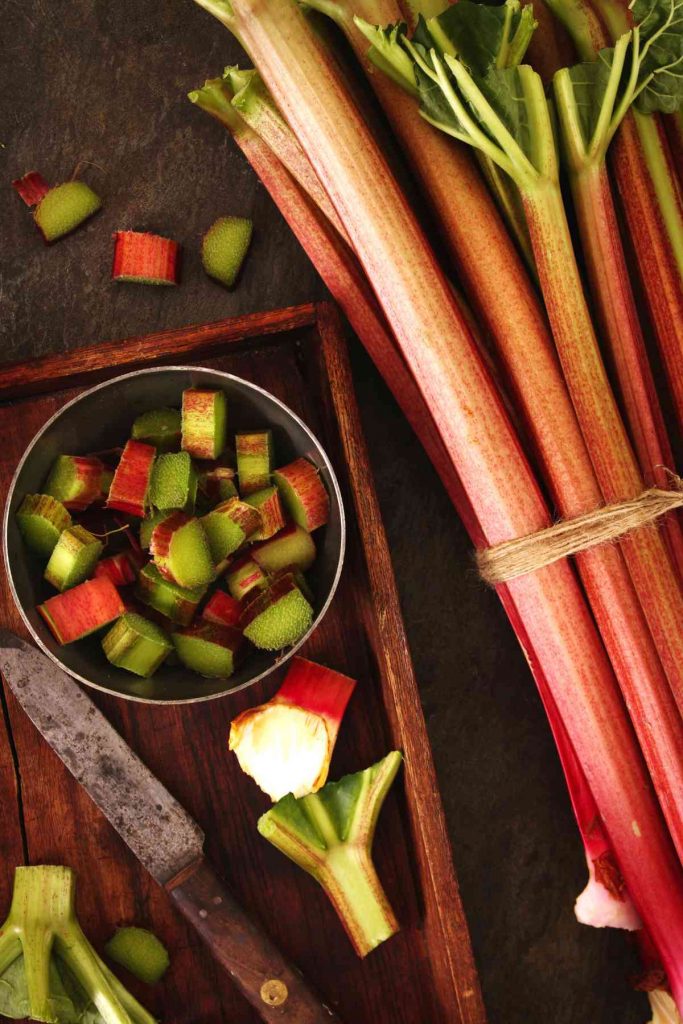 FAQ about Rhubarb
Is Rhubarb Healthy?
Rhubarb is a seasonal springtime veggie that's packed with nutritional benefits. It's an abundant source of vitamin K1, providing more than one-third of the recommended daily allowance per cup. You'll also be getting healthy doses of calcium, dietary fiber and vitamin C.
What Part Of Rhubarb Are You Not Supposed To Eat?
Rhubarb looks a bit like bright pink celery attached to dark green leaves. The stalk is the tart, juicy part of the plant that you'll be using for these recipes. Rhubarb leaves contain toxic amounts of oxalic acid. This chemical can make you seriously ill, so be sure to remove all the leaves.
Can You Eat Rhubarb Raw?
Rhubarb is edible when raw, but it's not very tasty. Raw rhubarb is about as sour as a lemon and the texture can make it difficult to chew. This is why rhubarb is customarily cooked with sugar or combined with fruits such as strawberries.
Is Rhubarb a Fruit or Vegetable?
Because rhubarb is typically cooked and eaten like fruit, many are surprised to learn that it's botanically considered a vegetable – a relative of the buckwheat family. The debate over the plant's status can get quite heated! In 1947, it was even argued in court, since imported fruits and vegetables attract different customs duties. The court ruled that rhubarb is a fruit, due to its use in pies and other desserts.
So, is rhubarb a fruit or a vegetable? It depends on who you ask!
How to Freeze Rhubarb?
Rhubarb is one of the first plants to start growing when spring starts. Its growing season begins in April and you're unlikely to get fresh rhubarb once the summer rolls around. Thankfully, you can stock up and freeze the stalks to use throughout the year.
Before starting this process, prepare an ice bath by filling a large bowl with ice and water. Blanch the stalks in boiling water for no more than one minute. Immediately transfer to the ice bath to stop the cooking process. Drain and spread the stalks out on a kitchen towel until they're completely dry, then freeze in freezer-safe containers.
Best Rhubarb Recipes (Rhubarb Pie and More)
When you think of fillings for desserts, rhubarb may not be the first thing to come to mind. But once you've tried these Rhubarb Dessert Recipes, you'll be stocking up on rhubarb every spring!
Print
Pin
Rate
Ingredients
1

double pie crust

store-bought

5

cups

fresh rhubarb

chopped

1 1/2

cups

granulated sugar

1/2

cup

all-purpose flour

1/2

teaspoon

ground cinnamon

1/2

teaspoon

ground cloves

1

tablespoon

unsalted butter

chopped into small cubes

1

egg

1

tablespoon

water

2

tablespoons

coarse sugar
Instructions
Preheat oven to 425°F.

Combine the flour, sugar, cinnamon and cloves in a bowl.

Add in the rhubarb and toss until it's coated in the mixture of dry ingredients. Spread onto a 9″ pie crust.

Smear a thin layer of butter along the edge of the pie. Place the second pie crust on top and use a knife to make a few ventilation slits. Use a fork to crimp the edges together. For a lattice topping, cut the second pie crust into 1-inch thick strips and weave.

Whisk the egg and water and brush the mixture on top of the pie. Add a sprinkling of sugar.

Bake for 15 minutes at 425F, then reduce to 375 F and continue baking for another 30 minutes, or until the crust is golden. By this time, the filling should be bubbling. If the crust turns golden before the filling is bubbling, loosely cover the pie with foil to continue baking without the risk of burning the crust.
Tried this recipe?
Follow or tag us on Pinterest @izzycooking