This post may contain affiliate links.
Please read my disclosure policy.
From sweet desserts to savory casseroles, phyllo is a convenient go-to for flaky pastry. It's also economical, easy to source, and a huge timesaver!
We've collected 19 popular phyllo dough recipes for you to try in your own kitchen. Get ready to be inspired!
Phyllo Dough vs Puff Pastry
The main difference between phyllo dough and puff pastry is the fat content. Puff pastry is made with buttered layers of dough, while phyllo dough is much thinner than puff pastry and contains very little fat.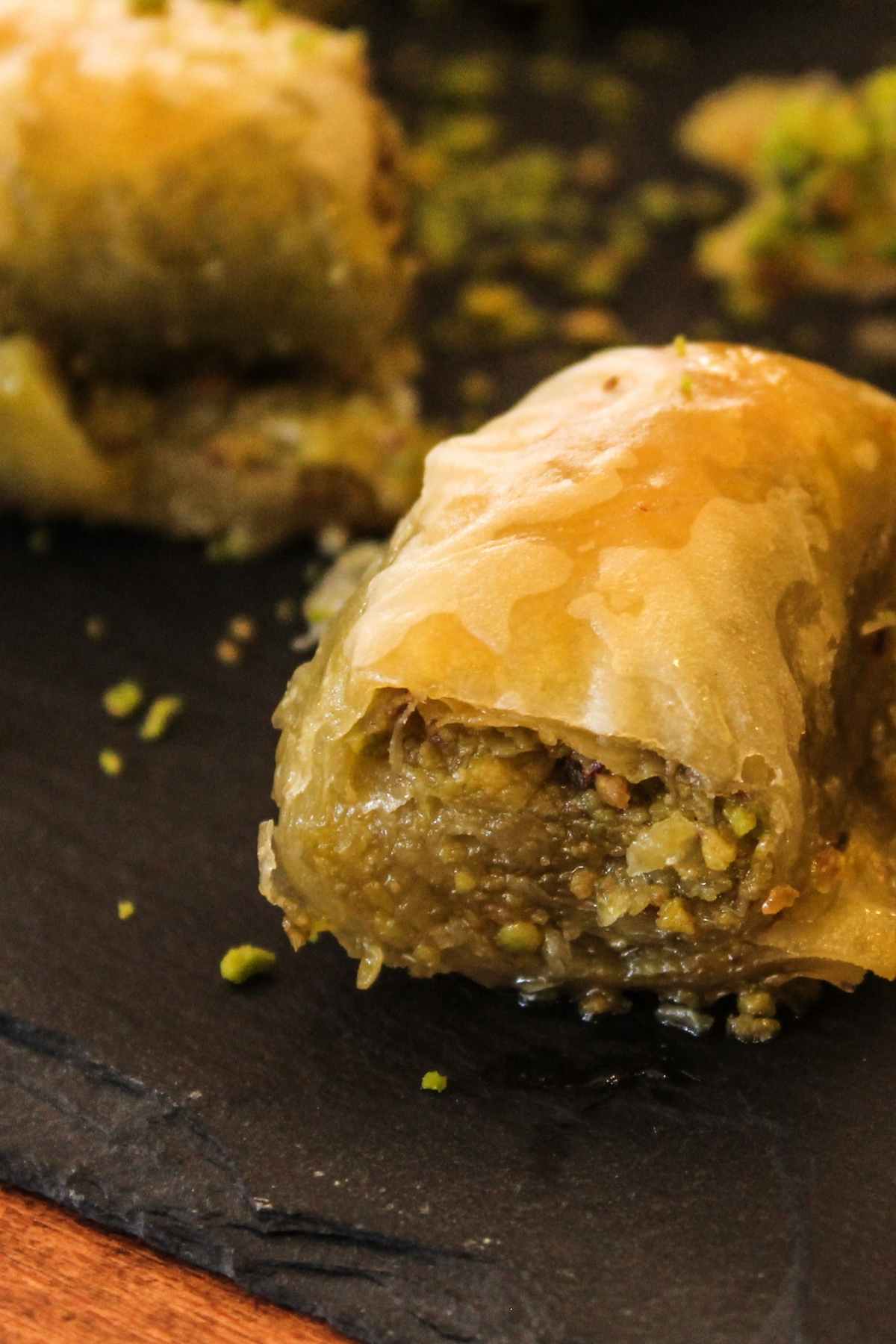 This centuries-old flaky dessert is hard to resist! It's a sweet concoction that combines honey, cinnamon, walnuts, powdered sugar and melted butter in a light and flaky pastry.
You'll be craving a hot cup of coffee or tea to go along with this scrumptious apple strudel! Serve it at your next get-together with scoops of creamy ice cream!
Instead of serving a sweet potato pie next Thanksgiving, try this sweet potato phyllo casserole instead! It's the perfect combination of sweet, savory, creamy and flaky!
If you have some apples on hand, you can easily make this impressive apple tart. It takes just 20 minutes of prep time and then bakes up beautifully in half an hour. Serve it to guests or enjoy it as a sweet weeknight treat!
You'll love the sweet and savory flavors of these flaky treats! All you need is a handful of ingredients, 5 minutes of prep time and 20 minutes to bake!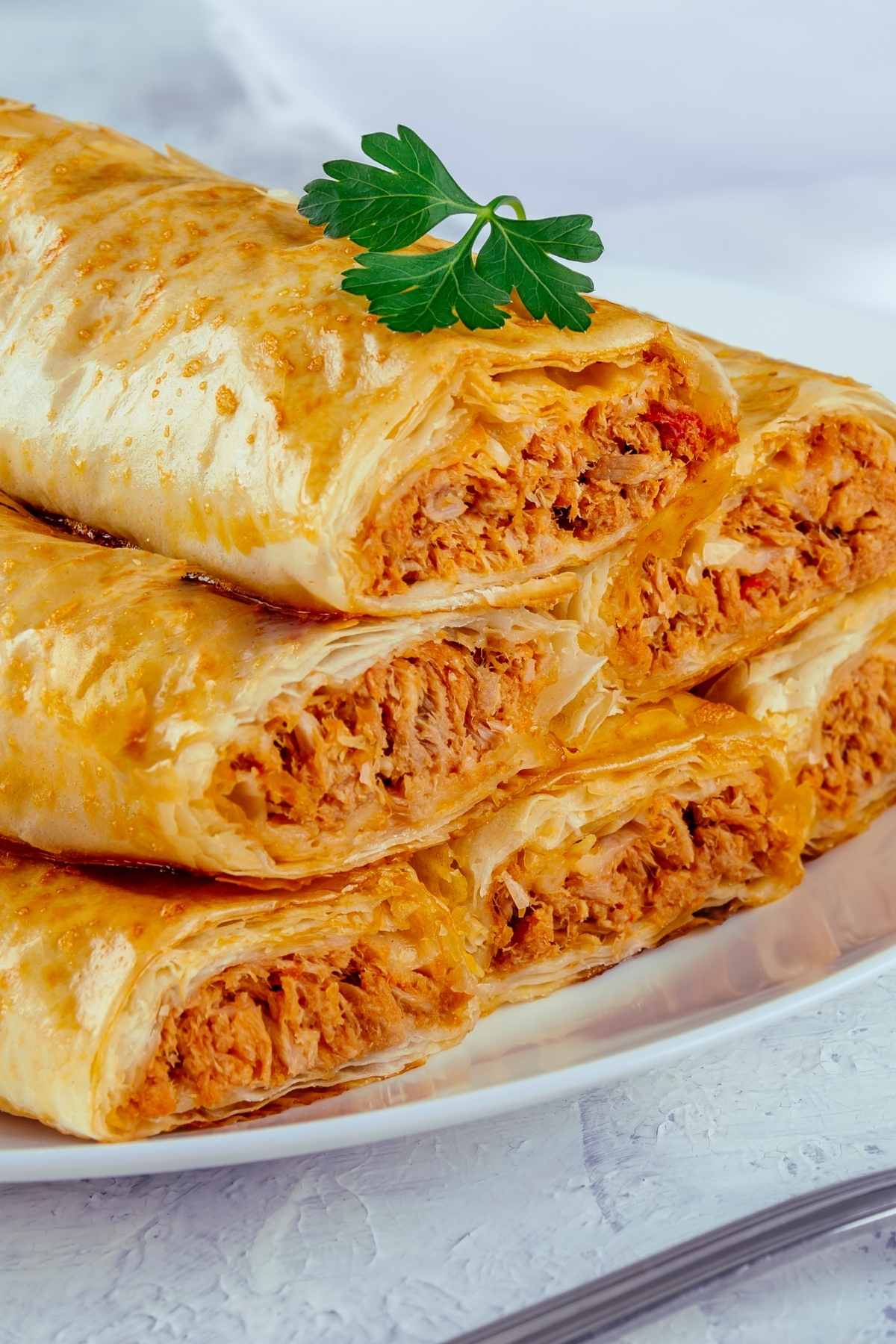 Remember those sausage rolls you loved as a kid? These are so much better and can be served as appetizers at your next party! They're ready to enjoy in less than 50 minutes.
You'll be amazed at how beautiful these delicate treats turn out. They're really impressive and take just 40 minutes to make!
Serve this delectable dessert at your next get-together! The phyllo is soaked in a zesty orange-based syrup.
This dish is a nice change from regular weeknight meals. The phyllo is topped with a savory layer of zucchini, eggs, corn, and parmesan cheese!
If you're looking for a delicious recipe for weekend brunch, this easy chicken pizza is the answer! It features leftover or rotisserie chicken and the Mediterranean flavors of olives, bell peppers, tomatoes, cilantro and mint.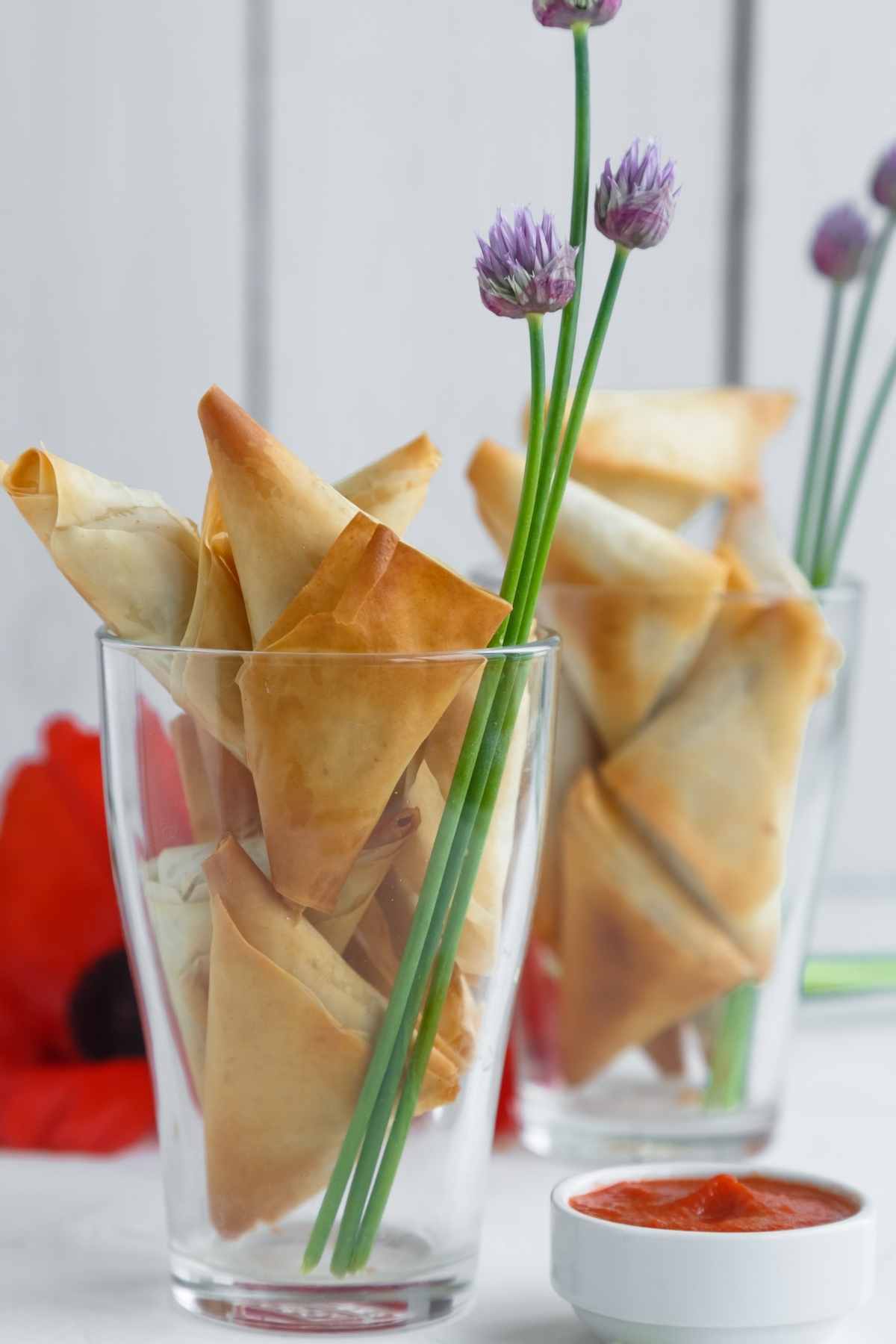 These tasty triangles of cheese are a party favorite for a reason! They're easy to make, bite size, and come out perfectly every time!
This vegan version of spanakopita is full of delicious flavors! Follow the detailed instructions for awesome results!
These pumpkin turnovers are vegetarian-friendly and absolutely delicious! Serve them as appetizers at your next informal get-together.
You'll want to save this recipe for your next special occasion celebration! It's absolutely stunning and is filled with sweetened cream cheese that's drenched in a decadent cinnamon-honey syrup!
The chocolate lovers on your guest-list will love this sweet dessert! The recipe has just 4 ingredients and is ready to serve in 45 minutes!
This traditional Lebanese dessert combines a creamy filling, a sweet syrup, and layers of flaky phyllo dough! Serve it at your next dinner party with plenty of hot coffee and tea!
You'll love the textures of this colorful dessert. It features a shredded phyllo crust, a creamy filling, and a syrup made with condensed milk!
These cute tarts would be a great addition to a weekend brunch! They take just 15 minutes of prep time and bake up beautifully in 35 minutes!
Every bite of these fruity phyllo rolls is filled with fresh blueberries! They're not overly sweet and would be perfectly served with hot coffee or tea!
You May Also Like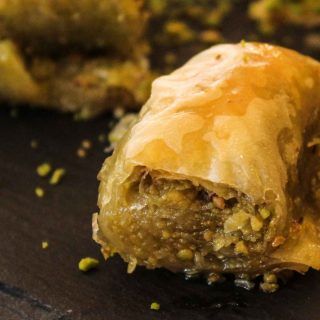 Easy Phyllo Dough Recipes (Baklava Recipe and More)
This easy Baklava is made with flaky phyllo dough. It's sweet, crunchy, and so delicious. It's one of our favorite Phyllo dough recipes.
Print
Pin
Rate
Ingredients
16

oz

phyllo dough

thawed

16

oz

walnuts

1 ½

teaspoons

ground cinnamon

1/4

teaspoon

ground cardamom

1/4

teaspoon

salt

1

cup

butter

melted

optional melted chocolate
Instructions
Preheat the oven to 350 degrees F. Line a baking sheet with parchment paper and set aside.

In a food processor, add walnuts, ground cinnamon, cardamom, and salt. Blend until walnuts are well chopped.

Place 8 layers of phyllo dough on the baking sheet, brushing each layer with melted butter.

Spread 2/3 cup of the walnut mixture on top of the dough evenly.

Add another 5 layers of the phyllo dough and brush each layer with butter.

Add another 2/3 cup of the walnuts. Repeat until you use up all the dough and walnut mixture.

Cut the assembled baklava into squares with your desired sizes.

Bake for 45-50 minutes or until the edges are golden brown. Let it cool for 15-20 minutes.

Drizzle with melted chocolate or your favorite syrup. Serve and enjoy!
Tried this recipe?
Follow or tag us on Pinterest @izzycooking