Do you ever wonder what are leeks and what do leeks taste like? Or if they can be used for anything other than just soups? Leeks are often made in combination with green onions.
They belong to the onion family. However, they are very distinct from their relatives in terms of flavor and uses. Keep reading to find out more about leeks.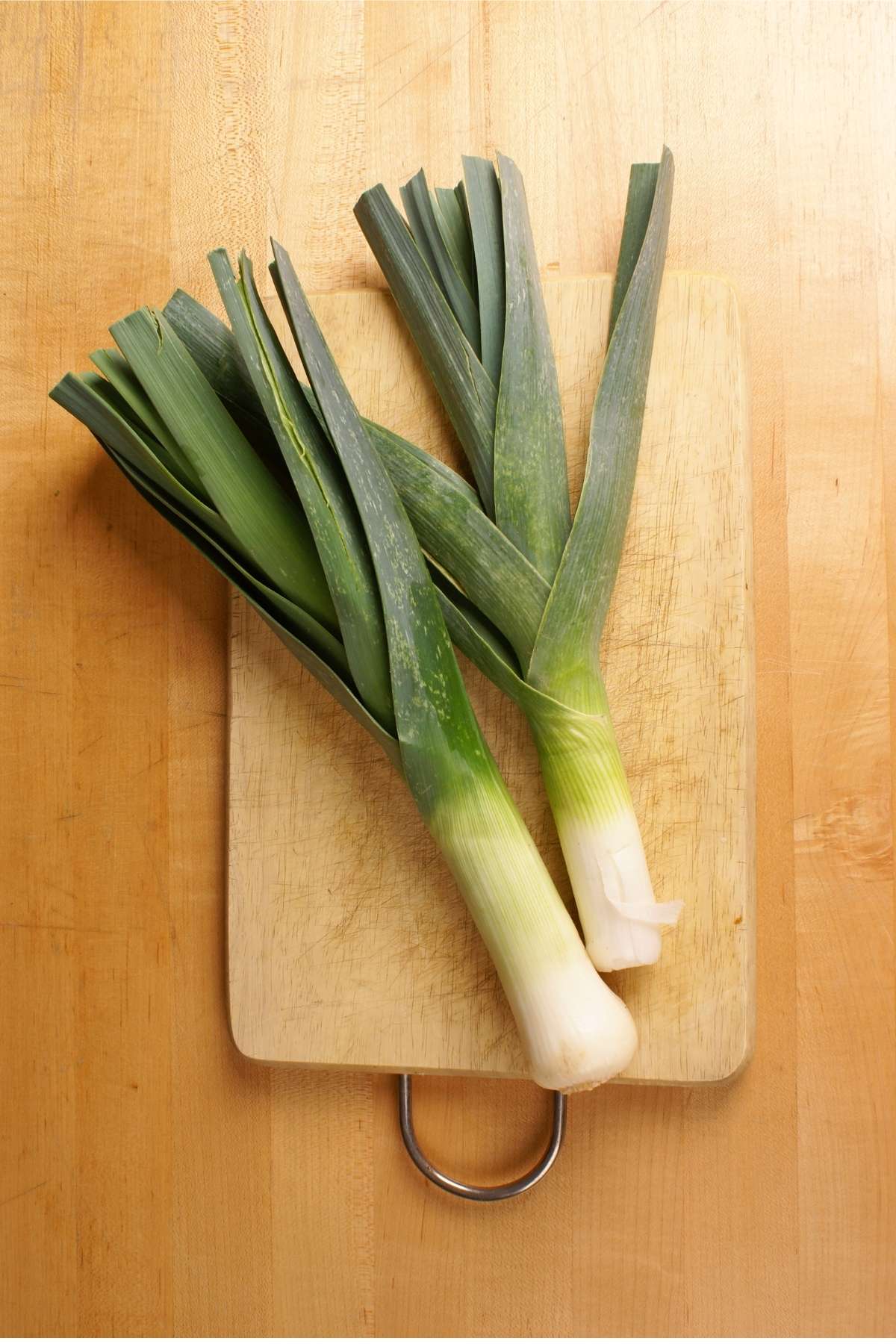 What Are Leeks?
Since leeks belong to the onion family, they are similar to other alliums like scallions, garlic, shallots, and chives. Leeks vary in size from small to large.
Due to their versatility, leeks are used in a variety of cuisines around the world. For instance, a very famous dish is leek and potato soup, but leeks are certainly not limited to this. 
The portion of the plant that is actually edible is the bundle of leaf sheaths that are so tightly bound that they are regularly confused for stems or stalks. These sheaths are created during the cultivation process by trenching, which is the pushing around of soil at the plant base in order to bind the sheaths.
What Do Leeks Taste Like?
Leeks have a much sweeter taste than green onions and their flavor depends on how you cook them. Raw leeks have a more tender taste in comparison to other relatives of the onion family. They taste somewhat grassy with a hint of herb. 
They can be eaten raw in salads but cooking them is the most popular method.  When first attempting raw leeks, a good idea is to cut them in a half-moon shape and use them in things like salads, burgers, and different sandwiches. The bigger the leek is, the stronger the flavor it will have. 
Whichever way you decide to cook your leeks, their texture will change. Leeks will have a mild flavor while becoming creamier and buttery and will give off the aroma of the food cooked with them.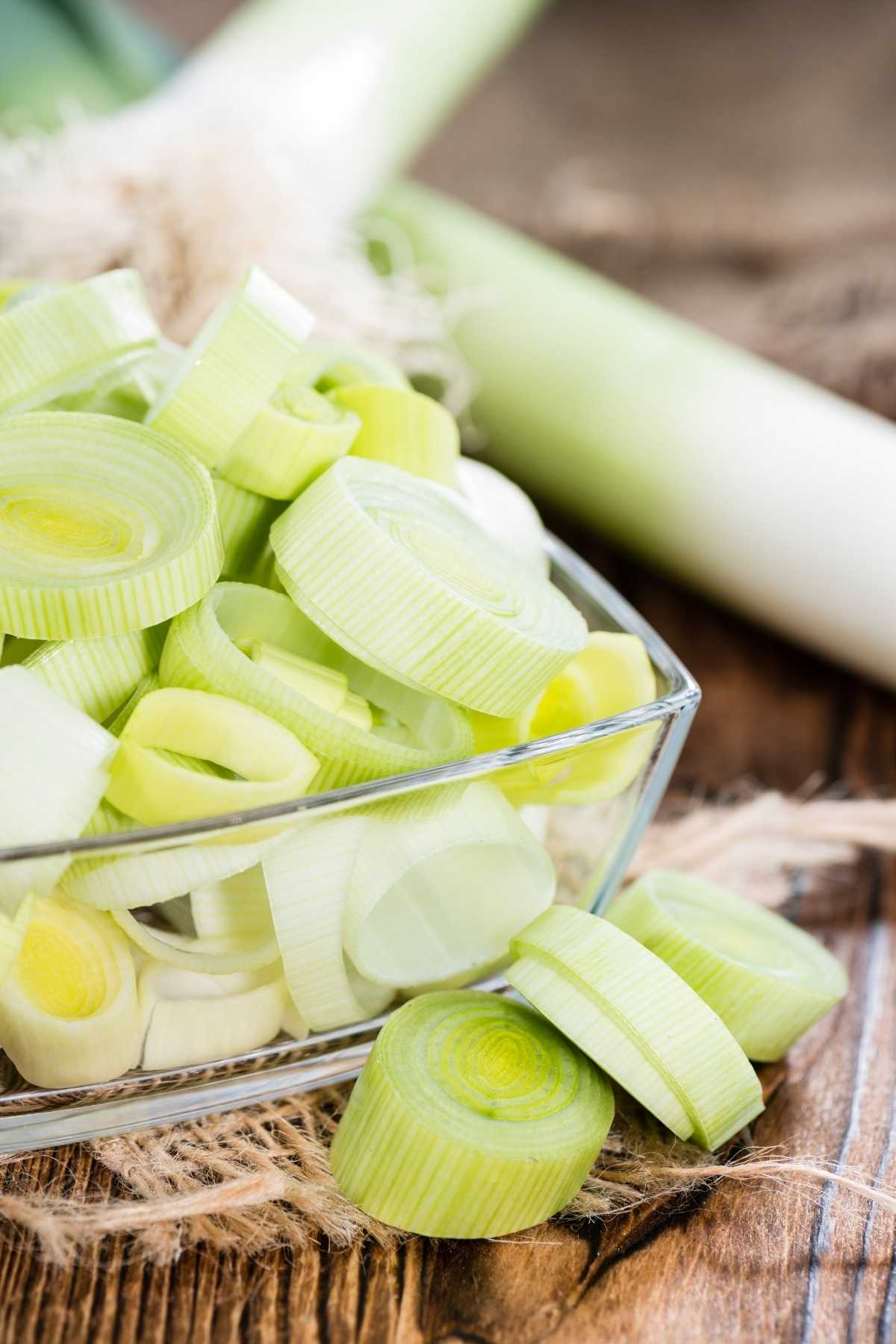 What Parts Of Leeks Are Edible?
Unlike green onions, the edible parts of leeks are the sections that are white and light green in color. They have a stem-like appearance. 
You can also eat the leaves that are dark green but you risk their bitterness ruining your dishes.
Additionally, those dark green leaves can be cooked but they require more time to achieve a tender consistency.
Varieties and Types of Leeks
There are 2 main types of leeks: less hardy ones that are faster growing and those that are blue-green and hardier.
Within these two types, you will find a variety of leeks including Tandoram Pot leek, Mussleburgh, Mammoth, Jolant, Carentan, and Atlantic.
How To Clean Leeks
Leeks have many layers to them which means the dirt can pile up under each layer. Therefore, it can be a challenge to thoroughly clean the leeks. This is especially true for thick leeks because they have more layers, so even more dirt can stick under each layer.
If only the stem of the leek gets washed, only the outer parts will be clean.
So, a good method for cleaning leeks is to first cut them into about 1-inch thick circles and then wash them. You should put them in a colander and wash them thoroughly with cold water. Allow them to drain and dry before continuing to use them.
How To Cut Leeks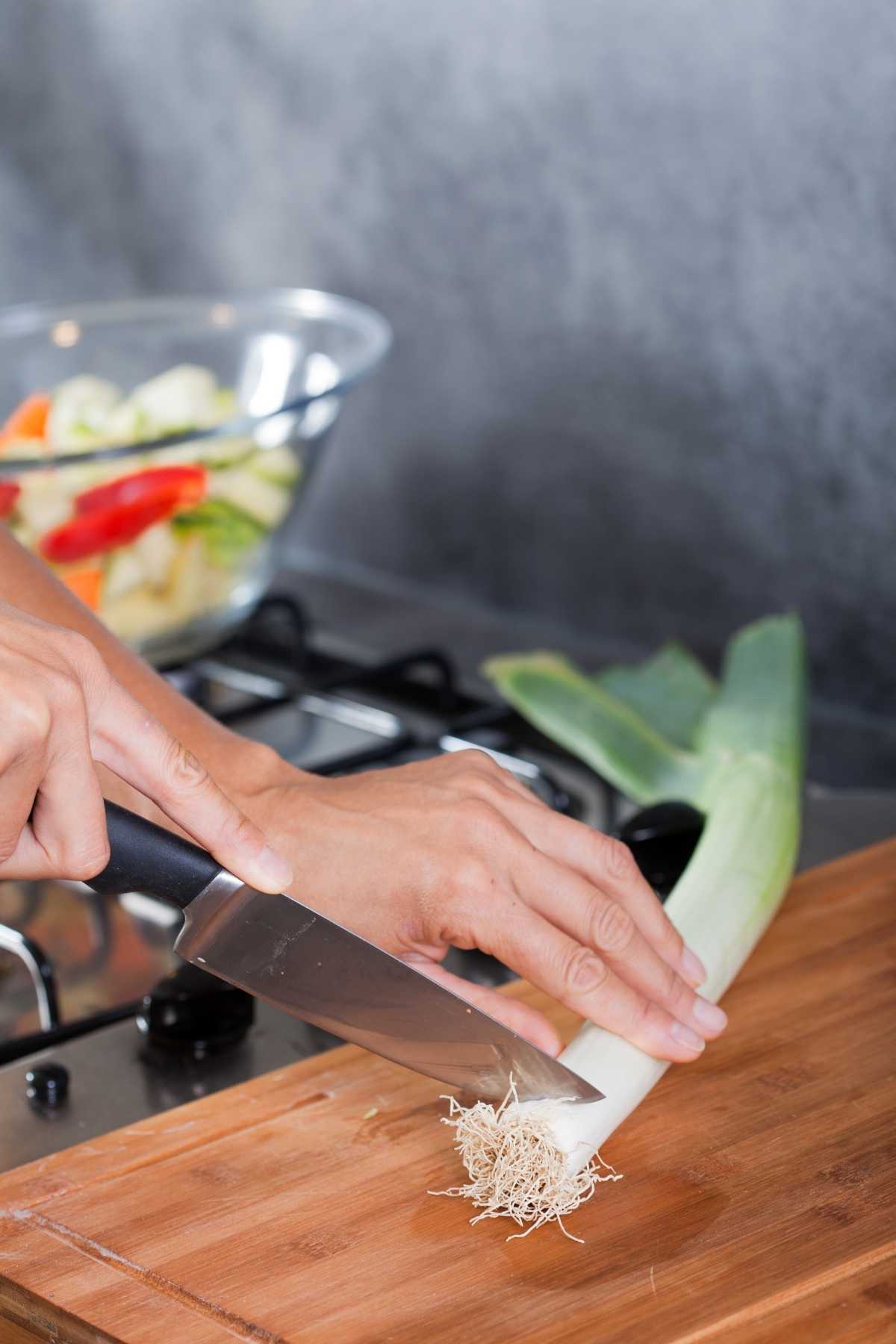 Wash the leeks thoroughly to remove dirt.
Then, cut off the dark leaves and toss them away as the best edible parts are white and light green.
Cut the roots found at the opposite end of the plant. You are left with the edible leek part that can be cut in several ways including rings, half-moons, or in half lengthwise.
Use a sharp knife to cut leeks into rings, half-moons, or bigger chunks. 
How Long to Cook Leeks
There are so many ways to cook leeks, you can boil, braise or steam them.
Sliced leeks will cook for 5-7 minutes
Small whole leeks take about 10 -15 minutes to cook.
Big whole leeks will take about 15 to 20 minutes.
How To Store Leeks
Give the leeks a good shake to remove as much soil as possible. 
Rinse it well and let them drain.
Wrap a damp paper towel around the leeks to maintain their freshness. Use a perforated plastic bag to store the leeks in the fridge.
The leeks can last in the refrigerator for only ten days. However, the leaves will usually start turning yellow around the seventh day. A good trick is to trim them to prolong the freshness for a bit longer. 
Generally, larger leeks will not last as long as the smaller ones. It is ideal to store leeks at about 32 degrees Fahrenheit and 95 to 100 percent relative humidity. In warm temperatures, leeks will turn yellow sooner.
Can You Freeze Leeks?
Leeks are in season between October and May but you could always freeze them if you wish to use them during the summer.
If frozen properly, leeks can stay frozen for about ten months in the freezer.
Health Benefits Of Leeks
These vegetables can reduce the chances of stomach, colon, and prostate cancer.
They reduce the risk of osteoporosis by keeping your bones strong due to their vitamin K levels.
Because leeks contain carotenoids, they offer protection for your eyes and can reduce the risk of degeneration.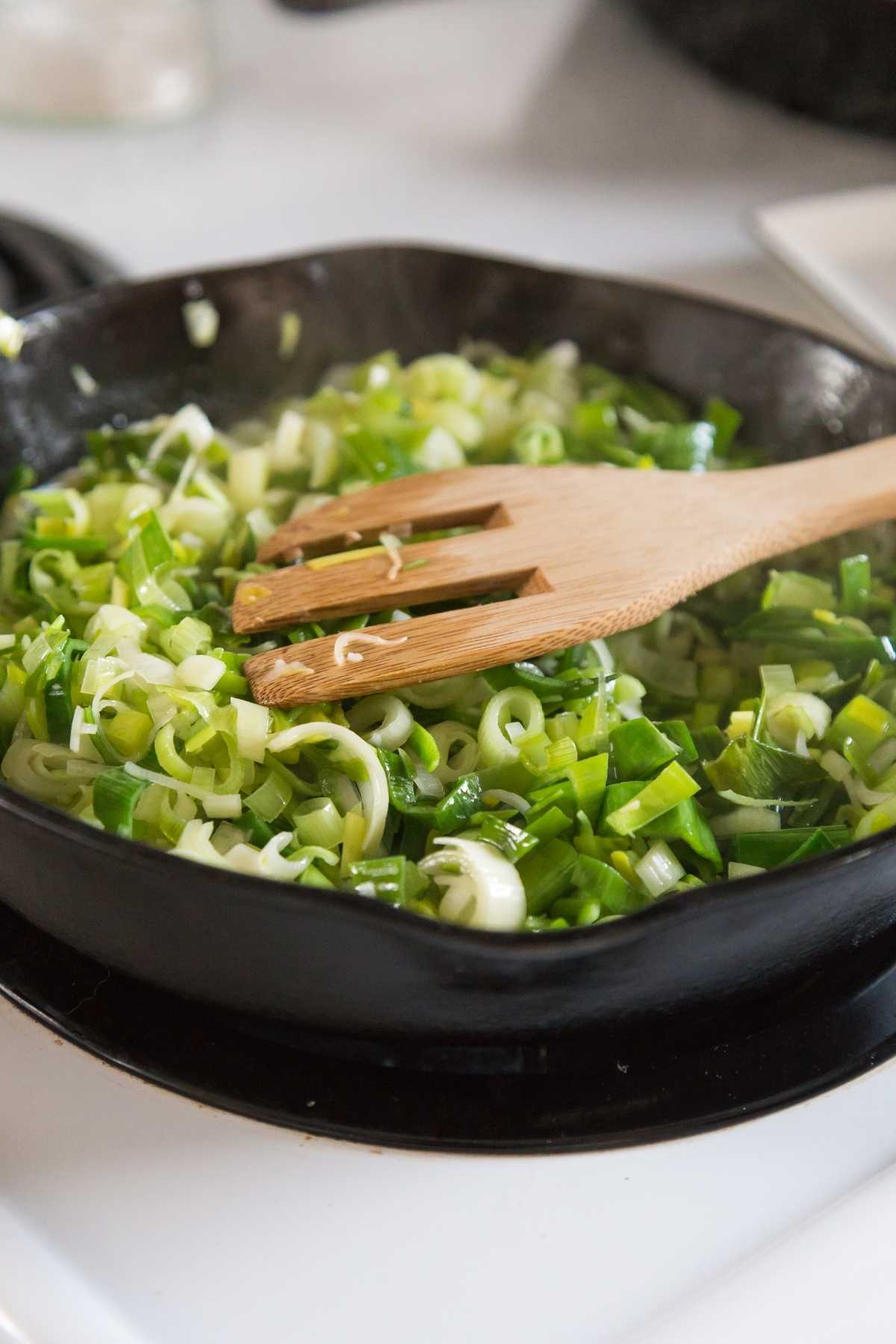 Leeks vs Green Onions
Leeks are similar in appearance to green onions but they are in fact a completely different plant although they come from the same family. First of all, the size of leeks is much larger compared to green onions. Their leaves are wider and denser and they also differ in flavors and use.
On the contrary, green onions have a bulb that is visible, unlike leeks. Therefore, next time you are wondering if the green onion is actually just an under-ripe leek, simply check the bottom for a bulb.
How to Cook Leeks
Clean the leeks thoroughly by rinsing them under cold water and drying them in a paper towel before using them.
Cut them into either chunks or slices.
Use olive oil to sauté them, I much like what you would do with onions.
Best Recipes Using Leeks
How to Cut and Cook Leeks (step by step instructions)
Do you ever wonder what leeks taste like and if they can be used for anything other than just soups? Leeks are often made in combination with green onions.
Print
Pin
Rate
Ingredients
1

pound

leeks

1

tablespoon

olive oil

salt and pepper

to taste

Instructions
Instructions
Cutting Leeks
Wash the leeks thoroughly. Then cut off the dark leaves and toss them away as the best edible parts are white and light green.

Cut the white part using a sharp knife.
Cooking Leeks
Add olive oil to a skillet. Once hot, add leeks.

Sauté until they are nice and soft.

Season with salt and pepper to taste. Serve and enjoy!
Tried this recipe?
Follow or tag us on Pinterest @izzycooking