Finding keto-friendly recipes isn't always an easy task, so we're here to help! In this article, we've collected 20 Easy Keto Lunch Ideas that will satisfy your cravings and fuel you for the rest of the work day. From cold to hot meals, we've got you covered!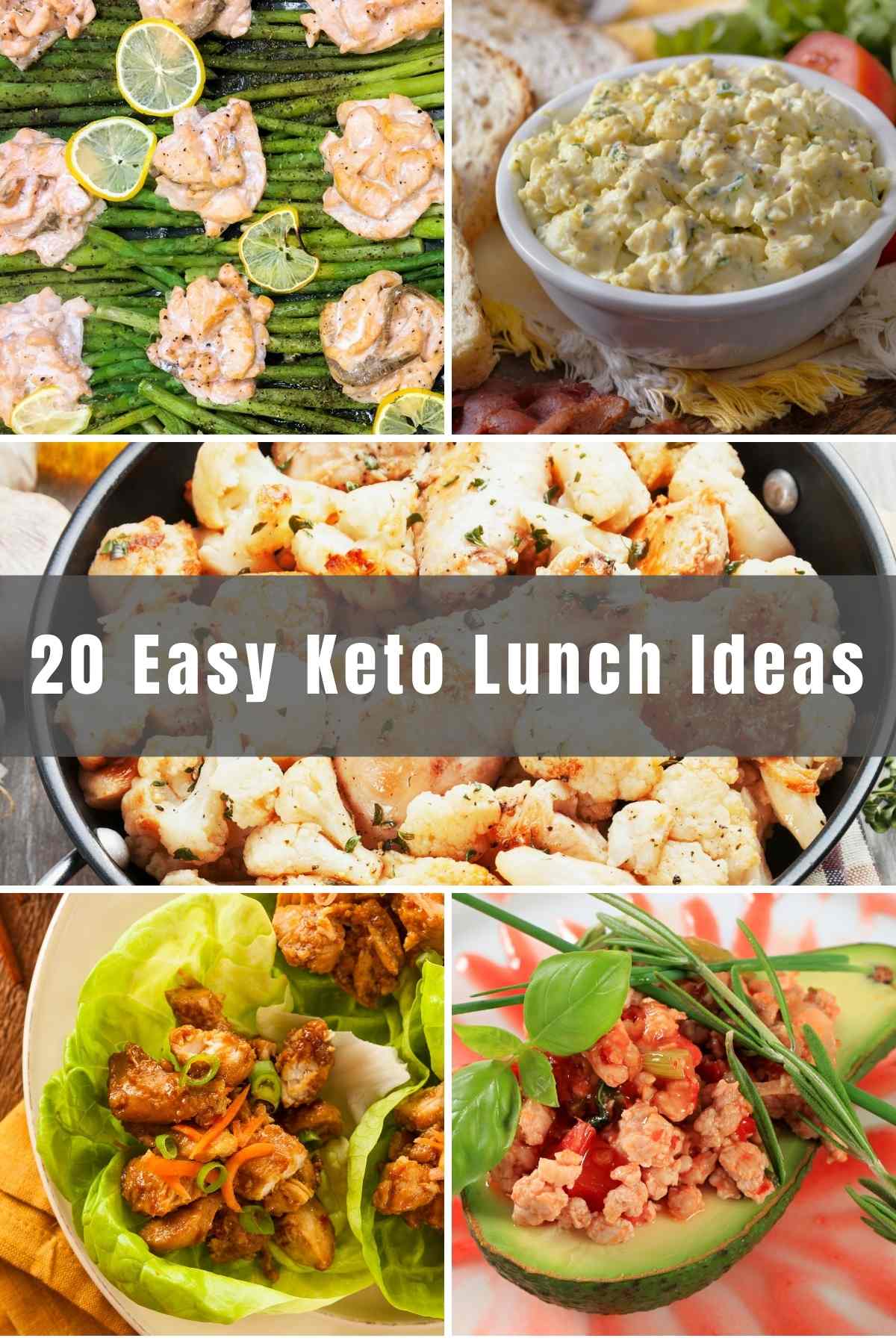 As the keto diet becomes more popular, it's worth explaining for those who are curious. The keto diet focuses on eating foods with high-fat content and avoiding foods with sugar and carbohydrates as much as possible. This might sound difficult, but there are lots of great keto recipes out there!
Eating keto means staying away from a lot of carb-heavy ingredients like starches, processed grains and sugar. These dietary restrictions will limit your options for finding food on the lunch rush. Preparing keto lunches in advance at home is the best way to stick to your keto diet while at work.
What Can I Eat for Lunch on a Keto Diet?
While going on a keto diet might limit your lunch options, there are many foods out there that you can enjoy for lunch. Meals that have animal protein are always a great option for getting those healthy fats into your body. Aside from meat, you'll want to look for recipes that have lots of vegetables, berries, dairy or nuts and seeds.
Is Rice Keto-Friendly?
Although it does contain some great nutrients, rice is unfortunately very high in carbohydrates and therefore, not keto-friendly. That may be hard news to hear but have no fear! There are great rice alternatives, like cauliflower or broccoli rice, that are low-carb, delicious, and 100% keto-friendly.
Cold Keto Lunch Recipes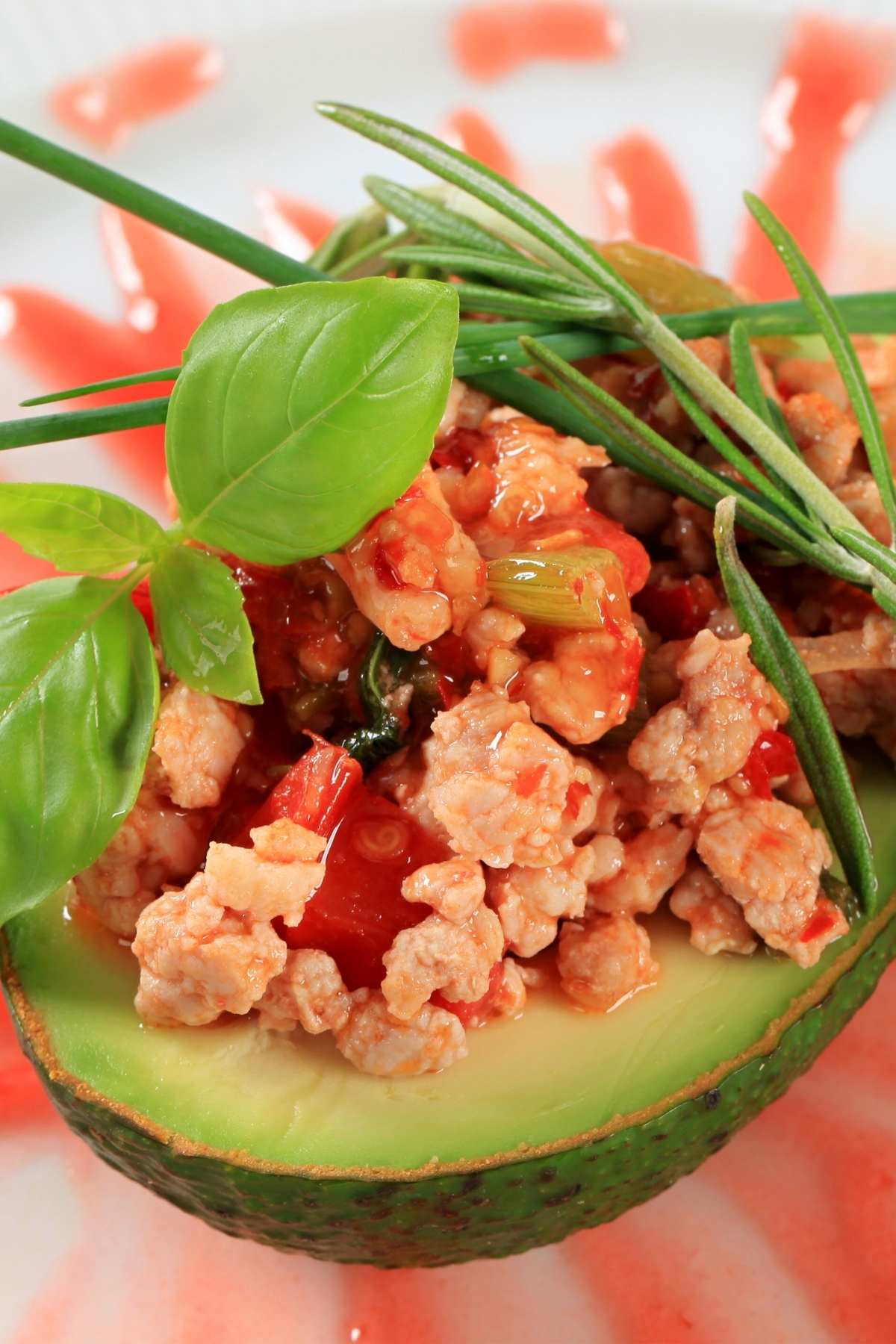 These stuffed avocados are the keto version of classic Mexican tacos! Filled with ground meat, veggies and spices, these avocado boats will satisfy any taco cravings you have. The best part? These tasty tacos will keep well in the fridge for up to 3 days!
Cobb salad is colorful, delicious and healthy. Topped with chicken, bacon, eggs and veggies, this salad will keep your body fueled for whatever comes your way. Plus, this recipe will teach you how to make a delicious and keto-approved red wine vinaigrette!
This classic dish is now keto-friendly! Packed with veggies, nuts and bacon, this broccoli salad is full of protein and healthy fats. With only 8 ingredients, this recipe will be easy to make during the lunch rush!
Potato salad, but make it keto! Here you'll be swapping out potatoes with roasted cauliflower for an easy, flavorful and healthy salad. This crunchy lunch is refreshing and tasty!
If you're getting bored with lettuce, then this is the recipe for you! Zoodles serve as the base for this delicious salad topped with salami, artichokes, olives and cheese. TIP: You can swap out the zoodles for spiralized summer squash, cucumbers or beets!
Who knew that brussel sprouts could taste so good? The sprouts are shaved and topped with almonds, pomegranate seeds and shaved parmesan cheese. Crunchy and full of texture, this salad should be in your lunch rotation! TIP: If pomegranates aren't your thing, you can use blueberries instead!
With only 8 ingredients, these crab cakes are simple and easy to make. Plus, this recipe will show you how to make your own fresh tartar sauce! TIP: Imitation crab is high in carbs so make sure you use real crab meat!
Calling all tuna lovers! This easy salad has greens, olives, eggs and tuna for a protein-filled lunch. Plus, this recipe will teach you how to make a delicious nicoise dressing!
Warm Keto Lunch Recipes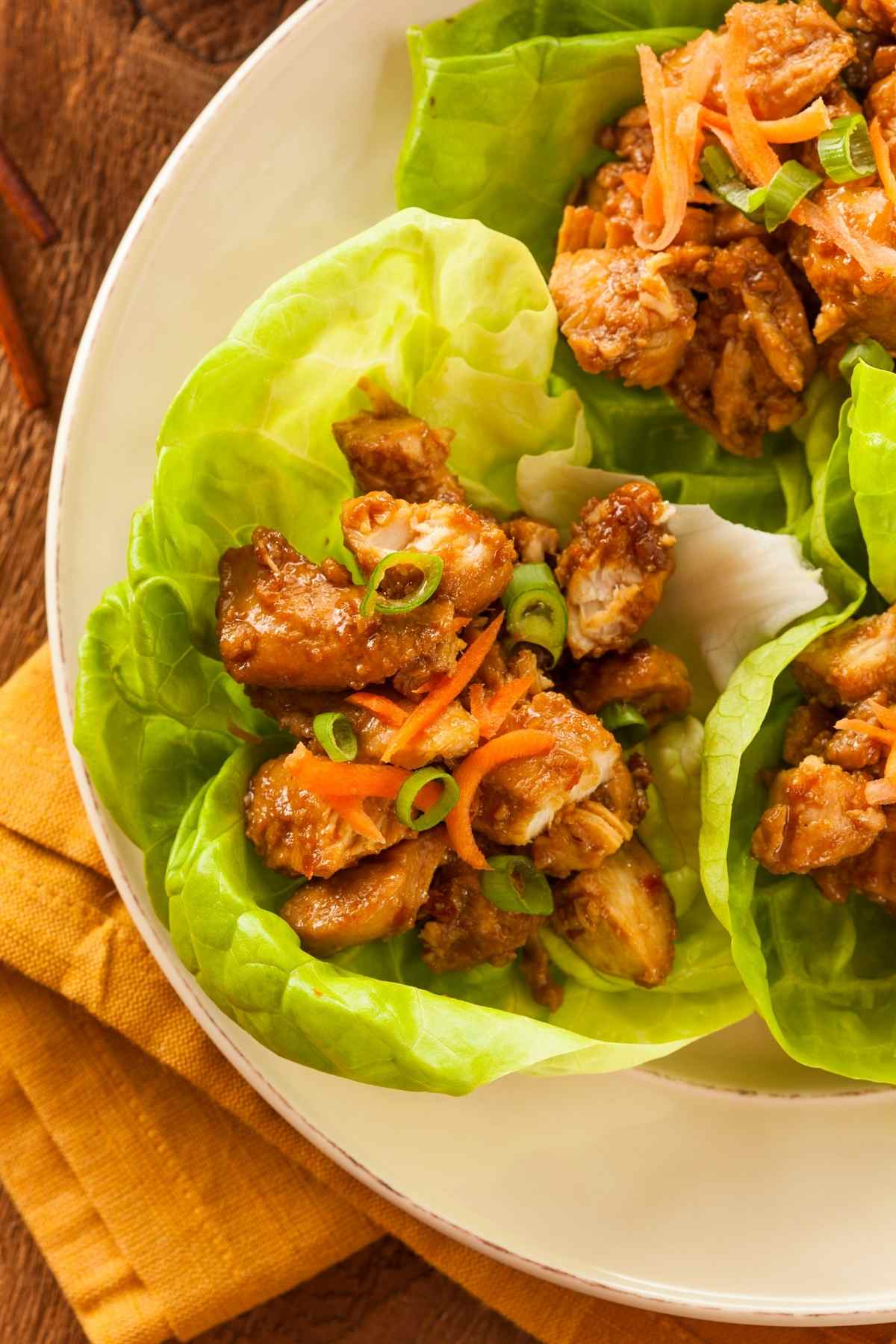 These wraps are perfect for any keto followers who are getting tired of dairy. This juicy chicken is covered in a mouthwatering Asain sauce made with soy sauce, peanut butter and sesame oil. TIP: For an authentic taste and an extra crunch, garnish your wraps with peanuts!
Cauliflower rice is the perfect reason to break out your food processor! These simple gluten-free rice bowls are delicious, nutritious and packed with spinach. TIP: These rice bowls would also be great for meal prepped lunches!
Lettuce wraps are hard to beat, so we're giving you another great option! These shrimp lettuce wraps are low-carb and easy to make. Plus, this recipe will show you how to make a delicious peanut sauce that you can dip your wraps into.
This recipe will teach you how to make your own keto quesadillas right at home! Load them up with meat, cheese and jalapenos for that spicy crunch that you've been craving. Plus, these quesadillas are also gluten-free!
Keto Lunch Ideas for Work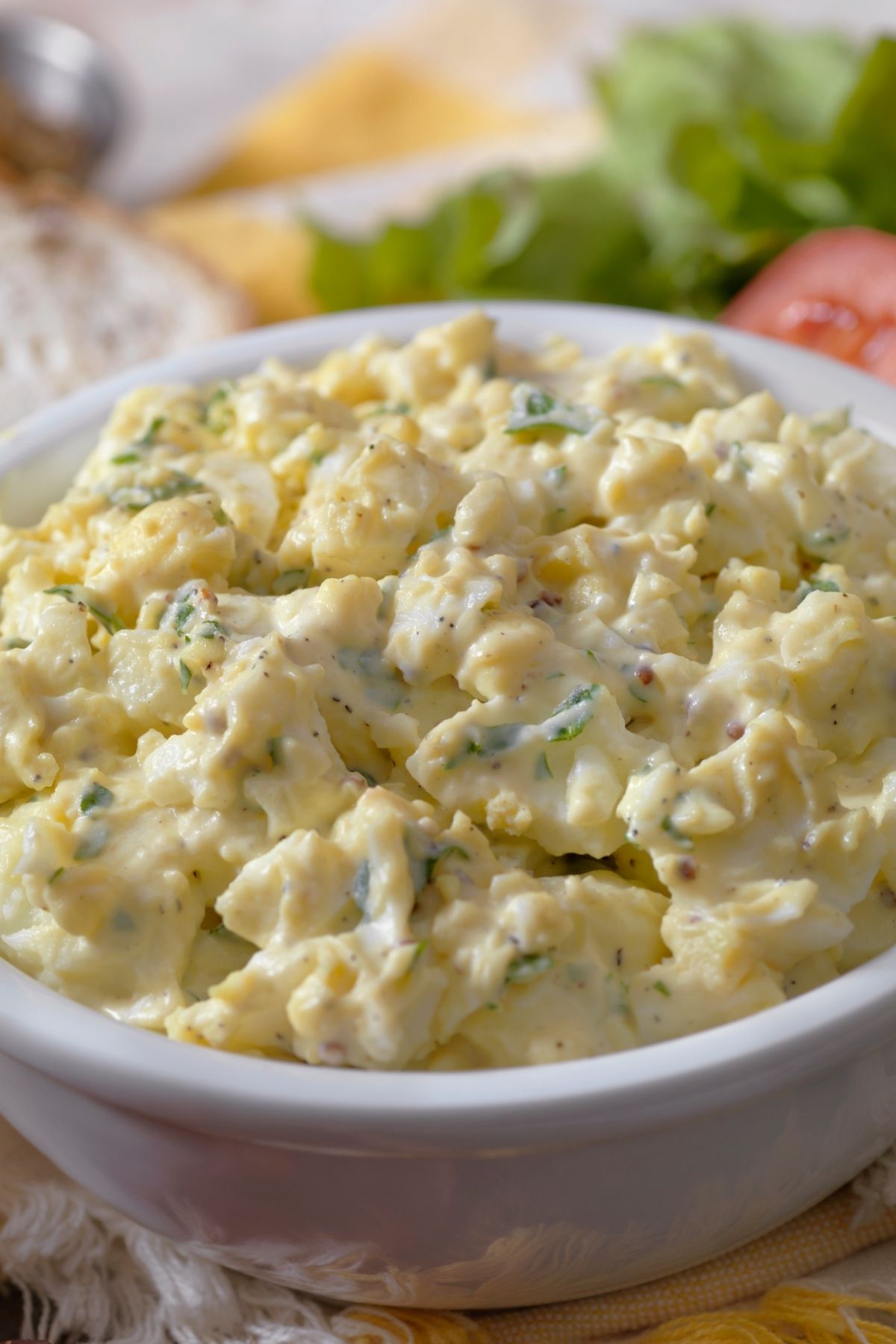 Egg salad is a classic dish that's easy to make and always tasty. This recipe also uses avocado for some added fat and that extra kick of flavor. The best part? This lunch is easy to make in only 15 minutes!
This simple dish is light and delicious. This salmon is topped with a mayo and dijon mustard blend under a crispy layer of parmesan cheese. The best part? You'll only have one pan to clean when you're done!
These rollups are more like veggie tacos with meat shells instead of tortillas! This delicious recipe only needs 9 ingredients for a protein-filled meal that'll keep you satisfied until dinner.
This colorful recipe will appeal to your eyes and your taste buds! From the smoked salmon to the cream cheese and the rainbow veggies, this platter has everything you need to fuel you for the rest of the day. 
Keto Lunch Meal Prep
These delicious muffins are full of protein and flavor! Made with fresh veggies, cheese and turkey sausage, these egg muffins are the perfect way to start your day. They'll give you that food energy you're looking for in your breakfast. 
Chicken veggies bowls are a great way to get protein and fresh vegetables into your diet. This recipe is easy to make and you can store your veggie bowls in the fridge for up to 4 days. Even better, this recipe swaps out starches for mashed cauliflower!
These mouthwatering steak bites are packed with protein and that delicious garlic butter flavor. As a substitute for pasta noodles, this recipe calls for zucchini that has been spiralized into zoodles. The best part? It'll be ready in only 30 minutes!
Say goodbye to spaghetti because cauliflower has taken over! These juicy minced meatballs are easy to cook and easy to eat. Serve them over store-bought cauliflower rice for a delicious and healthy meal. 
You May Also Like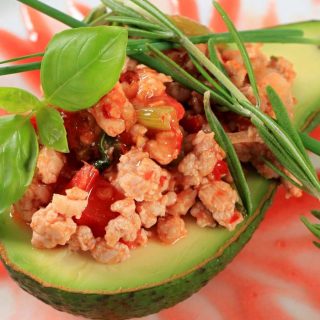 Keto Taco Stuffed Avocado Recipe
These stuffed avocados are the keto version of classic Mexican tacos! Filled with ground meat, veggies and spices, these avocado boats will satisfy any taco cravings you have. The best part? These tasty tacos will keep well in the fridge for up to 3 days.
Print
Pin
Rate
Ingredients
2

avocados – large

1

lb

lean ground meat

beef or chicken

⅓

cup

onions

diced

⅓

cup

tomatoes

2

cloves

garlic – minced

1

tablespoon

olive oil

½

teaspoon

cumin

½

teaspoon

paprika

¼

teaspoon

coriander

salt & pepper

to taste

lime wedges

Sprig of rosemary

to garnish

Sprig of basil

to garnish
Instructions
Over a pan in medium-high heat, add oil and saute the onions until translucent.

Add the ground meat and break it with a wooden spoon. Stiring until it cooks through.

Add the garlic, cumin, paprika, coriander and tomatoes, along with a ¼ cup of water and allow it simmer on low heat until the mixture has significantly reduced. This will be your taco filling.

Cut the avocados in half and remove the pits. Squeeze lime juice over the freshly exposed surface to prevent browning.

Scoop in generous amounts of the taco filling into each avocado half, and add the basil and rosemary sprigs as garnish and serve.
Tried this recipe?
Follow or tag us on Pinterest @izzycooking