Whether you grew up eating Jewish foods or want to try something different, this collection of Jewish recipes is a great place to start.
We're sharing 14 of the best Jewish foods for you to try at home. From classic potato latkes to sweet Hanukkah jelly donuts, you're sure to find a few new favorites here!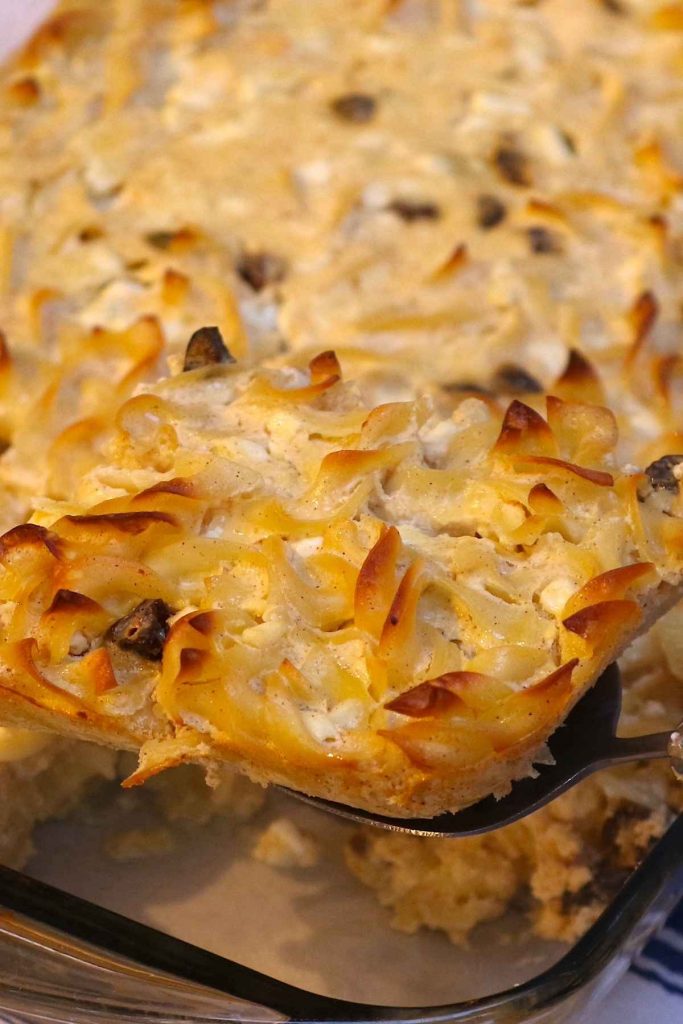 This traditional dish is both savory and sweet! Kugel is made with noodles and is similar to a casserole. It can be served as a side dish or enjoyed as a sweet treat for breakfast!
You'll love how wonderfully crispy these potato latkes fry up. A food processor makes shredding the potatoes and grating the onions extra easy. You'll come back to this recipe again and again!
This savory knish pastry is stuffed with a delicious potato filling. They bake up beautifully and are delicious served with a crisp garden salad.
If you enjoy the savory taste of cooked onions, this is the recipe for you. Onion kugel is similar to a casserole. The onions are cooked until sweet and caramelized and are then combined with eggs and seasonings and baked. Serve it as a side to your favorite meat dish!
These tiny hat-shaped cookies are filled with sweet apricot jam and then baked until golden. Serve them at your next casual get-together!
These delicate cookies are similar to crescent rolls and are filled with a delicious combination of sugar, walnuts, raisins and cinnamon. Enjoy them with coffee or tea!
These tasty fried artichokes are perfect as an appetizer. Serve them hot with wedges of lemon or lime.
Challah is a gorgeous bread that's soft, shiny, and slightly sweet. Follow the steps in this recipe for a perfectly baked loaf.
Your family will love the flavor of these homemade donuts. Try them with different flavors of jam!
This traditional Ashkenazi Jewish side dish is a delicious combination of sweet and savory flavors. Serve it alongside meat, chicken, or fish!
This simple breakfast dish is made with eggs, milk, butter, and matzo. Enjoy it with toast and butter!
Serve this sweet chocolate babka at your next get-together! It's a sweet bread that's filled with chocolate and topped with streusel. Serve it with hot coffee and tea.
Grab a bunch of your favorite apples to make this traditional Jewish apple cake. It comes together easily and every bite is filled with sweet apple flavor.
This savory side dish is made with egg barley, butter, onions, mushrooms, and seasonings. It's ready to eat in less than an hour and is delicious served alongside chicken, meat, or fish.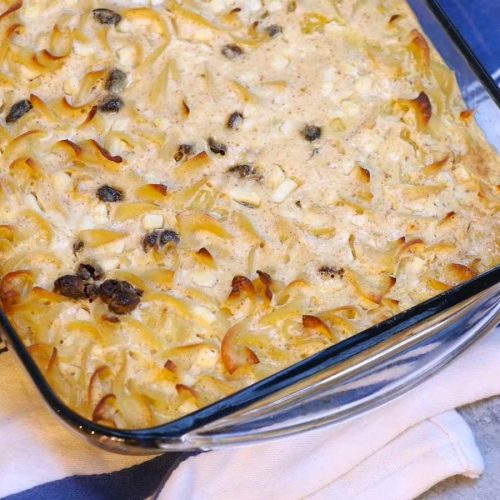 Best Jewish Food Collection
This traditional dish is both savory and sweet! Kugel is made with noodles and is similar to a casserole. It can be served as a side dish or enjoyed as a sweet treat for breakfast!
Print
Pin
Rate
Ingredients
12

oz

wide egg noodles

6

tablespoons

butter

melted, plus extra for greasing the pan

2

cups

cottage cheese

2

cups

sour cream

1

cup

milk

1

cup

raisins

1/2

cup

sugar

6

eggs

1

teaspoon

ground cinnamon

1

teaspoon

vanilla extract

1/2

teaspoon

salt
Instructions
Preheat oven to 350°F. Grease a 9×13-inch baking dish and set aside.

Cook the noodles according to the package instructions.

In a large bowl, whisk together cottage cheese, butter, sour cream, milk, sugar, cinnamon, vanilla, and salt. Add the raisins and mix well.

Drain the noodles and add to the mixture. Mix until well combined.

Transfer the noodles to the prepared baking dish.

Bake for about 45-50 minutes or until the edges have turned brown.

Optional: you can broil it for 1-2 minutes if you prefer a crunchy top.

Remove the kugel from the oven and allow it to cool for about 15 minutes. Serve and enjoy!

Equipment
Notes
Make it ahead: You can bake the kugel 2 days ahead. To reheat, bake it in the oven at 350°F for about 15-20 minutes.
Tried this recipe?
Follow or tag us on Pinterest @izzycooking