Italy's diverse regions have given rise to a wide array of traditional pizza styles, each with its own unique flavors and character. In this post, we'll explore 15 popular Italian Pizza types, delve into the authentic ingredients that make them special, and even share some tips for making Italian pizza at home.
Pizza is undoubtedly one of Italy's greatest culinary gifts to the world. While the simple combination of dough, tomato sauce, cheese, and various toppings has taken on countless forms across the globe, the heart of pizza culture still beats strongest in its homeland.
Traditional Italian Pizza Styles
The iconic Margherita pizza features tomato sauce, mozzarella cheese, fresh basil, and a drizzle of olive oil. It was created to honor Queen Margherita of Savoy in the late 19th century.
This simple pizza is topped with tomato sauce, garlic, oregano, and a hint of olive oil. It's a favorite among those who appreciate the purity of flavors.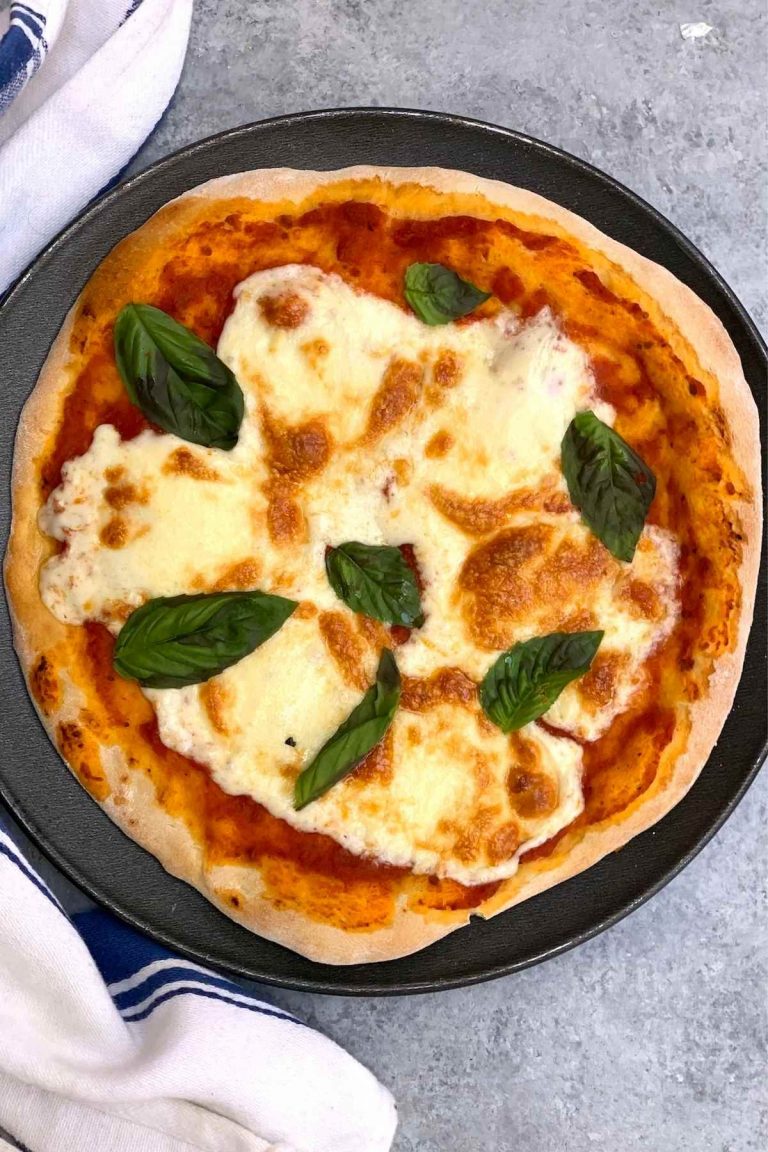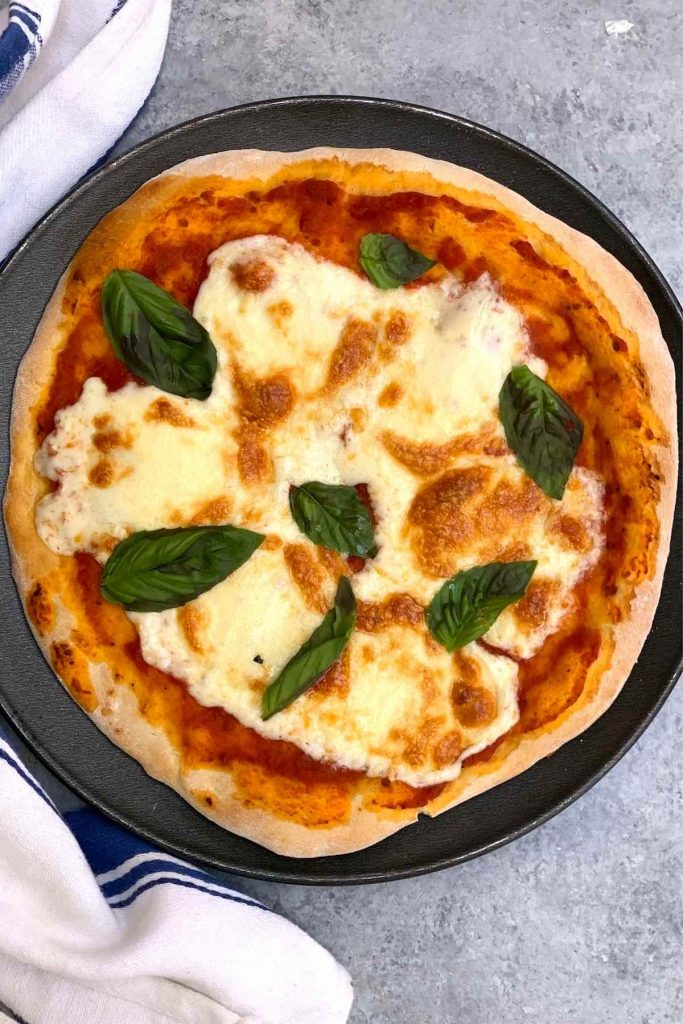 A Neapolitan classic, this pizza has a thin, soft, and slightly charred crust, topped with tomato sauce, fresh mozzarella, basil leaves, and a touch of olive oil.
A pizza turnover, the Calzone is filled with ingredients like tomato sauce, mozzarella, ricotta, and various toppings, folded in half and baked until golden brown.
Sicilian pizza features a thick, rectangular crust, usually topped with tomato sauce, cheese, and a variety of ingredients. It's known for its hearty and filling nature.
This Roman-style pizza has a thin, crispy crust and is typically topped with ingredients like mozzarella, rosemary, and olive oil.
As the name suggests, this pizza is loaded with four different cheeses, often a combination of mozzarella, gorgonzola, goat cheese, and Parmesan.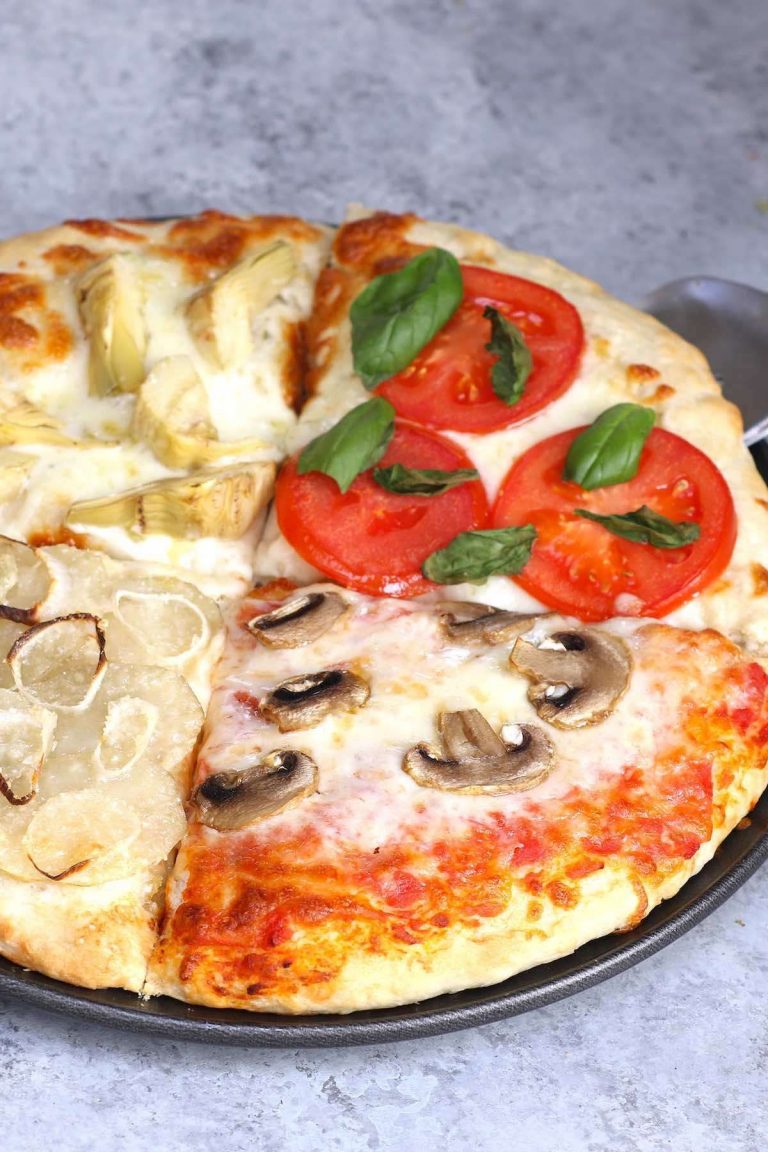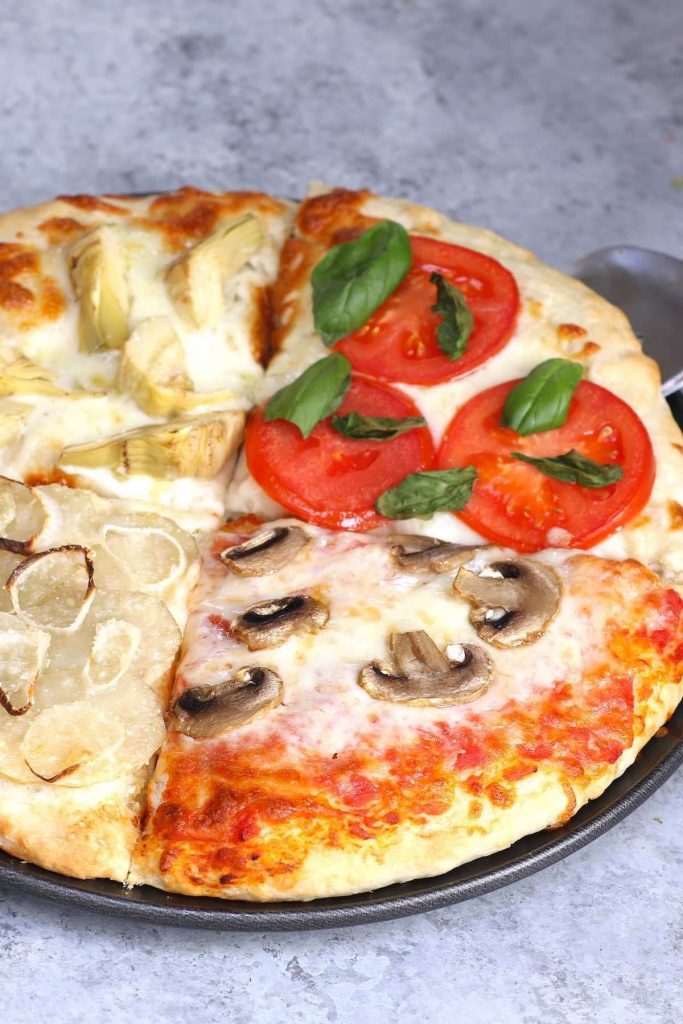 Four Seasons Pizza is divided into sections with different toppings representing the four seasons. This classic Italian recipe starts with homemade pizza dough and fresh ingredients for the best flavor. It's so much fun to make and eat!
A delightful mix of ham, artichokes, mushrooms, and olives adorns this pizza, creating a medley of flavors.
Seafood lovers rejoice with this pizza, which boasts a mix of seafood such as shrimp, clams, mussels, and squid atop a tomato sauce base.
Named after buffalo mozzarella, this pizza features this creamy cheese, along with tomato sauce, cherry tomatoes, fresh basil, and olive oil.
Pesto sauce replaces the traditional tomato sauce in this pizza, lending it a vibrant green color and a deliciously herbaceous flavor.
Truffle oil or truffle paste is the star of this pizza, paired with mozzarella, mushrooms, and sometimes prosciutto.
Typically sold by weight and cut into rectangular slices, this pizza is perfect for quick, on-the-go indulgence.
A unique twist, this pizza is fried to a golden crispness and can be filled with ingredients like ricotta and prosciutto.
Authentic Italian Pizza Ingredients
What makes Italian pizza truly authentic is the use of high-quality ingredients.
Italian tomatoes, particularly San Marzano tomatoes, are prized for their rich flavor and are often used to make the sauce.
Mozzarella cheese, either fresh buffalo mozzarella or fior di latte (cow's milk mozzarella), is a must.
Fresh basil, olive oil, and high-quality flour for the dough are also crucial.
How To Make Italian Pizza At Home
Making authentic Italian pizza at home can be a rewarding experience.
Start with a simple dough recipe using flour, yeast, water, and salt.
Roll it out thinly, add your favorite toppings.
Bake in a hot oven or on a pizza stone for the best results.
Remember to keep it simple, focusing on quality ingredients.
Italian Pizza Vs. American Pizza
Italian pizza and American pizza have distinct differences. Italian pizza tends to have a thinner, crispier crust and minimal toppings, allowing the ingredients to shine.
American pizza often features a thicker, softer crust with generous layers of toppings and cheese, resulting in a heartier meal.
Top Italian Pizza Toppings
Aside from the classic Margherita, popular Italian pizza toppings include:
prosciutto
arugula
sausage
various vegetables
The choice of toppings can vary by region and personal preference.
How To Make Italian Pizza Dough
A good pizza dough is the foundation of any great pizza. Start with high-quality flour, mix it with yeast, water, and salt, and knead until the dough is smooth and elastic. Allow it to rise, then shape it into a thin crust before adding your toppings.
Italian Pizza And Wine Pairing
Pairing Italian pizza with the right wine can enhance your dining experience. Light pizzas like Margherita go well with crisp white wines, while heartier options like meat-laden pizzas can be enjoyed with red wines like Chianti or Barbera.
FAQs
What is a good pizza sauce recipe for Italian pizza?
A simple pizza sauce recipe can be made with San Marzano tomatoes, olive oil, garlic, salt, and fresh basil. Simmer the ingredients until the sauce thickens.
What is the history of pizza in Italy?
Pizza has a long history in Italy, with its origins tracing back to ancient times. The modern pizza we know today, resembling the Margherita, was popularized in Naples in the 19th century.
What is the best flour for making an Italian pizza crust?
Tipo 00 flour, a finely milled Italian flour, is often considered the best choice for making an authentic Italian pizza crust. It results in a soft, tender, and airy texture.
You May Also Like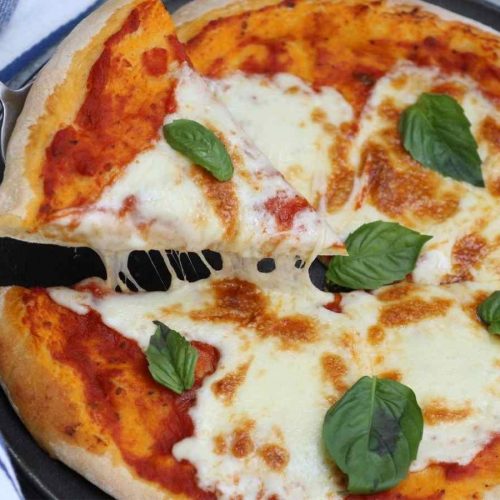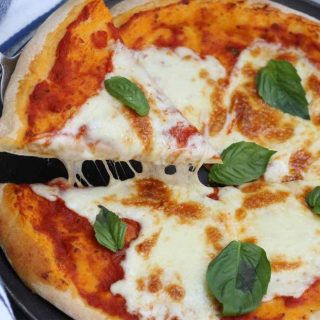 Italian Neapolitan Pizza Recipe
Italy's diverse regions have given rise to a wide array of traditional pizza styles, each with its own unique flavors and character. In this post, we'll explore 15 popular Italian Pizza types, delve into the authentic ingredients that make them special, and even share some tips for making Italian pizza at home.
Print
Pin
Rate
Ingredients
1

ball

homemade pizza dough

⅓

cup

pizza sauce

homemade or store-bought

½

ball fresh mozzarella cheese

about 4 ounces

4

basil leaves

roughly torn

cornmeal

or semolina flour
Instructions
Make the homemade pizza dough and/or homemade pizza sauce. (You can use store-bought although the flavor is better when you make your own.)

Place the oven rack in the upper middle position and place a pizza stone (if available) in the middle. Preheat the oven to 500°F or as hot as it will go.

On a work surface, cut the mozzarella ball into 1/4-inch thick slices. Remove excess moisture if necessary using paper towels.

Flour a work surface and add the pizza dough. Using your fingertips, stretch it out into a circle about 14 inches round.

Sprinkle a large pizza pan (or pizza peel if you have one) with the cornmeal/semolina. Then slide the dough on top.

Spoon the pizza sauce onto the dough and use a brush to distribute evenly, leaving an inch around the edges uncoated for the crust. Then arrange the slices of mozzarella on top spaced apart slightly.

Add the basil leaves if using a pizza oven. For a standard oven, add them after baking to avoid charring.

Place the pizza in the prepared oven. Bake until the cheese if fully melted, about 7 to 8 minutes in a conventional oven or 2 minutes in a pizza oven.

Add the basil afterward if needed. Cut into pieces and serve warm.
Equipment
Notes
Avoid a Soggy Crust: This can happen when fresh mozzarella is watery. Remove excess moisture from the cheese with paper towels. Also make sure not to use too much sauce.
Tried this recipe?
Follow or tag us on Pinterest @izzycooking