If you are on a keto diet, you may wonder, "Is Spaghetti Squash Keto?" In this post, you will find the best guide that includes net carbs and macros in spaghetti squash and tips on how you can enjoy spaghetti squash while on keto.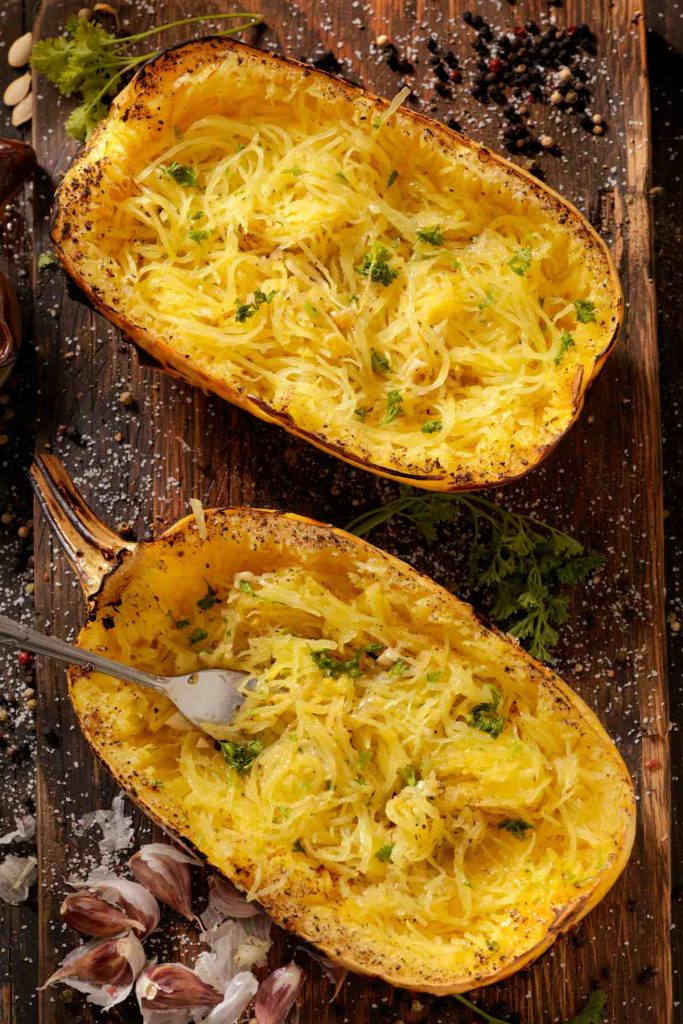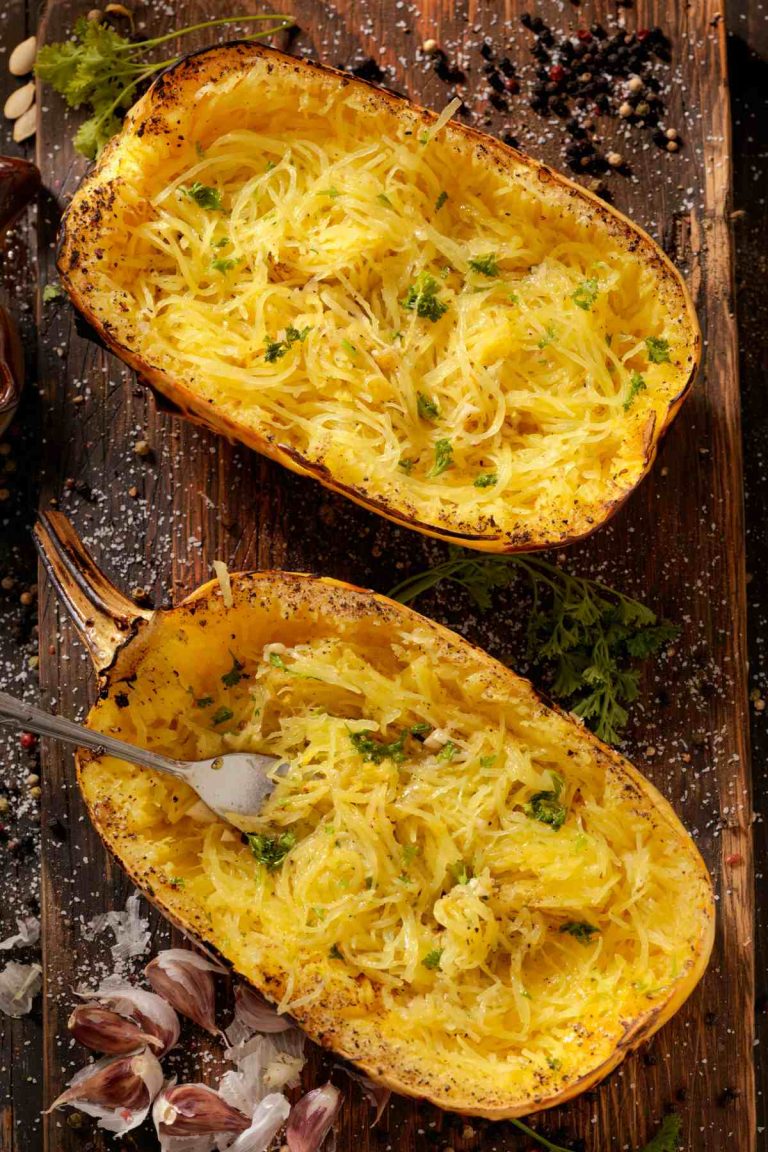 Spaghetti squash is a great alternative to regular pasta as it has long strands that make it look more like spaghetti pasta, unlike butternut squash and pumpkin.
But, the question remains, is spaghetti squash keto? You'll get the answer to that question and more below.
Is Spaghetti Squash Keto?
You bet it is! With just 5.5 grams of net carbs per 100 grams, spaghetti squash is not only keto-friendly but gluten-free too. It's one of the best pasta substitutes for the keto diet.
Is Spaghetti Squash Low On Carbs?
You can enjoy spaghetti squash without guilt, because it's low in carbs, and is one of our favorite keto vegetables.
How Many Net Carbs Are In Spaghetti Squash?
According to USDA, there are about 5.5 grams of net carbs in 100 grams of spaghetti squash.
In the table below, you will find the nutritional information for 100 grams of spaghetti squash both raw and boiled with salt. It is important to note that the information does not include toppings or sauces added in after.
| | | |
| --- | --- | --- |
| Nutrition facts | Raw | Boiled, with salt |
| Net Carbs | 5.5 grams | 5 grams |
Spaghetti Squash Nutrition
How Many Carbs In Spaghetti Squash?
When it comes to cooked spaghetti squash, a cup has just 7 grams of carbohydrates with 1.5 grams of fiber. Whereas a cup of butternut squash contains a whopping 16 grams of carbs and 2.8 grams of fiber, and spaghetti noodles contain 43 grams of carbs and 2.5 grams of fiber per cup.
Spaghetti squash is a low glycemic food and can help you cut down on your carb intake. Plus if you're looking to watch your overall caloric intake in your spaghetti dishes, spaghetti squash can help with that too.
Fats
Guess what?! Spaghetti squash is almost completely fat-free, only containing less than one gram per serving.
Protein
Spaghetti squash does not contain a significant source of protein.
Calories
In just one cup of raw spaghetti squash, there are 31 calories. In comparison, butternut squash has about twice the amount and regular pasta has about 5 times the amount.
How To Cook Spaghetti Squash For A Keto Diet?
There are a few different ways to cook spaghetti squash. For keto, aim to use ingredients that are also low in carbs. We recommend cooking your spaghetti squash with the following ingredients:
Most Popular Keto Recipes With Spaghetti Squash
Here's a keto spaghetti squash dish with creamy Alfredo sauce that will be a hit with you, your family and your guests!
With crunchy vegetables, gluten-free creamy garlic sauce, and broiled cheese, this dish is sure to impress! Plus, it only contains 6.7 grams of net carbs.
Net Carbs: 6.7g

Total Carbs: 8.1g
Calories: 326
Fat: 24.3g
Protein: 19.8g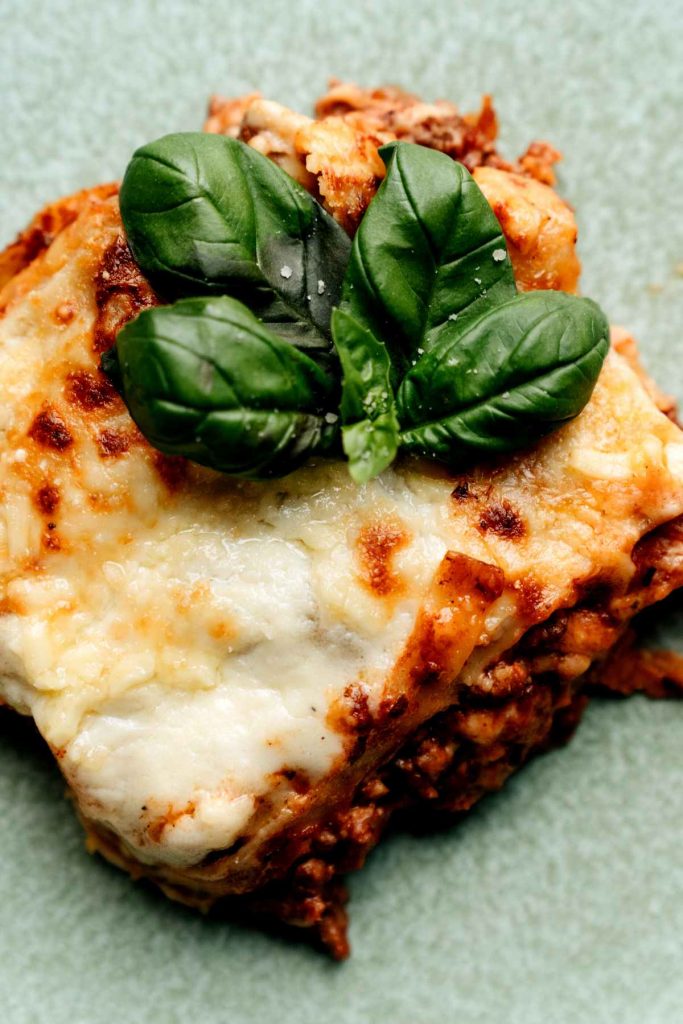 Another low-carb meal, keto spaghetti squash lasagna casserole is made with ground beef, 3 different types of cheese, a delicious marinara sauce and of course, spaghetti squash.
Net Carbs: 4 g

Total Carbs: 4g
Calories: 309
Fat: 22g
Protein: 21g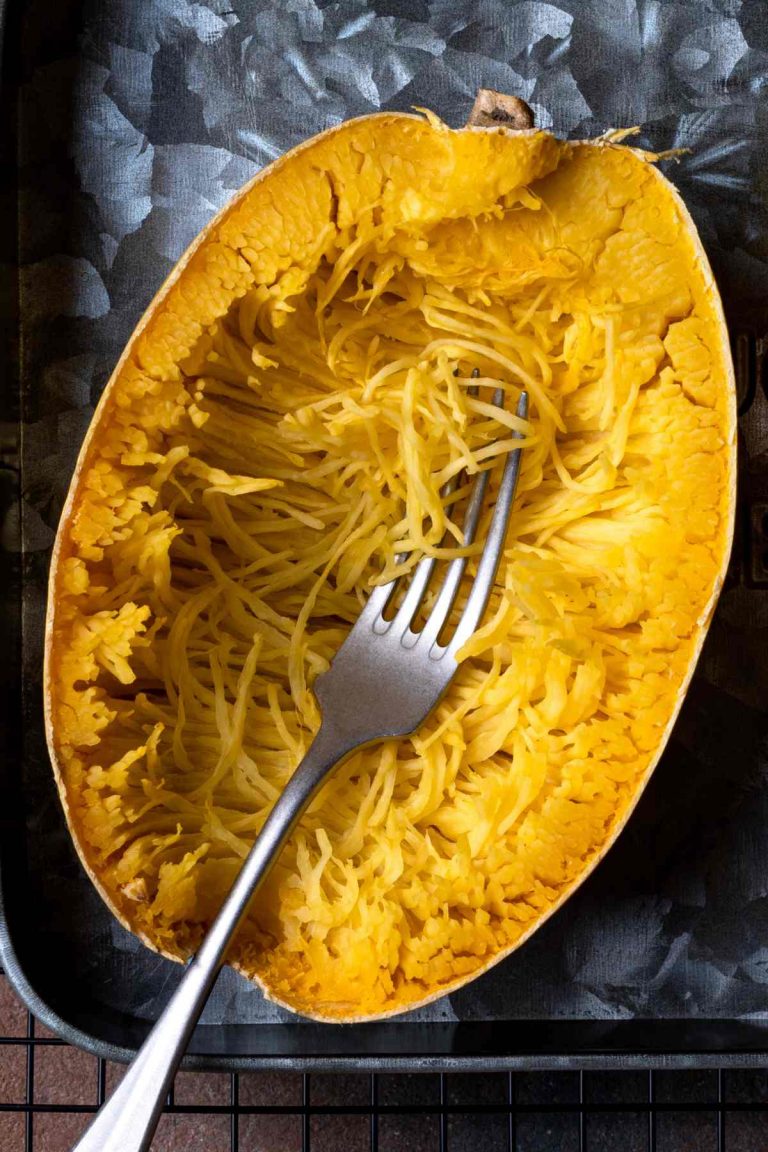 Are you looking for a low-carb alternative to your pasta dishes? Then look no further! This baked keto spaghetti squash dish is the perfect choice!
Net Carbs: 5.5g

Total Carbs: 7g
Calories: 31
Fat: 0.6g
Protein: 0.6g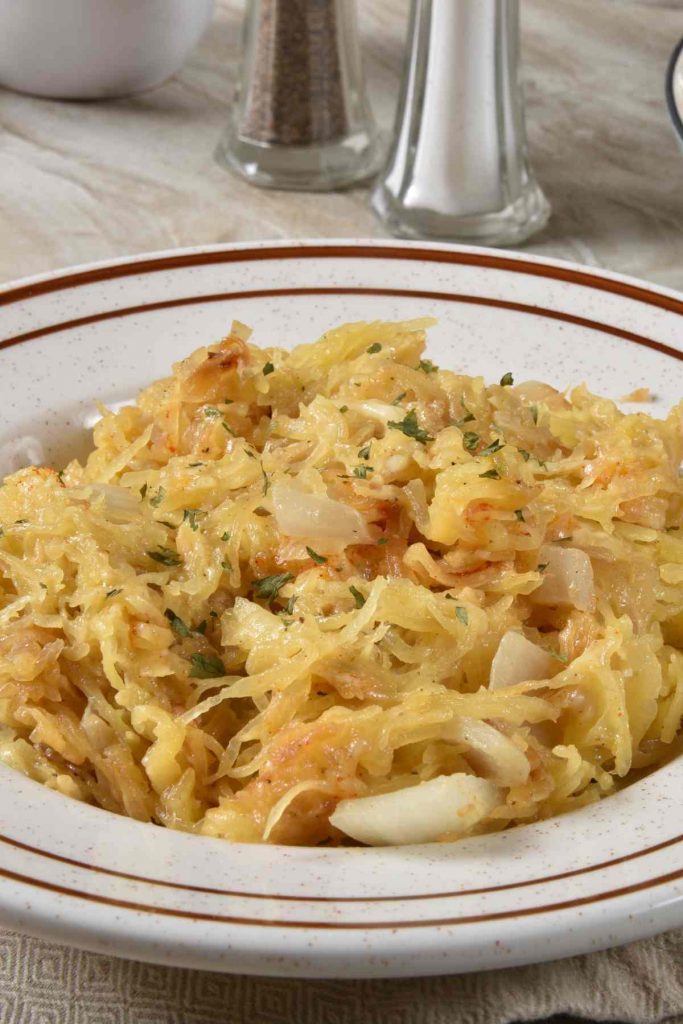 You'll be happy to know that you can still enjoy your favorite dishes while on keto! This keto chicken spaghetti squash alfredo is creamy, delicious, and won't make you miss your traditional recipe at all!
Net Carbs: 9.1g

Total Carbs: 11.2g
Calories: 296
Fat: 22.2g
Protein: 14.2g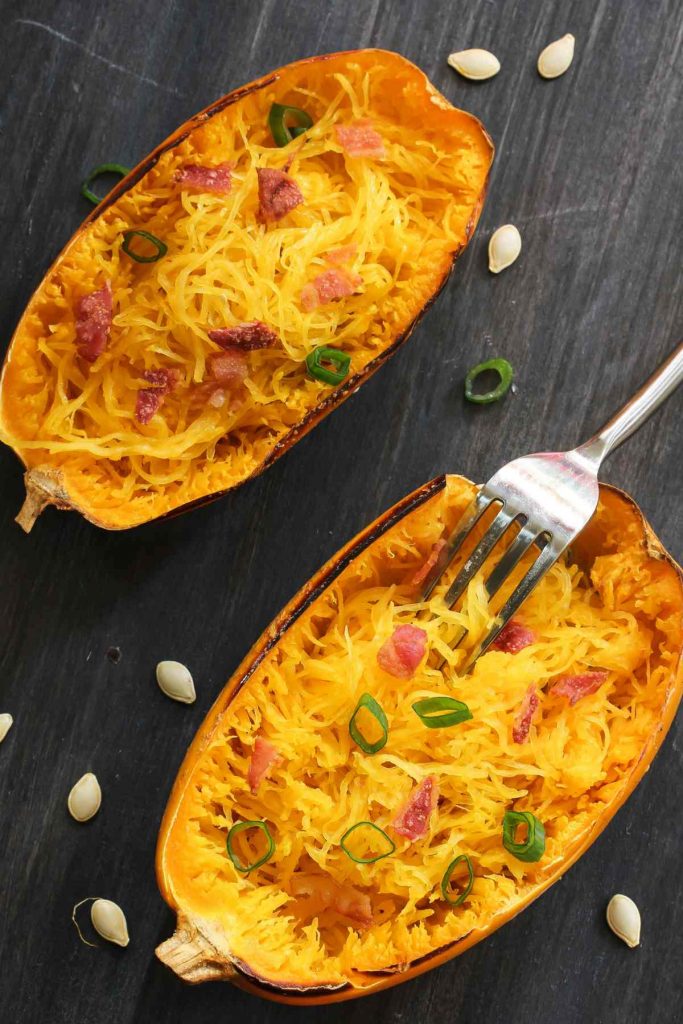 Here you will find a dish that is creamy with a decadent bacon carbonara sauce. You can enjoy it guilt free too as this dish is gluten-free and only contains 11 grams of carbs!
Net Carbs: 11.2g

Total Carbs: 15.8g
Calories: 291.3
Fat: 19g
Protein: 15.2g
Are you looking for something a little different and a little spice? Then give this Buffalo Chicken Spaghetti Squash a try It's creamy and loaded with cheese, with just the right amount of heat! All you have to do is try this dish once, and you'll be coming back again and again!
Net Carbs: 7.7g

Total Carbs: 9.6g
Calories: 219.5
Fat: 16.3g
Protein: 9.9g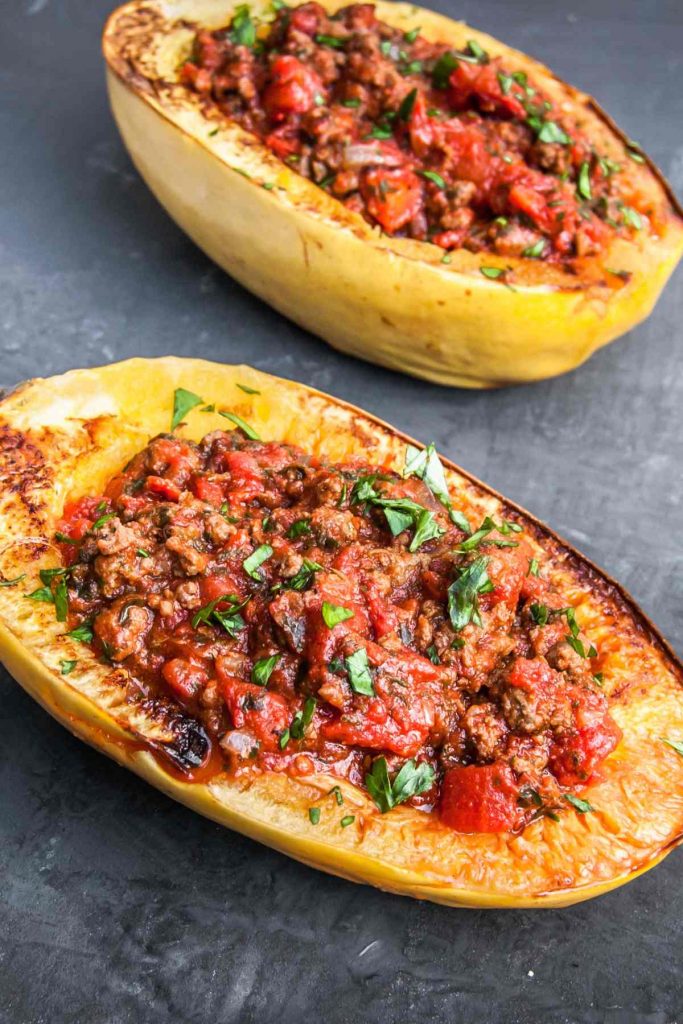 Are you ready? Before your comfort dish is here! It's meaty, it's tasty, and without all the carbs. But wait, it gets better! It's healthy and you'll feel full without feeling heavy.
Net Carbs: 12g

Total Carbs: 18g
Calories: 327
Fat: 19g
Protein: 16g
You'll be able to get a bit creative with your dinner tonight with this recipe. Low-carb stuffed spaghetti squash boats are a fun way to enjoy a keto meal! Each boat is loaded with ground meat, kale, red bell pepper and a blend of spices.
Net Carbs: 28g

Total Carbs: 34g
Calories: 523
Fat: 29g
Protein: 36g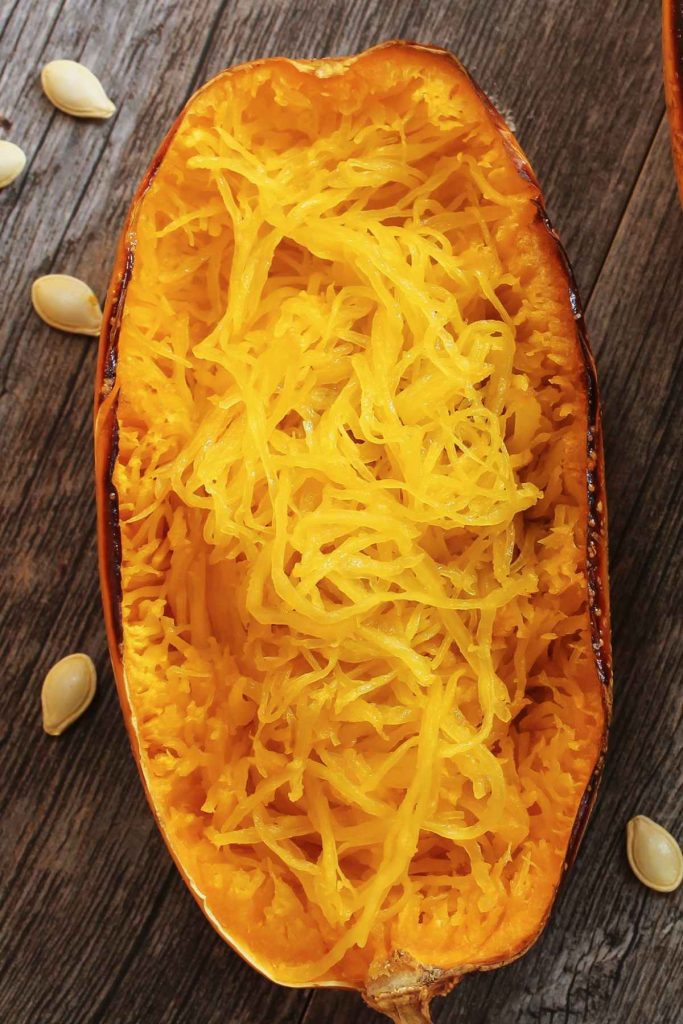 Time to dust off that air fryer and try this recipe out! Air fryer spaghetti squash is healthy, low carb and the perfect pasta alternative. Plus, it's easy to make with just a few ingredients and is ready in 25 minutes.
Net Carbs: 9g

Total Carbs: 11g
Calories: 68
Fat: 3g
Protein: 1g
Yes, you can enjoy meatballs with your spaghetti squash too! It's a low-carb comfort meal that is ready in about 40 minutes. Enjoy!
Net Carbs: 10g

Total Carbs: 13g
Calories: 382
Fat: 26g
Protein: 25g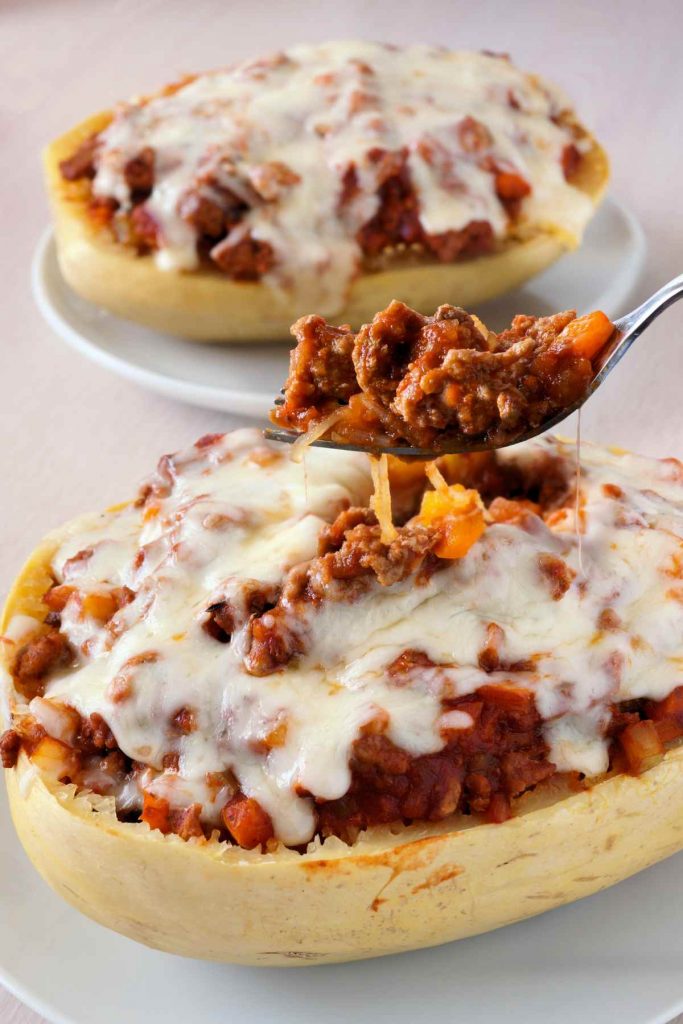 Beefy and hearty, this is the answer to your days that you really don't want to cook! It's a lazy keto meal! Loaded with ground beef, spaghetti squash, parmesan and a no-sugar-added marinara.
Net Carbs: 12.8g

Total Carbs: 15g
Calories: 720
Fat: 48.8g
Protein: 52.8g
You May Also Like
Keto Spaghetti Squash Casserole Recipe
If you are on a keto diet, you may wonder, "Is Spaghetti Squash Keto?" In this post, you will find the best guide that includes net carbs and macros in spaghetti squash and tips on how you can enjoy spaghetti squash while on keto.
Print
Pin
Rate
Ingredients
1

spaghetti squash

2

tablespoons

olive oil

1/3

cup

onion chopped

1

tablespoon

minced garlic

1

Italian sausage

24

ounces

keto spaghetti sauce

8

ounces

cottage cheese

8

ounces

cream cheese

softened

1/4

cup

sour cream

1

tablespoon

Italian seasoning

3

cups

shredded mozzarella

divided

salt and pepper

to taste
Instructions
Preheat oven to 350 F. Line a baking sheet with parchment paper and set aside.

Slice spaghetti squash in half horizontally, then scoop out the seeds with a spoon.

Place cut side down on the baking sheet and bake for about 1 hour or until cooked through.

Cool for 10 minutes and then shred with a fork.

Drain all of the excess water.

In a large skillet, heat olive oil over medium heat.

Add onion and cook until soft. Then add in 4 garlic and cook until fragrant.

Add sausage and break it into small pieces as it browns. Continue to cook until the meat is no longer pink, then remove the pan from heat.

Drain out the excess grease. Then add the cooked spaghetti squash to the pan. Stir to combine. Then set aside.

Mix together the cottage cheese, cream cheese, sour cream, Italian seasoning and 1 cup of shredded mozzarella in a mixing bowl.

In a baking dish, add half of the shredded spaghetti squash.

Then add the cheese mixture and the rest of the spaghetti squash.

Top with the spaghetti sauce and the remaining 2 cups of shredded mozzarella.

Bake the assembled casserole for 35-45 minutes until it's heated through and the cheese is melted. Serve and enjoy!
Nutrition
Calories:
390
kcal
|
Carbohydrates:
14
g
|
Net Carbohydrates:
11
g
|
Protein:
17
g
|
Fat:
30
g
|
Saturated Fat:
15
g
|
Polyunsaturated Fat:
2
g
|
Monounsaturated Fat:
10
g
|
Cholesterol:
82
mg
|
Sodium:
567
mg
|
Potassium:
295
mg
|
Fiber:
2
g
|
Sugar:
6
g
|
Vitamin A:
905
IU
|
Vitamin C:
4
mg
|
Calcium:
314
mg
|
Iron:
1
mg
Tried this recipe?
Follow or tag us on Pinterest @izzycooking