As a type of salami that is made from ground meat, it can be hard to determine exactly the type of meat that pepperoni is made out of.
Pepperoni could in fact be made of pork, beef, or both. There are also other varieties like those that are strictly beef or strictly turkey.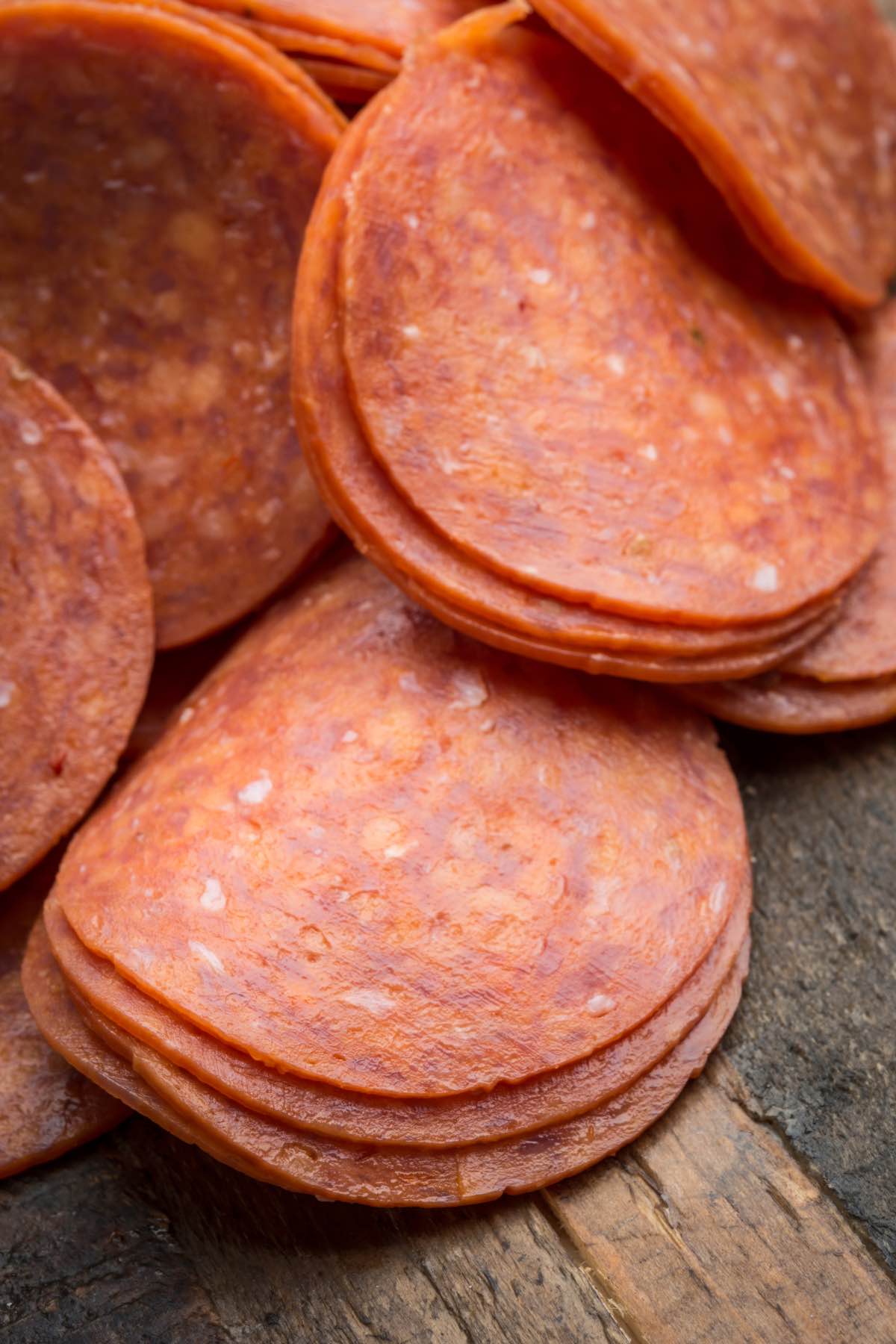 History of Pepperoni
The word pepperoni might come from the Italian word for bell pepper but it is undoubtedly meat. Specifically, it is a type of sausage as well as a type of salami with a combination of Italian-American origins. 
Pepperoni dates all the way back to the early 1900s when it was first used in New York City in pizzerias and Italian butcher shops.  To this day it can still be found in most butcher shops and it is still widely used as a popular pizza topping and as the main ingredient in other classic Italian dishes. 
How Is Pepperoni Made?
Firstly, specific cuts of pork and beef are inserted into a meat grinder. Depending on the desired cut of the pepperoni, sometimes the meat is put through the grinder twice.
If using the ground meat mixture, you must have the proper fat to meat ratio. For instance, if more fat is required, pork fat is often used.
Common spices such as cayenne pepper, black pepper, crushed red pepper, mustard seed, fennel seed, garlic, and paprika are usually mixed in. These are responsible for giving the pepperoni a spicy flavor.
Next, salt and sodium nitrate are added to the mix which is what cures the meat to preserve it and makes it safe to eat without needing to cook or refrigerate it. This is an important step that ensures the prevention of microorganism growth and it also helps create the signature red color of pepperoni slices.
Additionally, lactic acid bacteria are injected into the ground meat in order to lower the meat's pH balance which is what begins the fermentation process for preservation.
Similar to other types of salamis and sausage, the next step is for the ground meat mixture to be stuffed into casings and then left to ferment for several days. Once the fermentation is complete, the pepperoni sausages are hung to dry in a cool, dark room for about a month. It is also possible for them to be smoked at this stage to achieve extra flavor.
Once they have dried completely, the pepperoni is packaged and shipped. Depending on the manufacturer, some of the pepperoni is sliced while others remain intact.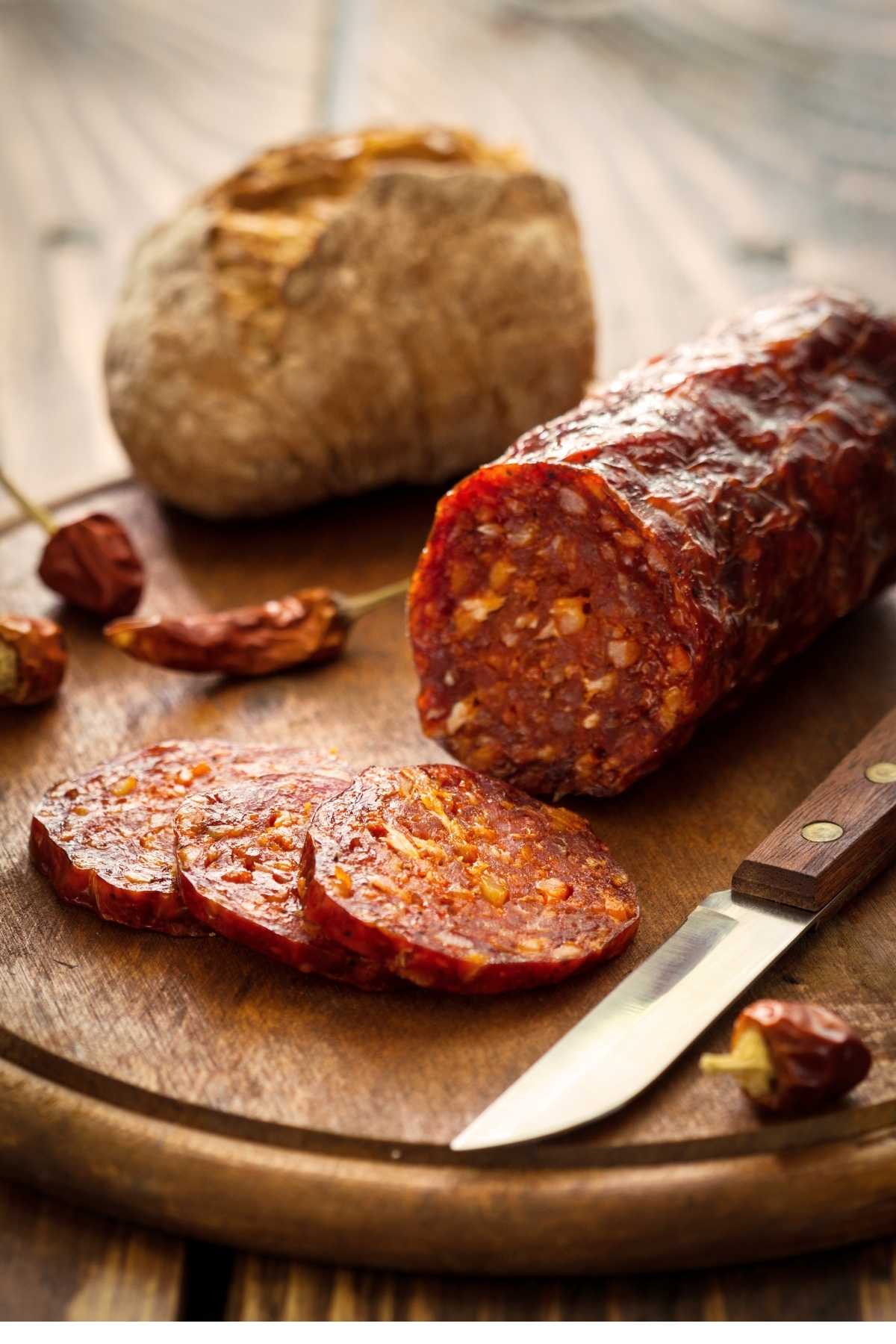 What Is Pepperoni Made Of?
The pepperoni that you find in the store or butcher shop will usually be made of the following ingredients:
Ground Meat (ground pork, ground beef, or a combination of both) )
Salt
Sodium nitrate
Water
Spices
Lactic acid bacteria
Other flavorings
Acids to help in the preservation process
Pork and beef are the most common ingredients for pepperoni.  However, people with dietary restrictions that cannot eat pork can opt for pepperoni made only from beef. 
Others who wish to avoid red meat can choose turkey or chicken pepperoni as an alternative.
Is Pepperoni Pork?
Pepperoni is commonly made of pork in the United States. However, other varieties exist that consist of pork and beef. being ground and encased together.
Is Pepperoni Halal?
Unfortunately, most pepperoni bought in the store is not halal meaning it is a type of meat that is not allowed to be consumed under Islamic religion. The same goes for the pepperoni that is served on top of pizzas in restaurants.
You May Also Like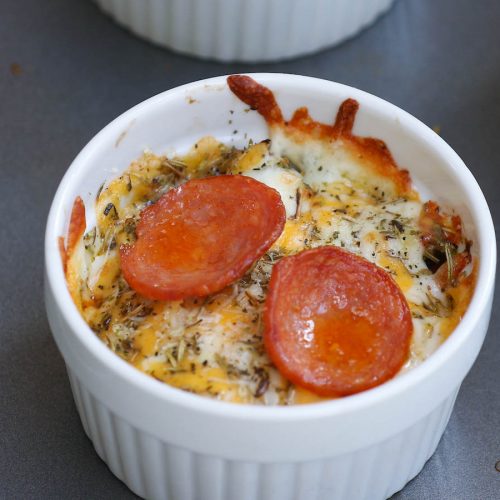 Is Pepperoni Pork or Beef (Pepperoni Pizza Bowls Recipe)
As a type of salami that is made from ground meat, it can be hard to determine exactly the type of meat that pepperoni is made out of.
Print
Pin
Rate
Ingredients
8

pepperoni slices

1

cup

white mushrooms

sliced

½

medium onion

½

green bell pepper

2

cups

pizza sauce

2

cups

shredded cheese

1

tablespoon

parmesan cheese

grated

½

teaspoon

Italian seasoning
Instructions
Preheat your oven to 450°F. Set aside 4 ramekins or similar oven-safe dishes. Get all your ingredients ready.

Place a large nonstick skillet over medium-high heat. When hot, add the sausage and fry until browned, about 5 minutes. Use a wooden spoon to break up large clumps and stir the meat from the time to time.

Remove the cooked sausage to a plate. Next, add the onions, mushrooms and green peppers to the pan. Fry for several minutes until softened slightly.

Place the ramekins on a baking sheet. Brush the bottoms with pizza sauce. Add a layer of cheese. Then add a layer of cooked sausage and a layer of onion mixture.

Finish by brushing with more sauce and topping with more cheese. Then sprinkle parmesan and Italian seasoning. Add a few pepperoni slices on top of each pizza bowl.

Place the baking sheet with the pizza bowls into the preheated oven. Bake until the cheese is bubbling and golden, about 7 to 9 minutes.

Remove the ramekins from the oven. Let cool for 2 to 3 minutes before serving.
Tried this recipe?
Follow or tag us on Pinterest @izzycooking