Is mustard keto-friendly? How many carbs are in mustard? For most of us, this is one of our favorite condiments, right? We get it! But what does the nutritional content look like? How much of it is safe to eat on a keto diet?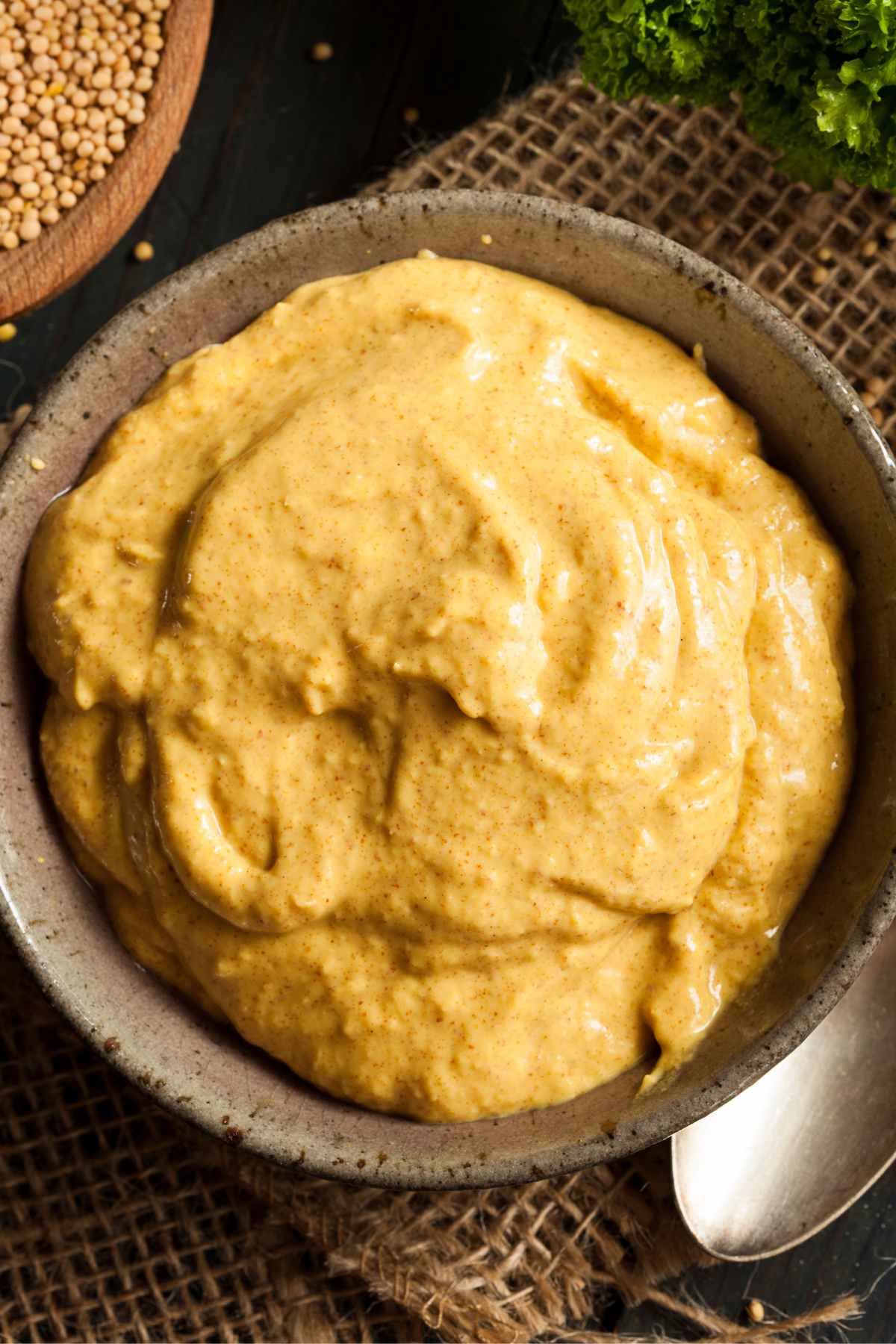 This post may contain affiliate links. Please read my disclosure policy.
Read on for all the answers to your mustard questions. Find out if this tasty condiment is safe to eat while following a ketogenic diet.
What is Mustard Made Of?
Mustard comes from mustard seeds. Grinding the seeds together with lemon juice, water, beer, vinegar, or other liquids creates the yellow substance you're familiar with. Sometimes salt, sugar, honey, or corn syrup are added to enhance the flavor.
The result is a bright yellow spread that works well as a base for sauces, dips, dressings, and marinades.
What is Keto and How to Maintain Ketosis?
A keto diet involves restricting carbs and sugars to get the body into a state of ketosis. There are several types of keto diet, and the standard version is composed of over 70% fat, 20% protein and less than 10% carbohydrates. When fat is the body's primary source of energy, it pushes the body to react with a biochemical process known as ketosis.
Ketosis is when the body breaks down the body's fat stores and creates ketones while fat is burning. Regular blood tests (or urine test) can show the level of ketones in your body if you want to track it very closely.
On a keto diet, the goal is to avoid excess carbs and sugar. This means no pasta, bread, crackers, or most types of fruit. You can still consume meat, low-carb veggies, and other healthy snacks.
Is Mustard Keto-Friendly?
There are 0g of carbs in mustard which makes it ketogenic. Most mustards are free of sugar but be sure to read the label for additives like honey or sugar. These options will be too high in carbs for your diet.
Verify the nutrition label on the back to find out what is in the bottle before you consume it. Not all mustards are created equal.
Different Types of Mustard and Some Are More Keto-Friendly
Most types of mustard are virtually carb-free, so mustard is easy to slip into your keto diet. Types of mustard that contain other additives are not always keto-friendly. Honey, sugar, and other additives can increase the carb count dramatically.
Keto-Friendly Mustard
Here are a few mustard options that have 0g of carbs per serving (1 tablespoon) and work well for keto dieters:
Yellow mustard
Stoneground mustard
Spicy brown mustard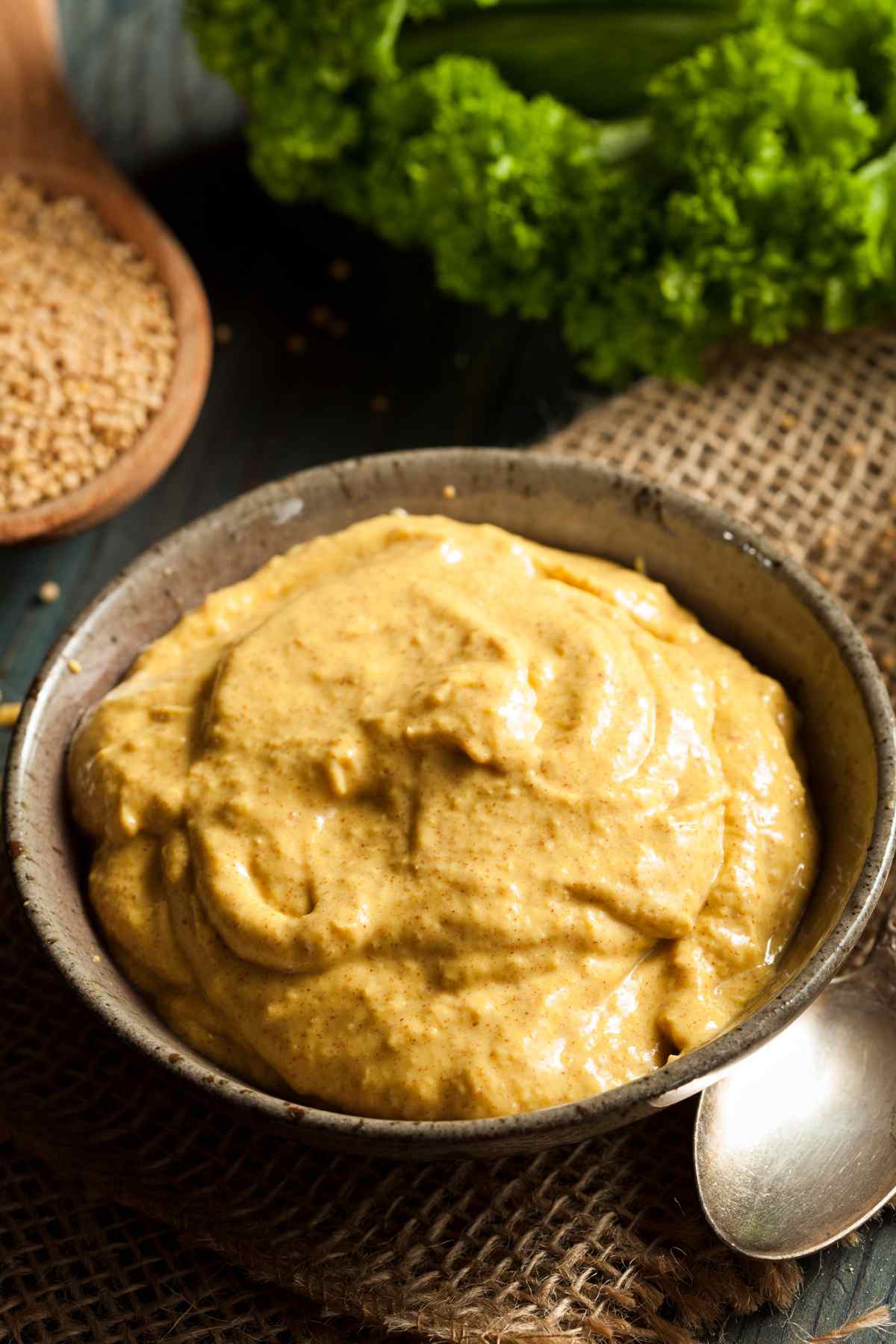 Mustard That You Should Avoid on A Keto-Diet
Honey mustard and other sweetened mustards are not keto-friendly. Carb count can vary by brand, but the USDA estimates 2g of carbs per tablespoon (5g) of honey mustard.
How Many Net Carbs In Mustard?
| | |
| --- | --- |
| 1 Teaspoon (5g) | Net Carbs |
| Yellow Mustard | 0 grams |
| Dijon Mustard | 0 grams |
| Stoneground Mustard | 0 grams |
| Spicy Brown Mustard | 0 grams |
| Honey Mustard | 2 grams |
Mustard doesn't contain any fiber, so the carbs and net carbs per serving are the same.
How to Use Mustard on Keto?
There are a few ways you can enjoy mustard to add variety to your diet. Mustard works well in vegetable dips, steak dressing, as a spread for hamburgers and hot dogs, in a tangy vinaigrette, or in marinades. Mustard even works well in deviled egg recipes. It's a versatile;e and tasty addition to so many meals.
Best Keto Mustard Brands
Heinz
365 Organic Mustard
Kroger
Trader Joe's
French's
Plochman's
Best Keto Condiments for Keto
Mayonnaise: High-fat foods are top choices for keto diets so mayonnaise is a great choice. It's creamy, low in carbs, high in fat, and delicious! Remember to avoid varieties with added sugar to ensure it really is ketogenic.
Sour Cream: Most diets involve avoiding fat but keto is all about fat – healthy fat, of course. Sour cream is a keto-friendly choice with only 5g of carbs per serving (3.5 oz). Eat in moderation.
Apple Cider Vinegar: This tangy vinegar adds tart flavor but is still low in both sugar and carbs. It also offers several health benefits like promoting a healthy gut.
Guacamole: Made from healthy avocadoes, guacamole is a flavorful dip that is loaded with healthy fat and a yummy taste.
Hot Sauce: If you can handle the heat, hot sauce should be on your condiments list. Be sure to choose a variety without added sugar. You can even pair it with guacamole or mustard.
Mustard Nutrition (Macros)
How Many Carbs In Mustard?
There are 0g of carbs in plain yellow mustard. Honey mustard has at least 2g of carbs per serving. Always check the label for added sweeteners.
Fats
There is virtually no fat in mustard.
Protein
There are only 0.2g of protein per serving (5g) of mustard, according to the USDA.
Calories
There are very few calories in mustard. It will not impact your daily calorie count.
FAQ
Is Dijon Mustard Keto?
Like yellow mustard, dijon mustard is also keto-friendly. It simply comes from a different type of mustard seed and has a spicier flavor.
Is Honey Mustard Keto-Friendly?
There are some honey mustard brands with only 1g of carbs per serving. If this is the case, you can enjoy it in small amounts.
Some brands may have significantly more carbs than that, so check the label. Varieties made with high fructose corn syrup or other additives may be very high in carbs and not keto-friendly.
Is Yellow Mustard Good On Keto?
Yes, you can enjoy yellow mustard on a keto diet. It is typically made from mustard seeds and other spices like turmeric, garlic powder or paprika, along with vinegar or water. Mustard has very few carbs so you can use it on sandwiches, in dips, in salads, marinades, or anywhere you like.
Can I Have Mayo and Mustard on Keto?
Yes. In fact, mayonnaise is one of the best condiments for keto dieters. It has 0g of carbs and offers healthy fats, micronutrients, and antioxidants. It also adds a creamy texture and delicious flavor to many meals.
Can I Have Ketchup and Mustard on Keto?
Yes, both ketchup and mustard are keto-friendly. Ketchup is pretty low in carbs with only 4g of net carbs per tablespoon. They are both sugar-free and taste great on their own or mixed together!
You May Also Like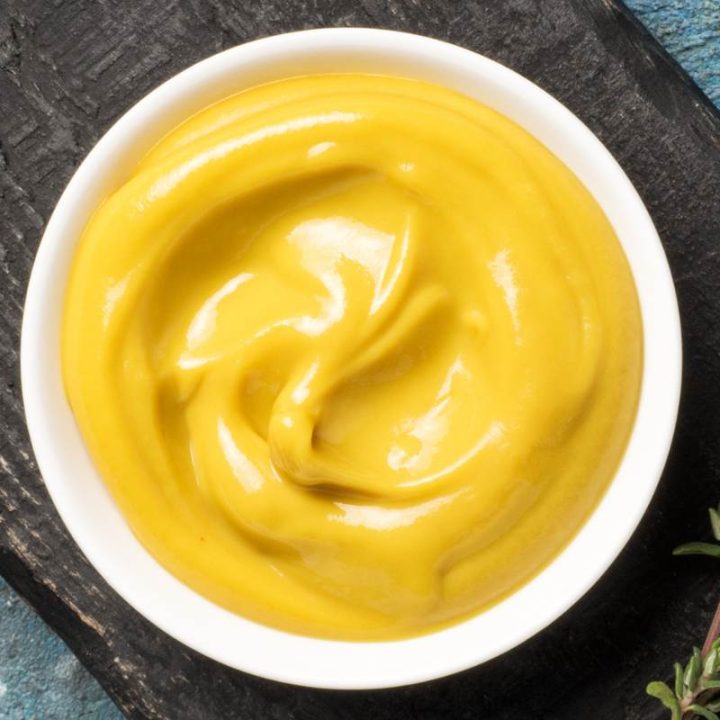 Homemade Keto Mustard Recipe
Is mustard keto-friendly? How many carbs are in mustard? For most of us, this is one of our favorite condiments, right? We get it! But what does the nutritional content look like? How much of it is safe to eat on a keto diet?
Print
Pin
Rate
Ingredients
4

ounces

whole mustard seeds

4

ounces

mustard powder

1

cup

cold water

5

tablespoons

apple cider vinegar

2

teaspoons

Himalayan salt

2

teaspoons

turmeric
Instructions
With a mortar and pestle, grind the whole mustard seeds coarsely.

Combine the coarsely ground seeds with salt, mustard powder, and turmeric powder in a small bowl.

Pour cold water into the mixture and mix until it becomes smooth. Allow the paste-like substance to rest for 10 minutes. Let it rest longer if you want a spicier result. Then add apple cider vinegar to prevent the mustard from turning a deeper yellow than necessary.

Pour the mixture into a glass jar and refrigerate for at least 12 hours. The mustard will thicken nicely. Store your mustard in the fridge for up to one full year.
Nutrition
Calories:
59
kcal
|
Carbohydrates:
3
g
|
Net Carbohydrates:
2
g
|
Protein:
3
g
|
Fat:
4
g
|
Saturated Fat:
0.2
g
|
Polyunsaturated Fat:
1
g
|
Monounsaturated Fat:
3
g
|
Sodium:
234
mg
|
Potassium:
92
mg
|
Fiber:
1
g
|
Sugar:
1
g
|
Vitamin A:
4
IU
|
Vitamin C:
1
mg
|
Calcium:
31
mg
|
Iron:
1
mg
Tried this recipe?
Follow or tag us on Pinterest @izzycooking