Wondering if you can have corn on a keto diet? Get all the facts on the carb content of corn, low-carb corn substitutes, plus the best keto-friendly corn recipes.
Corn comes in many forms and can be used to make a wide variety of foods. Also known as maize, this versatile crop can be eaten as kernels, on the cob, ground into flour or incorporated into dishes like polenta, tortillas and cornmeal.
From snacks like popcorn and corn chips to corn oil, starch or syrup, you could easily consume corn at every meal of the day without even knowing it.
Is Corn Keto?
Unfortunately corn is not keto-friendly. If you're following a ketogenic diet or another low-carb diet, you'll definitely need to limit your intake of corn.
According to the USDA, a 100-gram corn provides a whopping 19 grams of carbs. One cup of corn kernels has 27 grams of carbs. To put that in context, one cup of diced potatoes contains 26 grams of carbs.
For most people on a ketogenic diet, the aim is to consume less than 50 grams of carbs per day. This means that a single serving of corn could blow through more than half of your daily carb allowance! For stricter keto diets with a lower carb intake, a serving of corn may end up exceeding your limit for the day.
How Many Net Carbs In Corn?
| | |
| --- | --- |
| | Net Carbs |
| Raw (1 ear, 102 grams) | 17.1 grams |
| Cooked (1 ear, 103 grams) | 19.1 grams |
| Canned (164 grams) | 20.2 grams |
Corn Nutrition Facts (Corn Macros)
How Many Carbs In Corn?
Corn is considered a high-carbohydrate food with 19 grams of carbs in an ear of raw corn. There are only 2 grams of fibre, which leaves 17 grams of net carbs. In terms of glycemic index, corn is a medium-GI food, with a rating between 56 to 69.
Fats
Corn is quite low in fats, providing only 1.4 grams per cob. These are the healthy monounsaturated and polyunsaturated fats that are good for your heart and cholesterol levels.
Protein
Corn is quite low in protein with only 3 grams per ear. For comparison, a similar serving of edamame provides 11 grams of protein.
Calories
Corn is relatively low in calories with 88 calories per ear or 125 calories per cup of kernels. This is true whether you opt for boiling or grilling the corn. If you want to increase the calories or fat, try adding toppings like butter or cheese.
What Can I Eat Instead of Corn on A Keto Diet?
Though you'll need to reduce your corn intake to keep your carbs low, there are many keto-friendly substitutes for you to consider:
Corn Extract: It adds delicious corn flavor to baked goods with virtually none of the carbs
Cauliflower: The keto-friendly cauliflower is super low in carbs, making it the perfect corn substitute at only 3 grams of net carbs per ½ cup serving.
Broccoli: enjoy low-carb broccoli as a side dish or add it to salads, stir fries, tacos and much more. This veggie provides just 2 grams of carbs per cup.
Pork Rinds: with zero carbs and lots of protein and fat, pork rinds are definitely keto-friendly. Pork rinds can be turned into tortillas or a crispy, carb-free snack.
Black Soybeans: High in fiber and protein but low in carbs, black soybeans are a great substitute for corn in burritos and tacos. With only 1 gram of net carbs per ½ cup, these beans deliciously mimic the texture of corn.
FAQs
Is Corn Healthy?
Though less suitable for a keto diet, corn is a healthy source of plant-based protein while providing the body with fiber, vitamins and minerals.
It's naturally gluten-free, making it a good option for those living with celiac disease. Due to its high carbohydrate content, this starchy veggie may raise your blood sugar if eaten in large amounts.
How Many Carbs in Corn On the Cob?
Without additional ingredients or toppings, a medium-sized (about 7 inches long) corn on the cob provides 22 grams of carbohydrates, with 2 grams of dietary fiber.
How Many Carbs in Popcorn?
If prepared the right way, popcorn can be a healthy, keto-friendly snack. Plain, air-popped popcorn contains 6 grams of carbs with 1 gram of fiber. This leaves 5 grams of net carbs per cup, which isn't bad for a low-carb snack. Note that adding sugary toppings will significantly increase the carb content, making the popcorn less keto-friendly.
The Best Keto Corn Recipes
These homemade corn tortillas are perfect for burritos, tacos and all your favorite Mexican-inspired meals. With only 3 grams of net carbs each, it's the keto-friendly alternative to flour tortillas.
Net Carbs: 3 g

Total Carbs: 6 g
Calories: 144
Fat: 12 g
Protein: 6 g
This recipe requires only 3 ingredients but produces super crunchy tortilla chips that are healthier than store bought options. Enjoy these low carb chips with guacamole, pico de gallo or your favorite keto-friendly dips.
Net Carbs: 1.6 g

Total Carbs: 5.6 g
Calories: 100
Fat: 7.5 g
Protein: 3.9 g
This comforting corn chowder is made with bite-sized baby corn, veggies and pork sausage for the perfect cold weather meal. At less than 2 grams of net carbs per bowl, this rich soup fills you up and keeps you satisfied.
Net Carbs: 1.9 g

Total Carbs: 4 g
Calories: 446
Protein: 11.7 g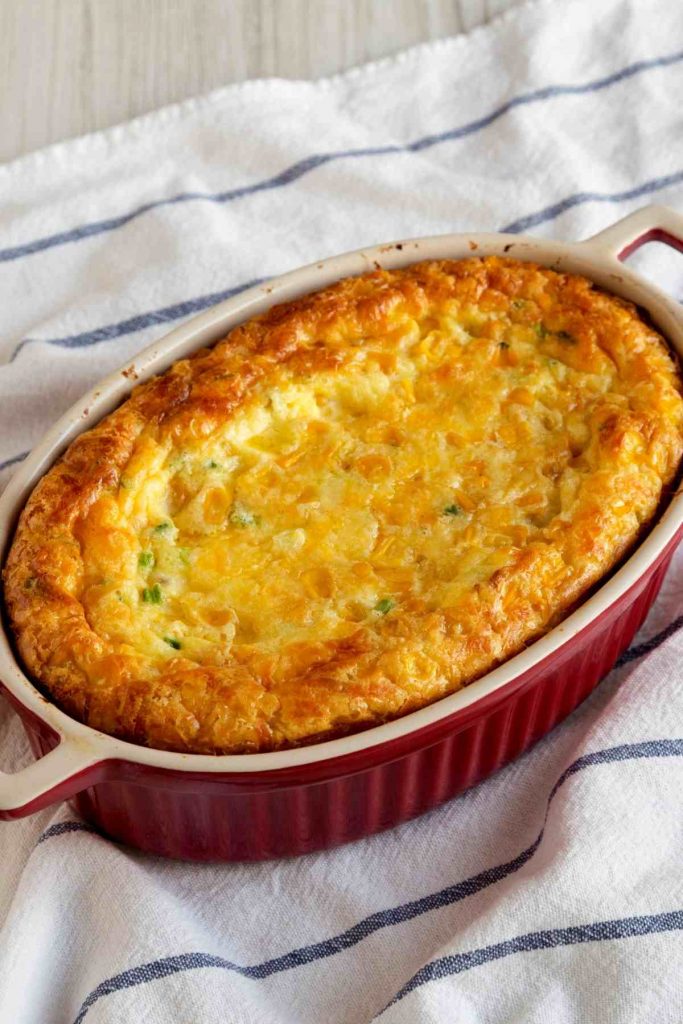 Corn casserole is an indulgent, buttery side dish that's perfect for serving at large gatherings or special occasions. For this keto-friendly version, you'll be making a few substitutions, but the finished product is just as delicious as the traditional recipe.
Net Carbs: 2 g

Total Carbs: 3 g
Calories: 143
Fat: 12 g
Protein: 6 g
You May Also Like
Easy Keto Cornbread Recipe
Wondering if you can have corn on a keto diet? Get all the facts on the carb content of corn, low-carb corn substitutes, plus the best keto-friendly corn recipes.
Print
Pin
Rate
Ingredients
5

cups

almond flour

1

tablespoon

baking powder

1/3

cup

monk fruit sweetener

or other keto sweeteners

1

teaspoon

sea salt

2/3

cup

butter

unsalted (plus more for greasing)

2/3

cup

almond milk

unsweetened

6

large eggs

1

tablespoon

sweet corn extract
Instructions
Preheat your oven to 400°F. Use butter to grease a 10" cast iron skillet and set aside.

Combine the dry ingredients (flour, baking powder, sweetener, salt) together in a large mixing bowl.

Add in the wet ingredients (melted butter, almond milk, and eggs).

Once the wet and dry ingredients have been combined into a smooth batter, add 1 tablespoon of sweet corn extract.

Pour the batter into the skillet and bake for 35-40 minutes, until the top is golden brown.
Nutrition
Calories:
294
kcal
|
Carbohydrates:
10
g
|
Net Carbohydrates:
4
g
|
Protein:
10
g
|
Fat:
27
g
|
Saturated Fat:
7
g
|
Polyunsaturated Fat:
1
g
|
Monounsaturated Fat:
3
g
|
Trans Fat:
0.3
g
|
Cholesterol:
90
mg
|
Sodium:
355
mg
|
Potassium:
28
mg
|
Fiber:
4
g
|
Sugar:
1
g
|
Vitamin A:
337
IU
|
Calcium:
143
mg
|
Iron:
2
mg
Tried this recipe?
Follow or tag us on Pinterest @izzycooking