Can you include coleslaw in your keto diet? How many carbs are in coleslaw? In this post, we will explore whether coleslaw is keto-friendly and share with you a delicious keto coleslaw recipe to make at home.
Coleslaw is a beloved side dish that many people enjoy. It is packed with nutrients, low in calories, and offers a crunchy texture. However, if you are on a strict keto diet, you need to be mindful of the carbs you consume.
What Is Coleslaw?
Also known as New England salad or simply as "slaw", coleslaw is made up of shredded cabbage and dressing. It can be a light vinaigrette or a creamy mayonnaise dressing. Traditional coleslaw is made with vinaigrette and typically has a longer shelf-life since it's basically pickled in the container.
It can also be mixed with shredded red cabbage, broccoli, or carrots for even more flavor. Some variations include apple, too.
Is Coleslaw Keto-Friendly?
Traditional coleslaw is often made with added sugar in the dressing, making it not keto-friendly. While cabbage is low in carbs and keto-friendly, sugar can spike blood glucose levels.
A 100-gram serving of coleslaw contains about 10 grams of carbs, while a full 200-gram cup provides about 20 grams of carbs, making it unsuitable for keto dieters.
How Many Carbs are In Coleslaw?
As per the USDA, there are 10g of carbs in a 100g serving of coleslaw. A quarter-cup is safe to consume on keto.
Ingredients In Keto Coleslaw
Keto coleslaw typically includes the following ingredients:
Optional add-ons include: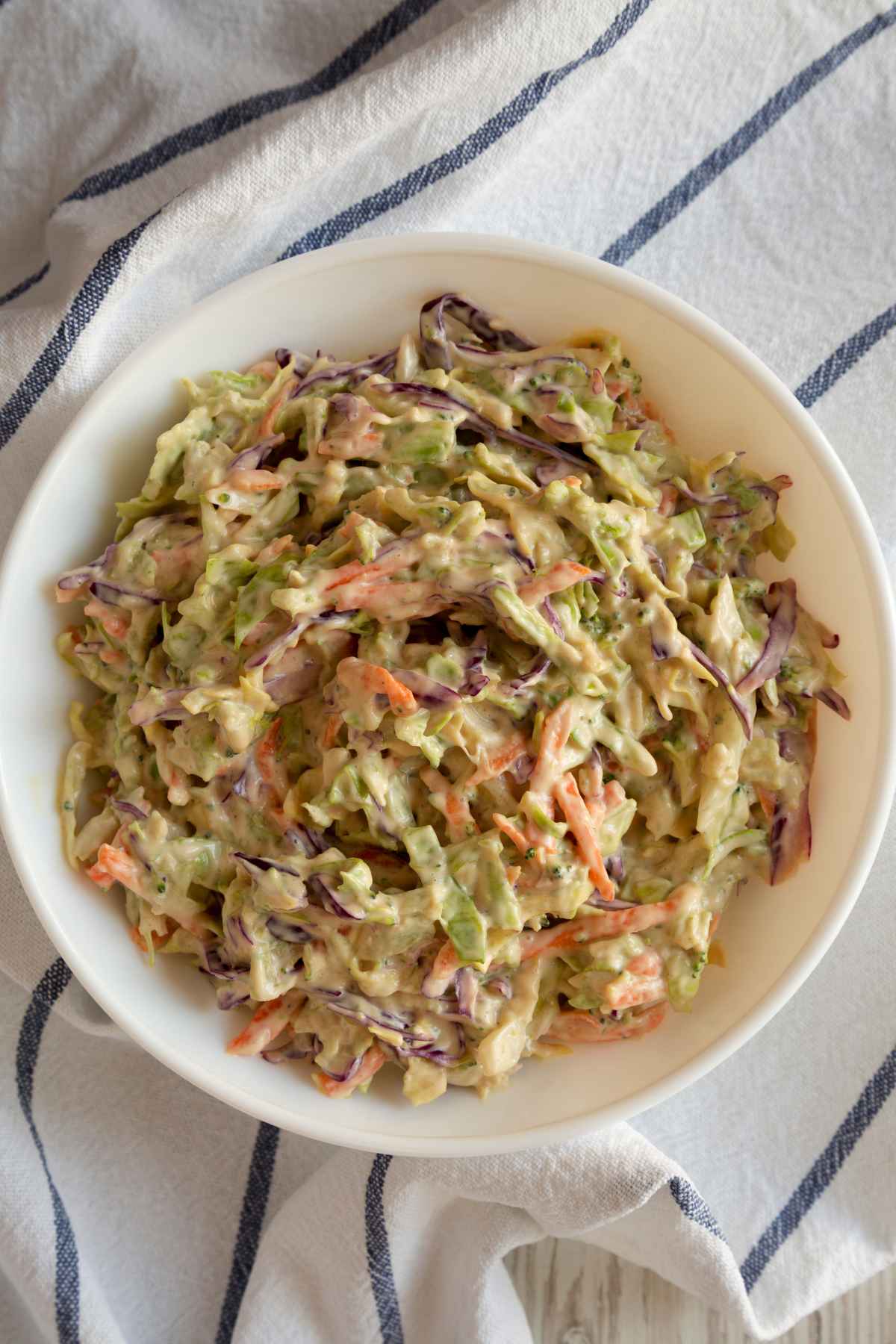 How To Sweeten Coleslaw For Keto Diet
To make a keto coleslaw, you can substitute sugar with keto-friendly sweeteners such as monk fruit sweetener, Swerve, or erythritol. 
These sweeteners offer a similar texture to sugar with minimal aftertaste. Stevia and erythritol-based brands can also be used, but the amount should be reduced by half since they are twice as sweet.
Keto Coleslaw Dressing
Most store-bought dressings used in coleslaw contain non-keto ingredients like sugar, maple syrup, preservatives, or additives. Making your own keto-friendly coleslaw dressing with keto-friendly mayonnaise or sweeteners is an excellent solution.
How To Make Low-Carb Keto Coleslaw
To make low-carb keto coleslaw, mix shredded coleslaw with keto-friendly dressing, including mayonnaise, apple cider vinegar, erythritol, celery seed, salt, and pepper.
If you have time, refrigerate the coleslaw for at least an hour or overnight to let the flavors develop.
How To Serve With Sugar-Free Keto Coleslaw
Ketogenic coleslaw pairs well with spicy or savory dishes. It adds a crunchy, refreshing, and tangy twist to any meal. Here are some reasons to add slaw to your meal: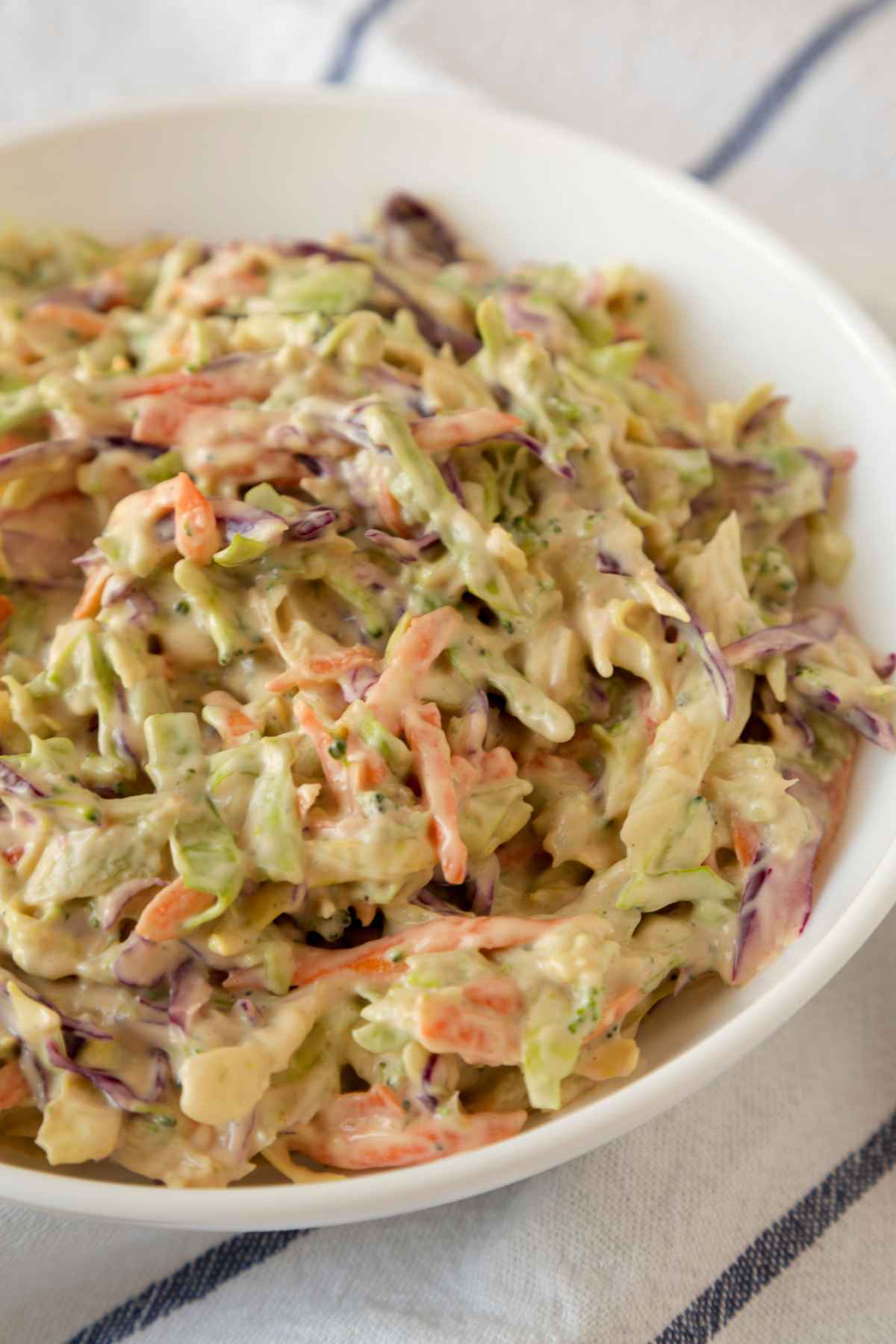 How To Make Low-Carb Keto Slaw Ahead Of Time
Coleslaw can be prepared in advance. Hours or even days ahead, your salad will get the chance to soak in the dressing and absorb even more flavor.
You can also dress it and serve it immediately if you prefer.
How To Store Keto Coleslaw
Coleslaw can last 3 to 5 days in the fridge in an airtight container. If it begins to get a little too wet, add more shredded cabbage to it, toss, and serve. You can also drain excess liquid. Typically, coleslaw tastes even better leftover as the flavors have been absorbed even more.
FAQ
How Many Carbs Are in KFC's Coleslaw?
There are 13.3g of carbs in one serving of coleslaw, according to KFC's nutrition information.
Can You Have KFC Coleslaw on Keto?
Unfortunately, no. At 13.3g of carbs per serving and 9.7g of sugar, this coleslaw is not ketogenic. You can verify the nutrition information for more details.
Is Coleslaw from Popeyes Keto-Friendly?
According to Popeyes, their coleslaw is similar to KFC. It has 9g of sugar and 12g of carbs. It is not keto-friendly.
You May Also Like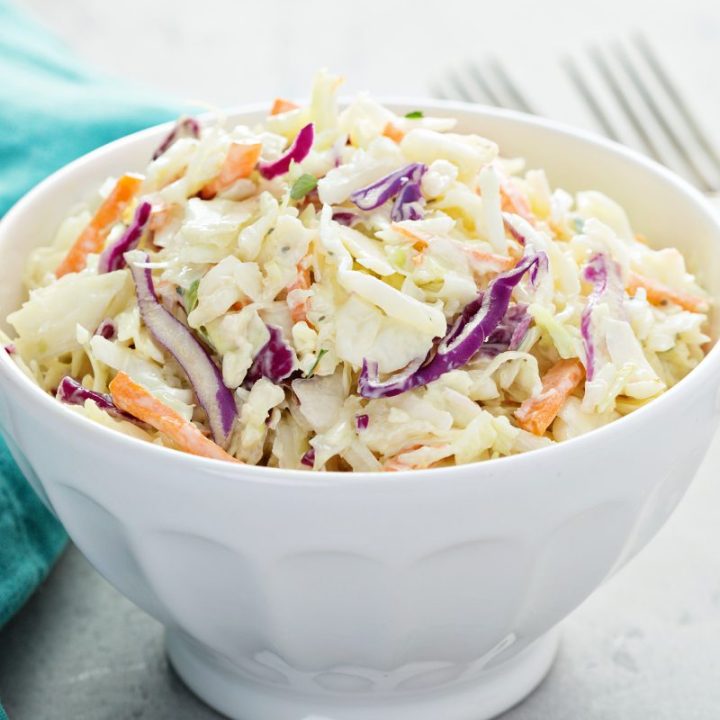 Keto Coleslaw Recipe
Can You include coleslaw in your keto diet? How many carbs are in coleslaw? In this article, we will explore whether coleslaw is keto-friendly and share with you a delicious keto coleslaw recipe to make at home.
Print
Pin
Rate
Ingredients
4

cups

shredded coleslaw mix

with only a small amount of carrots

1/4

cup

mayonnaise

2

tablespoons

apple cider vinegar

1

tablespoon

erythritol

1

teaspoon

celery seed

salt and pepper

to taste
Instructions
Place all shredded salad ingredients in a bowl and set aside.

Whisk mayonnaise, apple cider vinegar, erythritol, and celery seed in a small bowl. Season with salt and black pepper to taste.

Pour dressing over salad mix and toss to combine.

Refrigerate coleslaw for several hours or overnight for a more flavorful result. Toss just before serving.
Tried this recipe?
Follow or tag us on Pinterest @izzycooking