With a touch of sour cream and chopped green onions, chili is a flavorful dish everyone loves. But…is Chili keto-friendly? How many carbs are in chili?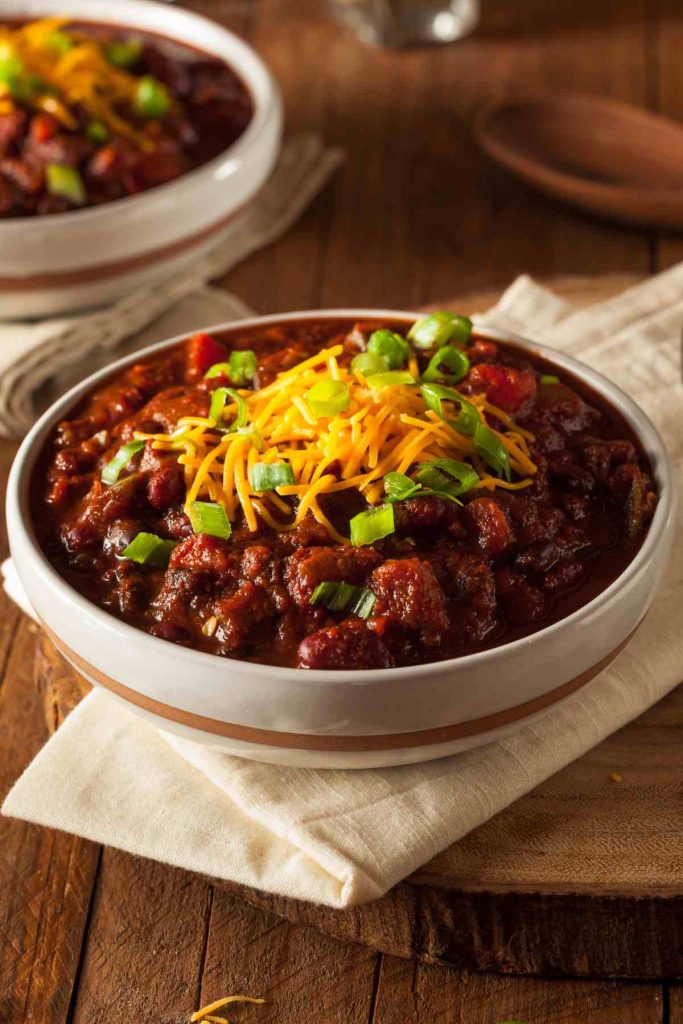 Read on to find out whether or not chili works for keto dieters!
If there's one dish that warms up the heart and soul, it's a bowl full of chili! No matter the time of year, chili always hits the spot.
What is Chili?
Made with beans, peppers, meat, tomatoes, and flavorful spices, chili is a filling and satisfying meal. There are many variations to chili recipes and you can season it however you like. It's a very versatile and forgiving dish.
Is Chili Keto Approved?
Traditional chili recipes are not keto-friendly because they include beans and carbs. Kidney beans, for example, have 40g of carbs per cup. This is unsustainable on a keto diet.
How Many Total Carbs In Chili?
There are 18.3g of carbs per cup (254g) of chili, according to the USDA.
How Many Net Carbs In Chili?
Homemade chili has 18.3g of carbs per cup (254g) and 61g of fiber, for a net carb count of 12.2g.
Ways for Making Low-Carb Chili for Keto Diet
The good news is that you can turn your favorite chili recipe into a low-carb dish with a few small changes. Here are some tips:
1. Omit Beans
Cut beans out of the recipe to dramatically reduce the carb count of your chili dish. You can replace beans with keto-friendly alternatives like pecans, macadamia nuts, walnuts, hazelnuts, or cashews. This will add healthy fat, reduce the carb load, and increase the fiber count. You can also add low-carb peppers for more flavor.
2. Maximize Your Tomatoes
Instead of diced tomatoes, try using tomato paste instead. This will allow you to minimize the carb count without damaging the flavor.
3. Let Your Spices Do the Heavy Lifting
Use flavorful spices like cumin, chili powder, coriander, paprika, red pepper, and garlic powder to add more punch to your low-carb chili. You can add some real taste with stronger spices like turmeric, cinnamon, or chipotle chili powder. Even low-carb veggies like cabbage, cauliflower, or zucchini can add more taste and texture.
Best Keto Chili Bean Substitutes
If you want to thicken the consistency, you can try some of these bean alternatives:
Black Soybeans: Native to East Asia, black soybeans have a firm texture and a nutty taste. They are lower in carbs than kidney beans and can still add a hearty taste and consistency to your chili.
Tofu: Without much flavor, tofu won't affect the taste of your chili but it will give it that thick consistency you're used to. With fewer carbs, this is a great way to make your chili keto-friendly.
Green Beans: Though they are beans, green beans are relatively low in carbs compared to other legumes. They have a mild flavor and are also a good source of fiber and vitamins.
Beef or Pork: Adding protein like meat is a great alternative to beans. Pork and beef are lower in carbs than beans and high in protein.
Edamame: This tender type of soybean is popular in Japanese cuisine. It has a nutty taste and can add so much flavor and texture to your homemade stew or chili recipe.
Cauliflower: This is also a good substitute. It gives the stew a thicker consistency and add a touch of sweet flavor. You can mash the cauliflower first and then pour the chili over it for a thicker texture.
How to Make Low-Carb Keto Chili
The best way to make chili a keto-friendly dish is to substitute high-carb beans for something low-carb instead. Reducing the number of tomatoes and replacing it with tomato paste is a good option, too.
What to Serve with Chili for A Keto Diet
Hearty and satisfying, keto chili is enjoyable on its own. If you want to dress it up with a few classic ingredients, you can also add:
Sour cream
Shredded cheddar, colby or Mexican Spice Blend cheese
Green onions, tomatoes, jalapeño slices, white onions, avocado or fresh cilantro for garnish
FAQ
Is Wendy's Chili Keto?
There are 18.9g of total carbs and 13.4g of net carbs in one cup of Wendy's chili. Since you are only allowed to consume 20g to 30g of net carbs per day on a keto diet, this meal isn't suitable for you. It would mean you could hardly consume anything else for the rest of the day. The high carb count means Wendy's chili is not keto.
Is Chili Keto Without Beans?
Yes, you can definitely make chili without beans to lower the carb count. You can replace beans with a low-carb replacement instead.
How Many Calories in Chili?
There are 246 calories in one cup (254g) of chili, according to the USDA.
Is Chili Low Carb?
Traditional chili is not low-carb due to the beans. If you want to reduce the carb count and make this dish more keto-friendly, you can do so by replacing carbs with low-carb alternatives.
Why is Chili So High in Carbs
Chili is high in carbs mainly because of the beans and the tomatoes. Reducing or eliminating these ingredients can make chili keto-friendly.
Is Chili Powder Keto-Friendly?
Yes. Dried chili powder is ketogenic and naturally low in carbs. There are only 2g of carbs in one teaspoon of chili powder.
Popular Keto Chili Recipes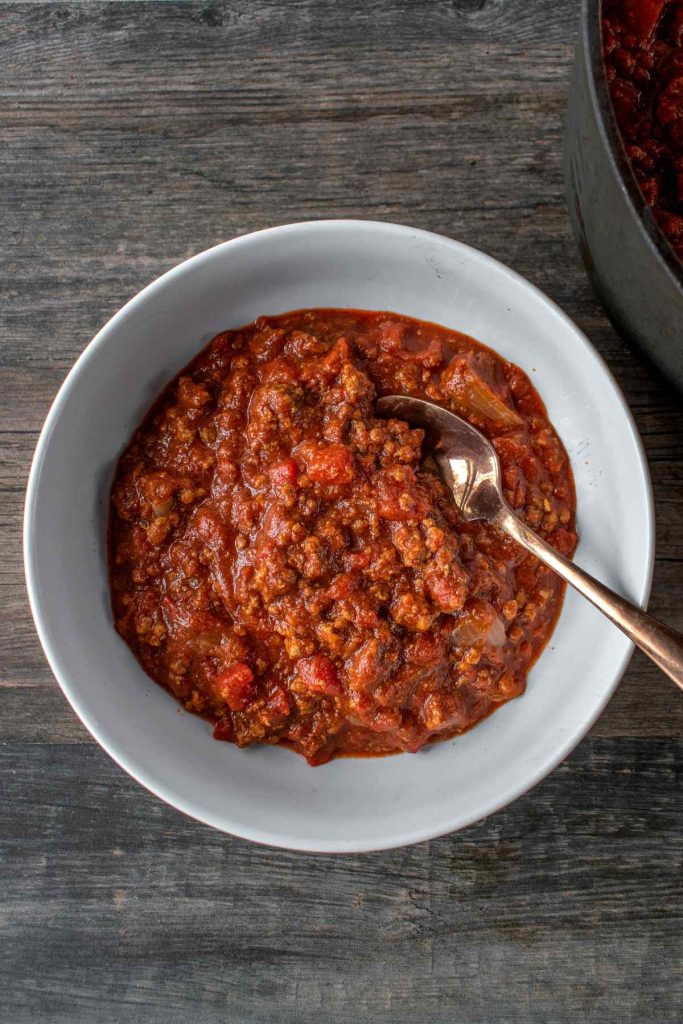 This low-carb chili recipe has the ground beef and flavor you know and love. Even without the beans, this dish is satisfying and delicious. It's the best chili recipe you'll ever try – keto or not!
Net Carbs: 6 g

Total Carbs: 9 g
Calories: 357
Fat: 21 g
Protein: 33 g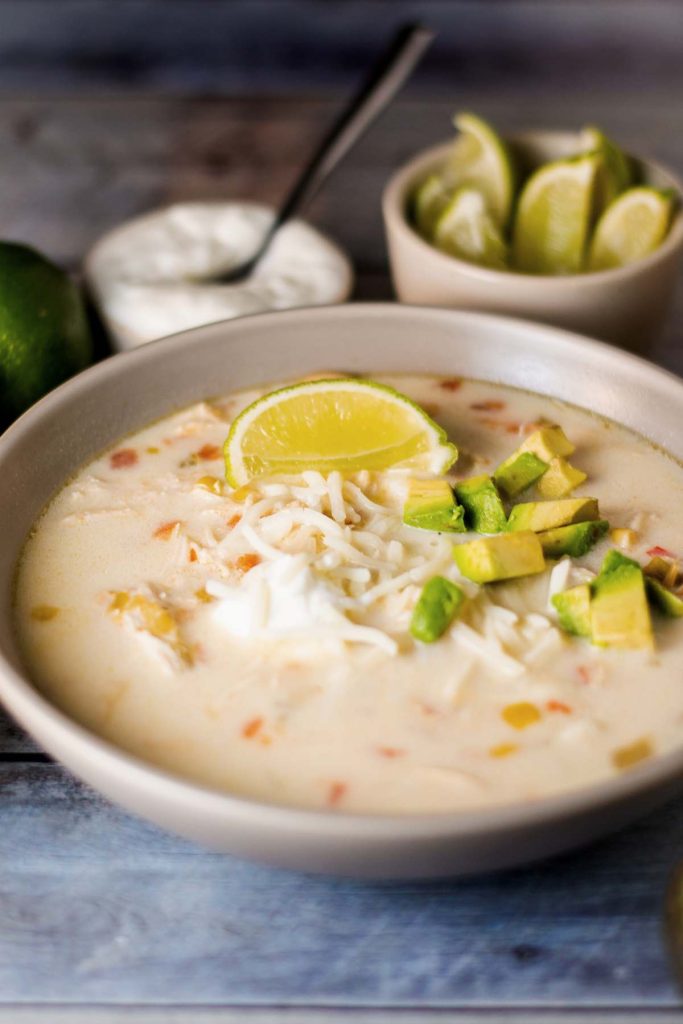 Made with chicken, this one-pot recipe is a satisfying dish that warms the soul. Without beans and low in carbs, this yummy keto dish is everything you'd expect a warm bowl of chili to be! There are just 5.3g of net carbs per serving. Plus, it can be made in a crockpot, too.
Net Carbs: 5.3 g

Total Carbs: 10.1 g
Calories: 390
Fat: 21.7 g
Protein: 33 g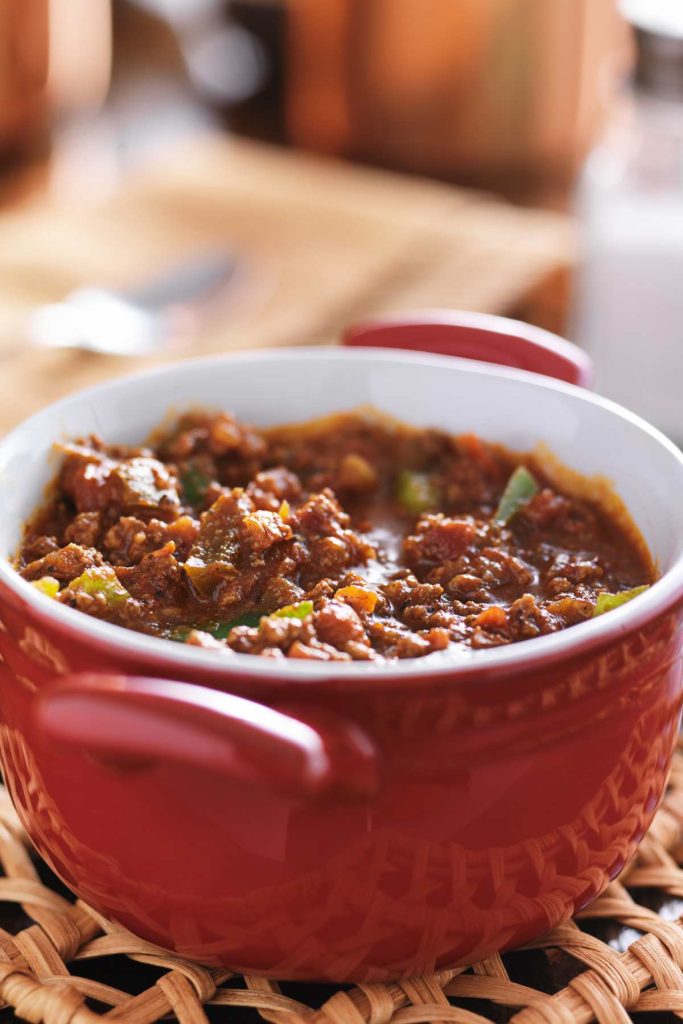 This keto chili recipe has the thick consistency you want in a bowl of chili and is bursting with flavor. Whether you're on a keto diet or not, this dish is about to become your new favorite.
Net Carbs: 6 g

Total Carbs: 9.7 g
Calories: 193
Fat: 6.7 g
Protein: 24.3 g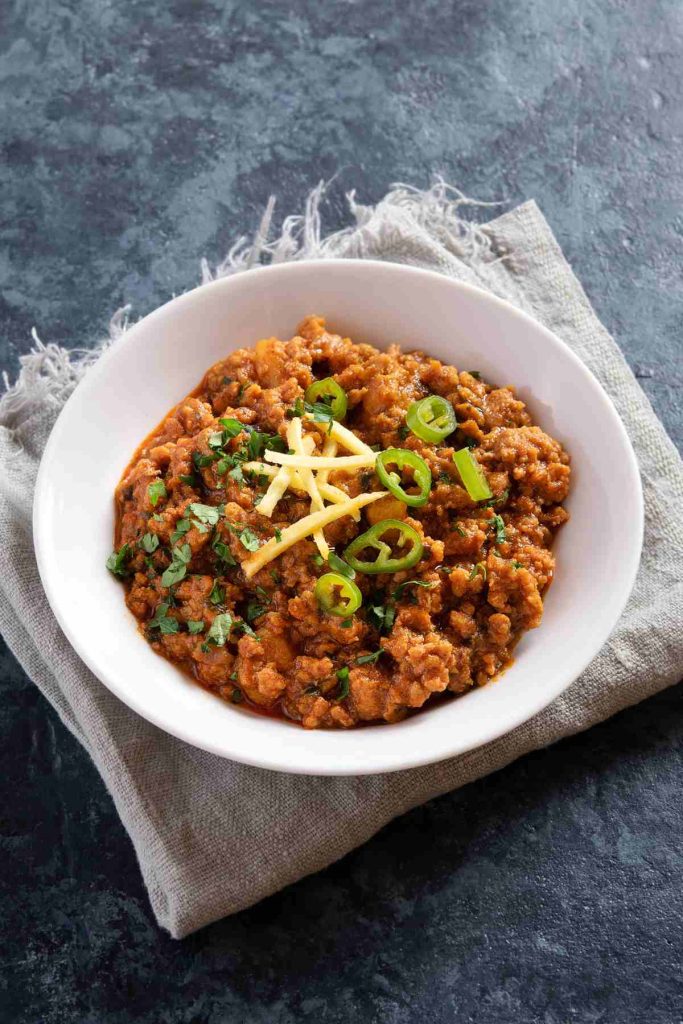 Flavorful and low in the carb department, this keto turkey chili is surprisingly delicious. Loaded with flavor and chunks of tender meat, this dish is one the whole family can enjoy. The best part? It takes less than an hour to prepare.
Net Carbs: 3 g

Total Carbs: 6 g
Calories: 224
Fat: 6 g
Protein: 37 g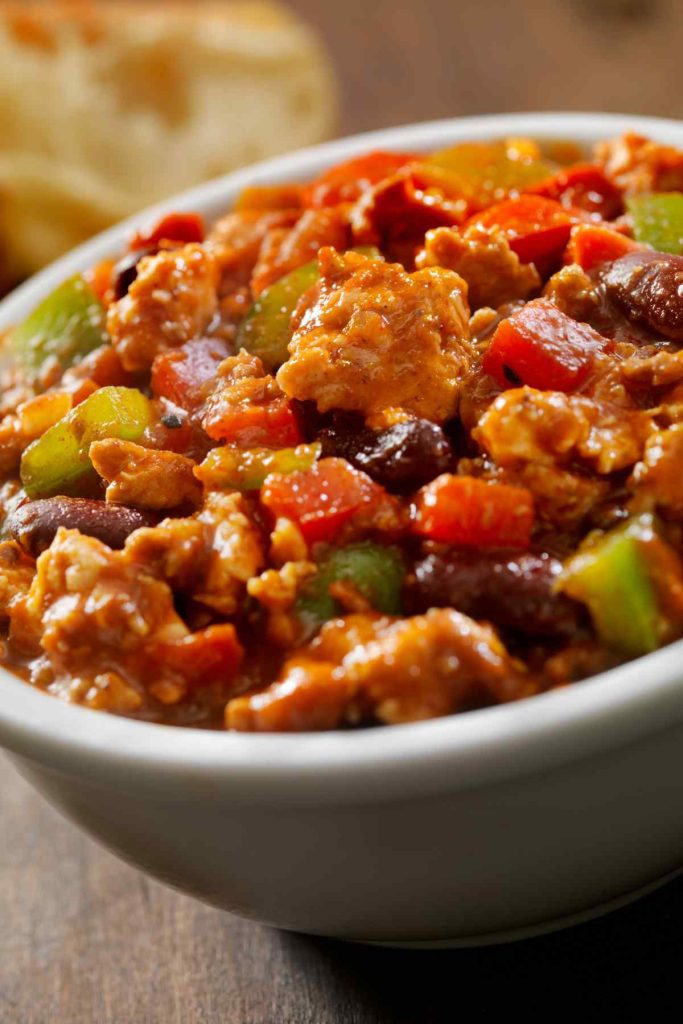 With high-fiber, ketogenic beans and cinnamon, this chili is diabetes-friendly. The added fiber in this recipe can help stabilize glucose levels. Plus, it's delicious, too.
Net Carbs: 14 g

Total Carbs: 20 g
Calories: 113
Fat: 5 g
Protein: 13 g
Made with hotdogs, this comfort meal is a classic kid meal that even your pickiest eaters will devour. Warm and comforting, this dish is a satisfying meal for kids and grownups alike.
Net Carbs: 5 g

Total Carbs: 6 g
Calories: 486
Fat: 30 g
Protein: 32 g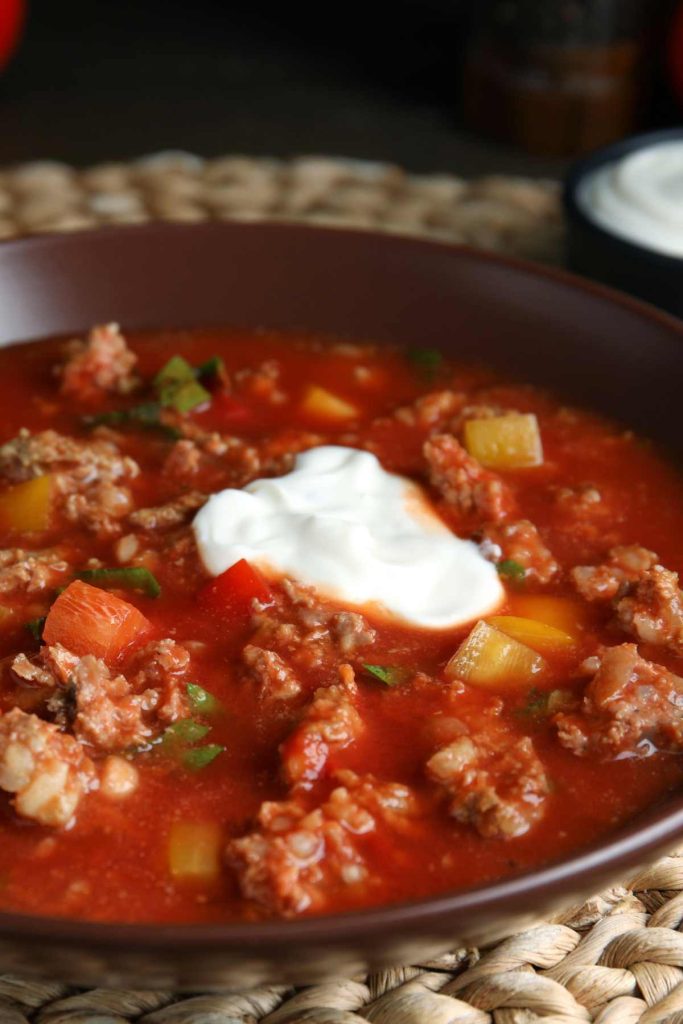 In just 15 minutes, this simple keto chili dish is ready to serve. Plus, it's a low-carb option that works with your keto diet but doesn't sacrifice flavor!
Net Carbs: 7.1 g

Total Carbs: 11.4 g
Calories: 393
Fat: 28.2 g
Protein: 23 g
This cheesy chili casserole is every bit as satisfying as chili should be, minus the carbs! There are just 4g of net carbs per serving.
Net Carbs: 3.6 g

Total Carbs: 4.1 g
Calories: 335
Fat: 28.4 g
Protein: 22.5 g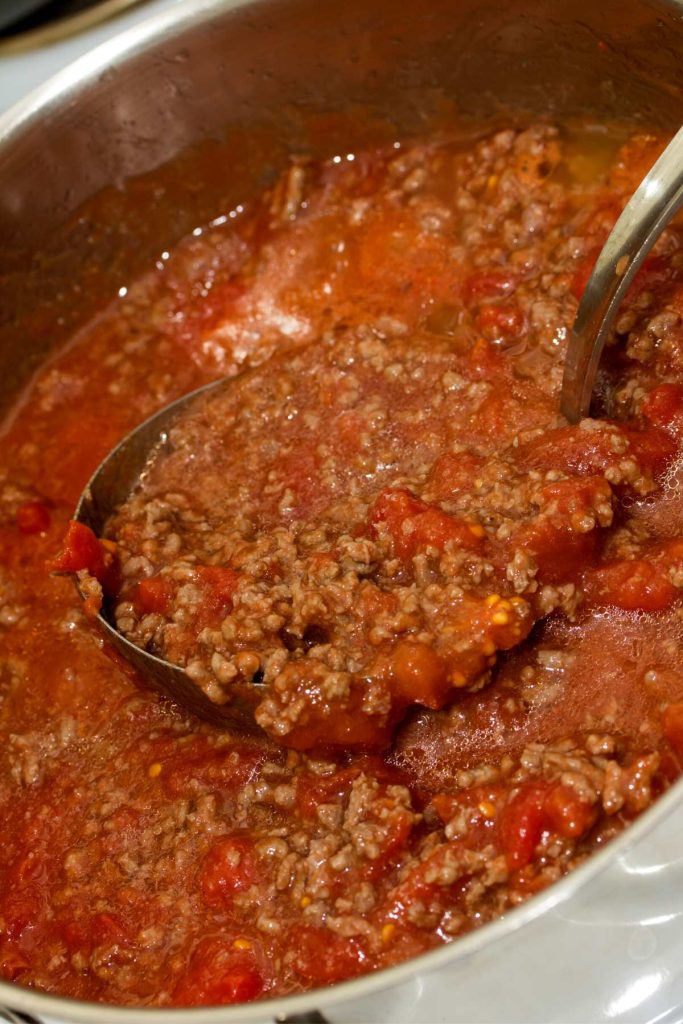 This slow-cooker chili is loaded with cheese, meat, sour cream, green onions, and more. It's so flavorful, you won't even notice the beans aren't there!
Net Carbs: 5.1 g

Total Carbs: 7.4 g
Calories: 229
Fat: 15.7 g
Protein: 14.1 g
You May Also Like
Keto Chili Recipe
With a touch of sour cream and chopped green onions, chili is a flavorful dish everyone loves. But…is Chilli keto-friendly? How many carbs are in chili?
Print
Pin
Rate
Ingredients
1

tablespoon

olive oil

3

cloves

garlic

mashed

1

large onion

chopped

1

pound

ground beef

2

cloves

salt

to taste

2

tablespoons

chili powder

2

teaspoons

ground cumin

1

teaspoon

paprika

1

teaspoon

ground oregano

1/4

teaspoon

cayenne powder

1

can

diced tomatoes

240

ml

beef broth
Instructions
In a large pot or dutch oven, heat olive oil over medium-high heat and add garlic and onion. Sautée until onions are slightly softened (about 8 minutes).

Reduce to medium heat, and add beef, cloves, and salt. Stir occasionally and cook until beef browns (about 5 to 7 minutes).

Add in spices and cook for a couple of minutes.

Pour in tomatoes and bring to a simmer. Lower the heat and cook for 15 more minutes, stirring occasionally.

Pour in beef broth and simmer for another 3 to 4 hours. Add more beef broth as needed. The chili absorbs more flavor when it cooks longer and slower.

Before serving and adding toppings, allow chili to rest for 10 minutes. Garnish as desired and enjoy!
Nutrition
Calories:
248
kcal
|
Carbohydrates:
7
g
|
Net Carbohydrates:
5
g
|
Protein:
15
g
|
Fat:
18
g
|
Saturated Fat:
6
g
|
Polyunsaturated Fat:
1
g
|
Monounsaturated Fat:
9
g
|
Trans Fat:
1
g
|
Cholesterol:
54
mg
|
Sodium:
255
mg
|
Potassium:
460
mg
|
Fiber:
2
g
|
Sugar:
3
g
|
Vitamin A:
1044
IU
|
Vitamin C:
8
mg
|
Calcium:
60
mg
|
Iron:
3
mg
Tried this recipe?
Follow or tag us on Pinterest @izzycooking