Bacon can make a quick breakfast or be transformed into a delicious dish. How long does bacon last in the fridge? It depends on whether the package is opened or unopened, and whether the bacon is raw or cooked.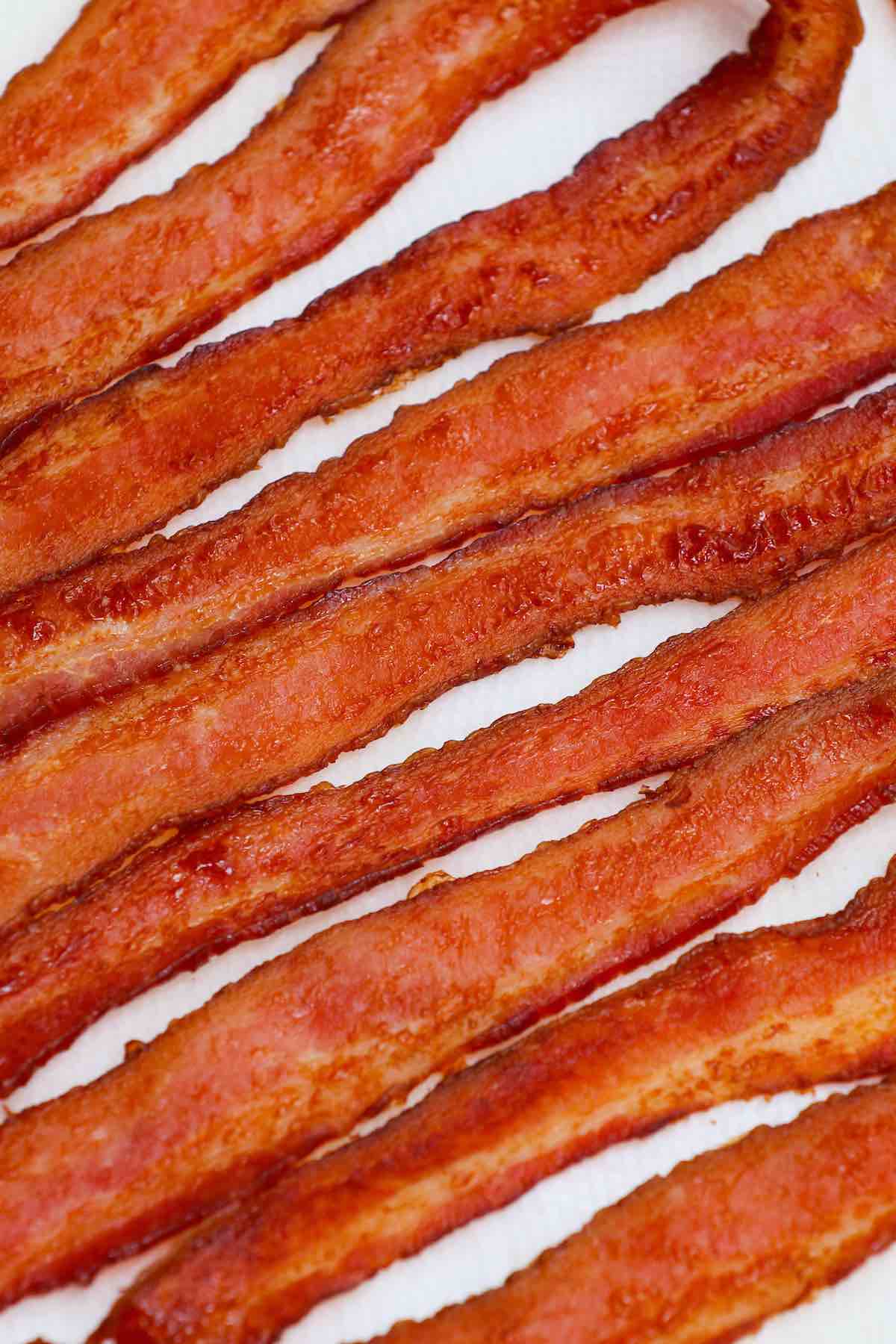 Bacon is one of the most popular pork products. Not only is it a delicious addition to your breakfast and brunch menu, it can also be incorporated into salads, sandwiches and so much more. There are so many tasty ways to use bacon and it's a great idea to have some on hand at any given time.
Do you store bacon in the fridge? This can be so much more convenient than freezer storage, since there's no need to thaw your bacon before cooking. The downside to fridge storage is that the bacon doesn't last as long as with freezer storage.
Does Packaged Bacon go Bad?
Packaged bacon goes bad, just like any other raw meat. Bacon left out at room temperature will go bad very quickly and should be thrown out after a few hours. Bacon can be stored in the fridge, but it has quite a limited shelf life.
How to Tell if Bacon is Bad?
Examine your bacon to tell if it has gone bad. Possible signs of spoilage include a change in color, smell or texture. Bad bacon may appear grey, brown or green and will have an unpleasant odor and slimy texture.
How Long is Bacon Good For in the Fridge?
This depends on a few factors, such as whether the bacon is cooked or uncooked, cured or uncured.
How Long Does Cooked Bacon Last?
Let's say you've meal prepped some cooked bacon for a Cobb salad, or for ready-to-assemble BLTs. Cooked bacon will last up to five days in the fridge
How Long Does Raw Bacon Last?
Many people store uncooked bacon in the fridge for quick breakfasts on busy mornings. When bacon is stored in the fridge, there's no need to wait for it to thaw. Raw bacon will last just over a week in the fridge, and no more than two weeks.
Unopened Bacon
Whether the package is opened or not, uncooked bacon will last just over a week in the fridge, and no longer than two weeks.
Opened Package
An opened package of uncooked bacon will last a week in the fridge.
Thawed Bacon
Frozen bacon that has been thawed for storage in the fridge will last up to seven days.
Turkey Bacon
Turkey bacon and pork bacon have the same shelf life. Keep your turkey bacon in the fridge for about a week, and definitely no longer than two weeks.
The timeframes mentioned above are applicable to cured bacon. If you're using uncured bacon, your shelf life will be even less.
Can You Eat Expired Bacon That Hasn't Been Opened?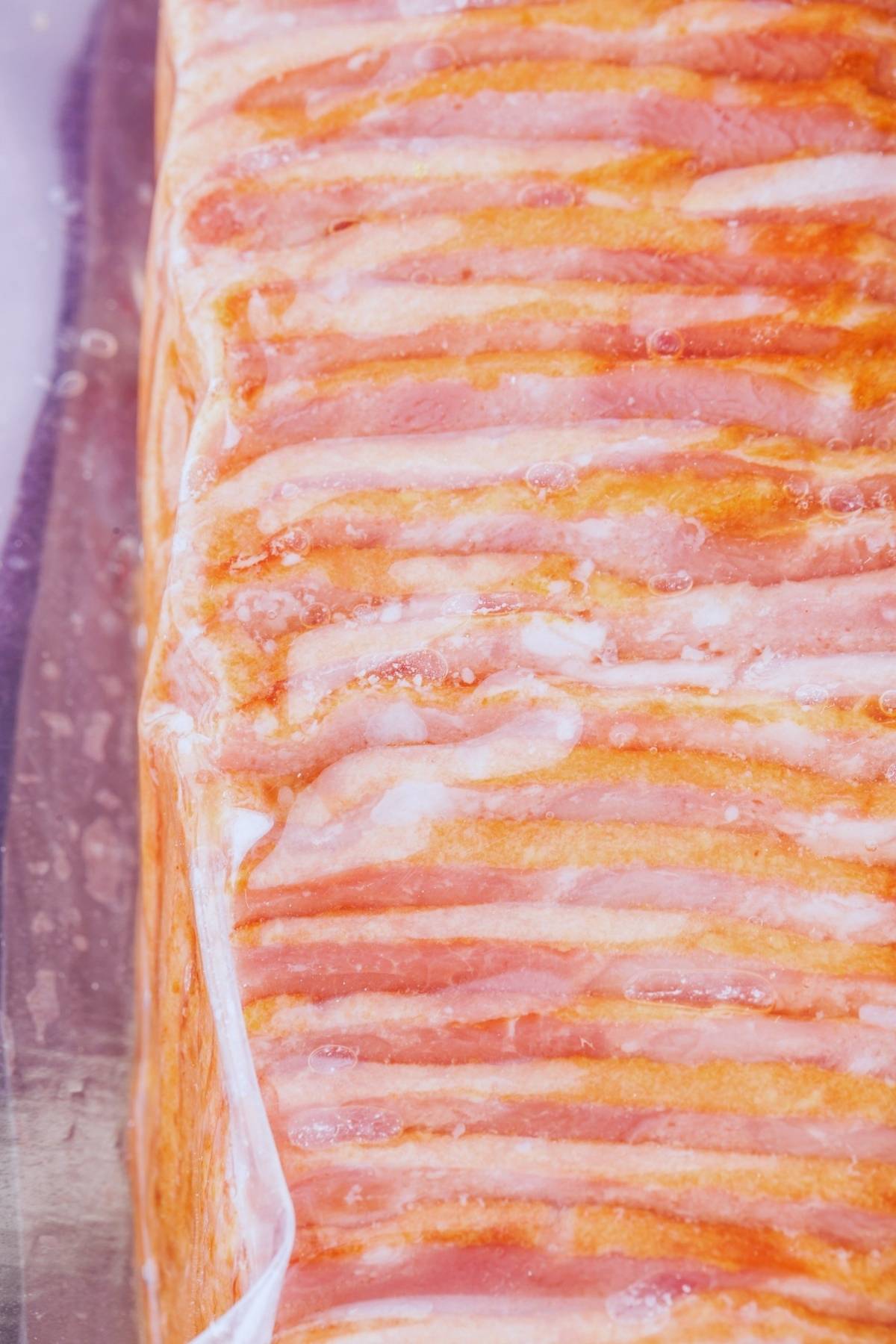 When it comes to consuming meat, it's always better to err on the side of caution. If your bacon has passed its export date, you should discard it, even if it hasn't been opened. To avoid wasting food, check the expiry date before purchasing, and don't buy more bacon than you need.
What Happens if You Eat Bad Bacon?
Eating bad bacon will almost surely lead to food poisoning. Symptoms include nausea, vomiting, fever, body aches and cramps. Young children, pregnant people and those with compromised immune systems are more susceptible to food poisoning.
How Long Does Bacon Grease Last in the Fridge?
Bacon grease should never be poured down the drain. Not only because it's bad for plumbing, but also because it can be a valuable addition to other recipes. When stored properly, bacon grease is good for up to 3 months in the fridge. 
You May Also Like