If you had souvlaki or moussaka, you probably like the light tastes of Mediterranean food. We've rounded up some of the best Greek Side Dishes to complement your main course.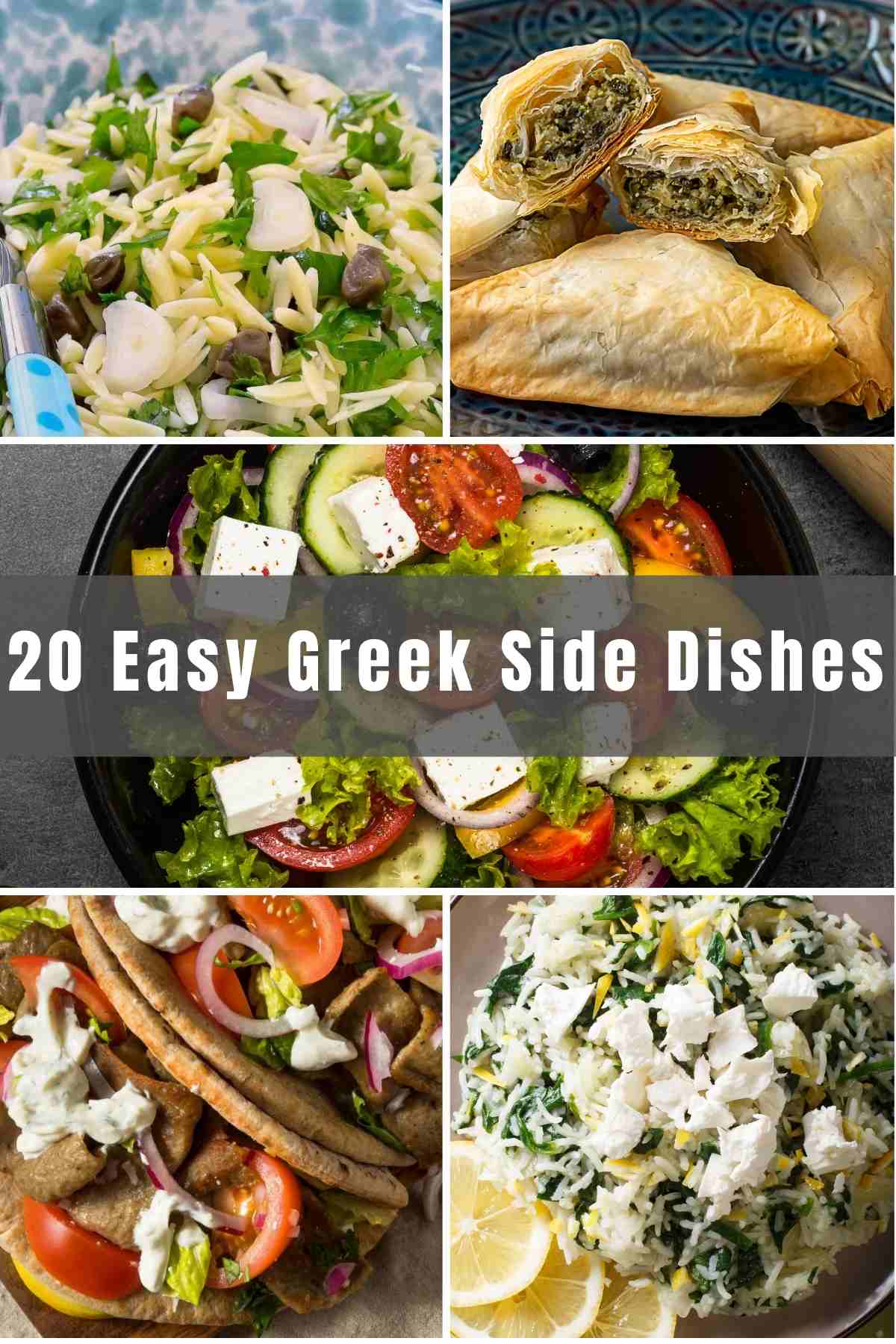 Located in Southeast Europe, the country of Greece is well-known for its delicious cuisine. A trip to Greece or a visit to a Greek restaurant will feature fresh salads, grilled meats, and sweet desserts.
If you're a lover of Greek food, there are many recipes you can make at home. Let's take a look at some easy Greek side dishes. The flavors pair well with many other types of food, so let your creative juices flow!
What are Traditional Greek Foods?
If you're visiting a restaurant that specializes in Greek cuisine, you'll likely find a sampling of flatbreads and olives for appetizers, grilled meats and moussaka for mains, and baklava for dessert. There are many more dishes to try, and the food is always fresh, healthy, and delicious.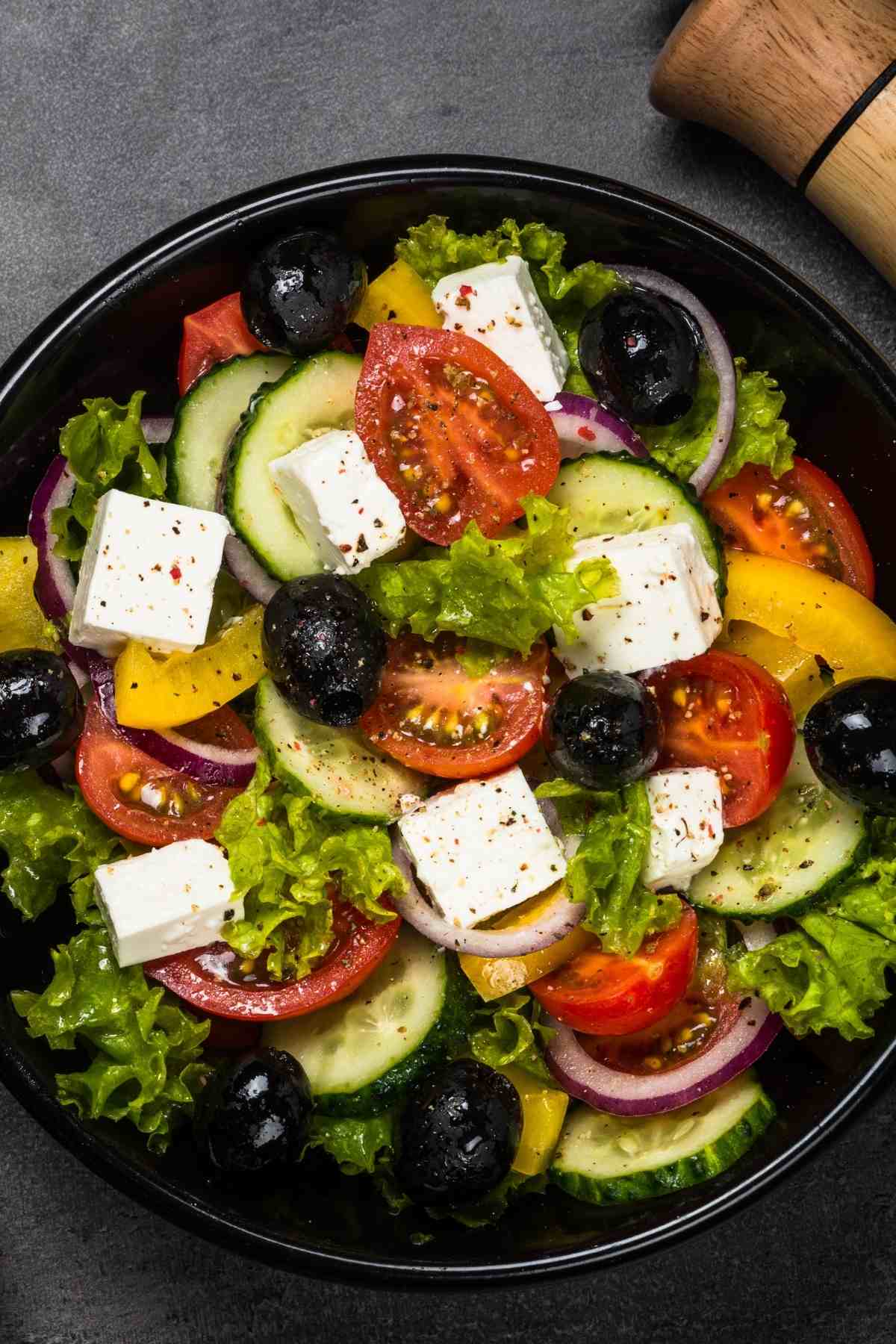 This refreshing salad is a delicious combination of cucumber, tomato, red onion, feta cheese, and olives. It would be a wonderful addition to grilled meats.
The next time you're making homemade pizza, give this recipe a try. The pita bread is the perfect size for kids, and will definitely cut down on the amount of time you need to spend in the kitchen. Serve it with a fresh garden salad for a delicious and healthy meal!
If you're craving something warm and comforting, look no further than this delicious soup. The lemon and feta add a hint of tangy flavor, making it ideal to serve with savory sandwiches. And because it takes just 30 minutes to make, it's a great option for busy weeknights.
Instead of plain steamed rice, serve this flavorful rice instead. The lemon juice and seasonings really add a punch of flavor that would be delicious served with roasted chicken.
There's nothing better than fresh asparagus, especially in the spring when it's in season. This recipe has traditional Greek flavors of garlic, roasted red peppers, and feta, taking basic asparagus to the next level!
These tender and delicious potatoes are sure to become your favorite side dish. Serve them alongside a juicy meatloaf for a tasty weeknight dinner.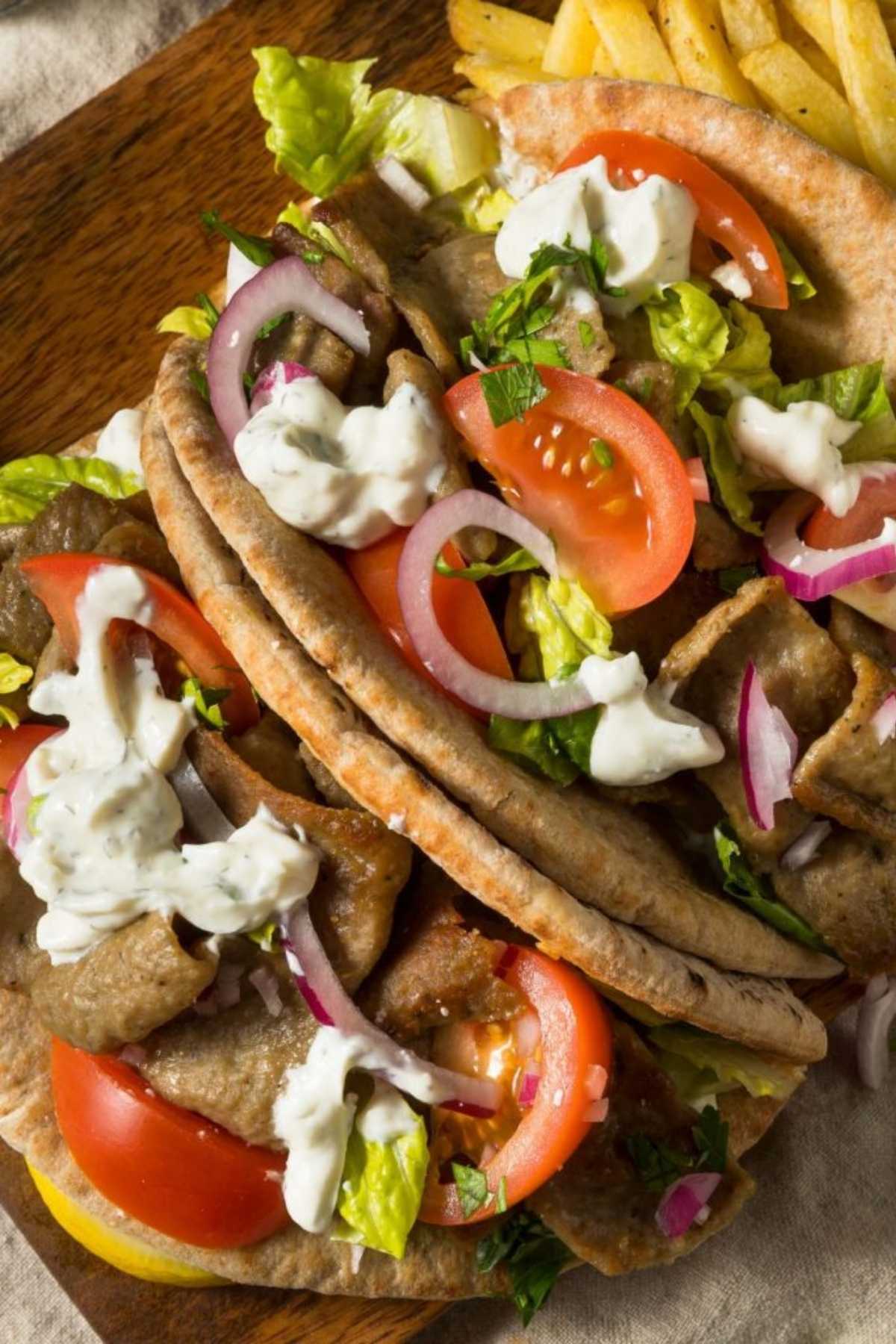 This dish will definitely hit the spot when you're craving something hearty. This recipe calls for ground beef and ground lamb, and is full of savory flavor. Serve it on warm pita bread, or with rice for a hearty meal.
Instead of serving a mayonnaise-based pasta salad at your next summer party, try this pasta salad instead! It's full of traditional Greek flavors of feta cheese, red onions, and Kalamata olives. Be sure to save the leftovers for lunch!
Your family will love the flavors of these fries. They're made with feta cheese, red onion, tomato, and oregano, so you know every bite will be bursting with flavor! The fries are oven-baked in this recipe, but you can also fry them on the stove-top if preferred.
Serve these delicious bites of salty goodness the next time you're hosting a get-together. They're ready to serve in minutes and are served warm. Add some sliced pita bread and creamy hummus for an amazing variety of textures!
This is the perfect salad to enjoy on warm summer evenings. It's full of flavor and quite satisfying. Serve it with grilled garlic bread for a quick and delicious meal.
Full of bright colors, this healthy salad is a wonderful combination of fresh veggies, protein-rich chickpeas, and a tangy dressing. It would be great as a vegetarian meal, or replace the feta with a non-dairy option to make it vegan-friendly as well!
Here's something different your family will love. Grated zucchini is mixed with the flavors of feta cheese, garlic, and dill, and then fried to crispy perfection. They'd be fantastic as a snack, or served with grilled chicken kabobs.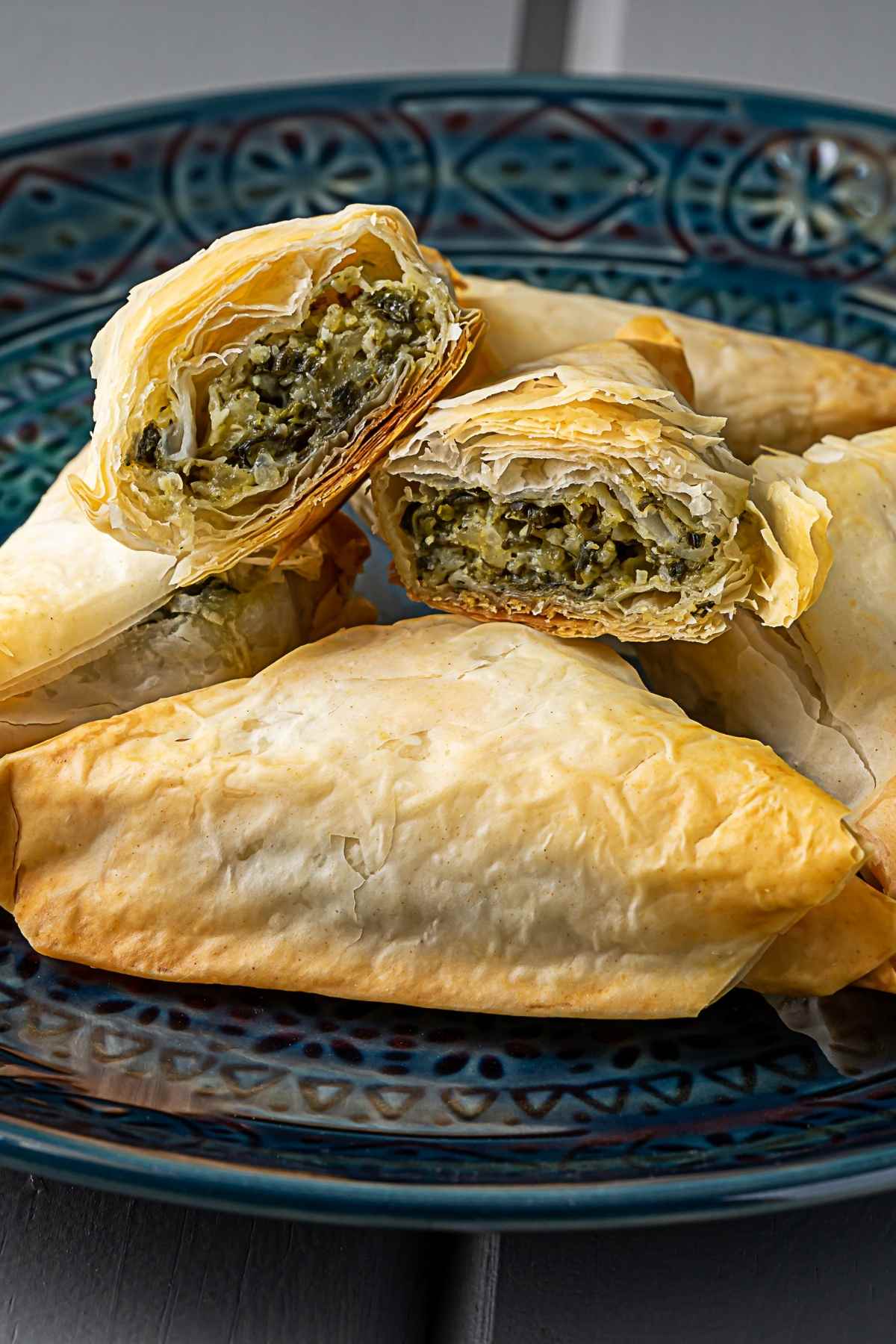 Made with layers of flaky phyllo dough, this traditional spinach pie is loaded with flavor. Cut it into squares and serve it at your next casual gathering!
This is a great way to enjoy rice and spinach in the same dish! You'll love the bold flavors and we think it would be great served with grilled lamb or pork.
This traditional Greek dish is a colorful mixture of potatoes, zucchini, red onion, seasonings and tomato puree. It's the perfect side dish for any grilled or roasted meat or fish.
Orzo is tiny, rice-shaped pasta that takes just minutes to cook. In this dish, it's flavored with butter, garlic, lemon, and parmesan cheese. It takes just 20 minutes to make, so add it to your list of easy weeknight dishes!
This is a great meal option for vegetarians, and can also be served alongside a meat dish. If you have any leftovers, serve them with an omelette for a hearty breakfast!
Easy to make and delicately flavored, this dish would be ideal served with the robust flavors of lamb. All you need is a bright green veggie for a complete and healthy meal!
If you're looking for an appetizer that's sure to impress, give this recipe a try. It's full of the tart and salty flavors of feta cheese, lemon, and olives. Try it with toasted pita bread. We think you'll love it!
You May Also Like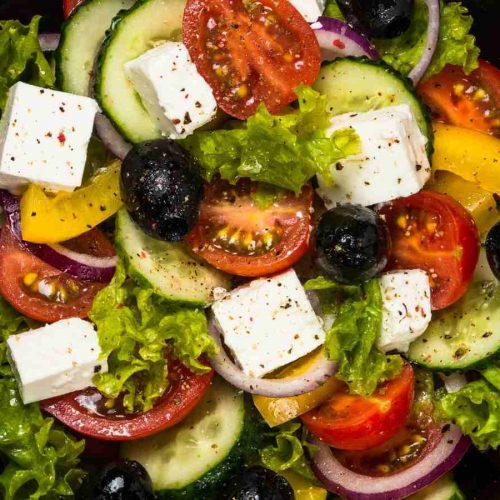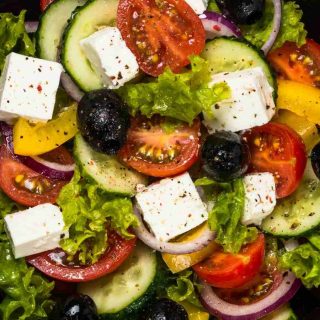 Greek Salad Recipe
This refreshing Greek salad is one of our favorite Greek side dishes that's loaded with delicious vegetables. It would be a wonderful addition to any Greek main course dish.
Print
Pin
Rate
Ingredients
Salad
10

oz

grape tomatoes cut into halves

1

medium cucumber sliced

1

bell pepper chopped

3/4

cup

olives

4

oz

crumbled feta cheese
Salad Dressing
4

tablespoon

olive oil

1

tablespoon

fresh lemon juice

1

tablespoon

red wine vinegar

1 ½

teaspoons

minced garlic

1 ½

tablespoons

minced fresh parsley

1

teaspoon

dried oregano

3/4

teaspoon

honey

salt to taste
Instructions
In a small bowl, whisk together all of the salad dressing ingredients.

Season with salt to taste. Mix well.

Add salad ingredients to a large bowl.

Drizzle salad dressing over top. Toss to coat evenly. Serve and enjoy!
Tried this recipe?
Follow or tag us on Pinterest @izzycooking