Greek Appetizers usually have a delicious combination of fresh and basic ingredients. Many traditional Greek dishes reflect its location close to the Mediterranean Sea. If you're a fan of Greek food, you know that it's very flavorful and good for you!
We've collected some of the most popular Greek appetizers for you to make at home.
Best Greek Appetizers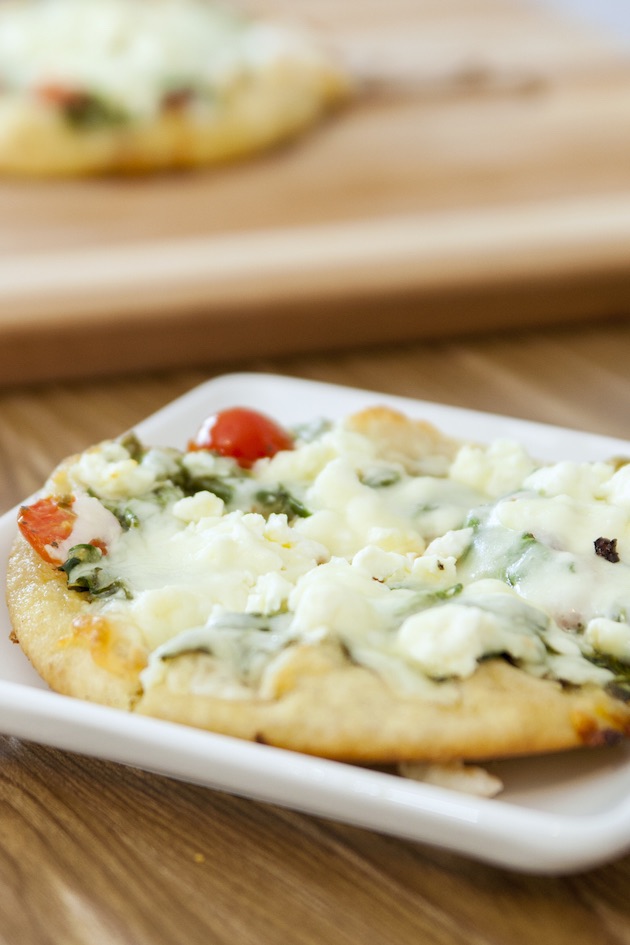 Pita bread has so many uses and this recipe turns it into pizza crust! It takes less than 20 minutes to make and is a great way to get picky eaters excited about customizing their own meals.
Here's a dish that's suitable for a variety of diets because it's naturally vegan and gluten-free. These Greek Lemon Potatoes have that perfect texture: crispy on the outside and soft on the inside. Plus, they have a zesty lemon flavor for a bright twist on classic potatoes!
Serve this amazing platter as an appetizer the next time you're feeding a crowd! It's a beautiful combination of fresh and savory ingredients that will have your taste buds dancing!
If you're looking for a low carb snack that's also tasty, this is the recipe for you. Fresh cucumber is stuffed with feta cheese, Kalamata olives, and seasoning for delicious flavor and crunch! Each serving has just 2 grams of carbs.
French fry fans will love this take on loaded fries. For a great snack, top your fries with feta, tomatoes and a few other staple Greek ingredients. This recipe sneaks in all the classic flavors of your favorite Greek meals on a delicious plate of crispy French fries.
There's no need to head out to a Greek restaurant when you can make delicious souvlaki at home. This chicken souvlaki is perfectly seasoned and grills up tender and juicy in minutes. Serve it with a fresh Greek salad, wedges of pita bread, and the homemade tzatziki sauce included in the recipe.
Meatballs make a great appetizer, snack, or fun addition to any meal. These meatballs are made with warm spices and are served with a tangy Tzatsiki on the side to complement them. They also work well with a few different types of ground meat, if you're looking to use up what you already have in the fridge.
You'll love the flavor and texture of this versatile Greek layer dip. It takes just 20 minutes to prepare, and is delicious served with pita bread, raw veggies, or even tortilla chips!
Bring these tasty appetizers to your next potluck! They come together quickly and each cup has just 35 calories and 2 grams of carbs!
You can make your own restaurant-quality Greek fried cheese in minutes! Follow the instructions in the recipe for perfect results every time.
This soup is light and healthy, but still the perfect way to warm up on a cold day. It's garlicky and has tangy lemon and yummy feta cheese to amplify your classic chicken soup. It's also ready in just 30 minutes, so you don't have to worry about letting it simmer for hours to be loaded with flavor.
This Greek version of garlic bread is topped with mushrooms and olives. Serve it hot from the oven with a fresh green salad.
Frozen puff pastry makes easy work of these crispy appetizers! They're full of flavor and have a wonderful texture.
This is the perfect dish to make when you have a surplus of fresh zucchini. Serve these deep-fried treats with tzatziki sauce for dipping!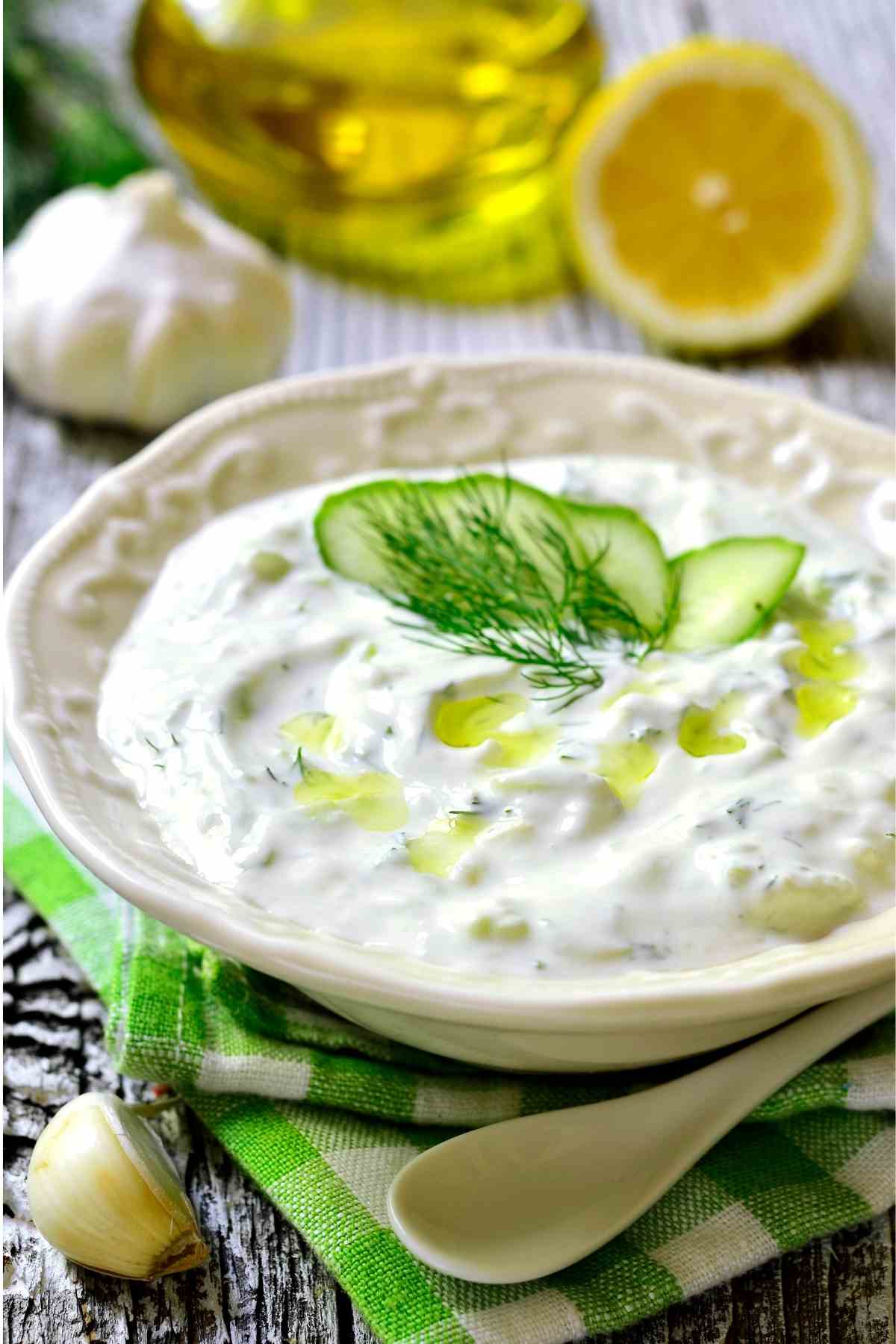 Homemade tzatziki is super easy to make! You'll need just a handful of basic ingredients and it takes just 10 minutes to prepare. Serve it with raw veggies and pita bread.
The savory flavors of this creamy Greek dip pair well with soft pita bread and crisp raw veggies. Scoop it up with carrots, bell peppers, and cucumbers!
Olives are essential to Greek cuisine and while they make an excellent snack just on their own, why not roast them for an added layer of flavor? They make a great simple snack or an impressive little dish to serve your guests alongside drinks.
Serve this tasty bruschetta at your next outdoor party! It's made with fresh ingredients and a zesty homemade vinaigrette.
Get a taste of Greece right in your own home with this fresh and colorful salad. This traditional dish uses cucumbers, tomatoes, peppers and onions combined with creamy feta and black olives for a relatively simple, but incredibly delicious salad.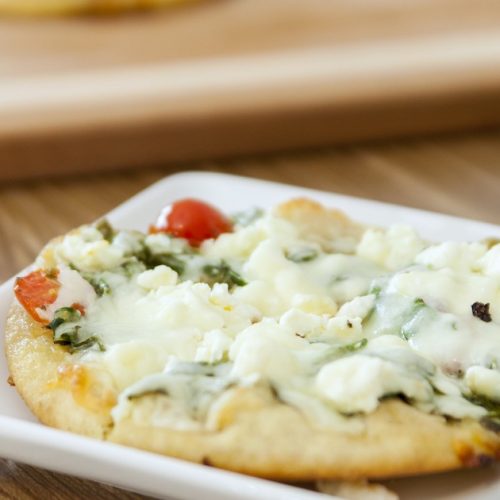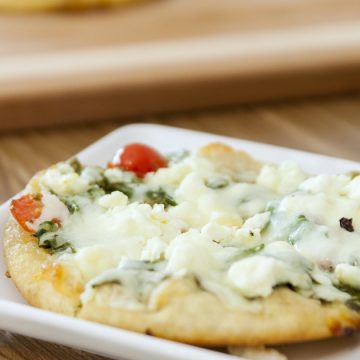 Easy Greek Appetizer Pita Pizza
Pita bread has so many uses and this recipe turns it into pizza crust! It takes less than 20 minutes to make and is a great way to get picky eaters excited about customizing their own meals.
Print
Pin
Rate
Ingredients
4

pita breads

8-inch size, white or whole wheat

2

tbsp

lemon juice

1/4

tsp

oregano

1/4

tsp

basil

1/2

tsp

garlic powder

6

tbsp

olive oil

2

cups

baby spinach leaves

chopped

1/4

cup

grape or cherry tomatoes

halved

3

tbsp

olives

chopped

1/2

cup

feta cheese

crumbled

1/2

cup

shredded mozzarella
Instructions
Preheat oven or toaster oven to 375°F (191°C). Line a baking sheet with parchment or foil.

In a small bowl, mix together lemon juice, oregano, basil, garlic powder and olive oil until blended.

Place pita rounds on baking sheet and brush lightly with the lemon-oil mix.

In a medium bowl, mix together spinach, tomatoes and olives. Add lemon-oil mix and blend until coated.

Place spinach mixture evenly onto pita rounds.

Sprinkle cheese on top.

Bake for 10 minutes or until the cheese is bubbling.

Remove from oven. Serve and enjoy!
Notes
If you can't find pita breads, you can also use flat bread or Indian naan bread.
If you prefer crispy crust, pull each pita bread apart into two thin halves.
For healthy eating, consider using whole wheat pita bread, low-fat cheese and low sodium sauce.
Use a thin layer of sauce to avoid making the pitas soggy.
For a spicy option, sprinkle red pepper flakes on before the cheese.
Tried this recipe?
Follow or tag us on Pinterest @izzycooking