Before we get to foods that start with the letter "F", let's take a second to think of other words that are connected to food – favorite, favor, fantastic, flavorful, fabulous, famous, fantastic, fancy, fascinating, and fresh! With that enjoy the list below of foods that start with the letter "F".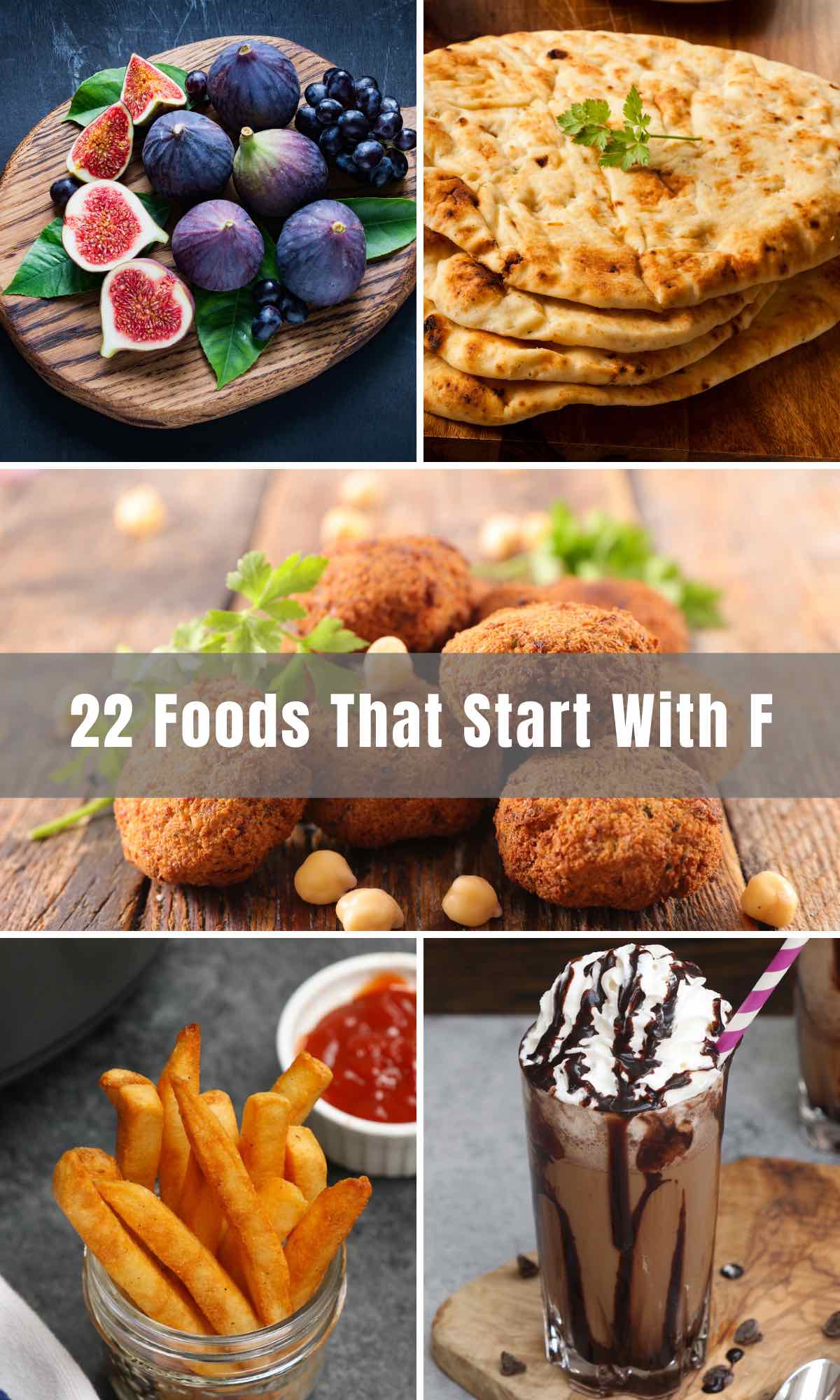 Foods that Start with Letter F
1. Falafel
One of the most mispronounced foods in the history of mankind! Do you know what it consists of? Falafel! Which is a deep-fried ball or even a patty made from ground chickpeas. It's traditionally a middle-eastern dish, but has become more and more popular on this side of the world, in particular with the infusion of ethnic restaurants and choices.
2. Fennel
Be honest, did you know that fennel is part of the carrot family? Believe it! And it's one of the most interesting, perhaps surprising, tasting herbs out there. Fresh and crisp, it definitely hits the palate. What is the best part is that it is a great source of protein, fiber and vitamin B.
3. Feta
Cheese! So many different varieties and flavors. Feta is one type of cheese directly related to Greek cuisine. Whether it's a Greek Salad or wrap, feta cheese is an important component in the finished product. The most interesting part is that it is made from sheep or goat's milk.
4. Fettuccini
When you hear the word fettuccini, the first word that might come to mind to accompany it is alfredo. But this flat, thick, pasta can be used in cold and warm dishes. Spinach fettuccini is simply a healthier option than the more well-known version of Fettuccini Alfredo.
5. Figs
Again, one of the most interesting fruits out there and who knew it is part of the mulberry family? Figs have literally been around since ancient times, and are one of the first plants ever cultivated by humans. And how about this for a stat: In 2018 1.14 million tonnes of figs were cultivated around the world!
6. Fish
Baked, grilled, fried, pan-seared, sous vide…so many ways to cook and enjoy this excellent source of protein. Add your favorite spice or topping and this dish can be even more delicious. There are over 20,000 species of fish, and the majority of them are edible!
7. Flan
Many people don't know flan is a dessert. Essentially it's the delectable layer on your favorite custard dessert. It's an easy dessert that can be completed with 5 or fewer ingredients.
8. Flank Steak
If you're a meat lover then you know that there's nothing like a good steak! Flank steak is a cut of beef taken from the abdominal muscles or lower chest of the steer. It can easily be grilled, pan-fried, broiled- the choice is yours! For those not looking to cook up a steak, it can also be consumed as jerky.
9. Flatbread
12, 400 BC! That's how long flatbread has been around for!! Almost every country and culture around the world has its form of flatbread. Pizza and pita are two of the most common flatbreads. All you need is some butter, flour and milk and you are on your way to devouring some fresh flatbread!
10. Flaxseed
Flaxseed has grown in popularity mainly because of its health benefits over the past decade or so. They are loaded with nutrients, high in omega-3 fatty acids, may reduce cancer risk and are rich in dietary fiber! Need we say more? Oh yes, it can be consumed in oil form as well!
11. Flour
It's a powder made by grinding raw grains, roots, beans, nuts, or seeds. Flours are used to make many different foods. Believe it or not there are 10 different types of flour!
12. Fondant
What the heck is fondant? Well, when you read its definition you may salivate a little or at the very least say 'oh ya!' Fondant is a soft creamy preparation of sugar, water, and flavorings that is used for candies or icings. So impress your family and friends next time by whipping up your favorite cake and create fun little designs with fondant.
13. Fondue
Fondue's basis may surprise you. Because many in North America think of chocolate fondue, but Fondue is a Swiss melted cheese dish – hence its country of origin…Switzerland. And what makes fondue even more fun is pairing it with your favorite beverage!
14. Frappuccino
Simply put a milkshake and cappuccino combined! Who knew that Frappuccino is actually trademarked by Starbucks?! They purchased The Coffee Connection in 1994 and they also gained the rights to the Frappuccino drink. And now you know! So go into your nearest Starbucks and grab a Frappuccino and you may just ditch your coffee routine!
15. French Fries
The debate continues: were French fries discovered in Belgium or France? Either way they've become one of the world's favorite fast foods! And if French fries alone don't get your taste buds tingling, how about these options? Wedges, curly fries, shoe string and straight cut, whichever option you choose you can definitely add your favorite spices to make those fries more delectable!
16. French Onion Soup
It might take a certain palate, but some say a good bowl of French onion soup is a true delicacy. French Onion Soup is a type of soup usually based on meat stock and onions, and often served with croutons or a piece of bread covered in cheese floating on top.
17. French Toast
No matter what you call it, French Toast is a breakfast favorite. Also known as Eggy Bread, Bombay Toast, German Toast, Gypsy Toast or Poor Knights, French Toast is easily made with any of your favorite sliced bread soaked in beaten eggs and typically milk, then pan-fried. Add a touch of icing sugar or cinnamon and an appetizing dish becomes even more delicious!
18. Frittata
Frittata – the Italian word for "fried" Frittata is an egg-based Italian dish similar to an omelette or quiche or scrambled eggs, that is usually made with meats, cheeses or vegetables. Frittata is cooked more slowly than omelette, resulting in a fluffier final product!
19. Fried Chicken
It's origin dates back to the 1830's and it's been an American tradition and favorite ever since. Served hot or cold, it's described as crunchy, juicy and crispy. Add a little hot sauce or paprika to give it a little extra kick!
20. Frosting
Also known as icing, It is used to coat all your baked goods from cookies to cakes! Frosting has been around for hundreds of years and is a topping that puts a smile on everyone's face – from kids to adults alike.
21. Fruitcake
Many feel you have to have a certain palate to enjoy fruitcake. You either love it or despise it! Fruitcake is a cake made with candied or dried fruit, nuts, and spices, and can be soaked in your favorite alcoholic drink! Countries all over the world have their own versions of fruitcake.
22. Fudge
Often found in tourist districts around the world, fudge is a rich sugared candy that is comparable to toffee- made by simply mixing sugar, milk and butter in some heat and then beating the mixture while it cools so that it gets that smooth, creamy consistency-you won't be disappointed!
Summary
From French onion soup, to French fries, to fudge – the letter "F" gives us many options as it pertains to food. I'm sure you'll find your favorite, and whatever it is enjoy it!
Foods By the Alphabet
Editor note: Originally published Jan 26, 2021 and updated April 7, 2021.