Coffee and a donut go hand-in-hand on weekday mornings. For many of us, it's part of our daily routine! Whether you prefer your donuts chocolate glazed, fruit-filled, or tossed in cinnamon sugar, there's a donut flavor for everyone.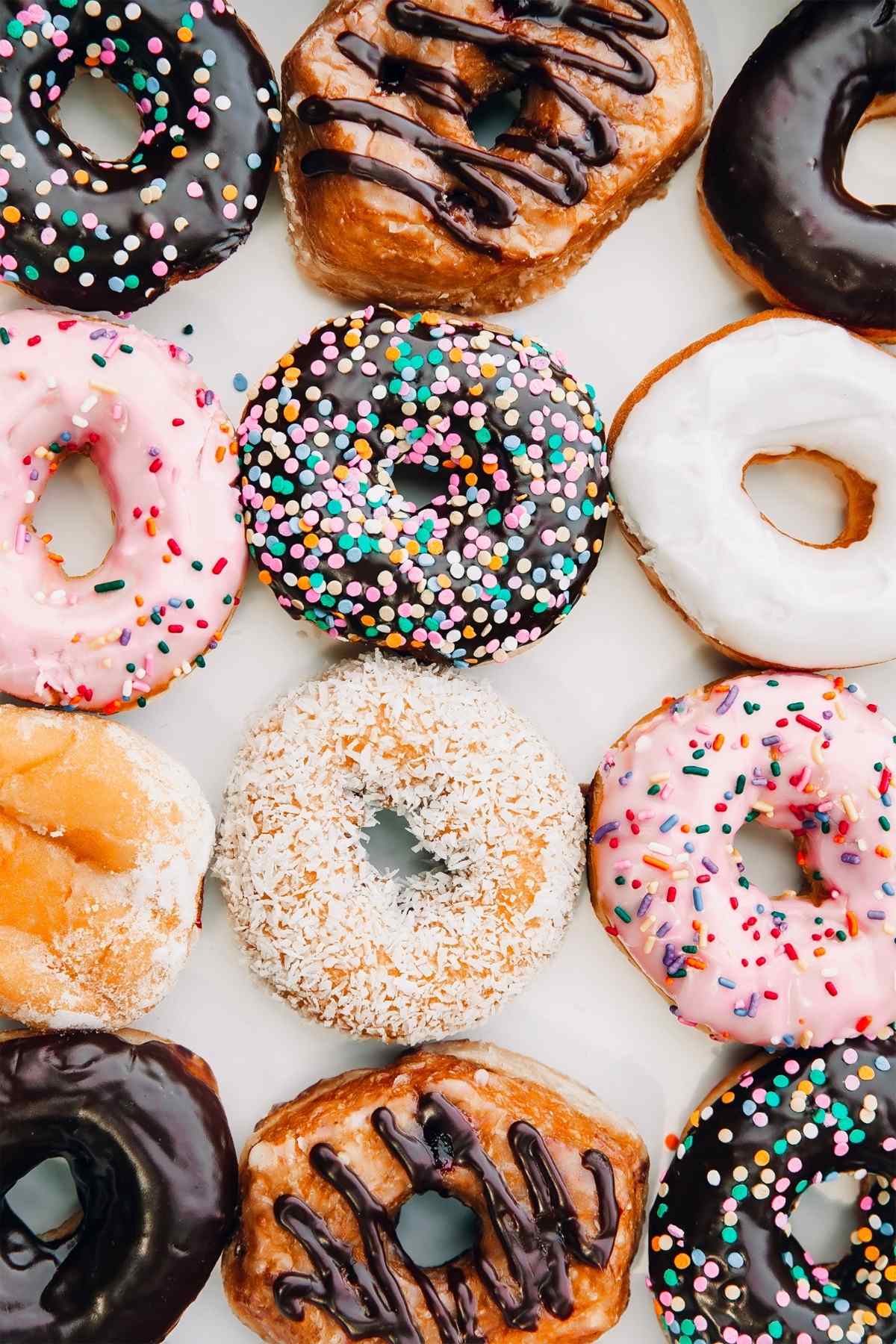 Today we're sharing recipes for 20 classic and unique donut flavors. So, now you can go ahead and make your own sweet donuts at home!  
If you like the donuts on the menu from Dunkin Donuts or Krispy Kreme, you're probably familiar with some basic donut flavors, but there are so many more unique flavors, and you can make these gourmet donuts right at home! Don't forget to check out our Best Mini Donut Maker Recipes.
Classic Donut Flavors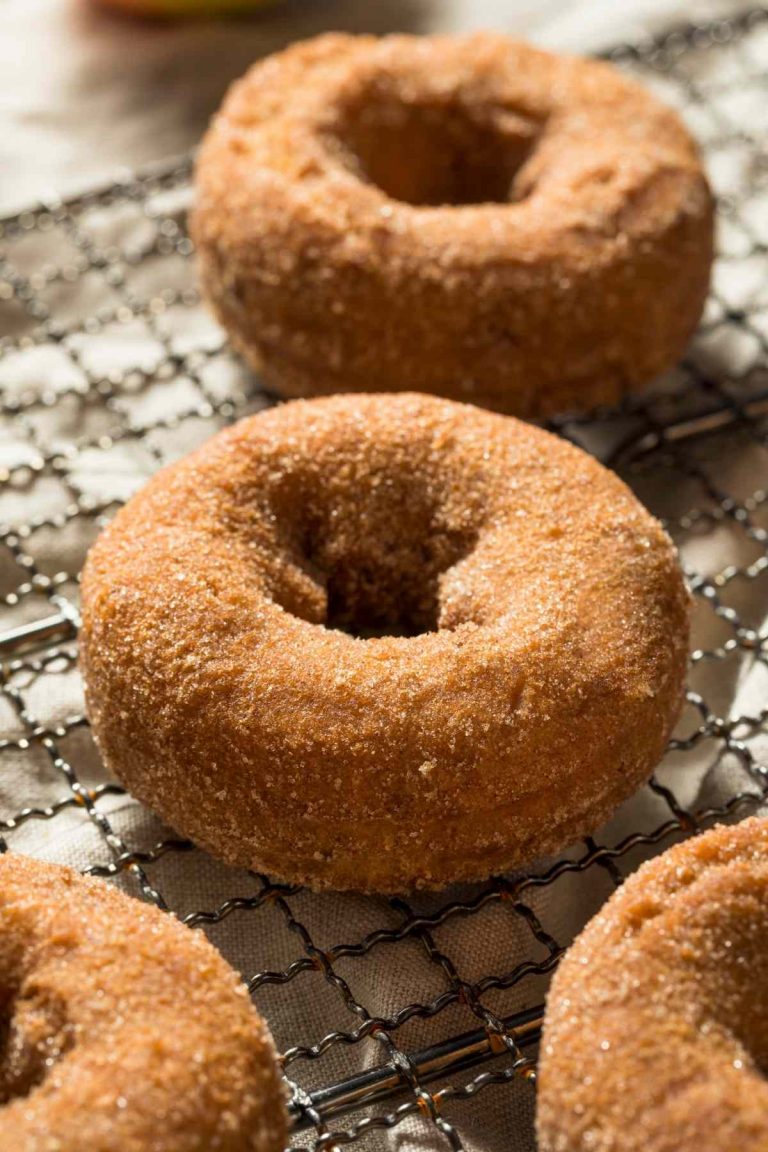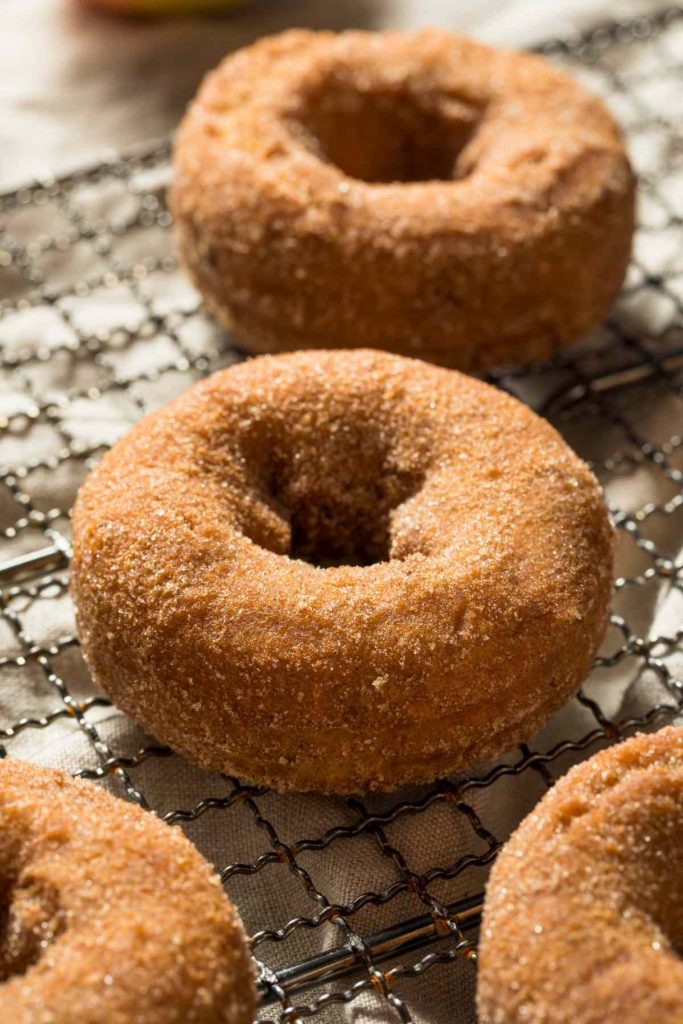 Moist, tender, and perfectly sweet, these cake donuts are baked! The yogurt in the batter adds a pleasant tanginess, and the cinnamon sugar gives every bite a delicate crunch. Enjoy these donuts with a hot cup of coffee or tea.
If you love the flavor of sweet maple, you need to try these donuts! They're moist, tender, and topped with a sweet glaze that uses real maple syrup. Plan on making these on a Sunday morning for a treat your whole family will love.
These light and buttery vanilla flavored donuts are baked instead of fried! They take about an hour to make from start to finish, and you don't need any fancy ingredients. Get creative with the icing with food coloring or sprinkles for a pretty presentation!
Oven-baked and then tossed in sweet icing sugar, you can't go wrong with these classic donuts. Serve them with a pot of hot breakfast tea at your next weekend brunch!
We love the flavor combination of tender buttery cake donuts topped with rich chocolate glaze. They taste so much better than store-bought donuts and bake up beautifully in the oven! Top them with candy sprinkles or coconut for a hit of color, texture, and flavor.
Oozing with a delicious French vanilla pudding filling, these deep-fried donuts are actually quite easy to make! The recipe uses Pillsbury biscuits and Jello instant pudding, saving you a ton of time. In fact, they're ready to eat in just 30 minutes!
Fun and Unique Donut Flavors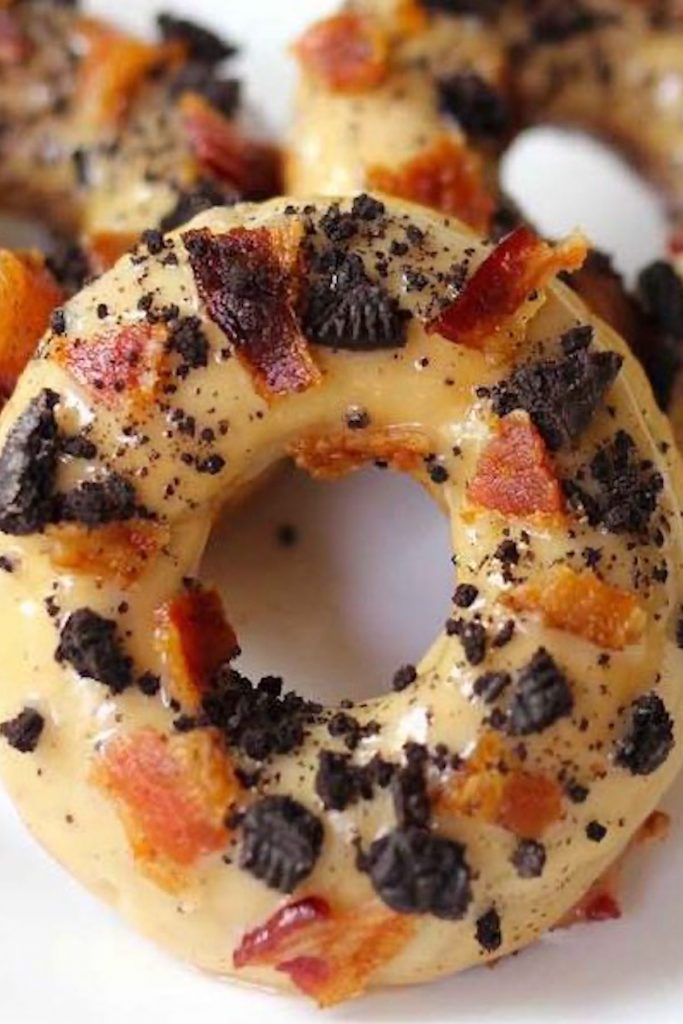 They say bacon makes everything better, and these donuts are proof! The contrast of sweet maple and savory, salty bacon is delicious. To add even more flavor and crunch, these oven-baked donuts are also topped with crumbled oreo cookies!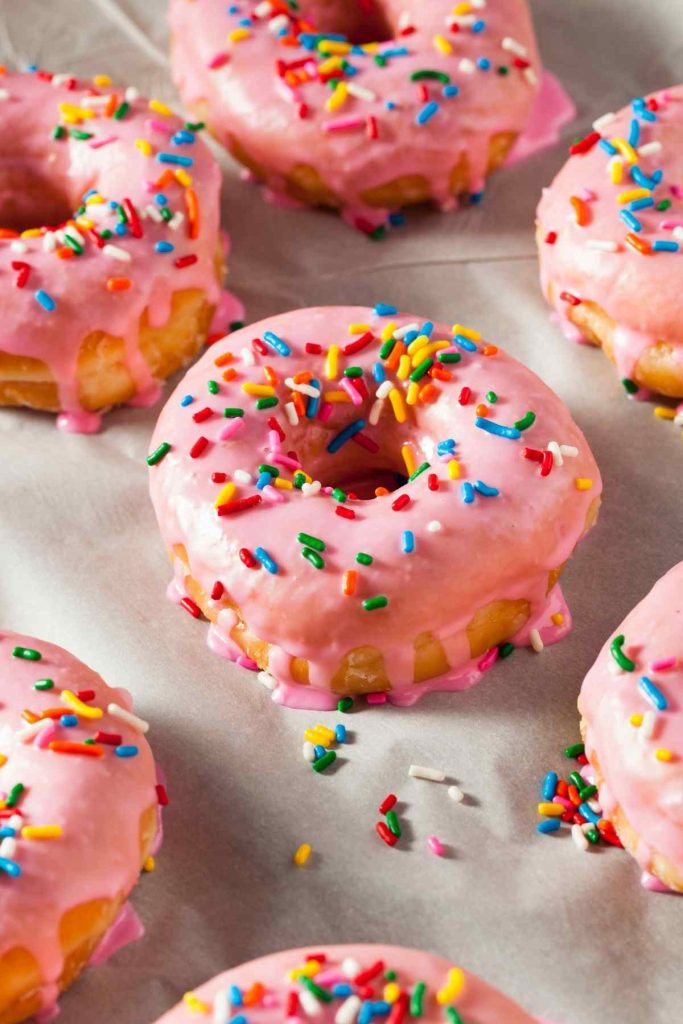 Topped with a sweet glaze made with real strawberries, these baked cake-like donuts are ready to enjoy in about 30 minutes. They'd be a gorgeous addition to an Easter celebration meal!
This recipe is for lemon lovers. Both the batter and the glaze feature a real lemon flavor that's perfectly balanced with creamy Greek yogurt and sugar. To make it even easier, these donuts bake up beautifully in less than 30 minutes.
These classic colorful donuts are a favorite with kids. Top the delicious vanilla frosting with rainbow sprinkles and serve them at your next birthday celebration!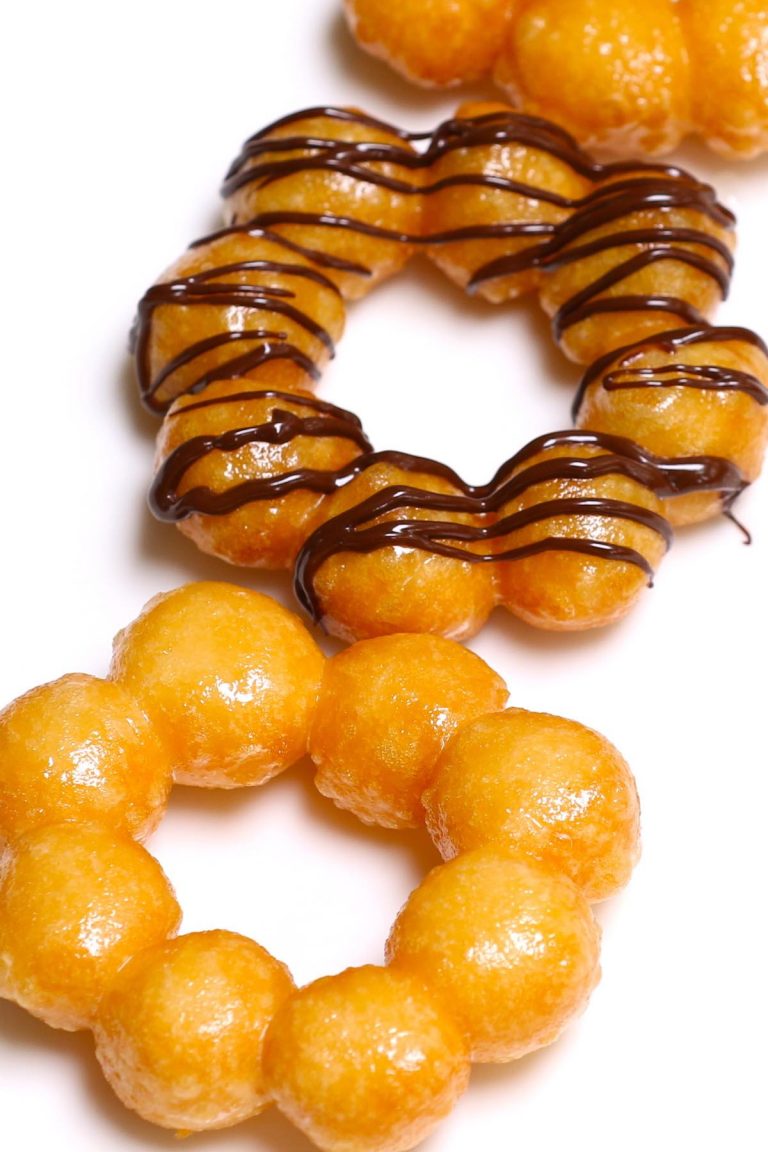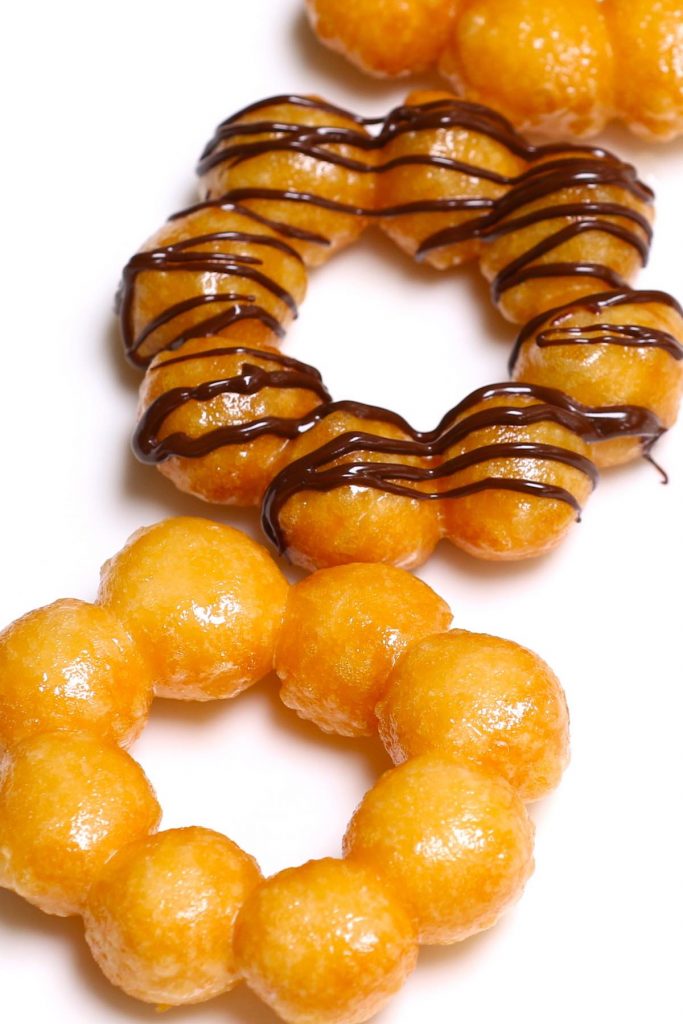 If you love the texture of sweet chewy treats, you've got to try these donuts. Originally from Japan, mochi is a delicious treat made from sticky rice. This donut version is soft, chewy, sticky, and delicious! Give it a try if you're in the mood for something different.
These donuts are a chocolate-lovers delight! They're rich and moist, just like chocolate cake, and are topped with a real chocolate glaze. Top them with colorful sprinkles for a pretty presentation.
Grab your favorite flavor of jelly or jam and give these baked donuts a try! This recipe uses yeast, so the donuts turn out light and airy.
Perfect to make during blueberry season, these baked donuts are full of plump and juicy berries. They're deliciously served with a hot cup of coffee or tea.
If you love carrot cake, you'll definitely enjoy these donuts! They have all of the classic carrot cake flavors, including a cream cheese frosting! They'd be a hit the next time you're hosting Sunday brunch.
Perfect for Valentine's Day party, these gorgeous baked donuts are topped with a divine cream cheese icing.
Celebrate spring with these pretty baked donuts. The batter is filled with lime and coconut flavors, and the glaze is deliciously sweet and tart. For a truly impressive presentation, top them with a sprinkling of toasted shredded coconut and grated lime zest.
If you love the flavor combination of chocolate and mint, this recipe is for you. These baked chocolate cake donuts are topped with a rich chocolate glaze and tiny pieces of chopped chocolate mints! They're special enough to serve to guests at your next dinner party.
Get ready for rave reviews with these baked donuts! Each one features a sliced pineapple ring, guaranteeing juicy pineapple flavor in every bite. This would be an amazing dessert served with a scoop of creamy vanilla ice cream!
Treat your family to these sweet Malasadas Hawaiian donuts. They're deep-fried, rolled in sugar, and mouthwatering delicious!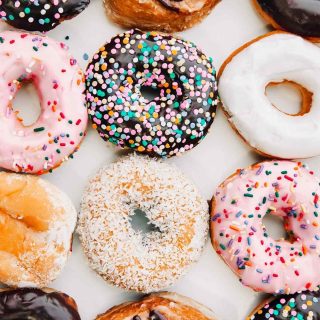 Best Donut Flavors
If you love the flavor of sweet maple, you need to try these donuts! They're moist, tender, and topped with a sweet glaze that uses real maple syrup. Plan on making these on a Sunday morning for a treat your whole family will love. 
Print
Pin
Rate
Ingredients
1 1/2

cups

all-purpose flour

1/2

cup

brown sugar

packed

1 1/2

teaspoons

baking powder

1/2

teaspoons

baking soda

1

pinch

grated nutmeg

optional

2/3

cup

plain Greek yogurt

1

large egg

3

tablespoons

unsalted butter

melted

1/4

cup

milk

whole milk recommended

1 1/2

teaspoons

vanilla extract
Glaze
2

cups

powdered sugar

1/4

cup

maple syrup

2

tablespoons

water
Toppings
crumbled bacon

crumbled Oreo cookies
Instructions
Preheat oven to 350°F. Grease a 6-cup donut pan with oil or non-stick spray and set aside.

In a large bowl, mix the flour, brown sugar, baking powder, baking soda and grated nutmeg.

In another bowl, beat the egg, yogurt, melted butter, milk and vanilla extract together. Then pour the mixture into the dry ingredients, stirring until combined.

Spoon or pipe the batter into the prepared donut pan until each cup is 1/3 full. Bake for 10-12 minutes until puffy and golden.

Meanwhile, prepare the glaze by adding the powdered sugar, maple syrup and water to a medium bowl. Whisk until smooth.

Remove donuts from oven and place on a wire rack to cool completely. Then dip the tops into the glaze and sprinkle with crumbled bacon and Oreo.
Tried this recipe?
Follow or tag us on Pinterest @izzycooking