Brussels sprouts are a healthy and delicious vegetable that can be enjoyed for Thanksgiving dinner or year-round. We've collected 28 of the best Brussels Sprouts Recipes for you to try. Even picky eaters will love these flavorful dishes.
They're easy to prepare and pair well with just about anything! Brussels sprouts are delicious when prepared properly. If you didn't enjoy Brussels sprouts as a kid, it's time to give them another chance.
How to Take the Bitterness Out of Brussels Sprouts?
If you don't like the bitter flavor, here is a simple trick: Salt your Brussels sprout generously, and this will take down the bitterness of the vegetable.
What Do Brussels Sprouts Go Well With?
The most classic options are bacon and mustard. You can also season your Brussels sprouts with salt, molasses, fish sauce, and honey. As a side dish, Brussels sprouts pair well with pretty much any main dish. 
Tips for Cooking with Brussel Sprouts
Make sure to trim the ends before cooking as they're quite tough.
If you roast them in the oven, the high temperature is important to bring out the natural sweetness in Brussels sprouts with a crispy texture. We like to roast them at 425°F. Keep a close eye on the sprouts for the last 5 minutes so that they won't get burned.
Popular Brussels Sprouts Recipes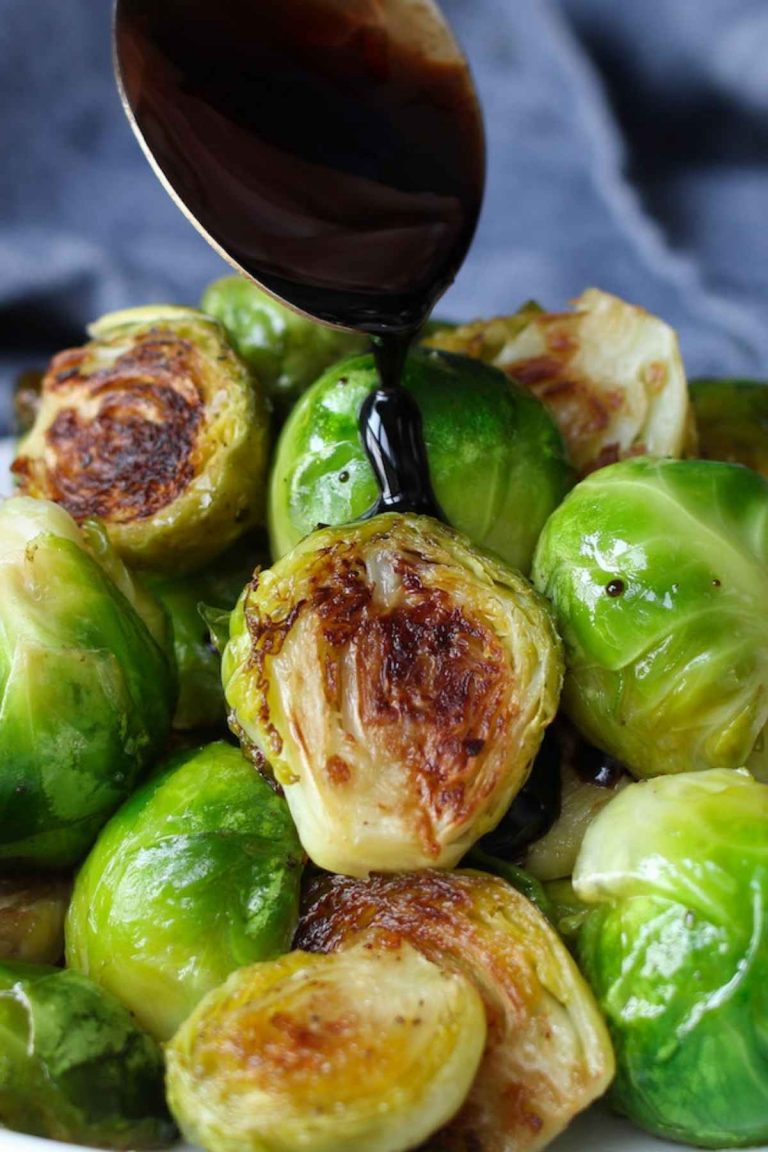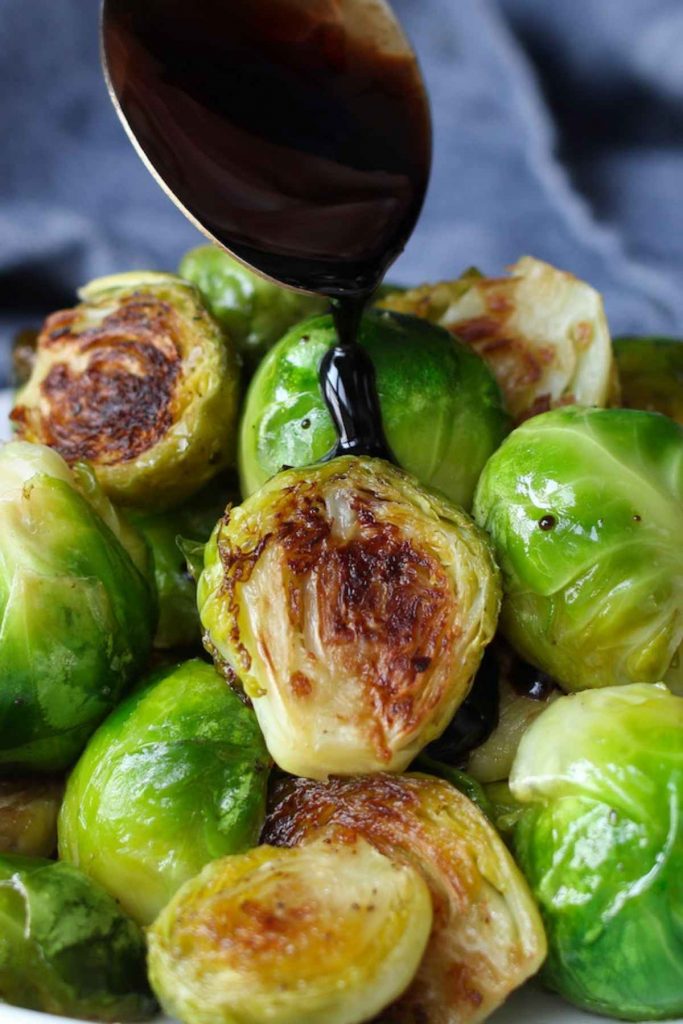 A rich balsamic glaze adds a touch of salty sweetness to these roasted Brussels sprouts. They bake up perfectly tender crisp and deliciously caramelized.
Pan sautéeing Brussels sprouts is a quick and easy way to achieve delicious caramelized results. You'll need just a handful of ingredients and they're ready to eat in 20 minutes.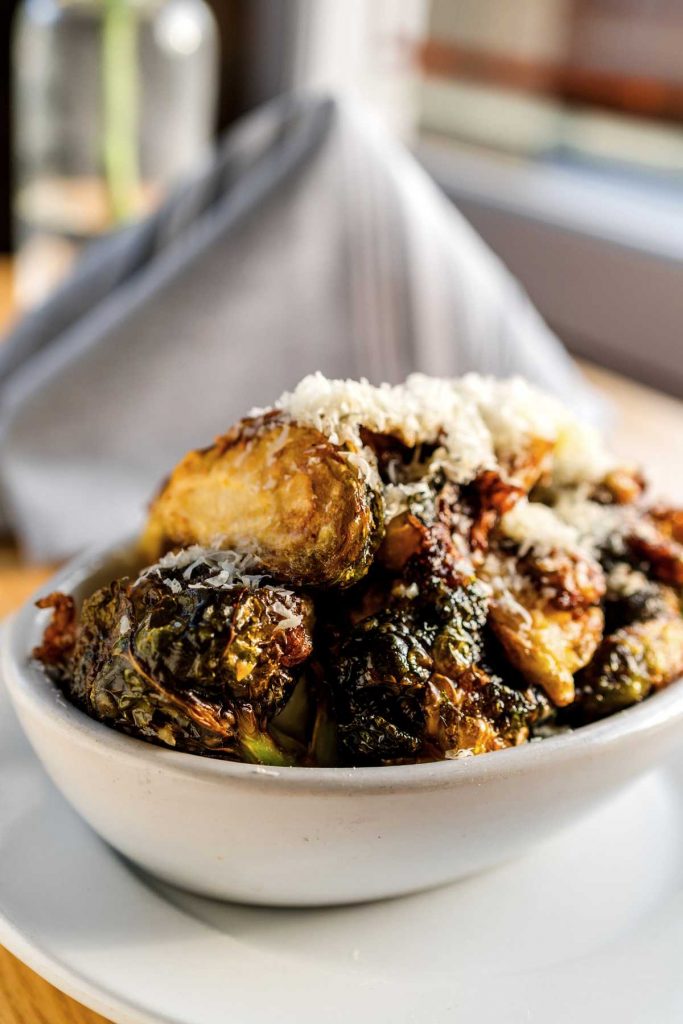 Cook up perfectly crisp Brussels sprouts in your air fryer! Season them with salt, pepper, and garlic and they're ready to eat in just 12 minutes. You'll be amazed at how delicious they are.
In this post you'll learn different methods to cook Brussels sprouts. Plus you'll also learn how to choose and store this vegetable for the best results.
Add Brussels sprouts to the menu the next time you're having a barbeque! They take about 13 minutes to make and are delicious served with grilled meat. 
Smashing Brussels sprouts and then roasting them at high heat makes them extra crispy and flavorful! Serve them as a side or enjoy them as a healthy snack! 
Enjoy this refreshing Brussels sprouts salad that's full of flavors and textures. It takes just 15 minutes to make and would be a great addition to an autumn meal.
Brussel Sprouts Recipes with Bacon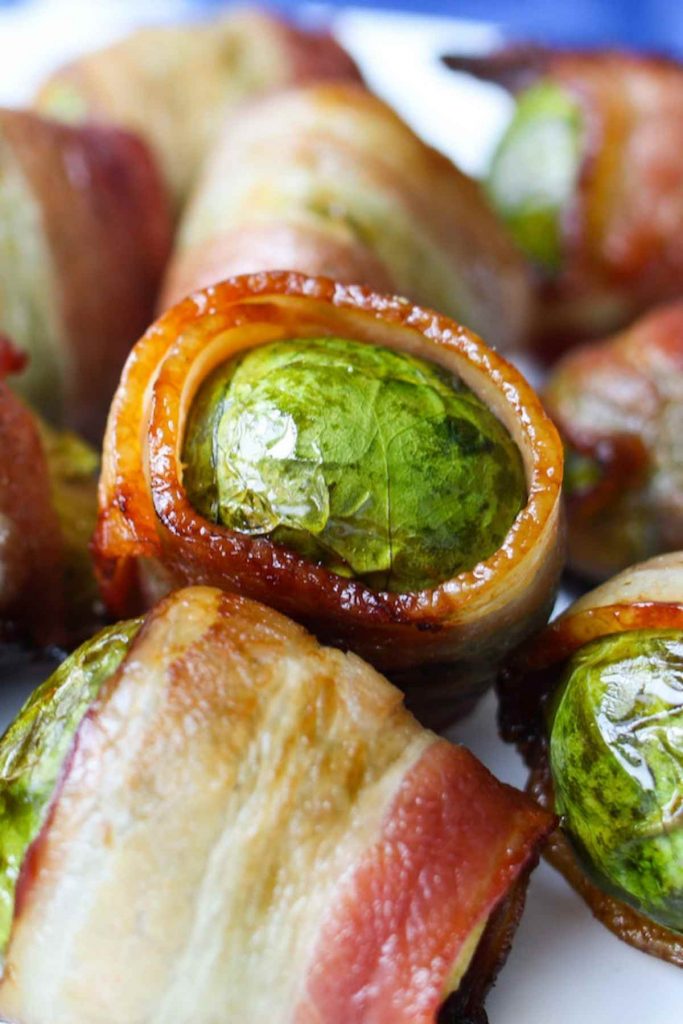 Bacon and Brussels sprouts pair exceptionally well. Serve these tasty bacon wrapped Brussels sprouts as appetizers the next time you're hosting a get-together! 
Bacon, onion, and a bit of sugar come together with Brussels sprouts to create a side dish you'll love! It's the perfect combination of salty, smokey, and savory. 
Tasty Brussels sprouts with bacon is a healthy and delicious dish to serve alongside pork, beef, chicken, or fish! It's the perfect combination of savory, salty, and crunchy. 
You'll love the sweet, smokey and savory flavors of these maple bacon Brussels sprouts! They're easy to make and are ready to enjoy in just 30 minutes.
Here's something new and delicious to serve at next week's Sunday brunch! The Brussels sprouts are baked alongside eggs, bacon, and grape tomatoes for the ultimate one-pan meal.  
Easy Brussel Sprouts Recipes for Picky Eaters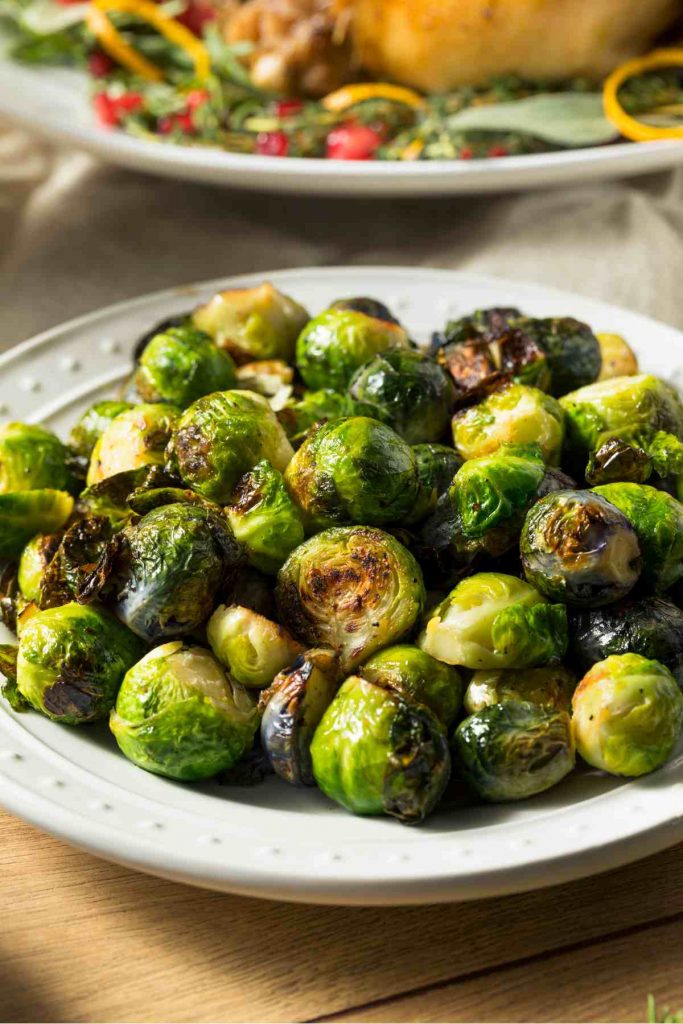 These crispy Brussels sprouts are roasted until caramelized and are then tossed in a sweet balsamic glaze. If you're a fan of spicy food, add some hot sauce to the glaze for a delicious kick of heat! 
Seasoned with soy sauce, honey, and other seasonings, these Asian Brussels sprouts are incredibly flavorful. It takes less than 30 minutes to make, and is the perfect side dish to any Asian-style dinner.
Comforting and flavorful, this lemon garlic butter chicken with Brussel sprouts is a simple weeknight meal that your family will love. It's loaded with tender chicken and incredibly delicious and butter lemon garlic sauce.
Did you know you can bake frozen Brussels sprouts. They are crispy, flavorful, and easy to make. Follow the recipe and they won't turn out to be soggy.
Unique Brussel Sprouts Recipes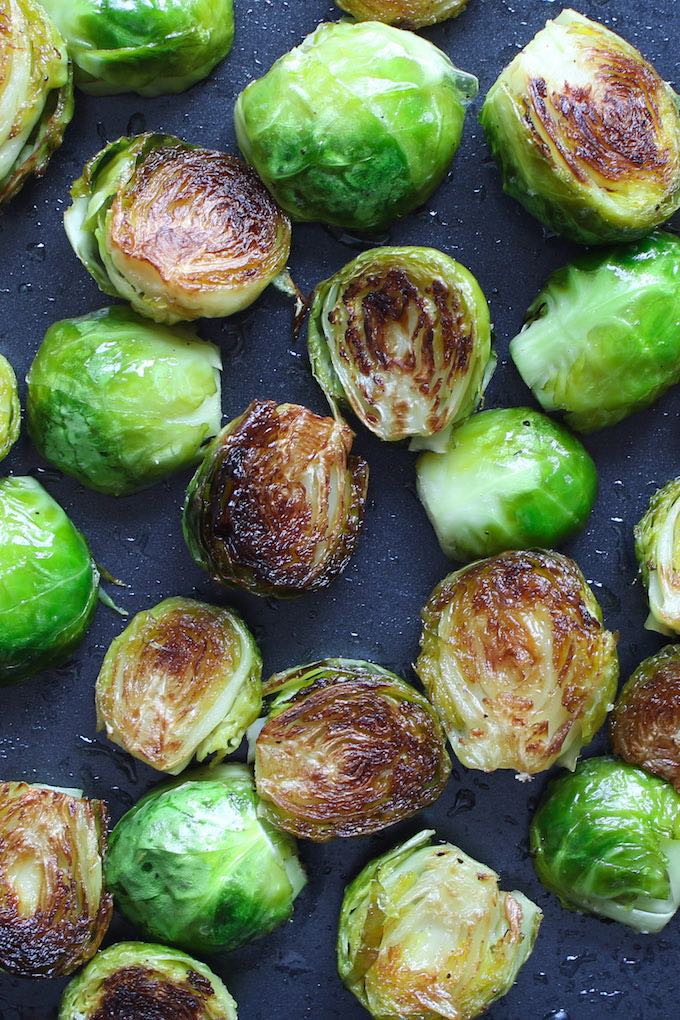 Roasting Brussels sprouts really brings out their flavor. Tossing them in a sweet and spicy honey sriracha sauce makes these Brussels sprouts extra special! 
This is a fun twist to traditional Chinese Kung Pao Chicken. The crispy Brussels sprouts are smothered in a spicy, sweet, and sour sauce.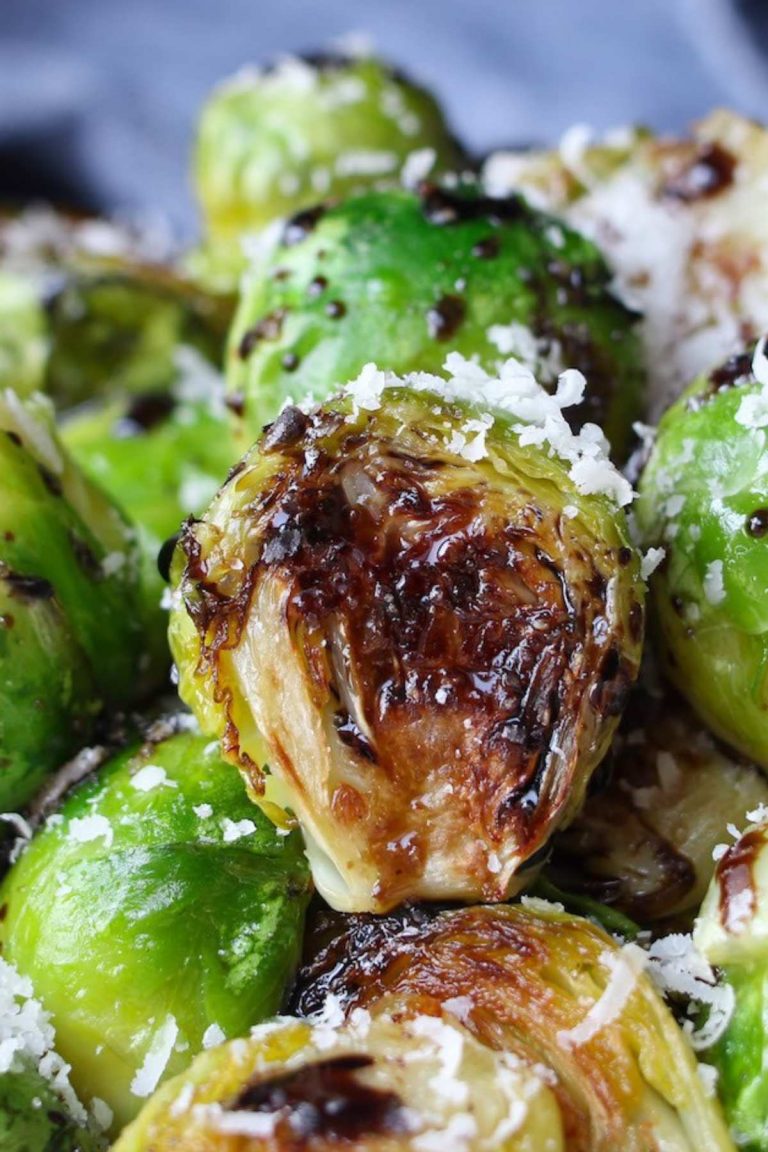 Enjoy perfectly cooked Brussels sprouts by using the sous vide method! They cook up tender-crisp and are absolutely delicious. 
Savory, sweet, and tangy, these caramelized Brussels sprouts are our favorite side dish for Thanksgiving.
If you haven't tried Brussels sprouts slaw yet, you've been missing out! Shredded Brussels sprouts are tossed with sweet and tangy maple mustard dressing. So delicious!
This is an easy way to elevate your basic Brussel sprouts into a new level. Brussels sprouts and pancetta pair very well, and this recipe is a perfect side dish for almost any occasion.
Other Easy Brussel Sprouts Recipes
A touch of honey and balsamic vinegar turns Brussels sprouts into a tasty side dish you won't be able to resist! You'll need just a handful of ingredients and it's ready to enjoy in 30 minutes. 
Surprise your guests with this crisp Brussels sprout salad. It's a delicious combination of savory, sweet, and tart flavors and you'll love the flavor of the homemade dressing included in the recipe.
If you are looking for a healthy and simple recipe that free up the oven, this could be your best bet! Quick and easy to make, this fork tender vegetable takes less than 15 minutes.
Great for Thanksgiving or a delicious side dish for any occasion.
This is one of the healthiest way to cook Brussel sprouts as a side dish. It's simple, delicious, and super fast. In less than 10 minutes, you'll have a perfect veggie side dish on the table.
Quick and easy to make (less than 20 minutes), this Brussel sprouts recipe is healthy, flavorful, and elegant. Perfect for any holiday table as a side dish!
If you have an instant pot at home, it's time to cook Brussel sprouts in this versatile appliance. This recipe turns out perfectly every time. The lemon garlic seasoning makes this dish incredibly delicious. 
FAQ about Brussel Sprouts
Health Benefits
Brussels sprouts are healthy and nutritious with many health benefits. They are low in calories but high in fiber, vitamins, and minerals. They can help maintain healthy blood sugar levels and reduce inflammation.
How to Prepare Fresh Brussel Sprouts
Dry them after washing and remove dry leaves. Trim the ends and then slice the sprouts in halves lengthwise. It's fine if some leaves fall off, and they will turn into amazing Brussels sprout chips when roasted.
How Long to Roast Brussel Sprouts
The cook time depends on the size of your sprouts. Mine is about 1 ½ inch in size and I usually bake them for about 20 minutes. If yours is larger than that, the baking time may be a few minutes longer. Leave your Brussel sprouts in the oven until they're tender and the flat sides are nicely caramelized. If you are using frozen sprouts, increase the roasting time to about 40-45 minutes.
Are Brussel Sprouts Keto?
Yes, they are great for ketogenic diet. They have about 4.5g net carbs per cup, and are great for a low carb and gluten-free diet too.
How Long Do Brussel Sprouts Last?
You can store whole Brussels sprouts in a bowl and cover with plastic wraps. Poke a few holes in the wrap and place them in the fridge. They'll last for about 5 days.
You May Also Like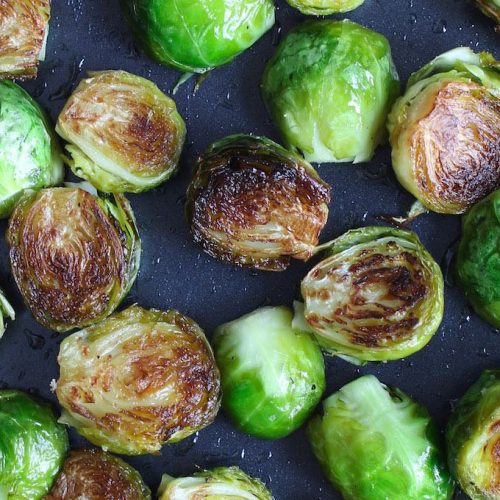 Best Brussels Sprouts Recipes
Roasting Brussels sprouts really brings out their flavor. Tossing them in a sweet and spicy honey sriracha sauce makes these Brussels sprouts extra special!
Print
Pin
Rate
Ingredients
Brussel Sprouts
1 1/2

pounds

fresh Brussels sprouts

2

tablespoons

olive oil

1

teaspoon

salt

½

teaspoon

ground black pepper
Instructions
Preheat the oven to 425°F and set aside a large baking sheet.

Trim the ends and then cut the Brussels sprouts in halves lengthwise.

In a large bowl, season brussels sprouts with olive oil, salt and pepper. Toss to coat thoroughly.

Add them into the baking sheet with a single layer.

Roast the seasoned brussels sprouts in the oven until tender and caramelized, about 20 minutes.

In the meantime, mix honey and sriracha sauce in a small bowl.

Transfer brussels sprouts from the oven to a plate. Drizzle with honey sriracha sauce and serve!
Notes
These honey sriracha brussels sprouts taste best when fresh, but you can store the leftover in the refrigerator for up to 3 days. Gently reheat them in the oven before serving.
Tried this recipe?
Follow or tag us on Pinterest @izzycooking