Do you know how many carbs are in peas? Are they suitable for your new keto lifestyle? Peas have loads of essential nutrients. Read on to find out if they are keto-friendly, too.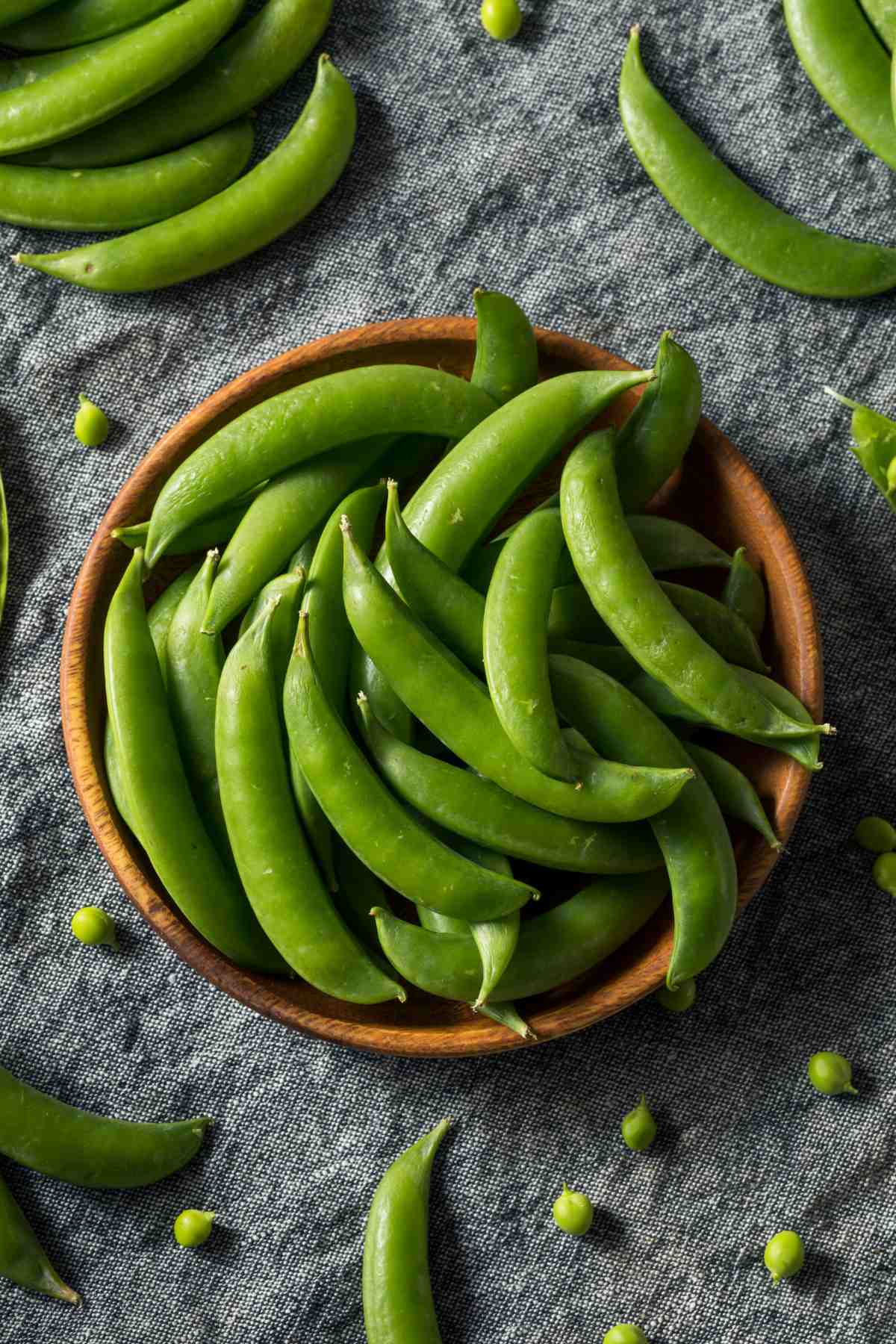 Types of Peas
Snow Peas
Also known as Chinese pea pods, snow peas look similar to snap peas. They are a little flatter with smaller seeds. They are typically used in Asian stir fry recipes, but they also taste great in salads or lightly sautéed in butter.
Sugar Snap Peas
A manufactured type of pea, this is made by combining the garden pea and snow pea. These peas have the nutritional content of both the pea varieties it is made up of. The seeds become round and plump and the pods snap because they are thick and crisp.
They can be shelled or eaten with the shell on. They tolerate hot water more than garden peas, so they retain their shape and texture when boiled.
Garden or Green Peas
Also known as garden peas, these peas are used in various ways. The outer shell is tough and fibrous. It isn't easily digested, so it can be discarded once the peas are shelled.
The peas inside are round and slightly sweet. They are very nutritious, too. They do require some work to de-shell. You can also buy these de-shelled already in either fresh or frozen varieties.
Are Peas Keto-Friendly?
Like most legumes, most peas are not keto-friendly. Most legumes are too high in carbs to fit into a keto diet. There are some types of peas that are better than others and they each have different fat, protein, and carb counts.
Some peas are suitable for a keto diet. Green peas have a high carb count, but sugar snap peas have way fewer carbs.
How Many Net Carbs In Peas?
| | |
| --- | --- |
| 100 grams of Different Types of Peas | Net Carbs |
| Green Peas | 9.8 grams |
| Sugar Snap Peas | 4.6 grams |
| Snow Peas | 5.1 grams |
The data for the green peas, sugar snap peas and snow peas listed above is provided by the USDA.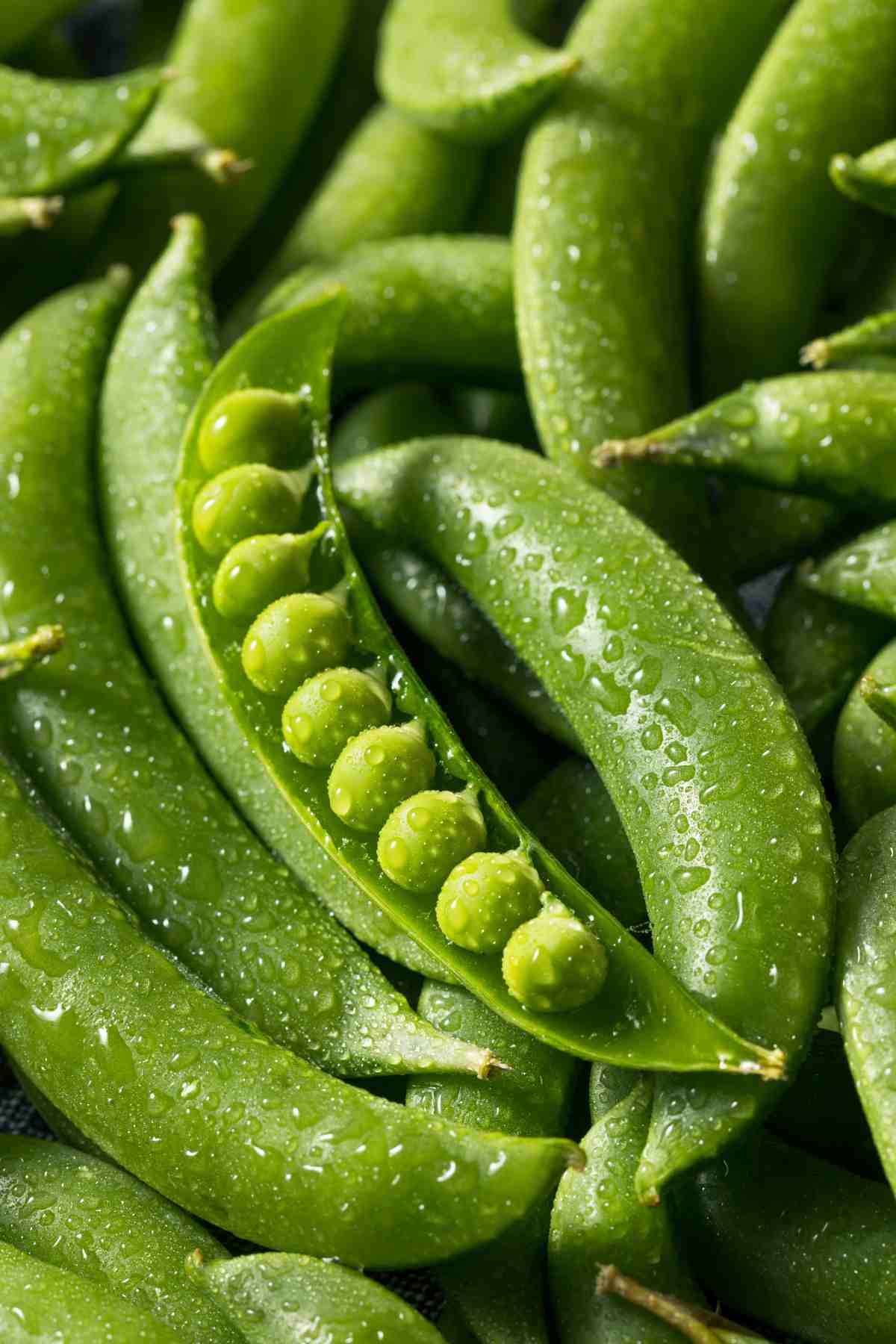 Peas Nutrition (Macros)
How Many Carbs In Peas?
Green peas have 14.3g of carbs, sugar snap peas have 7g of carbs and snow peas have 7.8g of carbs, according to the USDA.
Fats
There is no fat in peas unless they are prepared with additional fats like butter or oil.
Protein
There are roughly 2g to 5g of protein per 100g serving of green peas. They have a high amount of protein when compared to other peas and most other vegetables.
Calories
Peas are very low in calories. There are only 78 calories per 100g serving of green peas, 41 calories in sugar peas, and 44 calories in snow peas.
Healthy Benefits
Even in small portions, peas are very nutritious. You can get a good amount of vitamins and minerals in your diet with this plant-based protein. Here are some health benefits of eating peas:
Healthy source of vitamins A, C, K, and thiamine
High in protein
Good source of fiber
Can reduce inflammation through high levels of vitamin C, folate, and vitamin B6.
How to Eat Peas for Keto
Most peas are not keto-friendly, but there are several health benefits to eating peas in moderation. Peas are safe to eat raw and you ingest more fiber when you eat them this way. This makes them more keto-friendly.
You can also steam or sauté snap peas. You can safely eat 1/4 cup of snap peas without increasing your carb count too much.
Keto Peas Substitutes
Since not all peas are ketogenic, here are some substitutes you can turn to instead: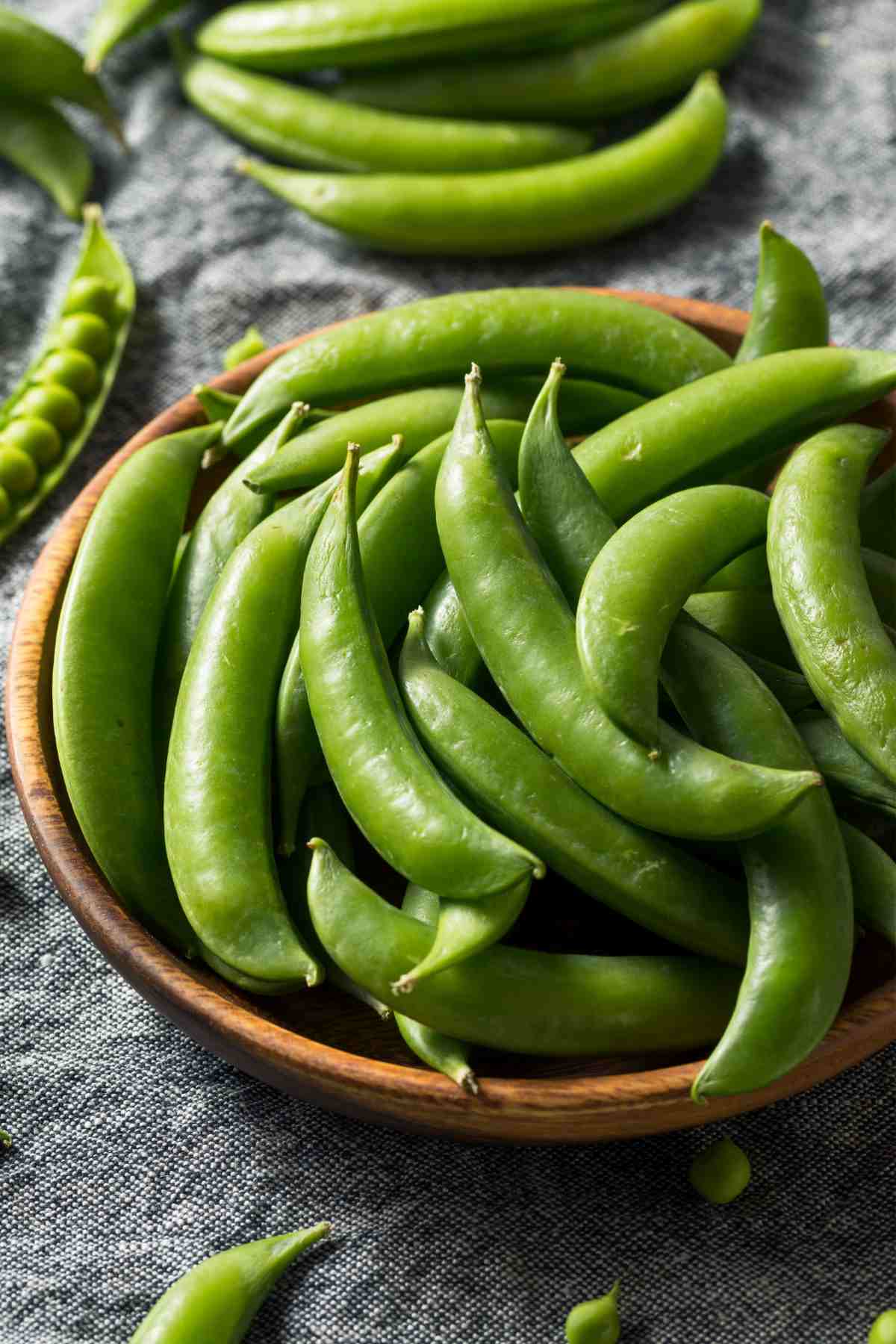 FAQ
Are Green Beans and Peas the Same Thing?
Green beans and green peas are two different legumes. Green peas have round seeds in a shorter pod. They are slightly curved at the ends. Green beans are long and flat. Green beans have fewer carbs than green peas.
How Many Carbs in Black Eyed Peas?
There are 21.2g of total carbs in canned black-eyed peas and 15.5g of net carbs per half-cup, according to the USDA.
How Many Carbs in Split Pea Soup?
The USDA says there are 15g of carbs per half-cup serving of split pea soup.
How Many Carbs in Green Peas?
In one 100g serving of green peas, there are 14.3g of carbs.
Are Sugar Snap Peas Keto?
Sugar snap peas are ketogenic. There are 7.06g of carbs (2.3g of fiber and 4.6g of net carbs) in a 100g serving of sugar snap peas.
Are Wasabi Peas Keto?
These green-colored peas are coated and roasted in salt, starch, oil, sugar, and wasabi. They are not ketogenic because of the added starch and sugar. They also contain vegetable oil which can cause inflammation.
Are Canned Peas Keto?
You can consume canned peas in moderation. They are very high in sodium. Be sure to rinse them well before cooking or consuming them.
Are Peas a Legume?
Yes, peas are part of the legume family. Other legumes include lentils, soybeans, chickpeas, and other bean varieties.
You May Also Like
Keto Pea Salad Recipe
Do you know how many carbs are in peas? Are they suitable for your new keto lifestyle? Peanuts have loads of essential nutrients. Read on to find out if they are keto-friendly, too.
Print
Pin
Rate
Ingredients
For the pea salad:
1

pound

green peas

1

cup

cooked bacon

cut into small pieces

3/4

cup

shredded cheddar cheese

3

tablespoons

chopped onions
For the dressing:
2

tablespoons

full-fat sour cream

1

tablespoon

mayonnaise

2

teaspoons

cider vinegar

1/2

teaspoon

paprika

salt

to taste
Instructions
In a bowl, combine the peas, bacon, shredded cheese, and onion.

Mix salad dressing ingredients together in a separate bowl.

Toss dressing over the pea mixture and combine well. Enjoy!
Tried this recipe?
Follow or tag us on Pinterest @izzycooking