Beef Stir Fry is loaded with tender and juicy beef and the most delicious sauce made with soy sauce, brown sugar, garlic, ginger and beef broth! This easy stir fry takes only 20 minutes to make. A perfect weeknight dinner!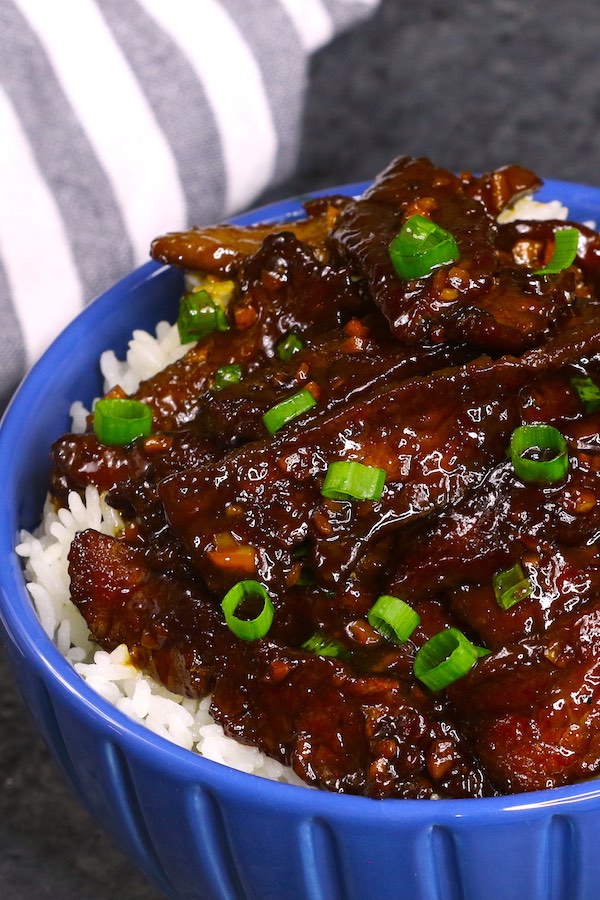 Beef Stir Fry
 A quick and easy weeknight dinner is just minutes away! With this steak stir fry, you'll get protein and veggies all in one skillet. This is the way to go!
What is stir fry? It's a Chinese cooking technique where meat or veggies are stirred constantly in a lightly oiled wok or frying pan over high heat.
Beef stir fry or steak stir fry is beef strips cooked in a sweet and savory sauce over high temperature.
How to Make Beef Stir Fry
This beef stir fry recipe is about as easy as it gets! Best beef for stir fry is tender beef cuts such as flank steak or skirt steak. Try to avoid the touch cut.
A trick I learned from a friend who works at a Chinese restaurant is to freeze the steak for about 20 minutes, and then it's so easy to cut it into thin strips!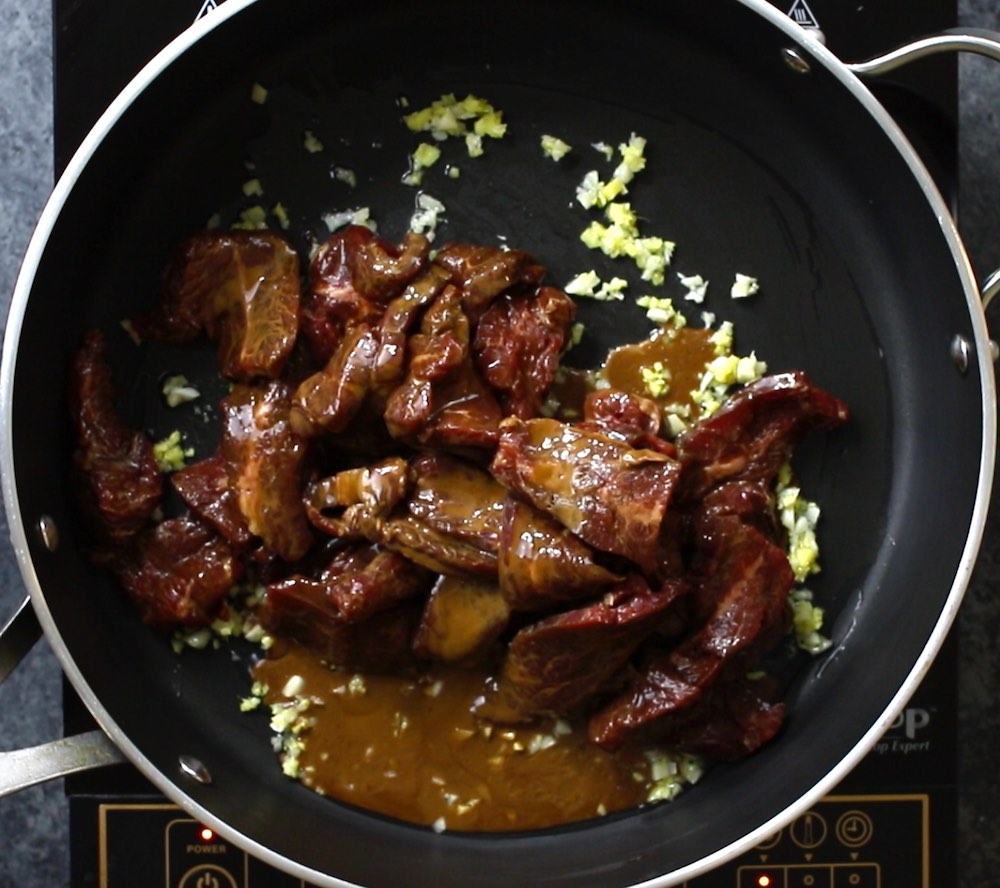 Beef Stir Fry Sauce
I have tried different combinations and ratios over years, but this is the BEST beef stir fry sauce, with a few simple ingredients:
Soy Sauce: It's the star ingredient for a stir fry. Best to use the one with high-quality and low-sodium!
Brown Sugar: I like to use dark brown sugar, which adds slight sweet accent to this dish.
Beef Broth: Add extra flavor to the dish and thin out the sauce. You can replace it with water.
Corn Starch: Important for velveting beef, which produces tender and juicy meat.
This combination gives this Asian beef stir fry an irresistible flavor!
It's best to marinate your beef (also called velveting) before stir-frying. It's the secret to the perfect beef stir fry. Over 30 minutes is ideal but if you are in a rush, even a 10-minute marinating makes a huge difference. No dried-out beef anymore!
Stir Fry Beef Strips at High Temperature
Now all you need is to sear your beef at a very high temperature at around 400°F for a short time. This technique is called flash frying – another secret to tender and juicy beef!
If you'd like to add veggies to your beef stir fry. Remove the cooked beef to a plate first. Add a tablespoon oil, and cook your favorite veggies. Some great choices include broccoli, carrots, cabbage, mushroom and green onions.
This is a very versatile recipe. Add some chili flakes and make it into spicy beef stir fry, or swap the beef stir fry sauce for teriyaki sauce to make it into teriyaki beef stir fry! You can also use ground beef instead of beef strips.
Beef Stir Fry with Rice
Traditionally beef stir fry is served with rice (white, jasmine or brown rice works well). Or you can serve it with noodles. Drizzle the extra stir fry sauce over everything for the ultimate flavor!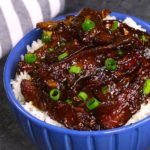 Beef Stir Fry
Beef Stir Fry that's full of flavor and loaded with tender and juicy beef with garlic and ginger. It's simple and easy to make and takes only 20 minutes.
Ingredients
1 1/2 

lb 

 flank steak

1/2 

cup 

soy sauce

1/4  

cup 

 cornstarch

1/3  

cup 

vegetable oil

2  

tsp 

fresh ginger minced

3 

tsp 

fresh garlic minced

1/3 

cup 

beef broth

1/3 

cup 

brown sugar

4 

green onions
Instructions
Slice the beef into 2-inch strips that are ¼ inch thick (It's best to cut against the grain).

In a medium bowl, mix together soy sauce and cornstarch.

Add the beef and marinate at least 10 minutes. (No more than 1 hour)

Place a wok or skillet on high heat, add the oil. When the oil is hot, add the beef, minced ginger and garlic. Don't overcrowd the pan, and cook in small batches if needed.

Cook for about 2-3 minutes. Then add brown sugar, beef broth (or water) and green onions and stir-fry for 1-2 minutes. The sauce will become thick and toss to coat the beef.

Remove from heat, serve and enjoy!
Recipe Notes
Wok is best for making Chinese food and works especially well when you need to flash fry the meat at high temperature. If you don't have a wok, a large skillet will work as well.